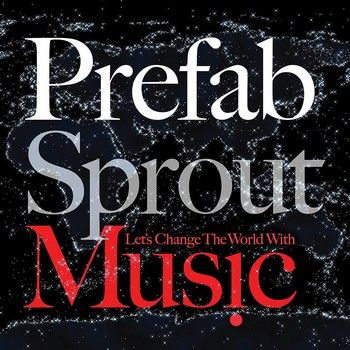 Prefab
Sprout
-
Let's Change The World With Music
-
2009
-
Kitchenware Records


The new Prefab Sprout album sounds stubbornly, gloriously out of step with the times, because it's not "new" at all. After recording the classic Jordan: The Comeback in 1990, Prefab Sprout frontman Paddy McAloon demoed an ambitious concept album linking the history of the world, divine providence, and the healing power of music. The project went uncompleted—largely because the band's label wasn't interested—but with McAloon suffering some recent health woes, a concerned friend urged him to start emptying his vaults. And so: Let's Change The World With Music, a record produced and performed in McAloon's home studio almost 20 years ago (given a new mix by Calum Malcolm). Newcomers to Prefab Sprout may find it overwhelming; McAloon expresses fealty to music both as an abstract concept and as a specific transformative force in people's lives, hailing gospel, Nile Rodgers, and "the unnerving, unswerving Irving Berlin." The songs are more synth-heavy and beat-driven than usual, but still graced with McAloon's angelic voice, puckish wit, and constantly evolving arrangements. Is the lush sound and painfully sincere sentiment a little over the top? Yes, of course—it's Prefab Sprout. But when McAloon sings about how to lead a virtuous life on the thumping, joyous "Ride," or sums up our existence on the lithe, jazzy "Earth, The Story So Far," it's easy to believe what he says of himself in "The Last Of The Great Romantics." Out of touch? No, in command. © Noel Murray October 26, 2010 © 2010 Onion Inc. All Rights Reserved http://www.avclub.com/articles/prefab-sprout-lets-change-the-world-with-music,46790/
It is an extraordinary album, a rich, glorious, melodic, poetic, wry and romantic pop hymn to the power of music. Although recorded as demos over the course of a year by the perfectionist McAloon completely on his own, it has everything you could want from a Prefab Sprout album, marrying the aesthetic of arty, left-field singer-songwriting with the super polish of pop and jazz. But it was shelved after an A&R meeting when doubts were expressed about whether the world was ready for a concept album with references to God. He was encouraged to go away and work on something else but although Prefab Sprout released two more studio albums, the seeds of McAloon's withdrawl had been sown. "It was a fraught area for me," he admits. "I couldn't help being wounded. My ego was saying I entrusted my best material to people who didn't get it." What seems utterly ridiculous from the remove of two decades is that the album is actually so sleek, smart and beautifully distilled, you wonder how anyone could have doubted its worth. It is not even, as he points out himself, particularly religious. © Copyright of Telegraph Media Group Limited http://www.telegraph.co.uk/culture/music/rockandpopfeatures/6163329/Paddy-McAloon-of-Prefab-Sprout-interview.html2010
Prefab Sprout with it's main man, the incredibly talented songwriter Paddy McAloon never bowed to commercialism and although they were relatively successful, they probably should be huge due to some classic songs released during the eighties. "Cars And Girls", and "King of Rock 'n' Roll" are just two of Paddy McAloon's sensational compositions. A bit like Steely Dan, they were not a great touring group, but their studio work was brilliant. "Let's Change The World With Music" was composed and recorded as a demo in 1992, but rejected by the record label. This 2009 release is composed of eleven Paddy McAloon original demos, performed entirely by him in '92, but slightly remastered by Calum Malcolm in 2009. The album is an amazing eclectic mix of wonderful Paddy McAloon compositions. The guy's creativity and imagination knows no bounds. He is one of Britain's greatest songwriters who has never broken into mainstream commercialism. Like all musical geniuses, he composes songs that please him, and if you "get" the music you will be richly rewarded. "LCTWWM" is
VHR by A.O.O.F.C.
If you are listening to the Prefab Sprout albums in chronological order, this album should come directly after the "Jordan: The Comeback" album. Buy PS's brilliant "From Langley Park to Memphis" album, and also check out the original "Steve Mcqueen" album. Try and listen to Paddy McAloon's "I Trawl the Megahertz" album. Check out Prefab Sprout's unofficial homepage @ http://www.prefabsprout.net/
TRACKS
1. Let There Be Music
2. Ride
3. I Love Music
4. God Watch Over You
5. Music Is A Princess
6. Earth: The Story So Far
7. Last Of The Great Romantics
8. Falling In Love
9. Sweet Gospel Music
10. Meet The New Mozart
11. Angel Of Love
All instrumentation by Paddy McAloon.
All songs written, performed and produced by Paddy McAloon


ALBUM INFORMATION FROM WIKIPEDIA

Let's Change the World with Music is the eighth album from UK band Prefab Sprout. It was released in the UK on 7 September 2009. It is the band's first album of new material since 2001's The Gunman and Other Stories and marks a return to their former label Sony Music. The album reached #39 in the UK Albums Chart at the end of the week of its release. Although no singles were technically released "Let There Be Music" was sent to radio stations and "Sweet Gospel Music" was due to be a one track digital release, only to highlight the album, but received no airplay therefore was pulled. The album title was known among the band's fans as being one of the 'lost' albums recorded in demo form by the band's lead singer Paddy McAloon in 1993. The album was originally intended to be the successor to 1990's Jordan: The Comeback, and was to have been produced by Thomas Dolby. In an interview with Craig McLean of The Independent, McAloon observed that the prime mover behind the album was his long-term manager, Keith Armstrong. McAloon stated that "Keith was trying to help me, to make some money. When I finish something I listen to it intensively for a short period, then never look at it again. And I'm not really that interested. But when I heard this I thought, 'Oh boy, this is good.'" During an interview on The Radcliffe and Maconie Show on BBC Radio 2 (3 September 2009) McAloon explained that in 1993 at a meeting with Sony he presented a tape of about fourteen songs as the follow-up to the lengthy Jordan: The Comeback. Apparently there were too many people in the room and the meeting did not go well. Although Sony's A&R man, Muff Winwood wanted him to trim the record down to a more manageable length, for whatever reason there was a misunderstanding and McAloon understood that they wanted him to expand on just one or two of the ideas (rather than just trim 1 or 2 of the songs from the album). He then went away for a year and a half and developed one of the 3 minute songs into a 30 song piece of music. After a period he realised that was not what they wanted, but by this point it was too late. The album was written, performed and produced by Paddy McAloon at his own Andromeda Heights studio in County Durham around 1993. It was then mixed in Scotland by long-time engineer Calum Malcolm. None of the other bandmembers appear although McAloon dedicates the album to them. McAloon actually wrote two versions of the title track. One was based around the idea of a duet with Barbra Streisand. The phrase "Let's Change the World with Music" is the first line of the chorus. However, neither version of the track included on the album. Several titles have been recorded previously by other artists, namely Australian singer Wendy Matthews on her album The Witness Tree ("Ride", "God Watch Over You"). "God Watch Over You" was also recorded by British theatrical star Frances Ruffelle on her debut album Fragile. The release was also accompanied by a few interviews, for example in The Sunday Times and Mojo. The album reached #39 in the UK Albums Chart at the end of the week of its release. It was released on the same day as a number of The Beatles' re-issues which occupied eleven of the chart places above it. Initial reviews in the press were very favourable. In The Times Dan Cairns described it as a 'heartbreakingly good record' and gave it 5/5. Dave Simpson of The Guardian gave it 4/5 and called it an "aural treat" which showed at McAloon "at the top of his game". The review in The Independent was positive, describing the album as "lyrical and lush". It was also given 4/5 in Record Collector and in The Observer's Music Monthly magazine. The latter describes the album as 'fantastically dated' because of the 17 year delay in release. However it also describes it as "fantastically glorious" and an 'enchanting return'.
REVIEWS
From Prefab Sprout's early-'80s singles up through their often brilliant but much maligned album The Gunman and Other Stories in 2001, Paddy McAloon has written some of the finest pop tunes you're likely to hear in your lifetime. Comparisons have been made with Cole Porter, Lennon/McCartney, Brian Wilson, Stephen Sondheim, Jimmy Webb, Elvis Costello, and many others, but he remains a truly original and gifted singer and songwriter. While Prefab Sprout could never be called prolific in terms of physical album releases, McAloon has continued to write and demo material throughout the band's 20-plus-year career. In recent years McAloon has dealt with a series of health issues that have left hiim virtually unable to carry on as a recording artist. Thankfully, he continues to write songs that can be sung by other vocalists, and perhaps one day he will be able to grace listeners with his own voice again. Until then, listeners will fortunately be graced with previously unreleased Prefab Sprout music, such as Let's Change the World with Music, the often rumored 1992 follow-up to the Sprouts' Jordan: The Comeback album. While the album was never actually completed by the band, McAloon's full-formed demo is not just a hint of "what might have been": it's one of the most consistent albums of the band's career. Let's Change the World with Music is a loose concept album that is based around the intense, oftentimes religious, joy of music and the gift it brings to those who allow it to overcome and overwhelm them. While McAloon is not a Bible-thumping evangelist, he uses religious imagery to describe the magical power of music and how it can literally change the world. Those who choose to push music to the background in their lives may not understand where McAloon is coming from, but for those who have lived and breathed music since their early days, Let's Change the World with Music is a revelation (pun intended). From the intro of the leadoff track, "Let There Be Music," it is immediately obvious that this will be a different Prefab experience to what most fans are used to. In the past (especially on Jordan: The Comeback), the band used keyboards to add depth and atmosphere to its tracks, but Let's Change the World is a different ball of wax: it is all keyboards. As stated previously, this is McAloon's demo version of his musical vision and does not feature backing vocalist Wendy Smith or brother Martin...or anyone else for that matter. And to be honest, even without the other bandmembers, it's an absolute joy to listen to. Would it have sounded better with real strings, real drums, guitars, and proper production from someone like Thomas Dolby? It's really hard to tell, since the album is a nearly perfect collection of songs celebrating the glory of music, becoming a glorious piece of music in the process. Some of the lyrics on the album may seem a bit twee and trite on the surface (particularly on "Music Is a Princess"), but in the context of the album, they become touching and heartwarming. Like all Prefab albums, there are moments of absolute joy on display mixed with an equal amount of bittersweet and touching songs that reach right down and stir your soul. Highlights include "Ride," "Earth, the Story So Far," "Last of the Great Romantics," "Angel of Love," and the title track. For the uninitiated, the Prefab Sprout albums to investigate first would certainly be Steve McQueen and Jordan: The Comeback, but Let's Change the World with Music isn't far behind. It is a beautiful, joyful, and unpretentious musical love letter written to and about this life-changing force called music. © Steve "Spaz" Schnee © 2010 Rovi Corporation. All Rights Reserved http://www.allmusic.com/album/lets-change-the-world-with-music-r2021183/review
Prefab Sprout's new record, their first since 2001, was discovered trapped in a bend in the time-space continuum. Themed around music's regal, spiritually transformative power, it was recorded by Paddy McAloon in demo form in 1992, intended as a blueprint for the follow-up to Jordan: The Comeback. Never released, 17 years later the tapes have been disinterred, spruced up by engineer Calum Malcolm, and voilà. As a result, much of the album sounds fantastically dated, harking back to a time when Prince still mattered, hip-hop smelt fresh, and pounding house piano was de rigueur. This sense of musical displacement throws up several jarring moments, but generally it's rather apt. McAloon has always floated eccentrically out of time; what's a two-decade delay to a man who modelled himself on Stephen Sondheim? Against all odds, Let's Change the World… is frequently glorious. Earth: the Story So Far is the highlight, a wondrous collision of voice, melody and concept, but several others run it close. Though the ghost of another, more fully realised version of this album lurks beneath the surface, it's an enchanting return. Hopefully, more samples from McAloon's vast treasure trove of unheard music will be forthcoming soon. **** © Graeme Thomson The Observer, Sunday 6 September 2009 © Guardian News and Media Limited 2010 http://www.guardian.co.uk/music/2009/sep/06/prefab-sprout-change-world-music
Prefab Sprout were formed in 1978 as a four-piece band based in Co. Durham and went on to be arguably one of the most beloved British pop bands of the 80s and 90s. Their biggest top ten album, From Langley Park To Memphis featured Pete Townsend and Stevie Wonder and included their biggest hit, "The King of Rock'n' Roll". They followed this album with Jordan, The Comeback which was hugely acclaimed and Brit-nominated. After various line up changes, the rest of the band released one album in 2001 and Paddy released a solo album, Trawl The Megahertz in 2003. Singer-songwriter Paddy McAloon is regularly hailed one of the greatest songwriters of his era. Let's Change the World with Music sees the first Prefab Sprout album in 8 years and contains twelve unique tracks. © 1996-2010, Amazon.com, Inc. or its affiliates http://www.amazon.co.uk/Change-World-Music-Prefab-Sprout/dp/B002KWLUU0
Let's Change was originally due in 1992 before Paddy McAloon (below) got cold feet and retreated into the illness-fuelled reclusiveness that has only been broken with 2001's The Gunman and Other Stories and 2003's solo I Trawl the Megahertz. Hearing the overhauled demos for the singer-songwriter's great "lost album", you can almost hear why doubt set in. This is a quasi-concept offering about the redemptive power of music, complete with songs addressing God, Jesus and the little people. It could have easily been embarrassing, but McAloon's humbled wonderment at music (which he calls "a princess, I'm just a boy in rags") makes for an aural treat. With songs ranging from more sumptuous Pet Shop Boys house to what almost sound like Broadway epics crammed into four-minute pop songs, McAloon is at the top of his game. One only hopes that this won't be the last we hear from "the last of the great romantics". **** © Dave Simpson The Guardian, Friday 4 September 2009 © Guardian News and Media Limited 2010 http://www.guardian.co.uk/music/2009/sep/04/prefab-sprout-cd-review
Finally, it's here. Sure, we waited 17 years to hear the album that was insanely rejected by a record company back in 1992. But the last few days have been the worst. Long, long days where, at times, we questioned whether we ever even liked pop music at all. But now it's here. And we're listening to it. And we're about to make big, gushing fools of ourselves with some useless words. On first listen, Prefab Sprout's 'Let's Change The World With Music' is already better than almost anything we can think of. Which isn't to say we recommend it to everyone. Like Kevin Rowland's wrongly maligned covers album, this is a record for people who completely 'get' what's unique, amazing, gifted and a little bit unhinged about Paddy McAloon. Out of context we imagine it might be a little too heart-on-sleeve, raw and unabashed for comfort. The overt early 90s sound is jarring at first. These are the demos of a work that was probably intended to be lush, orchestral and expansive. Yet here its synthesized and contained (though as gorgeous as you'd hope). But despite the obvious date stamp, Paddy's voice is still one of the most luxurious sounds that's ever come from a throat. The unfashionably God-centric and lofty nature of the lyrics (that got the album rejected in the first place) are entirely suited to a writer who's never sounded like they had their feet on the ground. And they're as welcome as a cold cathedral on a sweaty day, amidst the banalities and mundanities of modern pop's concerns. You want an example? "I don't have the slipper she's waiting to wear… Music is a princess, I'm just a boy in rags." If there weren't people watching we'd allow ourselves a good cry over that one. Straight to the heart there, Paddy. Gosh. That anyone, in any age, would write a song called 'Earth: The Story So Far' is remarkable. That it's as successful as any song about everything ever could hope to be leaves us speechless. We hope this isn't the last we hear from what must be one of the most extraordinary archives of lost music in existence. But if it is, Paddy McAloon can be sure that 'Let's Change The World With Music' is the love letter to art he intended it to be. And we'd just be greedy to ask for more. P.S. To give you an idea of the kind of record this is, the sleevenotes feature an essay from Paddy about the Beach Boys 'Smile' album. Exactly. [from The World Is Changed Fri, 28/08/2009 - 11:28 By & © TimC © HOLY MOLY ENTERTAINMENT 2010 http://www.holymoly.com/reviews/music/prefab-sprout-lets-change-world-music28027]
Just like Brian Wilson's long-lost 'Smile' album, 'Let's Change the World with Music' has been in the vaults for 17 years, so has it been worth the wait, or will it feel dated to everyone, including Paddy McAloon? So much over the years has been written and said about this long-lost album, the fact that it was recorded and rejected by the record company back in 1993, and chronologically belongs between 'Jordan The Comeback' and 'Andromeda Heights'. It may be nearly 20 years old but music does not always grow old. On the opening number 'Let There Be Music' it begins with a robotic voice quoting words from the first book of genesis, "in the beginning was a mighty bang" but within 15 seconds you hear the beautiful tones of Paddy's vocals that we all fell in love with all those years ago and immediately you're hooked. A radio friendly song that shows its age, courtesy of a typically 90s backing track. 'Ride' (previously recorded by Australian singer Wendy Matthews) is a foot-tapper and continues the religious theme ("...walking in the footsteps of our lord..."). But before you begin to think this is a concept album, Paddy sings "I've no time for religion" at the beginning of the beautiful piano ballad 'God Watch Over You', a song some may be familiar with from the 90s when Frances Ruffelle (ex-UK Eurovision entrant) covered it admirably. 'I Love Music' tells us what we've known about Paddy all along. "Love is the reason I'm playing this game" and he goes on to tell us his heroes are Irving Berlin while also name-checking Chic's Nile Rodgers and Bernard Edwards. There's a full sounding orchestra on this one, kind of Sinatra swing. 'Earth - The Story So Far' is one of the masterpieces on the album, while 'Last of the Great Romantics' will put you to sleep for all the right reasons. A lullaby sang so sweetly, with, again some fantastic piano throughout, while Paddy sings "come on Gatsby stand aside". These two are already Sprouts classics. It's ballads all the way including 'Music is a Princess' and the tale of Romeo and Juliet in 'Angel of Love', but 'Meet the New Mozart' is excellent also. "I'll form a band and play some dates" he sings, but sadly for us, those words were written long ago, but there is optimism when he continues "all I write may not last, it may be manure / but I'll endure, not burn out fast". On the sleeve notes Paddy writes a lovely piece about his fascination with Brian Wilson's long-lost 'Smile' album and apologises for there being no 'Good Vibrations' on this record. He goes on to admit that "one day in May '93 we made a poor move", but heartwarmingly he dedicates this album to the ex-Sprouts members and producer Thomas Dolby. Whether the album is a concept one of Music, Love or Religion, it still sounds fantastic. Long before the release of this album Paddy McAloon had, for many of us, already changed the world with music. This album should bring many more to the same realisation. Meet The New Mozart? We already have. The Cluas Verdict? 8 out of 10. © Mick Lynch © 1999-2010 www.CLUAS.com & individual writers as indicated per by-line http://www.cluas.com/indie-music/Album_Reviews/tabid/87/EntryId/1171/Prefab-Sprout-Lets-Change-the-World-with-Music.aspx
BIO
(WIKI)


Prefab Sprout are an English pop band from Witton Gilbert, County Durham, who rose to moderate fame during the 1980s. Critically acclaimed and considered by many to have released some of the best pop albums of the decade, the band never became part of the mainstream, but saw moderate commercial success. They debuted in 1982 with their self-released single "Lions In My Own Garden: Exit Someone" - songwriter Paddy McAloon wanted a song title where the first letters of the words spelled out "LIMOGES" (where his former girlfriend was staying at the time). Their debut album Swoon was released on the Kitchenware record label in early 1984. The following album, the Thomas Dolby-produced Steve McQueen, (released in America as Two Wheels Good when McQueen's estate expressed their displeasure with the title). It was highly-praised by critics, prompting McAloon to remark: "I'm probably the greatest songwriter in the world, you know." Subsequently, they recorded Protest Songs which found only limited release, but yielded the song "Life of Surprises", which later became the title track for their greatest hits compilation.
Their biggest commercial success in the U.K. came with the 1988 single "The King of Rock 'n' Roll", taken from the album From Langley Park to Memphis. In 1990, Jordan: The Comeback, was nominated for a BRIT Award. Though the music was more accessible than their earlier material, the lyrics and subject matter remained characteristically oblique and suggestive (McAloon has often cited Stephen Sondheim as an influence). In addition to its religious overtones, perhaps reflecting McAloon's education in a Catholic seminary, there were several allegorical songs about a character who embodied a mix of Howard Hughes, Jesse James, and Elvis Presley. McAloon has alluded in interviews to several albums-worth of songs that he has written but are unreleased/unrecorded including amongst others, concept albums based on the life of Michael Jackson (Behind the Veil), the history of the world (Earth: The Story So Far) and Zorro the Fox about a fictional superhero. Their greatest hits, Life of Surprises: The Best of Prefab Sprout yielded their biggest U.S. hit, "If You Don't Love Me", which spent several weeks in the Top 10 on the dance charts. McAloon joked in the album linernotes about the band's lack of touring over the past decade. Prefab Sprout released Andromeda Heights in the UK in 1997, while a short, UK tour followed in 2000. This tour, and the subsequent album, did not feature Wendy Smith, who by this time had reportedly left the band. In 2001 the band released The Gunman and Other Stories a concept album themed on the American West. The opening track "Cowboy Dreams" was a hit for the British actor, Jimmy Nail. These albums while critically acclaimed in places, have not been as commercially successful. After being diagnosed with a medical disorder which impaired his vision Paddy McAloon released the album I Trawl The Megahertz under his own name in 2003 on the EMI Liberty label. As of 2006, McAloon had suffered another setback: his hearing had deteriorated, reportedly due to Ménière's disease. Prefabs Sprout's core members are Paddy McAloon (born Patrick Joseph McAloon, 7 June 1957, Durham); vocals / guitars / keyboards, Wendy Smith (born 31 May 1963, Middlesbrough); vocals / guitars / keyboards, Martin McAloon (born 4 January 1962, Durham); bass guitar, Neil Conti (born 12 February 1959, Luton); drums / percussion,Fiona Attwood (Chester-le-Street); backing vocals.
MORE
America could never decipher the lyrical genius of Paddy McAloon. Although his band Prefab Sprout was able to venture several times onto the U.K. charts, McAloon's whispery voice and smart, sometimes vague lyrics often bewildered American radio programmers. Born on June 7, 1957 in Newcastle, England, McAloon formed Prefab Sprout in 1982; the group also included his brother Martin McAloon (bass), Neil Conti (drums), and Wendy Smith (guitar, vocals). Compared by some critics to Morrissey, McAloon has a calm, breathy voice that can register deep sorrow or profound joy whether he is talking or singing in his songs. McAloon's heartbreaking vocals on Prefab Sprout's "When Love Breaks Down" wooed listeners of new wave radio stations in 1985. Taken from the LP Steve McQueen (called Two Wheels Good in America), "When Love Breaks Down," along with "Appetite," introduced McAloon's distinctive croon and mature, insightful songwriting to an American audience. However, the love affair was brief; the eclectic, eccentric pop of Prefab Sprout's next album, From Langley Park to Memphis, left music fans outside of Europe confused. Even McAloon's sly jab at Bruce Springsteen, "Cars and Girls," was too subtle to generate much laughter in the United States. One of the most underrated lyricists of the '80s, McAloon continues to lead Prefab Sprout, not allowing any lack of commercial success or shifting musical trends to steer his artistic vision. McAloon's first solo album, I Trawl the Megahertz, was released in 2003, nearly five years after its songs had been written. © Michael Sutton © 2010 Rovi Corporation. All Rights Reserved http://allmusic.com/artist/paddy-mcaloon-p157313/biography