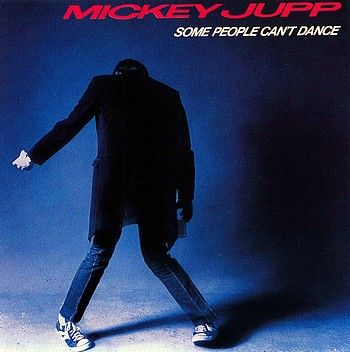 Mickey Jupp
-
Some People Cant Dance
-
1982
-
Line
Mickey Jupp's songs have been recorded by Rick Nelson, The Judd's (who's Tears for You sold over 3 million copies), Delbert McClinton, Chris Farlowe, and the great Dr. Feelgood. "Some People Cant Dance" is a good album in the British "Pub Rock" style. If you like good "honest to god" R&B/Rock 'n Roll, you can't go wrong with this album from the very underrated Mickey Jupp. Listen to his great "Juppanese" album
TRACKS
A1 Superman 3:00
A2 Joggin' 4:25
A3 Virginia Weed 4:23
A4 Maybe Baby 2:58
A5 Feel Free 4:50
B1 Some People Can't Dance 3:21
B2 Taxi Driver 3:50
B3 Modern Music 4:33
B4 So That's What It Is 2:51
B5 The Gospel Song 4:20
All songs composed by Mickey Jupp
MUSICIANS
Mickey Jupp - Grand Piano, Guitar, Vocals, Keyboards [Casio M10]
Mo Witham - Guitar [Lead]
Tex Comer - Bass
Steve Holly - Drums, Percussion
Howie Casey - Sax on "Superman", "Virginia Weed", "Feel Free", "Some People Can't Dance", "Modern Music", & "So That's What It Is"
Bias Boshell - Roland Jupiter on "Modern Music"
BIO
Like Dave Edmunds, guitarist/pianist/vocalist Mickey Jupp was a champion of traditional rock & roll during the late '70s, a time when it had been all but discarded. Unlike Edmunds, Jupp wrote the majority of his own material, which updated '50s rock & roll with a tongue-in-cheek irony. Jupp began his career with the Essex-based British R&B group the Orioles in the early '60s. The band earned a devoted local following in the early '60s, yet they never had the opportunity to record. The Orioles broke up late in 1965 after Jupp was arrested for not making alimony payments to his wife. Three years later, he returned to music, forming Legend, who laid the groundwork for English pub rock of the early '70s. Following the release of their third album in 1971, Legend disbanded and Jupp took another lengthy break from music. When he was coaxed back into performing in 1975 by Lee Brileaux, the lead singer of Dr. Feelgood, pub rock was in its last days yet Jupp was well respected in the scene, since both Ducks Deluxe and Dr. Feelgood had recorded versions of his songs ("Cheque Book" and "Down at the Doctors," respectively). Jupp released his first solo single, "Nature's Radio," on Arista Records in 1978. The single led to a contract with Stiff Records, who released the "Old Rock 'N' Roller" single and the Juppanese album in 1978; the bulk of Juppanese was recorded with Rockpile and produced by Nick Lowe. Released the same year as his debut, Mickey Jupp's Legend featured material from his previous band. Following the release of Juppanese, Jupp joined Stiff's Rail Tour, although he left the lineup before it hit the U.S. because he was afraid of flying. Shortly afterward, he left Stiff Records and signed with Chrysalis in 1979. The same year he released Long Distance Romancer, which was produced by 10cc members Kevin Godley and Lol Creme; like Juppanese, it failed to gain a large audience. Jupp moved over to A&M Records in 1982, releasing Some People Can't Dance. After releasing one more record on A&M, 1983's Shampoo Haircut and Shave, he was dropped from the label. Jupp spent the rest of the '80s and '90s touring the U.K., releasing the occasional album on independent labels. © Stephen Thomas Erlewine © 2010 Rovi Corporation. All Rights Reserved http://www.allmusic.com/cg/amg.dll?p=amg&sql=11:a9foxqu5ldae~T1
BIO
(WIKIPEDIA)

Michael 'Mickey' Jupp (born 6 March 1944, in Worthing, Sussex) is an English musician and songwriter, mainly associated with the Southend music scene. Jupp played in several Southend bands after leaving art college in 1962 and was in the R&B group The Orioles (1963 – late 1965), which included Mo Witham (guitar, vocals) and Bob Clouter (drums), but the band were never recorded. After a break from music, Jupp formed Legend in 1968, who were signed to Bell Records. They released an eponymous album Legend, playing a mix of pop, rockabilly and blues rock styles using no electric instruments. The original band: Nigel Dunbar (drums), Chris East (guitar, vocals and harmonica) and Steve Geere (string bass and vocals), who recorded this album with Jupp (guitar, piano and vocals), split soon afterwards, so Jupp assembled a new lineup, with Mo Witham on guitar, John Bobin on bass and Bill Fifield on drums. A recording deal with Vertigo produced a second album, in 1970, using the same lineup. Confusingly, this album was also called Legend, but is usually referred to as the "Red Boot" album, after the cover picture. Fifield left to join T.Rex (where he was re-named Bill Legend, after the band he had left, by Marc Bolan), and was replaced on drums by Bob Clouter who had played with Jupp in The Orioles. This lineup recorded the second Vertigo album Moonshine issued in 1971 (and re-released on CD in 2007), after which the band broke up. Returning to Southend, Jupp pursued a low-key existence until the pub-rock revolution (spearheaded by local bands such as Dr. Feelgood, for whom he wrote the hit single "Down at the Doctors") created a fresh interest in rock and roll. He signed to Stiff Records in 1978, and they initially released a compilation album of the first three Legend albums, which was also called Legend, giving three albums with this title. This was followed by his first solo album, Juppanese, an album in two different styles. The first half was recorded with Rockpile and produced by Nick Lowe, and is in a simple raw style, whereas the second half, produced by Gary Brooker of Procol Harum, is slicker. (there was a long-standing connection with Procol Harum; their bassist David Knights produced the second Legend single). The follow-up album Long Distance Romancer was produced by Godley and Creme, and has a slick, highly produced, sound, which was generally seen as less successful. Jupp went on to release a further seven solo albums, some appearing on Swedish and German labels. His songs have been recorded by Rick Nelson, Elkie Brooks, The Judds and Chris Farlowe, Delbert McClinton, Nick Lowe, Gary Brooker, The Hamsters, Dr. Feelgood and The Searchers. At one time the Mickey Jupp Band had Joy Sarney as its vocalist. In February 2009 the early Legend lineup of Chris East, Mo Witham, John Bobin and Bob Clouter (but NOT Mickey Jupp) self-released a new home-made album, Never Too Old To Rock, featuring a selection of Jupp–East songs written over the previous twenty years.