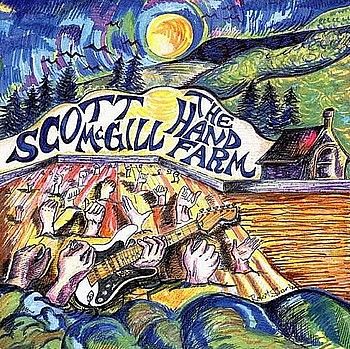 Scott McGill
-
The Hand Farm
-
1997
-
Mellow Records

If I had received this CD without liner notes or the disc itself unlabelled and had to name the guitarist, my vote would have been Bill Connors doing one of his finest tributes to Allan Holdsworth. Chord phrasings, song structures, legato leads, yet edged with furious picking brought to mind Connors' Step It or Assembler release. The virtuosity McGill explodes with over and over results in amazing guitar work. McGill burns the frets closer to Holdsworthian modes than anyone I have ever heard. His execution stands inseparable from Bill Connors' and goes beyond Shawn Lane's. I heard snatches of Eric Johnson bleed through in places, but McGill cranked up the speed, mixed up his lead phrasings, and went right back into jazz-rock fusion. You'll also hear superb Andy Summers tone and styling in many places. Don't be misled, McGill isn't into jazzy, "out there" abandon. He knows how to kick out some serious rock jams in the midst of complex stop-and-go time signatures. In speaking with Scott by phone I was amazed to find out he was more a picker than left-hand legato runs predominantly. You'd never know it by the seamlessly smooth flow of notes. Hand Farm is graced by the expert musicianship of Kevin Woolsten and Matt Cantwell on bass. Anthony DeSimone drums right up there with the likes of Chad Wackerman, Dennis Chambers, Gary Husband, and Dave Weckl. File this future classic under favorite, killer fusion right next to Connors and Holdsworth. McGill is a musician's musician. © John W. Patterson © 2010 Rovi Corporation. All Rights Reserved. http://www.allmusic.com/album/the-hand-farm-r385398/review
The Hand Farm is the new, all instrumental CD from New Jersey fusion guitarist Scott McGill. A relentless, aggressive guitarist in the vein of John Goodsall, Allan Holdsworth and Scott Henderson, McGill explodes over each of the eleven tracks with propulsive musical chops, backed by nothing more than bass and drums. A serious piece of fusion music, The Hand Farm must be dropped several times into your CD player to be fully appreciated. Uncanny, dazzling improvisational lines dominate this album from top to bottom, clearing making Scott McGill a guitarist to be reckoned with for some time to come. © 1996-2008 Guitar Nine Records All Rights Reserved
If you are looking for a guitar-intensive album that manages to avoid all of the cliches of that genre, The Hand Farm might just be for you. Best of all, the drummer and bassists are free to play around the complex guitar lines rather than just pump out easy, and boring, rhythms. Thus, this album feels more like a band effort rather than solo. Scott McGill seems to have a strong Allan Holdsworth influence, with fluid jazzy guitar lines played at incredible speeds, and unusual chordings. Once in a while, the music gets even more aggressive with complex power-chord driven rhythms. I must also mention that there are no keyboards at all(this is strictly guitar, bass, and drums territory). © http://stevehegede.tripod.com/usa2.htm
Tremendous and powerful jazz rock fusion from Scott McGill. This album has been lauded by artists like Jens Johansson, Greg Howe, Bill Bruford, and the fabulous Wayne Krantz. It can be sombre, moody, intense, and structurally complex, but Scott's talent knows no bounds. This is dynamic, powerful, and stunning guitar playing from the multi-dimensional guitarist, Scott McGill, who despite his impressive credentials, remains relatively unknown.
N.B
:
This issue of "The Hand Farm" on the Mellow Records label does not contain the track, "Industrial Blowout" found on the 1997 Train label release.
Buy Scott's great "What We Do" album, and promote this amazing guitarist. Some of his albums can be bought thru his website @ http://www.scottmcgill.com/ For music in the same vein, listen to his "2 Drink Minimum" album, and also the great "Krantz Carlock Lefebvre" album.
TRACKS
The Great Unwashed
The Secret Linen Service
Pools
Death by D.M.V.
2000 Allen Called
Uncle Zippy
Luggage
Ignoramus Rex
Calvinist Pancakes
Labyrinth
Alaskan Brick
All music composed by Scott McGill

MUSICIANS
Scott McGill / Electric and Acoustic Guitars
Kevin Woolsten / Bass (1,5,7,8,9,10)
Matt Cantwell / Bass (2,3,4,6)
Anthony DeSimone / Drums
BIO
Proclaimed as the thinking man's Yngwie Malmsteen by celebrated jazz and fusion author/critic BILL MILKOWSKI, SCOTT MCGILL has been playing guitar for over twenty five years. His formal training includes a B.M. in Jazz Performance & Composition from Temple University (Summa Cum Laude). For ten years he studied with legendary composer and theoretician DENNIS SANDOLE (teacher of JOHN COLTRANE, PAT MARTINO, and JAMES MOODY among others). Currently SCOTT is guitarist for FREAKZOID, JONES MCGILL DECARLO and MCGILL/MANRING/STEVENS. He was featured in Guitar Player Magazine for February 2007. During 1985 to 86, and at the ripe old age of 19, SCOTT became the lead guitarist for the RCA recording artist ROBERT HAZARD ('Escalator of Life', 'Girls Just Want to Have Fun'). Gigs included "Fourth of July on the Parkway" at the Philadelphia Art Museum with JIMMY PAGE, JOAN JETT and the BEACH BOYS and with 800,000 people in attendance. He formed his first group THE HAND FARM in 1991 touring with SPOCKS BEARD, TRANSATLANTIC, and MACEO PARKER. Praise for the first disc 'The Hand Farm' (1997) came from BILL BRUFORD, WAYNE KRANTZ, GREG HOWE and JENS JOHANSSON. MCGILL joined the prog-rock/fusion band FINNEUS GAUGE (also featuring members of the former and future ECHOLYN), releasing the 'More Once More' and 'One Inch Of The Fall' albums between 1997 to 1999. The musical echoes of UK/BRUFORD got critical acclaim in both progressive rock circles and the mainstream press (e.g. Guitar World's "Top 10 Prog Bands" and Keyboard Magazine's "Best Of 1997"). Around this time SCOTT released his second solo HAND FARM album Ripe featuring VIC STEVENS (drums), CHICO HUFF (bass) and DEMITRIOS PAPPAS (keyboards). He left FINNEUS GAUGE in 1999 to write material for what was to be the first album by MMS - MCGILL, MANRING & STEVENS. World renowned bassist MICHAEL MANRING and drummer VIC STEVENS joined MCGILL for the first MMS album 'Addition by Subtraction' (2001, produced by Grammy-winning producer NEIL KERNON) and also the 2002 double album 'Controlled by Radar'. DREAM THEATER/LIQUID TENSION EXPERIMENT's keyboardist JORDAN RUDESS, guested with MMS, being prominently featured on ABS. Promotion of ABS included touring North America with a special guest, the legendary bassist PERCY JONES. Various members of MMS also appeared on a couple of A TRIGGERING MYTH albums. MMS also performed at NAMM 2001 (Anaheim, CA) to an overwhelmingly enthusiastic response. The band then embarked ...Proclaimed as the thinking man's Yngwie Malmsteen by celebrated jazz and fusion author/critic BILL MILKOWSKI, SCOTT MCGILL has been playing guitar for over twenty five years. His formal training includes a B.M. in Jazz Performance & Composition from Temple University (Summa Cum Laude). For ten years he studied with legendary composer and theoretician DENNIS SANDOLE (teacher of JOHN COLTRANE, PAT MARTINO, and JAMES MOODY among others). Currently SCOTT is guitarist for FREAKZOID, JONES MCGILL DECARLO and MCGILL/MANRING/STEVENS. He was featured in Guitar Player Magazine for February 2007. During 1985 to 86, and at the ripe old age of 19, SCOTT became the lead guitarist for the RCA recording artist ROBERT HAZARD ('Escalator of Life', 'Girls Just Want to Have Fun'). Gigs included "Fourth of July on the Parkway" at the Philadelphia Art Museum with JIMMY PAGE, JOAN JETT and the BEACH BOYS and with 800,000 people in attendance. He formed his first group THE HAND FARM in 1991 touring with SPOCKS BEARD, TRANSATLANTIC, and MACEO PARKER. Praise for the first disc 'The Hand Farm' (1997) came from BILL BRUFORD, WAYNE KRANTZ, GREG HOWE and JENS JOHANSSON. MCGILL joined the prog-rock/fusion band FINNEUS GAUGE (also featuring members of the former and future ECHOLYN), releasing the 'More Once More' and 'One Inch Of The Fall' albums between 1997 to 1999. The musical echoes of UK/BRUFORD got critical acclaim in both progressive rock circles and the mainstream press (e.g. Guitar World's "Top 10 Prog Bands" and Keyboard Magazine's "Best Of 1997"). Around this time SCOTT released his second solo HAND FARM album Ripe featuring VIC STEVENS (drums), CHICO HUFF (bass) and DEMITRIOS PAPPAS (keyboards). He left FINNEUS GAUGE in 1999 to write material for what was to be the first album by MMS - MCGILL, MANRING & STEVENS. World renowned bassist MICHAEL MANRING and drummer VIC STEVENS joined MCGILL for the first MMS album 'Addition by Subtraction' (2001, produced by Grammy-winning producer NEIL KERNON) and also the 2002 double album 'Controlled by Radar'. DREAM THEATER/LIQUID TENSION EXPERIMENT's keyboardist JORDAN RUDESS, guested with MMS, being prominently featured on ABS. Promotion of ABS included touring North America with a special guest, the legendary bassist PERCY JONES. Various members of MMS also appeared on a couple of A TRIGGERING MYTH albums. MMS also performed at NAMM 2001 (Anaheim, CA) to an overwhelmingly enthusiastic response. The band then embarked on a second successful tour of the US east coast and central U.S. in 2002, supporting CBR. During the next few years, MCGILL was kept busy as a teacher, clinician/endorsing artist, as well as guest soloist on many progressive, fusion, jazz, and prog-metal releases. In 2006 MMS released the critically acclaimed 'What We Do' featuring the mixing wizardry of DAVID TORN with liner notes by BILL MILKOWSKI. What We Do is an album of jazz standards done the MMS way with a bonus disc of live material from their 'Addition By Subtraction' Tour of 2001. The band FREAKZOID with SCOTT, KJELL BENNER (bass), DAVE KLOSS (bassist/Stick) and RITCHIE DECARLO (drummer/producer) was created in 2006, with its eponymous debut disc was released in 2007. SCOTT also released a disc of fretless guitar material in late September 2006, 'Awareness' with DECARLO and HUFF. More recently, new material has been released over two albums with RITCHIE and PERCY JONES (bass - ex. BRAND X, TUNNELS). The first in 2008 was the i-Tunes release-only 'Debut' and with the 'Percy Jones, Scott McGill, Ritchie DeCarlo' album being issued in 2010. Special guests include DAVE KLOSS (Stick) and MARKUS REUTER (Warr guitar, - ex. Pat Mastelotto). SCOTT released a solo disc in 2009, 'Symptom Imperative', while a second FREAKZOID disc is completed and awaiting release. As a teacher, SCOTT MCGILL was Senior Lecturer of Guitar at the University of the Arts in Philadelphia and Stockton College in Pomona, NJ. His latest book 'The Guitar Arpeggio Compendium' has been published as an e-book and there is more of his instructional texts on the way. He is an endorsing artist for Brian Moore Guitars, Vigier Fretless Guitars, DR Strings, and Seymour Duncan Pickups. He has now taken up a post as Course Leader/Prof BA (Hons) at the Brighton Institute Of Modern Music Scott and his wife Meredith, and their 2½ year old son Declan, now reside in Hove on the South English coast. (Thanks to Scott McGill for supplying the information, which has undergone only minor modifications at the hands of Dick Heath) © Prog Archives, All rights reserved http://www.progarchives.com/artist.asp?id=5690