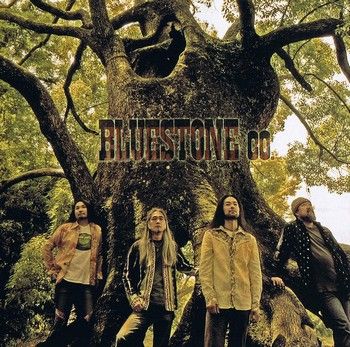 Bluestone Co.
-
Bluestone Co.
-
2006
-
Big Stone Records
Take 2 drummers, a great blues bass, and a slide guitarist who is amazing, Oh, the Allman Bros. you say? Could be, but no. What a thought, 2 guitarists and 2 drummers, only in America you say, not so. This Japanese 4some come to terms with Chris Duarte to provide a sizzling set of Southern style slide blues with biting leads by Chris. Every song is great, awesome slide and great leads and vocals by Chris. Don't take my word for it, buy it. You will not be disappointed. If you enjoy Chris' latest release, Blue Velocity, then this is going to make your neck hair stand up. A great release, thanks to Bluestone. TURN IT UP!!!!!!!!! There is a great dvd of Chris playing with these guys available from his web page. 20 blazeing blues songs done the way you like it from a small club in Japan from 2006. Take it away, Toshihiro, Yoshihiro, Taizo, Taro and Chris. Freakin' amazing..... – from ***** Japenese Blues, Chris Duarte style, March 28, 2008 by & © Rafal Szafran © 1996-2013, Amazon.com, Inc. or its affiliates http://www.amazon.com/review/R13WKOC488N3N4/ref=cm_cr_dp_title/192-4288289-5490828?ie=UTF8&ASIN=B000KEGCKS&channel=detail-glance&nodeID=5174&store=music
When Southern Rock was first born it was from a region where life was simple and carefree. Now, in this day and age, I believe it to be a feeling more so than a region. Bluestone Company has proven this theory. This band out of Nishi-Ku, Osaka Japan released their first CD on December 20, 2006 in Japan. This Album/CD is being released World Wide in 2007. The band also known as The Savoy Truffle with five CD's under their belt has toured the USA three times, and now has come back to the USA again as Bluestone Company. The band consists of Toshihiro Sumitomo - Lead Guitar, Yoshihiro Ogasahara - Bass Guitar, Taizo Takafuji - Drums, Taro Takagi – Percussions. Their newest project is simply titled "Bluestone Co". This album with their instrumental jams certainly has a feel of The Allman Brothers Band, except for the last song on the album called "Valle Colorado " which will remind you of Carlos Santana, and it really shows their talent. Chris Duarte is the guest singer on 5 of the 7 songs. Mr. Duarte brings another element to the harmonic guitars, and makes this album complete. Reviewed By & © Ms. Rebyll 2002-2006 Southbound Beat Magazine - All rights reserved. http://www.southboundbeat.com/issue_15/cdreviews/bluestonecompany.php3
Great 70's style blues rock/fusion that highlights not just the talents of one of Japan's greatest guitarists, Toshihiro Sumitomo, but also the great guitarist, vocalist, and songwriter Chris Duarte from San Antonio, Texas. Chris plays and sings on the album's five non-instrumental tracks. He plays a rhythmic style of Texas blues-rock that incorporates jazz, blues, and rock 'n' roll. Bluestone Company is Chris Duarte's usual backing band when he tours Japan & the US, and it's easy to see why. Check out Bluestone Company's "Supernatural Delight" album and Chris Duarte & Bluestone Co.'s "396" album. There is info on Chris Duarte & Bluestone Co.'s "Live At House Of Blues Back Porch Stage (2010)" album @ http://www.myzuka.ru/Album/327518/Chris-Duarte-Bluestone-Co-Live-At-House-Of-Blues-Back-Porch-Stage-2010 Also check out http://overdoseoffingalcocoa.blogspot.com/2013/09/chris-duarte-group.html for more about Chris Duarte
[
All tracks @ 320 Kbps: File size = 92 Mb
]
TRACKS
1. Silver Horse
2. In The News Today
3. She Cries
4. Luck Shine On Me
5. Me N' You
6. Carnal Assets
7. Valle Colorado
MUSICIANS
Toshihiro Sumitomo - Lead & Slide Guitar
Chris Duarte - Guitar, Vocals on Tracks 2-6
Yoshihiro Ogasahara - Bass
Taizo Takafuji - Drums
Taro Takagi - Percussion
ABOUT
BLUESTONE CO.
The Savoy Truffle was formed in Osaka, Japan in 1991. Over the next fourteen years, the band released five albums to rave reviews and touring the USA, Germany, the Czech Republic, Spain, Austria and Italy. In January 2002, The Savoy Truffle entered a recording session for their 4th studio album. In June of that same year the band flew to Sweden, the first Japanese artist to be invited to perform at SWEDEN ROCK FEST. On Jun 26th, the band released their 4th album Take To The Sky And Fly, in Japan. Their 3rd CD "LIVE! On Our Way" was released in August in Europe. They signed with Blue BUFFALO Records and their 2nd album The Savoy Truffle was released in Germany in September and the rest of Europe at the end of October. The Savoy Truffle was nominated the best artist in the southern rock magazine BAND OF DIXIE's readers' poll 2002 and the album Take To The Sky And Fly was nominated as the best album. What's more; all four band members were nominated for "best of" for their musical talents. Ogasahara, for his bass and Sumitomo coming in second place for his guitar work. Monji coming in third as best vocalist and Taizo coming in second for his drumming. Over the next two years the band toured Japan, performing in Spain and Austria too. Returning to Japan, the band began work on their 5th studio album Roadhouse Boogie, released on March 27, 2004. On July 31st, of that year The Savoy Truffle performed at the Fuji Rock Festival in Japan. Their album Roadhouse Boogie was released in Germany, Switzerland and Austria and the band toured Germany, the Czech Republic and Italy in October promoting it. When the band returned to Japan, Vocalist Monji quit. In 2005, Toshihiro, Yoshihiro, Taizo and Taro formed 'Bluestone Company' and in 2006, the band invited Chris Duarte to Japan. Since then, Chris Duarte has played a limited number of U.S. and Japan dates with the Bluestone Company backing him and culminating in the release of the album 396 by Chris Duarte and Bluestone Co. In December of 2006, Bluestone Company released their first album Bluestone Co. Followed by their second release Supernatural Delight (available at Amazon) in 2008. "Based out of Osaka, Japan, Bluestone Company delivers an amazingly brilliant, blues-based heavy guitar musical document full of depth, power and class on the awesome "Supernatural Delight" disc. Led by the amazing and gifted Toshihiro Sumitomo on guitar (whom many consider to be the Warren Haynes of Japan and we mean that with full respect to Mr. Haynes). Toshi bends and shapes a vast array of vintage "old school" bluesy tones, colors, shapes and endless, fantastic, mind-blowing solos out of his Les Paul that will have your head spinning in disbelief as he works his phenomenal 6 string magic direct to your earhole." Bluestone Company is a blues jam rock band that respects soul, blues and rock-n-roll music. Trying, to surpass the bands that they admire most. by & © Denise March 1, 2010 © 2012 Anusaya. All rights reserved http://www.anusaya.com/profile/bluestone-company/