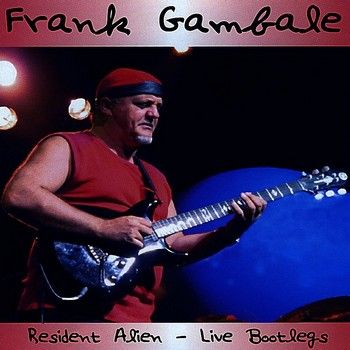 Frank Gambale
-
Resident Aliens:
Live Bootlegs
-
2001
-
Wombat Records
Frank Gambale's Resident Alien-Live Bootlegs is XXX instrumental pornography, and that is meant in a positive way. Gambale is an innovative guitarist whose astonishing musical depth is matched by equally fearsome technique. There are some who would say that the long solos from all the musicians concerned are akin to an adult film where all of the "money shots" have been edited together for pure slobber value. Others would contend that unfettered virtuosity, far from being self-indulgent instrumental wanking, is actually the ultimate form of musical expression. I tend toward the latter view. Gambale is one of the best fusion guitarists ever, combining a shredders chops, a jazzman's musical sophistication, and an innovator's vision into an awesome musical whole. He belongs with the elite group of fusion instrumentalists that includes Henderson, Morse, Holdsworth, McLaughlin, Lane, and DiMeola. These CDs are not for people who think that expression is determined by restraint. If you appreciate virtuosity, and lots of it, buy this. – from ***** Hardcore Virtuosity September 10, 2005 By & © Thelonious © 1996-2013, Amazon.com, Inc. or its affiliates http://www.amazon.com/Resident-Alien-Live-Bootlegs/dp/B004N4CK7U
Frank Gambale's "Resident Alien-Live Bootlegs" contains ten of the best live tracks taken from 20 shows recorded between late 1999 and June 2000, at the Baked Potato, and La Ve Lee, in North Hollywood, CA. These gigs were played in between tours and are fun, laid back, and relaxed performances with very small audiences. Some of the tracks are completely improvised and gave the guitar maestro from Canberra, Australia the opportunity to let loose and play some incredible extended mind-blowing jams. The album also features the bonus track, "New Boots", with the great Allan Holdsworth helping out on guitar. Some music critics have accused Frank Gambale of "showing off" and playing some "over-the-top guitar histrionics". There are some fabulous extended solos on this album, and anyway, Frank Gambale is an extraordinary player and was playing to appreciative audiences, not music critics. These tracks were not originally intended to be on a live album, and if you're a fan you will probably never get enough of the guitar giant's magical playing. Chick Corea, describes Frank: "Everything you touch with your guitar turns gold – always has." John McLaughlin speaking about Frank's playing ability once said "I'd like to cut his hands off."! Frank Gambale is one of today's greatest fusion guitarists and all his work is worth a listen. To fully appreciate just what Frank Gambale can do with a guitar, listen to his "Absolutely Live - In Poland" album and his "A Present For The Future" album. "Resident Aliens: Live Bootlegs" is
HR by A.O.O.F.C.
[
All tracks @ 320 Kbps: File size = 254 Mb
]
STEELY DAN TRIVIA:
Frank Gambale played electric guitar on The Dan's "FM" song. Ann Wickstrom of vintageguitar.com has said that Frank is "a Steely Dan freak! He can sit down at the piano and sing all the lyrics to almost every Steely Dan song!"………just like yours truly! (lol)!
TRACKS
1 Equinox 17:25 - John Coltrane
2 Dreamtime 10:39
3 The Shores of Bahia 11:13
4 Lydia's Love Van 4:04
5 Nothing Personal 16:47 - Don Grolnik
6 Goanna Logic 8:04
7 The Wow!!! 6:38
8 Walkin' the Wombat 11:52
9 True Blue Blues 7:07
10 New Boots 6:20
MUSICIANS
Frank Gambale - Lead Guitar
Allan Holdsworth - Guitar on "New Boots"
Ric Fierabracci - Bass Guitar
Jimmy Earl - Bass Guitar on "New Boots"
Freddie Ravel - Keyboards on "New Boots"
Steve Tavaglione - EWI Synth. Oboe on "New Boots"
Ray Brinker, Toss Panos, Joel Taylor - Drums
Tom Brechtlein - Drums on "New Boots"
BIO
Grammy winning guitar virtuoso, Frank Gambale, exploded on the L.A. scene in the early '80's. His meteoric rise to fame is a testament to his passion powered playing – a style "Rolling Stone Magazine" calls "ferocious"! Gambale is an inspired songwriter with over 200 songs published on 20+ albums. His music touches on many styles from funk and jazz to R&B and some Latin and Brazillian influences. As a legendary guitarist, Gambale is the undisputed genius who originated the sweep picking technique ( a new way to play the instrument ) and elevated it to a precise art form now standard in the guitar lexicon. The "Gambale Sweep Picking Technique" continues to inspire generations of musicians. Jazz, rock, metal and progressive artists alike are united in their awe of Frank as both an amazing technician and an unsurpassed musician. As jazz legend, Chick Corea, describes Frank: "Everything you touch with your guitar turns gold – always has." While John McLaughlin's tongue-in-cheek response to his finesse is "I'd like to cut his hands off." A musician's musician, gifted composer, brilliant innovator and author of numerous instructional books and DVDs, Frank continues to reach unprecedented sonic and technical heights. His six string prowess and seemingly limitless vision point towards an exciting future of ground-breaking music: Early Years - Frank Gambale was born into a family of talented musicians in his native Canberra, Australia. He quickly absorbed the pantheon of '60's and '70's blues and rock guitar greats. As a teen, Frank's musical horizons expanded with the influence of jazz and vocal based music under the generous tutelage of a local import record shop owner. At 17 he started playing piano and almost gave up guitar altogether. It was 2 years before he would return to the guitar at the insistence of his older brother. He returned to the guitar with renewed enthusiasm and continues to play piano. It was a leap of faith for Frank to leave for Los Angeles, to be in the middle of "where all the music I loved was being made," and set off to the Guitar Institute of Technology in the early '80's: Meteoric Rise - Frank's shining prowess and dedication to practice garnered him "Student of the Year" upon graduation from GIT, landing him a four-year teaching gig as well as a publishing deal for his first instructional book "Speed Picking". In 1985 he signed a 3-album recording contract and began his illustrious recording career. In the summer of 1986 he toured with jazz violin great Jean-luc Ponty. Soon after that tour his widening reputation led to an invitation by jazz legend Chick Corea to join his groundbreaking "Elektric Band." Frank began a major endorsement with the Ibanez guitar company and began to create the FGM series of guitars, which became a very popular series. He also signed a 3 DVD contract for instructional videos. Fresh-faced Gambale graced the cover of "Guitar Player" magazine in June 1988 entitled "Fire Meets Finesse". Numerous publications and accolades soon followed. Fire meets finesse, indeed!: On the Road - Frank's musical journey has taken him "at least twenty times around the world," by his accounts with his own groups and as a collaborator with "Vital Information" and several of Chick Corea's bands. 25 years have produced over 20+ solo records, another 9 with his 16 year collaboration with Vital Information, 3 blazing albums with his off-shoot project, "Gambale, Hamm, Smith," as well as dozens of other guest record projects. His fruitful 25+ year alliance with Chick Corea has totaled 6 recordings and a live DVD recorded at Montreux Jazz Festival and garnished aa Grammy Award and 2 Grammy Nominations. World tours with drum legend, Billy Cobham, led to Cobham's enthusiastic participation on Frank's album, "Raison D'Etre," which introduced Frank's "Gambale Tuning System" to the world: Sweep Picking and Guitars - Nearly 40 years seeped in all things guitar, Frank discovered his revolutionary "Gambale Tuning." This system aligns the chordal capabilities of piano onto a reachable and familiar fret board - yet another of his monumental contributions to the guitar alongside the Sweep Picking Technique. Yamaha quickly jumped in to arm Frank with a new double-neck guitar, necessitated by the quick change-over in tunings while flying on the new adventurous tracks. The new Frank Gambale DV Mark Signature line of amplifiers fires up the incredible new Gambale Signature FG1 Guitar by Carvin corp. This semi-hollow guitar was a year in the making at Carvin's Custom Shop. Frank's instructional materials are used in many schools and universities throughout the world. His mystifying sweep picking technique, featured in his first instructional book and masterfully demonstrated in the Monster Licks and Speed Picking video, continues to amaze and inspire guitarists. Frank generously conducts master classes around the world: On the road in 2011 - In 2011, the all-star "Return to Forever IV" (Chick Corea, Stanley Clarke, Jean- luc Ponty, Frank Gambale, Lenny White) ignited the greatest stages around the world with over 100 concerts starting in Australia which included a performance at the famed Sydney Opera House. The World Tour culminated in November at the renowned Blue Note in New York with an acoustic performance of RTF-IV (Chick Corea, Stanley Clarke, Frank Gambale, and Lenny White) marking the beginning of Chick Corea's month-long appearance at the acclaimed venue to kick off the celebration of his 70th birthday. The "Elektric Band" closed the month-long birthday bash, playing to sold out shows reuniting all the original members of this iconic Grammy award winning group featuring Chick Corea, Frank Gambale, Eric Marienthal, John Pattitucci, and Dave Weckl: Newest Release in 2012 - 2012 brings more terrific new directions for Frank Gambale that will delight dedicated fans and new audiences alike. An album Gambale's wanted to make for 30 years, his newest release "Soulmine" is a return to Frank's vocal roots, and the first collaboration with inspirational songstress and muse, BOCA. Gambale and BOCA wrote, arranged and produced this release that features Boca's sexy, strong and evocative vocals and inviting lyrics luring listeners to "stir their soul", and Gambale's soulful guitar playing and signature sweep-picking prowess throughout this Adult Contemporary Album. "Soulmine" has seriously catchy tunes punctuated with shining vocal harmonies, unexpected sass, funky rhythms and saucy guitar lines. The delicious guitar tones that tie the new tracks together are complimented by the combination of the new Frank Gambale DV Mark Signature line of amps firing up the incredible Gambale Signature FG1 Guitar by Carvin's Custom Shop. The Frank Gambale Soulmine feat. BOCA is Frank's remarkable new release. A Soulmine World Tour starts in Europe in June 2012. The first single, "Forbidden Kiss," hit the radio waves and video channels in January 2012. Released on www.Youtube.com and FrankGambaleTV (FGTV), the video for "Forbidden Kiss" was created and directed by the legendary Nigel Dick. This award-winning, British born filmmaker boasts a resume of more than 300 music videos, multiple commercials and numerous films. His creativity and vision enhances the key elements of musical expression and sensuality that comes through Gambale and BOCA's collaboration. Whether Gambale is touring the world with his Fusion Jazz Trio, the Natural High Trio, his new vocal group Soulmine, or joining forces in an iconic jazz super group, Frank continues to amaze audiences around the world. © Dura and Matthew X. Curry © 2006-2011 Frank Gambale. All Rights Reserved http://www.frankgambale.com/frank_gambale_bio.html
BIO
(WIKI)
Frank Gambale (born 22 December 1958), is an Australian jazz fusion guitarist. He has released eleven studio albums over a period of more than two decades, and is renowned for his use of the sweep picking and economy picking techniques. Gambale graduated from GIT in Hollywood, with Student of the Year honors. He also taught there from 1984 to 1986. After graduation, he played the jazz club circuit with his own band and in 1985 released his first studio album, Brave New Guitar, through Legato Records (owned by Mark Varney, brother of Shrapnel Records founder Mike Varney) in what was to be a three-album contract. In that same year, he toured with Jean-Luc Ponty and shortly afterwards began a six-year stint with the Chick Corea Elektric Band in 1987. During his time with the latter, he has participated in five albums and shared a Grammy Award (with two nominations). In the 1980s, he released two studio albums and a live album. In 1988, he released Monster Licks & Speed Picking, the first of many instructional videos. An endorsement deal with Ibanez guitars resulted in the 1987 debut of the Frank Gambale Model (FGM) signature series, modeled after the Ibanez Saber. Yamaha also manufactured a signature guitar after he left Ibanez later in the 1990s. In 2011, he endorsed the Carvin FG1, a thin hollow body guitar made in the US. He signed with Victor Entertainment in 1989 as part of a five-album agreement, and released Thunder from Down Under the following year. The 1990s began for Gambale with a pair of albums—Truth in Shredding (1990) and Centrifugal Funk (1991)—as part of The Mark Varney Project. These were collaborations with fellow guitarists Allan Holdsworth, Brett Garsed and Shawn Lane, in a jazz fusion supergroup concept put together by Mark Varney. Around this time, he served as head of the guitar department of the Los Angeles Music Academy. In the 2000s, having parted ways with Victor, Gambale started his own record label named Wombat Records after purchasing his entire Legato discography with the intention of reissuing it himself. A live double album, Resident Alien – Live Bootlegs, was released in 2001, along with Imagery Suite; a duet featuring classical guitarist Maurizio Colonna. He also released a studio album, Coming to Your Senses, on guitarist Steve Vai's Favored Nations label in 2000. Gambale has also been a member of the jazz fusion band Vital Information since 1988, with the group consisting of keyboardist Tom Coster, drummer Steve Smith and bassist Baron Browne. Furthermore, in a group known as GHS, he has released three collaborative albums with Steve Smith and bassist Stu Hamm through Mike Varney's jazz-orientated label, Tone Center Records. In addition to concert recordings, he released an instructional DVD called Concert with Class in 2003. A reunion with Chick Corea came about in 2004, and Gambale subsequently toured with the Chick Corea Elektric Band. In 2006 and 2010, he released two all-jazz studio albums in the form of Natural High and Natural Selection, respectively.