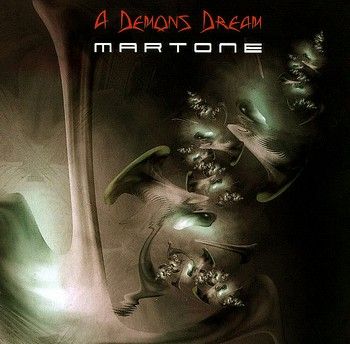 Martone
-
A Demons Dream
-
2002
-
Lion Music
Dave Martone may not be well known outside of a small circle of guitar fanatics, but he should be. From the outset of this album it's clear that Martone (like many players) is heavily influenced by Joe Satriani both in technique (and the frequent use of Whammy Pedal) and arrangement. As you listen though, you'll hear several influences and a mastery of styles that aren't typically found on the same album. Dave often evokes the likes of Paul Gilbert in short bursts of speedy legato and John Petrucci's amazing alternate picking, but his arrangements employ a more experimental style favored by the ever enigmatic Buckethead. There are elements of jazz and blues fused with chunky metal and there's even a track which would sound right at home on Steve Stevens Flamenco a Go Go album. At times during my listening of this disc I even heard a touch of one of my new favorite players Johnny A. Demon's Dream is hard to categorize, but it's easy to listen to. Although it's clear that this guy has chops to spare, he never seems to be showing off for the sake of impressing guitar players, but rather he sticks to what benefits his song's structure. If you enjoy instrumental music, you should thoroughly enjoy this album. If you enjoy amazing guitar playing, there's absolutely no reason why this disc shouldn't be in your collection. – from ***** Unknown Guitar God, April 12, 2003 By & © "dirkdiggler13" (Des Moines, Iowa United States) © 1996-2013, Amazon.com, Inc. or its affiliates http://www.amazon.com/Demons-Dream-Dave-Martone/product-reviews/B00007GZKD/ref=cm_cr_dp_synop/187-3689352-0280042?ie=UTF8&showViewpoints=0&sortBy=bySubmissionDateDescending#R5DJAMJDB5HOQ
Mix the playing styles of guitarists like Wayne Krantz, Buckethead, Michael Landau, Frank Zappa, and Greg Howe together and you would be coming near to the sound and style of Dave Martone. Yet, this guy's style is so eclectic and unique that he really can't be compared to any modern guitarist. Dave blends country, metal, rock, blues, jazz, fusion, and rock together to produce an enthralling sound. The head of Liquid Note Records said that, "The CD is a feast of memorable tunes and stylistic flourishes cemented together with a superb production (produced, engineered and mixed by Dave, himself a former music engineer). One of the year's best instrumental guitar albums, A Demon's Dream contains everything from metal and country to blues, ethnic and techno." Dave is an exceptionally gifted guitarist. Charles Mingus' "Goodbye Pork Pie Hat" is a good criterion on which to judge the technical ability of a guitarist, and Dave covers this track in great style. Dave has played, hosted clinics or performed with artists that include Steve Morse, Paul Gilbert, Yngwie Malmsteen, Marty Friedman, Greg Howe, Joe Satriani, Chester Thompson, Mike Portnoy, and Gregg Bissonette. Dave was credited on Joe Satriani's "Super Colossal" album. Joe Satriani, Greg Howe, Jennifer Batten, Billy Sheehan and Rick Fierbracci were guest players on Dave's "Clean" album. Check out http://davemartone.com/?page_id=19 for info on Dave Martone's other work. "A Demons Dream" is
HR by A.O.O.F.C.
Try and listen to Dave Martone & Glen Drover's "Live at Metalworks" album on the great Magna Carta label, and buy Dave Martone's great "Clean" album and support real music.
N:B:
Dave Martone usually uses only his surname on his album sleeves, so he may be filed under D or M!
[
Tracks @ 230-267 Kbps: File size = 104 Mb
]
TRACKS
1. Big Church 6:00
2. Do Da 3:12
3. What The Hell 6:50
4. Country Maniac 2:14
5. Demon Fetal Harvest 6:52
6. Got Da Blues 4:50
7. Attack Of The Celery Crunchers 4:46
8. Tone Of Darkness 4:22
9. Goodbye Pork Pie Hat 6:12
10. Code Red 4:05
11. Panamenco 5:12
12. A Demons Dream 1:21
All tracks composed by Dave Martone except Track 3 by Dave Martone & Daniel Adair, and track 9 by Charles Mingus
MUSICIANS
Dave Martone - Guitars, Bass, Programming
Dave Spidel - Bass on Tracks 1 & 7
Paul Martone - Keyboards
Daniel Adair - Drums, Percussion
Cassius Khan - Tablas
Nenah Barkley – Vocals
BIO
(WIKI)
Dave Martone (born January 16, 1970) is a Canadian fusion guitarist and record producer, based out of Vancouver, British Columbia. Over his career, Martone has performed alongside artists including: Michael Angelo Batio, Jennifer Batten, Marty Friedman, Paul Gilbert, Greg Howe, Yngwie Malmsteen, Mike Portnoy, Chester Thompson, Joe Satriani and Billy Sheehan. Martone was born in Grimsby, Ontario. He began learning guitar at the age of 6. His father, who is also a guitarist, taught him Classical guitar and then had a teacher from Spain (Gary Santucci) teach him Classical and Flamenco. After taking lessons with Santucci, and discovering heavy metal music, he learned in his parent's basement with cassette tapes, guitar magazines, and self-instructions books. The first rock song he had learned by ear was "War Pigs" by Black Sabbath from their greatest hits record. He obtained a recording engineering diploma from Fanshawe College in Ontario in 1990, and graduated from the Berklee College of Music, in Boston, Massachusetts, where he studied with Jon Finn, Joe Stump, Jim Kelly and Bruce Bartlett, with a performance major in 1995. Popular guitar players who have inspired and influenced him to play guitar are Angus Young, Gary Moore,Tony MacAlpine,Tony Iommi and Edward Van Halen. Martone conducts clinics at Berklee, which he has been doing since his graduation. His solo project, Martone, which is composed of him, Daniel Adair and Dave Spidel, is signed to Magna Carta Records. Martone has worked for Tom Lee Music and the National Guitar Workshop as an instructor, and continues to instruct through clinics worldwide. He has been directing the Tom Lee Music School of Rock program in Vancouver since 2003, and has hosted the Satch Zone guitar instructional online lessons alongside Joe Satriani through Workshop Live. From 2001 to 2011, he was a bi-monthly columnist for guitar9.com, writing about production, recording, equipment, and playing techniques. Martone is endorsed by Cakewalk, Digitech, Electro-Voice, GHS, Parker Guitars and Vox. He also owns and operates Brainworks Studio, located in Vancouver.