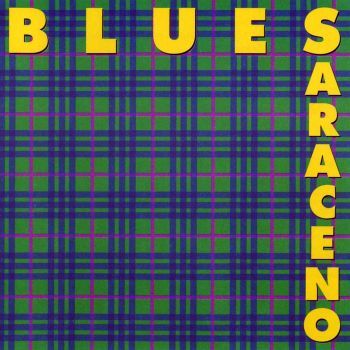 Blues Saraceno
-
Plaid
-
1992
-
Guitar Recordings
After Never Look Back established the teenaged Blues Saraceno as one of the premier players in the claustrophobic world of virtuoso rock, musicians awed by the guitarist's articulate soloing weren't let down by this 1992 follow-up. On Plaid, Saraceno's second disc for Guitar Recordings, the artist makes many technical strides, improving his instrumental and home recording chops greatly, surpassing his debut in every facet. On "Last Train Out" -- perhaps Saraceno's career-best track -- the guitarist displays an even more refined tone and rhythmic aptitude. Other highlights like "A Lighter Shade of Plaid" and "The Scratch" display the shredder's continued development of double-stop soloing, tight rhythms, and smart phrasing. Several boogie-down exercises in sassy riffing mixed with modern hyper blues soloing are also included. More dynamic and more colorful, Plaid improves greatly upon the solid musicianship and overall listenability of Saraceno's debut. © Vincent Jeffries © 2014 AllMusic, a division of All Media Network, LLC. | All Rights Reserved http://www.allmusic.com/album/plaid-mw0000074320
Guitar for the Practicing Musician magazine was instrumental in promoting Blues Saraceno from Hartford, Connecticut as a very talented musician, and aided him in releasing independent instrumental recordings which helped to spread his name as a top guitarist in the music scene. He played and toured with Cream legends Jack Bruce and Ginger Baker and at one time was referred to as the "kid that replaced Eric Clapton". Blues eventually replaced the great Richie Kotzen in Poison. "Plaid" is arguably Blues' best album in that he penned 10 good originals, the album has a strong blues flavour, and also his guitar prowess is displayed magnificently. The album is far too short but
HR by A.O.O.F.C.
Blues appears on Dweezil Zappa's "Go With What You Know" but he has been a top session player on numerous albums. Check out his "Hairpick" album on this blog and listen to his underrated "Never Look Back" album. Visit his website @ http://www.bluessaraceno.com/index2.html
[
All tracks @ 320 Kbps: File size = 74.8 Mb
]
TRACKS
1 Last Train Out 2:17
2 Elvis Talking (You Think It's Over But It's Not) 3:21
3 The Scratch 2:42
4 Friday's Walk 2:54
5 A Little More Cream, Please 2:37
6 Girth 2:18
7 A Lighter Shade of Plaid 4:07
8 Cat's Squirrel 2:27
9 L.A. Vignette 1:24
10 Exit 21 3:24
11Tommy Gun 4:11
All tracks composed by Blues Saraceno except Track 8 Trad. (Arranged by Blues Saraceno, John Stix, & Joe Franco)
MUSICIANS
Blues Saraceno – Guitar, Bass
John Stix – Slide Guitar on Track 8
Steve Blucher – Lap Steel Guitar on Track 8
Joe Franco – Drums
Alex Saraceno – Harmonica on Track 5
BIO
(WIKI)
Blues Saraceno (born October 17, 1971 in Hartford, Connecticut) is an American rock guitarist, composer, and music producer who currently resides in Los Angeles California. Saraceno was discovered by Guitar for the Practicing Musician magazine, at the age of 16, which assisted him in releasing instrumental recordings on an independent basis. Saraceno's high profile as a gifted guitar virtuoso and musician opened the doors to an early career as a first call guitar sideman and session musician. Saraceno is most often recognized from his time playing with Jack Bruce and Ginger Baker (Cream) as well as his brief tenure with the band Poison. Saraceno's early success in the music industry would eventually blossom into a career in producing and composing for television and film. Blues Saraceno was born to musician parents, which exposed him from an early age to several musical instruments. He started to play guitar at the age of nine. When he was thirteen, he broke his elbow when he fell from a go-kart and asked the doctor to position the cast in a way that allowed him to remove it from his sling to practice guitar during his recovery. When he was nineteen, Saraceno moved to Los Angeles to seek a career in music. When Saraceno was still a teenager, his then manager sent a demo tape to singer Michael Bolton, who decided to enlist him to play on a song for Cher's album, Heart of Stone. The album also featured musicians like Peter Cetera, Bonnie Tyler, Desmond Child, and others. After this, his demo tape reached the Guitar for the Practicing Musician magazine. The magazine, which were about to launch a new record label, offered Saraceno a record deal. Saraceno released his first album titled Never Look Back in 1989. After this, Saraceno won an audition with Jack Bruce and Ginger Baker, former members of Cream, and started touring with them. After two successful US tours Saraceno was quickly becoming referred to as the "kid that replaced Eric Clapton". After another year of overseas touring, Baker departed and was replaced by Simon Phillips (Who, Toto) and eventually Gary Husband (Level 42). Saraceno continued to release two other solo albums (Plaid and Hairpick) as well as furthering his reputation as a top call session guitarist and landing many high profile equipment endorsements. In 1994, Saraceno joined the band Poison as lead guitarist and songwriter after Richie Kotzen was fired. After a South American tour which included the famous Hollywood rock festival in Brazil, Saraceno recorded the album Crack a Smile with the band. However, Capitol Records decided to shelve the album releasing the 1996 compilation album, Poison's Greatest Hits: 1986-1996, instead. Still, the album featured two of the new songs recorded with Saraceno. After some time, Saraceno left the group amicably and was replaced by the band's original guitarist, C.C. DeVille. In 2000, Capitol finally decided to release the Crack a Smile album under the name Crack a Smile... and More!. The album features fifteen tracks recorded by Saraceno. After his departure from Poison, Saraceno met Vice-President of Advertising of Fox Television, who was a fan of Saraceno's earlier instrumental work. This resulted in Saraceno working on soundtracks and songs for several television shows and films. In 2000, Saraceno also founded the band Transmission OK. Saraceno also worked as record producer for the band, which was signed to Beyond Records, and was distributed by BMG. After a brief US tour, and lackluster support from the label, the group disbanded and Saraceno continued to work on television and film, as well as his session work. Saraceno's session work has ranged from Ziggy Marley (Dragonfly) to Melissa Etheridge (Lucky) and he has earned a reputation for being a "go-to guy" for many of Los Angeles' top record producers and engineers. Saraceno has also produced for artists such as, Scott Caan (Hawaii Five-0, Oceans 11), Eric Balfour (24, Chainsaw Massacre) of Fredalba, Lindsay Price (Beverly Hills 90210, Lipstick Jungle) and Anthony Michael Hall (Dead Zone). Saraceno's greatest success has come in the field of television and film. Blues' television work credits include CBS, NBC, ABC, FOX, Disney, Discovery, UPN, MTV, MTV 2, VH1, USA, TLC, Comedy Central, Telemundo, SCI FI, SPIKE, E! and BRAVO. A more detailed list can be found on his website (www.bluessaraceno.com). He has commented on how it is not uncommon to have multiple commercials running in multiple countries throughout the world, all at the same time and using the same piece of music. Saraceno did three tracks for Megas XLR. These tracks were Blood Shot, Berzerker and Ro-Sham-Bo.