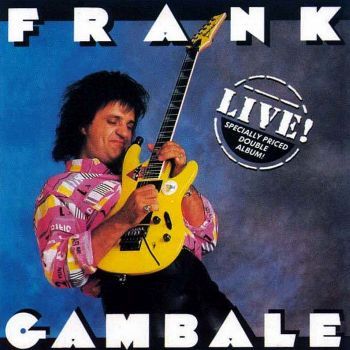 Frank Gambale
-
Live
!
-
1989
-
Wombat
"Live!" features some long instrumental guitar tracks by super Aussie guitarist Frank Gambale, recorded live at the Baked Potato on Sunday, August 21, 1988. Frank recorded this album immediately after a long tour with Chick Corea and the Elektric Band and his chops were flying. Definitely need to strap in with a seat belt while listening to this one. It features Kei Akagi on keyboards, Steve Tavaglione on sax and electronic wing, Joe Heredia on drums, and Steve Kershisnik on bass guitar. "Live!" showcases Gambale's talent on recordings which are unabashed, unabridged total blasting with no concern for commerciality or airplay. As it should be. © 1996-2013 Guitar Nine All Rights Reserved
The great guitar maestro from Canberra, Australia, Frank Gambale (born 22 December 1958) is a master of fusion guitar. He has released many great solo albums and played with greats like Jean-Luc Ponty, Chick Corea, Allan Holdsworth, Brett Garsed and Shawn Lane. He has been a member of various bands, including Vital Information and GHS. Frank is comparable to Larry Carlton, in that they are both into the acoustic, the smooth jazz, and the rock and jazz fusion side of music, but when the occasion arises they can shred and burn like the best. This album leans more towards the rock/jazz fusion side. The tracks were recorded live at The Baked Potato, Studio City, Los Angeles on Sunday, August 21st, 1988, and the musicianship is dynamic. Paul Kohler of Allmusic.com said that "You can't live without this intense live guitar album with over 64 minutes of blazing guitar virtuosity". The album is
VHR by A.O.O.F.C.
Check out Frank's "Absolutely Live: in Poland" album, Gambale, Donati, Fierabracci's "Made In Australia" album and Gambale & Colonna's "Imagery Suite" album. If you want to hear Frank at his killer jazz rock/fusion best, listen to his amazing "Resident Alien Live Bootlegs" album. Buy Frank's "Coming To Your Senses" album and support great jazz fusion
[
All tracks @ 160 Kbps: File size = 71.8 Mb
]
STEELY DAN TRIVIA:
Frank Gambale played electric guitar on The Dan's "FM" track. Ann Wickstrom of vintageguitar.com has said that Frank is "a Steely Dan freak! He can sit down at the piano and sing all the lyrics to almost every Steely Dan song!"
TRACKS
1 Credit Reference Blues 13:13
2 Fe Fi Fo Funk 9:58
3 Spending Sunday With You 8:56
4 A Touch of Brazil 16:12
5 Spike's Song 6:23
6 The Natives Are Restless 10:02
All tracks composed by Frank Gambale
MUSICIANS
Frank Gambale - Electric & Acoustic Guitar
Steve Kershisnik - Bass
Kei Akagi - Keyboards
Joe Heredia - Drums
Steve Tavaglione - Saxophone, Electric Wind Instrument
FRANK GAMBALE
BIO
Frank began playing guitar at age 7 in Canberra, Australia where he was born and raised. He was influenced by the blues playing of Jimi Hendrix , John Mayall / Eric Clapton, and Grateful Dead's Jerry Garcia and the music of the Beatles just to name a few. In his mid-teens he discovered Steely Dan, The Brecker Brothers and Chick Corea, which pointed him in a jazzy direction. When he was 15 years old in 1974, influenced and inspired by the improvisations of Chick Corea and Michael Brecker, began developing his Sweep Picking Technique which today is considered a standard technique which didn't exist, or was thought to be an impossible pursuit before Gambale proved otherwise. The Sweep Picking Technique is a landmark in the history of guitar and Frank Gambale is the undisputed Master of Sweep Picking. In 1982 at 23 he decided to leave his home to study at the Guitar Institute of Technology (GIT) in Hollywood. He graduated with the highest honor, Student of the Year and was offered a teaching position which he kept for 4 years. During his year as a student, he was constantly bombarded with questions and curiosities from other students marvelling at how he was playing the guitar because no-one had ever seen the guitar played this way. His Sweep Picking Technique was already developed to a very high level and as a result of the constant question by fellow students and instructors, he penned his first book called "Speed Picking" ( Hal Leonard Publ. ). Gambale wanted to call the book "Sweep Picking" but the publisher didn't know what it meant since there was no precedent, and they believed the guitar public wouldn't know what the book was about either. Everyone now knows the what Sweep Picking is thanks to Gambale and his pioneering achievement. In 1986 he signed a 3 album contract with a small label called Legato and began his recording career. The same year he was recruited by Jean-luc Ponty to tour in the summer. Shortly after that tour, he auditioned for Chick Corea and began a 6 year stint which culminated in 5 albums, a Grammy award and two Grammy Nominations. Chick helped expose Frank to the world, for which he is very grateful, "playing with Chick was like a dream come true" says Frank.The band reunited in 2002 for the album "To The Stars" and more world tours which continue to the present. Also in 1986 Ibanez guitars approached him to endorse their guitar which culminated in a 13 year relationship and spawned the Frank Gambale model guitar which was first on sale worldwide in 1987. They made 4 versions of the guitar, the FGM100, FGM200, FGM300 and FGM400. In 1987 Frank signed a 3-video deal with DCI / Warner Brothers/ now all under the Alfred Publishing banner, for instructional videos. His first video "Monster Licks and Speed Picking" cemented Gambale's claim as the Grand Master of Sweep Picking. Again, he fought and lost with the publisher to have the word "sweep" not "speed" in the title but the fact remains that the subject matter was Sweep Picking. Gambale had given to the world, in these two instructional publications, the very nuts and bolts of Sweep Picking and the majority of his work outlined the accepted method of the Sweep Picking technique. In 1988, Frank signed a major label deal with JVC. In 1990 he released "Thunder From Down Under" which sold well all over the world and at one point it was #1 on the Japanese Jazz charts along with all his three Legato releases in the top 10 at the same time.In the same year he produced a landmark album with Allan Holdsworth called Truth In Shredding featuring songs from The Brecker Brothers, Chick Corea and Wayne Shorter and one original composition.In 1992, Frank decided it was time to go out there on his own and has been touring with his group ever since. He has toured in many countries with his own band including Brazil, Argentina, Chile, Australia, Germany, Switzerland, Japan and the U.S. He has done countless seminars and master classes worldwide to countries as far away as South Africa and Uruguay since the late 80's demonstrating his phenomenal Sweep Picking Technique and unique brand of music. In 1996 Frank was offered a position of Head of the Guitar Department of a new musical school in the Los Angeles area called the L.A. Music Academy (LAMA). He wrote most of the core curriculum/ study program for this one year vocational school including Harmony and Theory, Improvisation, Technique and Composition courses. He has recently resigned from the school and is in talks with other schools to license his curriculum. In the late 90's Frank began his own record label called Wombat Records on which he re-released his early Legato catalog along with other releases including a double live CD called Resident Alien - Live Bootlegs, and a duet CD with Maurizio Colonna, the famous Italian Classical guitarist called Imagery Suite, a live album recorded in Poland in 1996 where Frank plays lives versions of music from the Passages and Thinking Out Loud period, an album by his long-time friend and bassist Tony Muschamp called More Bass Please. In 2000 Gambale recorded a wonderful guitar album called Coming To Your Senses, the first release on the new Steve Vai owned label, Favored Nations. In 2005 Gambale released another album called Raison D'Etre. This marked another groundbreaking invention on the guitar, his "Gambale Tuning".This tuning, really a re-stringing of the guitar enabled close-voicing chords previously only the domain of piano players. Sweep Picking and the Gambale Tuning method will go down as two major contributions in guitar history books. In 2007 Gambale released Natural High, an all acoustic album featuring reworkings of jazz standards with his own melodies. In the same year he release three compilations of his music spanning his entire recording history, Best Of Jazz and Rock Fusion, Best Of The Smoothe Side, and Best Of The Acoustic Side. Frank has also played and contributed songs to seven Vital Information albums and three trio recordings on Mike Varney's Tone Center records. The first released in 1999 called Show Me What You Can Do was well received, and the second called The Light Beyond came out in July 2000 and the third one is simply called GHS 3. Frank left Ibanez for a deal with Yamaha guitars and a new Frank Gambale model called AES-FG soon followed. A second model is being designed currently for a future release. Frank worked with Carvin to design a guitar preamp called the Tone Navigator which was released at the January 2004 NAMM in Los Angeles. This is an opportunity granted to very few people. Gambale's most recent releases for Alfred Publishing are a concert DVD called Concert With Class, 90 min. concert and 90 min. instructional material related to the performance part and an acoustic concert/ instructional called Acoustic Improvisation which is a 60 minute concert with his Natural High Trio plus 60 minutes of melodic development ideas. Late in 2002 the celebration of Chick Corea's 60th birthday reunited the Elektric Band after a 10 year hiatus with a sold-out performance to 18,000 at the Hollywood Bowl Aug 28th. The band received a GRAMMY Award and two NOMINATIONS in the late 80's and early 90s. The show kicked off a wave of reunion tours. The group recorded an album the same year called To The Stars and a live DVD at the famous Montreux Jazz Festival. Gambale keeps a busy schedule for sure either writing for an album, book or video, touring or helping design a new guitar model with Yamaha, or giving seminars in Asia, or doing a session for an Italian pop record. Frank loves his work to say the least." I can't believe I get paid to do what I do, I wouldn't trade it for the world". © HDtracks 2007 - 2012 https://www.hdtracks.com/index.php?file=artistdetail&id=4729
BIO
(WIKI)
Frank Gambale (born 22 December 1958), is an Australian jazz fusion guitarist. He has released eleven studio albums over a period of more than two decades, and is renowned for his use of the sweep picking and economy picking techniques. Gambale graduated from GIT in Hollywood, with Student of the Year honors. He also taught there from 1984 to 1986. After graduation, he played the jazz club circuit with his own band and in 1985 released his first studio album, Brave New Guitar, through Legato Records (owned by Mark Varney, brother of Shrapnel Records founder Mike Varney) in what was to be a three-album contract. In that same year, he toured with Jean-Luc Ponty and shortly afterwards began a six-year stint with the Chick Corea Elektric Band in 1987. During his time with the latter, he has participated in five albums and shared a Grammy Award (with two nominations). In the 1980s, he released two studio albums and a live album. In 1988, he released Monster Licks & Speed Picking, the first of many instructional videos. An endorsement deal with Ibanez guitars resulted in the 1987 debut of the Frank Gambale Model (FGM) signature series, modeled after the Ibanez Saber. Yamaha also manufactured a signature guitar after he left Ibanez later in the 1990s. In 2011, he endorsed the Carvin FG1, a thin hollow body guitar made in the US. He signed with Victor Entertainment in 1989 as part of a five-album agreement, and released Thunder from Down Under the following year. The 1990s began for Gambale with a pair of albums—Truth in Shredding (1990) and Centrifugal Funk (1991)—as part of The Mark Varney Project. These were collaborations with fellow guitarists Allan Holdsworth, Brett Garsed and Shawn Lane, in a jazz fusion supergroup concept put together by Mark Varney. Around this time, he served as head of the guitar department of the Los Angeles Music Academy. In the 2000s, having parted ways with Victor, Gambale started his own record label named Wombat Records after purchasing his entire Legato discography with the intention of reissuing it himself. A live double album, Resident Alien – Live Bootlegs, was released in 2001, along with Imagery Suite; a duet featuring classical guitarist Maurizio Colonna. He also released a studio album, Coming to Your Senses, on guitarist Steve Vai's Favored Nations label in 2000. Gambale has also been a member of the jazz fusion band Vital Information since 1988, with the group consisting of keyboardist Tom Coster, drummer Steve Smith and bassist Baron Browne. Furthermore, in a group known as GHS, he has released three collaborative albums with Steve Smith and bassist Stu Hamm through Mike Varney's jazz-orientated label, Tone Center Records. In addition to concert recordings, he released an instructional DVD called Concert with Class in 2003. A reunion with Chick Corea came about in 2004, and Gambale subsequently toured with the Chick Corea Elektric Band. In 2006 and 2010, he released two all-jazz studio albums in the form of Natural High and Natural Selection, respectively.