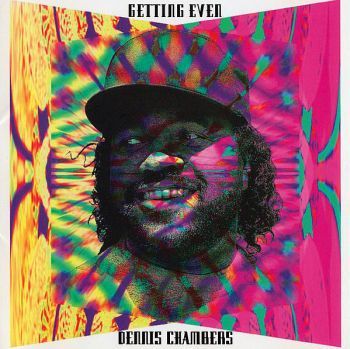 Dennis Chambers
-
Getting Even
-
1992
-
Glass House/Pioneer
Originally released in 1991, this hard-to-find Fusion recording is worth searching for. This session features the brilliant drumming of Dennis Chambers, who was just coming into his own at this stage of his career. The selections are fairly typical to the music Chambers was playing with John Scofield, who he uses here on a few tracks, along with another former employer, guitarist Mike Stern. The chemistry with Scofield, Stern, saxophonist Bob Berg and keyboardist Jim Beard is obvious as the three have worked together on several sessions. The temptation to overplay here is addressed by a strong dedication to the groove and by allowing each player ample space. Aside from Chambers' innovative and powerful drumming, the session's excitement is enhanced by the rousing playing of guitarist Jimi Tunnell. While this debut is not in the same class as Stratus (Billy Cobham) or Essence of Mystery (Alphonse Mouzoun), Dennis Chambers demonstrates why he is considered to be one of the most innovative and important players in the history of drumming. This debut is a fine representation of his playing, although fans are encouraged to seek out his extensive discography as a 'sideman' to appreciate his full contributions. © Robert Taylor © 2014 AllMusic, a division of All Media Network, LLC. | All Rights Reserved http://www.allmusic.com/album/getting-even-mw0000546359
Renowned drummer extraordinaire Dennis Chambers has been one of the most celebrated and influential drummers in the jazz rock/fusion world for around 40 years now and is still recording great music. Over the years he has worked with artists that include Billy Sheehan, Bob Berg, Herbie Hancock, Maceo Parker, Steely Dan, Tom Coster, Victor Wooten, Randy Brecker, Michael Brecker, Mike Urbaniak, Bill Evans, CTI All Stars, George Duke, Stanley Clark, Steve Kahn, John McLaughlin and dozens more. "Getting Even" is one of Dennis' more obscure albums. His drumming is superb and he is accompanied by legends that include Jim Beard, John Scofield, and Bob Berg. The relatively unknown Texan jazz guitarist/vocalist Jimi Tunnell also plays on four tracks. Arguably, more of Jimi Tunnell's guitar work might have improved this album, but then again this is not a guitar orientated album and if you are into great drum and percussion players, you may find little fault with this great groove laden jazz fusion album which is
HR by A.O.O.F.C.
Listen to Dennis' great "Outbreak" album, the superb Scott Henderson, Jeff Berlin and Dennis Chambers' "HBC" album, and Jimi Tunnel's cracking "Trilateral Commission" album. Check out Tony MacAlpine, Bunny Brunel, & Dennis Chambers' "CAB" album on this blog [All tracks @ 320 Kbps: File size = 112 Mb]
TRACKS / COMPOSERS
1. Fortune Dance - Bob Gatzen (5:53)
2. The Opener - Jon Herington (4:22)
3. Keep Walking - Bob Gatzen (6:10)
4. Red Eyes - Bob Gatzen (6:17)
5. Getting Even - Jon Herington (7:29)
6. Widow's Peak - Adam Holzman (5:54)
7. Boo - Paul Soroka (5:53)
8. Until We Return - Paul Soroka (8:09)
MUSICIANS
Jimi Tunnel - Guitar (Tracks 1,2,6,7)
John Scofield - Guitar (Tracks 3,4,5,8)
Gary Grainger - Bass (Tracks 1,2,6,7)
Anthony Jackson - Bass (Tracks 3-5, 8)
Jim Beard - Keyboards, Synthesizer (Tracks 1-8)
Dennis Chambers - Drums (Tracks 1-8)
Victor Williams - Percussion (Tracks 1-5, 7-8)
Bob Berg - Tenor Saxophone (Tracks 1-4, 6,8)
BIO
(WIKI)
Dennis Chambers (born May 9, 1959) is an American drummer who has recorded and performed with John Scofield, George Duke, Brecker Brothers, Santana, Parliament/Funkadelic, John McLaughlin, Niacin, Mike Stern, CAB, Greg Howe, and many others. Despite a lack of formal training, Chambers has become well known among drummers for his technique and speed. Chambers is particularly regarded for his ability to play "in the pocket" but can also stretch very far out of the pocket which is also a hallmark of his technique. Chambers exhibits a powerful style that is technically proficient, yet highly musical and groove-oriented. He can play in a wide variety of musical genres, but is perhaps most notable for his jazz-fusion, funk, and Latin music playing. He is mostly known for his fast hands and triplets on the bass drum. He has helped many young drummers, the most prominent being Tony Royster, Jr.In 2007, just before Led Zeppelin were scheduled to play at the O2 Arena in London, John Bonham's son Jason was asked in an interview that if he himself were to pass up the opportunity, which drummer would he recommend to fill the coveted drum throne. His reply was 'If I were to choose, I would probably want a jazz drummer with a strong swing feel. You know what - Dennis Chambers. I think he would "get it", whereas other rock drummers wouldn't.'In an interview by Bonedo in 2011 Dennis Chambers was asked who some of his influences and favorite drummers were and he mentioned Clyde Stubblefield, Al Jackson, Steve Gadd, Vinnie Colaiuta, Gary Husband, Jack Dejonette, Billy Cobham, Buddy Rich, Elvin Jones, Roy Haynes, and Tony Williams.He has been part of the Maceo Parker live band and is touring with Carlos Santana and makes appearances with his band Niacin.He plays Pearl drums, Zildjian cymbals, Zildjian sticks,and Evans drumheads. Chambers began drumming at the age of four years old, and was gigging in Baltimore-area nightclubs by the age of six. In 1978 (at 18 years old) he joined Parliament/Funkadelic, and stayed with them until 1985. In 1986 he joined the John Scofield band. Since then he has played with most of the major figures in jazz fusion music. On August 26, 2011 Chambers appeared as a featured drummer on the Late Show with David Letterman's Drum Solo Week II, alongside other such notable players as Tony Royster, Jr., Gavin Harrison, Neil Peart and Stewart Copeland.