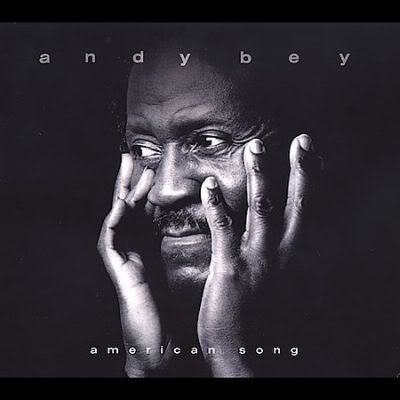 Andy Bey - American Song - 2004 - Savoy Jazz
In a field traditionally dominated by women, jazz vocalist Andy Bey has made a name for himself as a unique song interpreter as well as a skilled pianist, his deep, resonant voice the polar opposite of the usual feminine take on the jazz legacy. While Bey's source materials have ranged far and wide over the course of his long career, AMERICAN SONG finds him sticking strictly to the tried-and-true Great American Songbook. Amazingly, Bey finds something new in old war-horses like "Lush Life," "Satin Doll," and "Speak Low."
Artfully idiosyncratic production by Herb Jordan and angular, modernistic horn arrangements from co-pianist Geri Allen don't hurt, but it is Bey's luxurious voice that truly carries things. The combination of emotional immediacy and hushed intimacy he brings to the opener, "Never Let Me Go," is a textbook example of how a great singer can inhabit a song and reveal its hidden aspects from within. Neither as conventional as Kevin Mahogany nor as envelope-pushing as Kurt Elling, Bey is very much his own man, constantly in the process of creating his own unique paradigm amid the highly flexible borders and boundaries of modern jazz. © 1996 - 2007 CD Universe
A marvellous album by Andy Bey. One of the great jazz vocalists of our times. This artist has been ignored by the media for far too long. Buy his great album, " Ain't Necessarily So."
TRACKS
1. Never Let Me Go
2. Prelude to a Kiss
3. Speak Low
4. Angel Eyes
5. Midnight Sun
6. Caravan
7. Lush Life
8. Satin Doll
9. It's Only a Paper Moon
10. Lonely Town
Personnel:
Andy Bey * Piano and Vocals and arrangements
Geri Allen * Piano
Frank Wess * Tenor and Flute
Dwight Andrews * Clarinet
Vernell Garnett * Trumpet and Flugelhorn
Steve Davis * Trombone
Paul Meyers * Guitar
Kyoshi Kitagawa * Bass
Mark McLlean * Drums
Mino Cinelu * Percussion
REVIEW
If we lived in a perfect world, Rod Stewart would not have sung The Great American Songs and Andy Bey would be a household name. Unfortunately, we don't live in a perfect world. And the world is a better place because we have Andy Bey in it. To experience the sonorous vocals from this master is equivalent to viewing fine Dresden china with its delicacy, intimacy and flowing lines playing with the colors and shades of the natural world.
Andy has a marvelous instrument with a distinct identification mark ≠ a quality in jazz that is fast relinquishing to a more homogenized virtuosi approach at playing. His respect and feelings for the lyric merely flow from deep within him and his amazing four-octave range is not ostentatious and always in the listener's ears. Andy has an uncanny ability to restrain himself with a keen sense of dynamics and his patience for beauty emerges from everything he does.
As in his prior album, reviewed by The Jazz Zine, Ballads Blues and Bey, Andy treats each word in the lyric with dignity, spirit and a keen sense of the deeper feelings embedded in the song. While Ballads Blues and Bey was a solo effort by Mr. Bey, Never Let Me Go, has some unusual and extraordinary support backing the singer. The lovely surprise comes from some of the most incredible arrangements for woodwinds and horns ever compiled for a singer. These contributions to the CD are from Geri Allen. They complement Andy's gracefulness and merge with his style of singing like no other in recent memory. Beauty is a tossed around word that is usually overused or abused. But, ladies and gentlemen, this collaboration of arrangement and song are nothing short of pure beauty.
When Andy sings Never Let Me Go he has you feeling like you're intruding on something so intimate and personal in his life. The flute solo that follows by guest Frank Wess floats over the song like a monarch butterfly; Geri Allen's arranging skills on this CD are so ethereal and light, illuminating the feeling of floating. This sensibility comes across so clearly on Prelude to a Kiss. Here again, there is the bonus of a soft tenor solo by Master Frank Wess.
After the introduction to Speak Low, again with some wonderful arranging for the woodwinds and horns, Andy guns it into high gear and swings so hard sending chills and foot tapping reminiscent to his collaborations with the great Horace Silver.
If you think you've heard all there is to ever hear from Midnight Sun, think again. This exotic and lush arrangement offsets Andy's poignant and direct delivery that injects some new life into this always-popular evergreen.
Caravan gets a straight-ahead approach and swings throughout Andy's various octave adventures. Andy takes a sparse but energized piano solo. His playing sounds much like that of his vocal counterpart, Shirley Horn.
I once heard a singer, whose name escapes me at this moment, comment when asked, "What song is the hardest one for a singer to sing?" His answer was, Billy Strayhorn's, Lush Life. Andy's approach to this masterpiece makes it sound so simple.
I can't ever remember hearing the verse sung on; It's Only a Paper Moon. Andy delivers that to us and, for once it doesn't come off sounding like yet another Nat King Cole copy of this song.
Andy has been singing for us since the fifties. He's at that point in his long career where the wine has aged to utter perfection. His past three or four CD's have been gems all in their own original way. Andy will never be a household name and that's too bad. However, for those of us that cherish and love his contributions to the world of good music, we can at least spread the good word about him to those around us we love and cherish. Maybe they too may eventually pass on the word once they have begun to fully experience him. © http://jazzman261.home.mchsi.com/go/go.htm
BIO (Wikipedia)
Andrew W. Bey (born October 28, 1939 in Newark, New Jersey) is a jazz singer and pianist. He worked on a television show, Startime, with Connie Francis and sang for Louis Jordan.He went on to form a trio with sisters Salome Bey and Geraldine Bey (de Haas) called "Andy and The Bey Sisters". They recorded various sides and had 2 albums on Prestige and 1 on RCA. The group parted in 1965. He also did notable work with Horace Silver and Gary Bartz. Later he had an album named Experience And Judgment, which had Indian influences. After that period he returned to hard bop and also did covers of music by non-jazz musicians like Nick Drake.