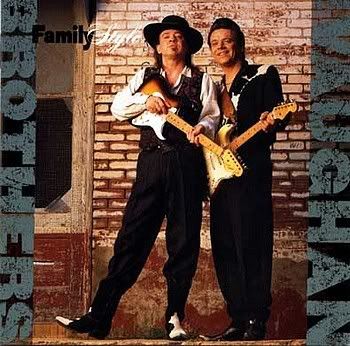 Vaughan Brothers - Family Style - 1990 - Sony
Family Style is a blues-rock album by the Vaughan Brothers, released September 1990. The album features guitarists and vocalists Stevie Ray Vaughan and his brother Jimmie Vaughan in their first studio collaboration. It also proved to be Stevie Ray Vaughan's last studio performance. In his earlier years, Stevie Ray Vaughan often remarked that he would like to do an album with his brother. There is quite a contrast in guitar styles here, and the album is not equal to any of Stevie Ray Vaughan's pure blues solo outings, nevertheless it's a very good blues rock album.
TRACKS
"Hard to Be" (S.R. Vaughan, D. Bramhall) – 4:41
"White Boots" (B. Swan, J. Leslie) – 3:50
"D/FW" (J. Vaughan) – 2:48
"Good Texan" (J. Vaughan, N. Rodgers) – 4:22
"Hillbillies From Outerspace" (J. Vaughan, S.R. Vaughan) – 3:34
"Long Way From Home" (S.R. Vaughan, D. Bramhall) – 3:15
"Tick Tock" (J. Vaughan, N. Rodgers, J.L. Williams) – 4:54
"Telephone Song" (S.R. Vaughan, D. Bramhall) – 3:28
"Baboom/Mama Said" (J. Vaughan, S.R. Vaughan, D. Freeman) – 4:29
"Brothers" (J. Vaughan, S.R. Vaughan) – 5:05
PERSONNEL
Stevie Ray Vaughan
Tawatha Agee
Brenda White-King - background vocals
Stan Harrison - saxophone
Richard Hilton - piano, organ
David Spinner
Preston Hubbard - acoustic bass
Steve Elson
Jimmy Vaughan - vocals, guitar
Larry Aberman
Curtis King Jr.
Al Berry - bass
Also: Nile Rodgers, Doyle Bramhall, Rockin' Sidney
REVIEW
With slick production from Nile Rodgers and employing neither guitarist's band (Double Trouble nor the Fabulous Thunderbirds , this is bluesy, but far from purist. Jimmie makes his vocal debut on "White Boots" and "Good Texan," and the brothers blur the lines between their expected guitar styles -- Stevie sometimes going for a less sustainy twang, Jimmie moving into Albert King territory. When standard blues is the order of the day (the slow instro "Brothers"), the key word is "standard" -- bordering on run-of-the-mill. Instrumentals "D/FW" and "Hillbillies from Outer Space" fare better -- offering ZZ Top crunch and Santo & Johnny steel, respectively. © Dan Forte, All Music Guide
BIO
Sibling blues guitarists Jimmie Vaughan (born in 1951) and Stevie Ray Vaughan (1954-1990) were born and raised in Dallas, TX. Each began playing guitar during childhood, Stevie Ray inspired to take up the instrument by his older brother. Jimmie Vaughan played in various groups in Dallas and Austin before hooking up with singer/harmonica player Kim Wilson and forming the Fabulous Thunderbirds in 1974. The group was signed to Chrysalis Records, for which they made four albums, starting with a self-titled 1979 debut. The second and third of them, What's the Word (1980) and Butt Rockin' (1981), made the lower reaches of the charts, but the band was dropped by the label after the commercial failure of T-Bird Rhythm in the fall of 1982.
Meanwhile, Stevie Ray Vaughan had been playing around Texas, at first with Triple Threat featuring singer Lou Ann Barton, and then, after her departure, with drummer Chris Layton and newly recruited bassist Tommy Shannon as Stevie Ray Vaughan & Double Trouble. His appearance at the Montreux Jazz Festival in 1982 led to a recording contract with Epic Records and the release of his debut album, Texas Flood, a Top 40 hit, in 1983. He followed it with the even more successful Couldn't Stand the Weather (1984) and Soul to Soul (1985), each of which went gold within two years. (All three albums have since gone platinum.)
Stevie Ray Vaughan's success stimulated Epic's interest in his brother's band. The Epic subsidiary CBS Associated signed the Fabulous Thunderbirds and issued Tuff Enuff (1986), which spawned a Top Ten single in the title-track and itself made the Top 20, going gold within six months and eventually platinum. The same year, Stevie Ray Vaughan issued Live Alive, which eventually went platinum.
The careers of both brothers subsided soon after. Stevie Ray Vaughan went into rehab, while the Fabulous Thunderbirds' follow-ups to Tuff Enuff, Hot Number (1987) and Powerful Stuff (1989), did not match its commercial success. Jimmie Vaughan amicably parted from the band in June 1990. Stevie Ray Vaughan returned after more than two and a half years with In Step (1989), which became his biggest seller yet, eventually going double platinum. The brothers had long planned a duo project, and in 1990 they finally found time for it, recording Family Style. But the month before the album's scheduled release, Stevie Ray Vaughan was killed in a helicopter crash on August 27, 1990. The album appeared in September and it soared into the Top Ten, selling over a million copies.
Jimmie Vaughan helped oversee posthumous releases of his brother's recordings, such as the two-million-selling Top Ten hit The Sky Is Crying (1991). He launched his own solo career in the spring of 1994 with Strange Pleasure, released by Epic. © William Ruhlmann, © 2007 All Media Guide, LLC