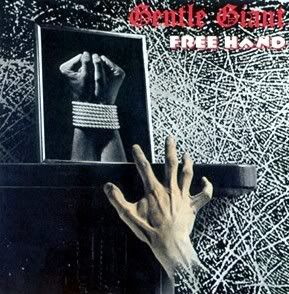 Gentle Giant - Freehand - 1975 - Chrysalis/Capitol / One Way
A brilliantly played, and faultless album from one of the great experimental progressive rock groups from the 1970s. A hugely underrated group, this classic album is VHR by A.O.O.F.C
TRACKS
Just The Same (5:34)
On Reflection (5:41)
Free Hand (6:14)
Time To Kill (5:08)
His Last Voyage (6:27)
Talybont (2:43)
Mobile (5:05)
All tracks composed by Ray Shulman, Derek Shulman and Kerry Minnear
MUSICIANS
Gary Green – Vocals, Guitar
Kerry Minnear – Vocals, Keyboards
Derek Shulman – Lead Vocals, Bass, Guitar, Saxaphone
Ray Shulman – Vocals, Bass, Percussion, Violin
John Weathers – Drums, Vocals
REVIEWS
I don't know, maybe its me, but when ever I try and think of someone who sounds like Gentle Giant from their mid 70s period, the time they released my favorite recordings, I keep coming back to the one same group, and the comparison is not quite satisfying for me. That is, some, only some, of the music on this, and the previous year's, The Power And The Glory, reminds me of Steely Dan, or vice versa. I just wanted to get that over with. I'll touch on that again later.
Its it saddening for me, and probably others who know the work and the times of Gentle Giant, that so much of their most productive time and energy were squandered in crippling battles with various record labels and management companies, who wanted to fleece the band, and tried again and again to force them down paths that were not suitable to the work of this group of extraordinary human beings, amazing musicians and song writers.
1975's release Free Hand is one of the crowning achievements of progressive rock in general and Gentle Giant in particular. It has some of the best examples of their madrigal singing style, the beautiful "On Reflection," some of their most streamlined, accessible music, as evidenced by the songs "Time To Kill" and "Just The Same," the latter of the two becoming a live favorite. It features some of the most gentle, lovely moments ever committed to tape, the wonderful, "His Last Voyage," another example of keyboardist Kerry Minnear's outstanding singing voice. Did Kerry get all the most touching songs to sing? I'll have to look into that. In contrast to its lilting beginning, "His Last Voyage" also gives Giant guitarist Gary Green the opportunity for a gritty wah-wah-ed solo, before dissolving into total beauty once more.
We get "Talybont," an exploration of Celtic rhythms and melody, as seen through the distorted electric guitar, then breaking into pipes and clavinet, and Gary Green uses his array of sound processors, well, what passed in the middle 70s for such. Wah-Wah, Echoplex and the like.
Ending with "Mobile," a reflection of earlier Gentle Giant releases, this is lyrically, at least, another reminder that Gentle Giant was a band beset with demons. The lyrics, as a number of their song lyrics do, tell the story of a group that feels put upon, forced to live out someone else's ideas, forced to record and tour at some one else's whim. The song itself is a powerful musical statement as well, featuring counterpoint lines on acoustic instruments, and a powerful wash of electric sound leading to a grand march, and into the verse proper. Kerry's use of his Hammond, always a welcome moment, leads into a typical Gentle Giant bridge. I guess that is just an easy way for me to describe the indescribable, as nothing I have ever heard from the Giant is typical. Let's say that the center of this composition has a familiar use of incredible counterpoint instrumentation, an arrangement that seems to go in several directions at once and……you know, typical Gentle Giant.
Let's go back to the comparison with Steely Dan now. Maybe it's that Minnear had a preference for clavinet and electric piano in their arrangements. He used less B-3 and Moog than most keyboardists I might name, and if one plays a bouncy melodic line with these funkier sounding keyboards, it will sound a bit like the style of Donald Fagen. Maybe. Perhaps it is that the Giant boasted members that played sax and a variety of instruments that were used in the studio by Fagen and Becker. Perhaps it is the back up vocals on "Time To Kill," which sound exactly like the vocals on the early Steely Dan releases. Steely Dan and Gentle Giant were contemporaries, but I would hate to ascribe some poorly researched theory of any motive to either of them. It's just an innocent observation, really. If I were to advance any foolish theory, it would be that Steely Dan stole much of their stylistic elements from Gentle Giant. But, remember. I'm not saying anything about it. I never even mentioned anything on the topic at all.
Back to the music of Free Hand, then. This is really one of the few albums I know of that seems to zip by at an incredible rate. The sequence of the songs is somehow magical, in my opinion, and I always end up playing it four or five times in a row, before I've had my fill and can go on to something else. It is a textbook of the elements that are crucial to good symphonic progressive rock. There are the mind blowing acappella vocals of "On Reflection," the dizzying changes of time and texture, and most of all, their ease with incredibly difficult contrapuntal technique. They were able to do all this, AND fight with their labels and managers. Think what might have been, had their road been less rocky. On the other hand, the rough road they traveled inspired some of the best music ever written. Just ponder for a moment, will you, the finger snapping that opens this album. Get a few friends together, and see if you can master it. I would wager that you cannot. Just a thought. No offense intended.
By modern standards, almost all the progressive rock classics are short by comparison. The limits of the LP format gave a band little more than fourty minutes to say whatever had to be said. Some of the CD re-issues of Gentle Giant have additional material that pad out the total time. But, unfortunately, I bought the first re-issues I could get my hands on, and this, as is the case with most Gentle Giant CDs I own, lack the extras that later versions had.
I will recommend this release highly, as I will no doubt say of any and all releases by the Giant, whom I think deserve a place at the table with the best groups of the golden age of progressive rock, and indeed, any music, by anyone in the distant past of the 1970s or now. They are truly a brilliant group, one that has influences that continue to this day. Without Gentle Giant as a basis to work from, many of the bands and much of the music we listen to now would not exist.
If you do not have the work of Gentle Giant in your collection, I would advise you to go out and buy some of their mid 70s releases now. This release, along with the previous year's release, The Power And The Glory, will present to the listener a band at the peak of their creative powers, and will prepare one to enjoy their entire catalog. © Tom Karr, March 2004, © Copyright 2004 ProgressiveWorld.net/Tom Karr, www.progressiveworld.net/gentlegiant5.html
Gentle Giant's 1975 release Free Hand is the third peak of their output from my perspective. It features a move to a somewhat more conventional style, but which is still ultimately successful. The album featured a move to their new label, Capitol, and the theme of emancipation is apparent throughout the album. The cover features a portrait of two hands bound together, in front of which floats a disembodied hand in claw formation.
The opener "Just the Same" features a maddeningly intricate polyrhythm, as the vocals appear to be in 7/8 while the rest of the music is in 6/8. "On Reflection" features a four-part fugue at the beginning, and some delicate recorder playing in the middle to accompany Minnear's vocals. The instrumental "Talybont" once again recalls a canon or fugue.
At the same time that this musical bag of tricks is being opened and used, the album stays in a fairly accessible style. The music is never difficult or overly academic like some of their earlier work. The title track is a hard-rocking denunciation of the band's old label and the limitations it imposed. In fact, a listener may well miss a lot of what is at work here because of the ear-friendly way in which it is presented. It is only after some time that this album fully reveals itself as a veritable classic. © Sean McFee © ground and sky 1999-2007
I'm surprised how often Gentle Giant are accused of being emotionless; it seems to me that thematically albums like Free Hand and Three Friends are among the most sentimental in the prog-rock canon. While Three Friends deals with the bittersweet remembrance of schoolboy days, Free Hand focuses in great part on feelings of betrayal and rejection (apparently the band had just broken with their old label, which makes sense in terms of the issues explored on this record). Not surprisingly, then, these are my two favorites of the Gentle Giant albums I've heard, as they balance lyrical beauty and complicated musicianship almost perfectly.
Free Hand was the most rock-focused release to date for the group. The songs are very tight and structured overall and I find much more restraint in these tracks than on earlier albums. Needless to say, this is a good thing, and I imagine the more straightforward (but no less complicated) approach of Free Hand plays a big part in its being a perennial fan favorite. One of the things I appreciate most about Gentle Giant is the way they use the human voice as an instrument instead of something total separate (which may explain why they are sometimes regarded as emotionless); nowhere is this better exemplified than "On Reflection," a fantastic track that features multiple vocal parts that bounce back and forth in a way in a unique fashion (Spock's Beard's song "Thoughts" makes liberal use of this technique, but they fail to match the original in terms of effectiveness). While I'm not in love with this album, it is very, very good and a natural recommendation to most prog fans. © Jon Fry © ground and sky 1999-2007
Gentle Giant is one of my favorite bands of all time period. These guys are just so talented and they can do everything. They can rock, play extremely complex music and make it sound like they are playing 3 chord songs, great vocals, simply put - they had it all. There are a few different periods of GG, this would be at their peak, IMHO. The later albums had a stripped down straight ahead approach that caused many fans to hate this period though there is still some good music. The early releases were progressive, but you could hear a lot of bluesy roots to the music. The middle period is my favorite (Three Friends through Free Hand), which seems the most progressive. This diverse blend of songs includes "Just the Same" which flat out rocks. The counterpoint within the song is great and the live version of this song is even better. "On Reflection" has a great vocal arrangement, with some piano and recorders to accompany the vocal. "Free Hand" is also a heavy piece with alot of keyboard/guitar/and bass interplay, these songs are fairly complex and yet never sound forced. "Time to Kill" is upbeat with more surprises musically and vocally, very smooth feel with a lot of changes. "His Last Voyage" is a nice acoustic song with a church like vocal over the arrangement, very ethereal feel to the song, quite beautiful. The ending arrangement is very jazzy. The instrumental "Talybont" has a medieval feel, with harpsichord, recorders playing throughout the song. "Mobile" is the weakest song on the CD. It's ok, but shows the change coming within the band to do more straight ahead material. If you are a fan of progressive music then this and most Gentle Giant should be in your collection. Each of their albums have something to offer. © Eric Porter © ground and sky 1999-2007