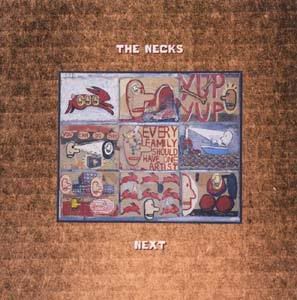 The Necks - Next - 1990 - Fish Of Milk

The Necks are one of the great cult bands of Australia. With next to no publicity, their thirteen albums have sold in their thousands. Chris Abrahams (piano), Tony Buck (drums), and Lloyd Swanton (bass) conjure a chemistry together that defies description in orthodox terms. These three musicians are among the most respected and in-demand in Australia, working in every field from pop to avant-garde. Over 200 albums feature their presence individually or together, but the music of The Necks stands apart from everything else they have done. Featuring lengthy pieces which slowly unravel in the most intoxicating fashion, frequently underpinned by an insistent deep groove, the thirteen albums by The Necks stand up to re-listening time and time again. The deceptive simplicity of their music throws forth new charms on each hearing. Not entirely avant-garde, nor minimalist, nor ambient, nor jazz, the music of The Necks is possibly unique in the world today. © www.thenecks.com/default.htm

Prepare yourself for a space age journey with this album. Experimental jazz at it's best, The Necks unique sound contains so many different grooves and time changes, that it takes time to appreciate the complexities of their music. If you like seventies German progressive rock, this type of music should appeal to you. An excellent and very original album. Recommended by A.O.O.F.C. If you can find it, buy their 2006 "Chemist" album.

TRACKS

1.Garl's (7:19)
2.Nice Policeman Nasty Policeman (4:54)
Guitar - Dave Brewer (2)
3.Pele (28:31)
4.Next (9:49)
Guitar [Pedal Steel] - Michel Rose
5.Jazz Cancer (6:12)
Guitar - Dave Brewer (2)
6.The World At War (16:35)
Saxophone [Alto], Saxophone [Tenor] - Timothy Hopkins
Trumpet - Mike Bukovsky

N.B: Track 6 is on a separate post. See comments for details

Mastered By - Don Bartley
Producer, Mixed By - Gerry Nixon , Necks, The

ABOUT THE GROUP

Unclassifiable, the Necks stand aside any other musical act Australia has gave birth to. Neither jazz nor rock, this deceptive piano trio has kept a single line of conduct throughout its career. They usually start playing a very basic melodic and rhythmic figure, and then keep going at it for an hour, gradually introducing microscopic changes and variations. Some critics have compared them to Krautrock groups like Can and Faust. Others find similarities in the works of minimalist composers like LaMonte Young, Tony Conrad, even Philip Glass.

The Necks were formed in Sydney, Australia, back in 1987. The original lineup of pianist Chris Abrahams, bassist Lloyd Swanton, and drummer Tony Buck remained stable, even though they all lead busy and highly different careers. Abrahams is an acclaimed session keyboardist who has released a couple of solo piano albums, has written music for film and television, and toured the world in 1993 with the rock group Midnight Oil. Swanton is a much in-demand session jazz bassist and a regular of the jazz festival circuit. He has played in the Benders and the Catholics, and accompanied Stephen Cummings and Sting. Buck spends most of his time in avant-garde circles, with multiple collaborations and projects. His best known engagements have include the trio PERIL and the klezmer-punk group Kletka Red.

The Necks' first album came out in 1989 on their own label, Fish of Milk. The reviews were enthusiastic, most people praising the group's ability to blend simplicity and experimentation. They would play whenever the three musicians were in Australia at the same time. The next three albums experimented with the format, integrating occasional guests (Stevie Wishart on Aquatic), electronics, and more. But, by the 1998 Piano Bass Drums, the recipe had been fixed and would not change anymore.

In 1996, the label Private Music released Sex in the United States. It was the group's first exposure on the American continent and it did not get them far. But Europe was catching on and the group began a series of annual tours there. Piano Bass Drums and the soundtrack for Rowan Woods' film The Boys both received Australian award nominations in 1998. The more energetic, almost space rocking Hanging Gardens, released in 1999, opened more doors, including a first American tour in late 2001. The album was picked up for distribution by the British avant-garde label ReR Megacorp the same year. Another North-American tour in 2002 followed the release of Aether, the group's studio masterpiece. Drive By followed in 2003. © François Couture, All Music Guide, © 2007 Answers Corporation. All rights reserved

BIO (Wikipedia)

The Necks are an experimental jazz trio from Sydney, Australia, comprising Chris Abrahams on piano and Hammond organ, Tony Buck on drums and Lloyd Swanton on bass guitar and double bass. The band plays improvisational pieces of up to an hour in length that explore repeating musical figures. As well as jazz, they are strongly influenced by Krautrock.
Typically a live performance will begin very quietly with one of the musicians playing something very simple. One by one, the other two will join with their own melodies, all three independent yet intertwined. A piece of music usually lasts about 45 minutes and over this time grows in volume and pace and complexity before petering out.
The Necks are also well known in Europe. Their soundtrack for The Boys was nominated for ARIA Best Soundtrack Album, AFI Best Musical Score and Australian Guild of Screen Composers Award. They have also recorded soundtracks for What's The Deal? (1997) and In the Mind of the Architect (three one-hour ABC-TV documentaries, 2000).
Venues played in Sydney include The Basement, the Harbourside Brasserie, and the Vanguard in Newtown. A performance at the Sydney Opera House in 2003 was interrupted by the venue management due to a minor technical problem, to the obvious dissatisfaction of band and audience.