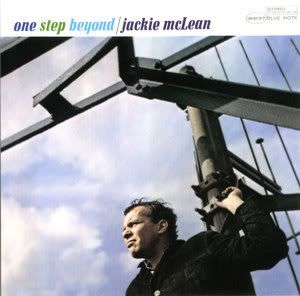 Jackie McLean - One Step Beyond - 1963 - Blue Note
This is a masterpiece of sixties jazz. The interplay between the musicians is unbelievable. You've got to hear this recording. VHR by A.O.O.F.C. You should buy McLeans' albums, Lights Out, & A Long Drinking of the Blues. They don't make them like this anymore.
TRACKS & COMPOSERS
1 Saturday and Sunday (McLean)
2 Saturday and Sunday [alternate] (McLean)
3 Frankenstein (Moncur)
4 Blue Rondo (McLean)
5 Ghost Town (Moncur)
PERSONNEL
Grachan Moncur III (tb)
Jackie McLean (as)
Bobby Hutcherson (vib)
Eddie Khan (b)
Tony Williams (d)
Recorded at the Van Gelder Studio, Englewood Cliffs, New Jersey on April 30, 1963
REVIEWS
One Step Beyond is the first of three albums Jackie McLean made with Grachan Moncur III on trombone and Bobby Hutcherson on vibes (also Eddie Khan on bass and Tony Williams on drums). These three (the other two are Destination...Out! and Moncur's Evolution ) are the crowning achievement of McLean's Ornette Coleman-inspired pianoless "outside work" of the early Sixties. McLean has said that in the late Fifties he felt as if he was going nowhere until Ornette's nascent harmolodics put the wind back in his sails. Not that he sounds much like Ornette on his albums that celebrate "free" playing (most notably Let Freedom Ring ), but compared to his earlier work with Miles, Trane and others, his post- Ornette Blue Notes give a more expressive voice to his characteristic exuberance. He was a trailblazer in bringing the techniques and innovations of the "free" players into the hard bop mainstream.On One Step Beyond that exuberance is very much in evidence, although somewhat tempered by the brooding and dark meditations of Moncur. On "Saturday and Sunday" it is McLean's mood that is infectious; his typically joyful alto sax solo is followed by an entry from Moncur that in no way changes the tone. Hutcherson, as usual, is masterful at adapting himself to the conditions of the moment. Here he knows that McLean's one step beyond doesn't take him far out enough to have lunch with Eric Dolphy, or even to arrive at the point of departure of Andrew Hill. His solo is beautifully precise in straddling the inside/outside fence McLean is building."Frankenstein," along with "Ghost Town," was written by Moncur. The title "Frankenstein" foreshadows the stalking, spooky rhythms the trombonist cultivates on "Ghost Town" and the two later albums, but this piece is about as upbeat as Moncur gets. Moncur is much admired by McLean, who suggested he still deserves wider recognition in a Jazz Times piece just recently. Like Ornette, Moncur's playing style and composing talent more than compensate for a certain lack of conventional technical facility. While his solos don't have the sharpness or speed of those of J. J. Johnson or Curtis Fuller, Moncur's strong melodic imagination gives his work a good emotional wallop. Here McLean explores "out" territory and borrows a few squeals and squawks from Ornette Inc. He uses them more sparingly than his source, but not without effect."Blue Rondo" takes us briefly back into McLean's hard bop happyland, only to lead into Moncur's "Ghost Town." This is a ready-made soundtrack for a stalker movie, as bassist Eddie Khan paces through a horror house full of drummer Tony Williams' falling objects. McLean's solo is thoughtful and well-constructed; Moncur's is fine, but Hutcherson steals the show with a Milesian exploration of space and silence that splendidly brings together the inside and the outside.This album is somewhat lumpy gravy; the front line of McLean, Moncur, and Hutcherson works better together on Destination...Out! and Evolution. Still, any Jackie McLean album can lift the spirits wonderfully. Pick it up during your next Jackie Mac attack. © Robert Spencer, Allaboutjazz.com
One Step Beyond is a classic in every sense of the word. The musicianship is stellar. The interplay between the band members is telepathic. And the compositions are fascinating and distinctive. If you're following Bobby's development on record, coming to this music after listening to the Al Grey-Billy Mitchell group is like stepping out of a familiar sedan and finding yourself on a rocket-ship.
Several of the compositions remind me of Monk's music, particularly "Saturday and Sunday" and "Frankenstein." But there's also a strangely wide-open aspect to this music that's different from Monk's sound. The wide-open feeling is both literal and figurative. The absence of a piano has a huge effect on creating the limitless, airy sound. (I assume that Jackie's decision to play without a piano comes from Ornette's influence.) On a composition like "Ghost Town," you can practically see crumbling buildings, dusty tumble-weeds blowing by. (Or at least that's why I think of.) But that openness is wonderful because Jackie's slashing, magisterial, harshly bluesy tone can fill up all that space, propelled by Tony Williams' careening drums. (No wonder Miles "stole" Tony from this band.) Incidentally, I think that the cover of this album is one of Blue Note's best. It does a perfect job of pictorially representing the music.
Of course, Bobby plays magnificently here too. Apparently, when Alfred Lion first heard this band rehearsing, he'd only heard one song before proceeding to offer Bobby a contract. Hutcherson ended up staying with Blue Note longer than any other artist except Horace Silver. © Scott Mortensen 2006, http://musicweb-international.com
BIO (Wikipedia)
John Lenwood (Jackie) McLean (May 17, 1931 – March 31, 2006; some sources erroneously give 1932 as his year of birth) was an American jazz alto saxophonist, composer, bandleader and educator, born in New York City. His father, John Sr., who died in 1939, played guitar in Tiny Bradshaw's orchestra. After his father's death, his musical education was continued by his godfather, by his stepfather, who owned a record store, and by several noted teachers. He also received informal tutoring from neighbours Thelonious Monk, Bud Powell, and Charlie Parker. During high school he played in a band with Kenny Drew, Sonny Rollins, and Andy Kirk Jr. (the tenor saxophonist son of Andy Kirk).
He recorded with Miles Davis, on Davis's Dig album, when he was 19 years old. Rollins played on the same album. As a young man McLean also recorded with Gene Ammons, Charles Mingus, and George Wallington, and as a member of Art Blakey's Jazz Messengers. McLean reportedly joined the Jazz Messengers after being punched by the notoriously volatile Mingus. Fearing for his life, McLean pulled out a knife and contemplated stabbing Mingus in self-defence and later stated that he was grateful that he did not stab the bassist[1]. His early recordings as leader were in the hard bop school. He later became an exponent of modal jazz without abandoning his foundation in hard bop. Throughout his career he was known for his distinctive tone (often described with such adjectives as withering, piercing, or searing), his slightly sharp pitch, and a strong foundation in blues.
McLean was a heroin addict throughout his early career, and the resulting loss of his New York City cabaret card forced him to undertake a large number of recording dates; consequently, he produced a large body of recorded work in the 1950s and 60s. He was under contract with Blue Note Records from 1959 to 1967, having previously recorded for Prestige. Blue Note offered better pay and more artistic control than other labels, and his work for Blue Note is highly regarded.
In 1962 he recorded Let Freedom Ring for Blue Note. This album was the culmination of attempts he had made over the years to deal with harmonic problems in jazz, especially in soloing on his piece "Quadrangle." (*"Quadrangle" appears on BST 4051, Jackie's Bag, recorded in 1959). Let Freedom Ring began a period in which he performed with avant-garde jazz musicians rather than the veteran hard bop performers he had been playing with. His recordings from 1962 on, in which he adapted the innovations of modal and free jazz to hard bop, made his body of work distinctive.
In early 1964, he served six months in prison on drug charges.
In 1967, his recording contract, like those of many other progressive musicians, was terminated by Blue Note's new management. His opportunities to record promised so little pay that he abandoned recording as a way to earn a living, concentrating instead on touring. In 1968, he began teaching at The Hartt School of the University of Hartford. He later set up the university's African American Music Department (now the Jackie McLean Institute of Jazz) and its Jazz Studies degree program.
In 1970, he and his wife, Dollie McLean, founded the Artists Collective, Inc. of Hartford, an organization dedicated to preserving the art and culture of the African Diaspora. It provides educational programs and instruction in dance, theatre, music and visual arts.
He received an American Jazz Masters fellowship from the National Endowment for the Arts in 2001 and numerous other national and international awards.
Mr. McLean is the only American jazz musician to found a department of studies at a University and a community based organization almost simultaneously. Each has existed for over three decades.
After a long illness, McLean died on March 31, 2006, in Hartford, Connecticut. McLean recorded with dozens of well-known musicians and had a gift for spotting talent. Saxophonist Tina Brooks, trumpeter Charles Tolliver, pianist Larry Willis, trumpeter Bill Hardman, and tubist Ray Draper were among those who benefited from McLean's support in the 1950s and 1960s. Drummers such as Tony Williams, Jack DeJohnette, Lenny White, Michael Carvin, and Carl Allen gained important early experience with McLean. McLean's later bands were drawn from his students in Hartford, including Steve Davis and his step-son René, who is a jazz saxophonist and flautist as well as a jazz educator. Also, in McLean's Hartford group was Mark Berman, the jazz pianist and broadway conductor of Smokey Joe's Cafe and Rent.
McLean recorded as a leader with a wide range of musicians, including Donald Byrd, Sonny Clark, Ornette Coleman, Dexter Gordon, Billy Higgins, Freddie Hubbard, Grachan Moncur III, Bobby Hutcherson and Mal Waldron, among many others.