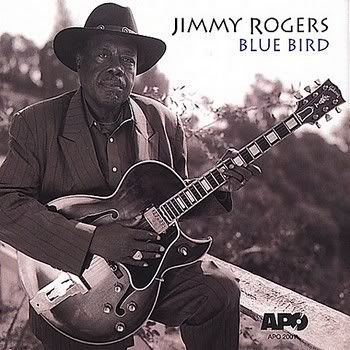 Jimmy Rogers - Blue Bird - 1994 - JVC/XRCD (Released as a digitally remastered CD on APO (Analogue Production Originals in 2001)
This is one of the great blues albums, and VHR by A.O.O.F.C. Keith Richards of the Rolling Stones, credits Jimmy as being one of his three greatest musical influences along with Muddy Waters and Chuck Berry. Rogers, who was the last living original member of Muddy Waters' band spent his career in relative anonymity. His great music, even today is largely ignored by the media, which is a crying shame. Try and track down some of his great albums. " Gold-Tailed Bird " from 1973 is well worth buying.
TRACKS
1. I'm Tired of Crying over You (3:45)
2. Blue Bird (4:46) Composed by Jimmy D. Lane
3. Walkin' by Myself (2:30) Composed by James A. Lane
4. Rock Me (4:22) Composed by Melvin "Lil' Son" Jackson
5. I Lost a Good Woman (4:18) Composed by Jimmy D. Lane
6. Howlin' for My Darlin' (4:12) Composed by Willie Dixon
7. Why Are You So Mean to Me (5:28)
8. Blues Falling (2:23)
9. Lemon Squeezer (3:57) Composed by Jimmy D. Lane
10. That Ain' It ( Baby I Need Your Love) (2:08)
11. Smokestack Lightning (4:25) Composed by Howlin' Wolf
12. Blue and Lonesome (4:08) Composed by Jimmy D. Lane
13. Big Boss Man (3:06) Composed by Al Smith
14. Jam Session/Jammin' With Johnnie/Saint Louis Blues (8:15) Composed by W.C. Handy
MUSICIANS
Jimmy Rogers - vocals, guitar
Carey Bell - harmonica
Johnnie Johnson - piano
Dave Myers - bass
Jimmy D. Lane - guitar
Ted Harvey - drums
REVIEW
This was Jimmy Rogers' last "proper" Chicago blues album, and it deservedly won a W.C. Handy Award in 1995. There are no moonlighting rock stars here; they would come out in droves for Rogers' subsequent album Blues Blues Blues. And with the exception of the last track -- which is basically pianist Johnnie Johnson showing off for eight minutes -- Rogers sits squarely in the spotlight for the duration of Blue Bird. As expected, Rogers revisits a fair amount of his earlier repertoire ("Walking By Myself," "I Lost a Good Woman"), but he also digs up several original tunes that he had never gotten around to recording until now. Throw in a few Chicago standards ("Big Boss Man," "Rock Me," "Smokestack Lightning"), and you have a solid, laid-back, and tremendously satisfying album by one of the underrated masters. The backing band is a mix of Chicago blues brethren (Carey Bell on harp, Dave Myers on bass, Ted Harvey on drums) and family (Rogers' son Jimmy D. Lane on lead guitar), plus Johnson, who is perhaps a rock star by association since he played with Chuck Berry for 18 years. This one's a must-have. ~ Ken Chang, All Music Guide
BIO
James A. Lane is born in Ruleville, Mississippi, on 3 June 1924. He will later take the surname of his stepfather of Rogers.
He taught himself how to play harmonica and guitar by listening to the records of popular artists such as Big Bill Broonzy, Memphis Minnie and to the radio performances of Sonny Boy Williamson and Joe Willie out of KFFA in Helena, Arkansas.
In his late teens Jimmy moved to Helena and then Memphis, where he played with Robert Nighthawk and Robert Junior Lockwood. He then moved to St. Louis with Sunnyland Slim before settling in Chicago in 1945.
In 1946, through a friend in the factory where he is working he is introduced to McKinley Morganfield later to become known as Muddy Waters. He cuts a side for Ora Nelle in 1948 but it is not issued and a year after Jimmy plays on some Muddy Waters recordings for the first time.
Jimmy's debut single for the Chess Record label, 'That's All Right' / 'Ludella', is released in 1950, he goes on to chart 13 tunes on the R&B charts. This track record puts him in the top 10 all time best sellers in the blues filed. Some of his recognizable hits that have become the staple of blues bands around the world apart from those mentioned earlier include 'Chicago Bound', Sloppy Drunk' and 'The Last Time'.
He leave the Muddy Waters band in 1955 and a year later cuts what will become his best known single, ' Walking by Myself'.
Jimmy has long been considered one of the most important and influential figures on the American blues scene. He is considered to have co-founded and developed the Chicago blues sound with his band mate Muddy Waters - together they pioneered the sound that became known as "Chicago Blues" between 1947 and 1954.
In the late 1950's Jimmy worked with Howlin' Wolf and Sonny Boy Williamson and fronted his own band on the Chicago club circuit.
After some difficulty getting gigs, he decides to quit music in 1961.
In 1969 he returns to the Chicago music scene.
Jimmy's album Gold-Tailed Bird is released in 1973 to good reviews.
Jimmy's career nearly ground to a halt in the mid-70's when his classic recordings went out of print and were unavailable to a new generation of record buyers. Thanks to numerous books and publications calling attention to his career caused the re-issuing of Jimmy's Chess products on a the major MCA Record label, a Grammy nomination and numerous W.C. Handy Awards, Jimmy's career in now bigger than ever.
He is re-united with Muddy Waters in 1978 for the latter's fine album I'm Ready. In Bremen, Germany in 1991, he records the live album Jimmy Rogers with Ronnie Earl & The Broadcasters.
Jimmy has been a major influence on numerous rock superstars. Eric Clapton called him, "one of my all-time great guitar heroes, one of my earliest influences". Keith Richards said, "I recognize myself in there between Chuck Berry, Muddy Waters and Jimmy Rogers". Mick Jagger offered, "The first time I heard Jimmy was when I was buying my first blues records and listening to Muddy Waters and eventually I found out that Jimmy was the guitarist on these records that I loved".
At the behest of Clapton and Jagger, Jimmy was flown to London in June of 1992 for a series of blues tribute shows. One performance had Jimmy with the Eric Clapton Band at the Wembly Soccer Stadium in front of 100,000 people, and the shows with the Rolling Stones took place at the world famous Hammersmith Odeon. Clips of both shows are seen throughout the year on MTV and were a feature item in Rolling Stone magazine.
During the summer of 1993 Jimmy was a headliner in the famous Muddy Waters Tribute show which played to an audience of over 7,500 people on many dates. The Jimmy Rogers band appears on several nationally syndicated television and radio programs including NBC Late Night with Conan O'Brien, and Dan Ackroyd's House of Blues Show.
Bluebird, an album that Jimmy considers his best collection of work since his 1950's recordings is released in 1994.
Still a popular live performer at the age of 71, in 1995, Jimmy is booked to tour Europe.
Is is decided to make some CD's to provide for Jimmy's later years and he forms the Jimmy Rogers All Stars which include Eric Clapton, Jeff Healey, Mick Jagger, Keith Richards, Taj Mahal, Jimmy Page, Robert Plant, Stephen Stills and Lowell Fulson and Jonnie Johnson on Piano, but they only have enough for one CD before Jimmy dies on 19 December 1997, at the Holy Cross Hospital in Chicago from cancer.
On 5 January 1999, Atlantic Records / Warner release the CD Blues Blues Blues with some great tracks like:-
'Blow Wind Blow' featuring Jeff Healey.
'Blues All Day Long' and 'That's All Right' featuring Eric Clapton.
'Trouble No More', 'Don't Start Me To Talkin' and 'Goin' Away Baby' featuring Mick Jagger and Keith Richards.
'Bright Lights Big City' and ' Ludella' featuring Taj Mahal.
'Gonna Shoot You Right Down' (Boom Boom) featuring Jimmy Page, Robert Plant and Eric Clapton.
"Tell your friends to tell their friends that if they don't dig the blues, they must have a hole in their soul". - Jimmy Rogers.
http://www.john-meekings.co.uk/jalane.html