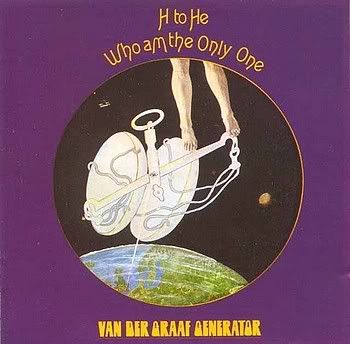 Van Der Graaf Generator - H To He Who Am The Only One - 1970 - Charisma
A massive masterpiece from beginning to end. VdGG at their ultimately best. Every track is a classic. Some disharmonious elements begins to appear, mostly in "Lost" and "Sequel to C.", making an interesting contrast to the more melodic parts, and adding some incredible energy to the music. "House with no Door" is on the other hand an excellent example of the more lyric and melodious side of the band, while "Emperor in His War-Room" has a almost spacey feel to it. The opening track "Killer" is hard and energetic progressive rock as good as it can get. The songwriting is pure genius, and I feel really sorry for the people who didn't buy this back in 70`. If they only knew what they missed! If you don't like this, then you simply cant be a progressive rock fan. © www.vintageprog.com
TRACKS
1) Killer;
2) House With No Door;
3) The Emperor In His War-Room;
4) Lost;
5) Pioneers Over C.
BAND
- Peter Hammill / lead vocals, acoustic guitar, piano (3)
- Hugh Banton / organs, oscillator, piano, bass (2,5), vocals
- Guy Evans / drums, tympani, percussion
- David Jackson / saxes, flute, vocals
GUESTS:
- Nic Potter / bass (1,3,4)
- Robert Fripp / electric guitar (3)
REVIEWS
They picked it up. And, in all sincerity, they really picked it up - without a doubt, H To He (the title refers to the fusion of hydrogen from helium, so there's nothing particularly flabbergasting about it) is the best prog album of 1970, which is saying something, because the competition was quite strong. However, where their main competitors were still learning (Genesis with Trespass, Yes with Time And A Word), or indulging in ultra-complex affairs that threatened to have too much ideological content and too few musical substance (Jethro Tull's Benefit, King Crimson's Lizard), VDGG suddenly made a definite breakthrough and demonstrated all the ample possibilities of the genre in one go. This is "glam-prog theatre" at its most elaborate and immaculate, and I really have a hard time trying to come up with any specific complaints about this record - apart from certain overlong sections and a couple instrumental and vocal melodies that come off a wee bit more thin than the others, this is a prime progressive album.
For starters, I'd be hard pressed to come up with a better multi-part progressive anthem than 'Killer'. Maybe I'm not too imaginative - the song is indeed considered by many to be the band's peak and is the critics' favourite, and maybe it's the only possible VDGG song you'll ever hear played on the radio. But hey, what can I do? It's not too often that you hear a band like VDGG come up with a brilliant riff like that, and set it to such positively frightening lyrics sung in such a positively frightening voice: 'So you live in the bottom of the sea, and you kill all that come NEAR YOU-OOO-WHOO-OOO... but you are very lonely, because all the other fish FEAR YOU-OOO-WHOO-OOO..." Not only that - the intro and the opening verses might be the most epic and memorable moment on the album, but the mid-section, with the 'death in the sea death in the sea' chantings, is also prime stuff. Wow dude, what a song. I find myself coming back to it all the time, again and again; VDGG might have easily earned themselves a place on this site if they'd never done anything else. This is where it all comes together, and where 'White Hammer' was the nadir, almost a self-parody, 'Killer' is the zenith, symbolizing the band in full flight and Peter Hammill as a completely idiosyncratic, self-assured writer making a brilliant artistic statement. With 'Killer', the band finally proves that there was a reason of its existing in the first place.
And to top it off, 'Killer' is immediately followed by what I consider VDGG's best ballad ever - the operatic, yet strangely sincere and moving 'House With No Door'. It's a little Bowie-like, which isn't a compliment - I don't usually like Bowie doing that stuff; but since the melody is a bit better than, say, Bowie's 'Time', and Hammill's singing is far more elaborate than David's (no offense, Bowie fans - Hammill has got a voice quite worthy of an opera singer), I can forgive the theatricality. The song's structure is immaculate, too: a sad, melancholic verse, a rousing chorus, a gentle flute solo, and a good buildup throughout - when Hammill screams out the last chorus in desperation, it's as if you could already predict that. For me, it's kinda comforting.
The next two tracks, dominated by guest star Robert Fripp's guitar playing, are a bit of a letdown, but not a serious one - they are just overshadowed by the previous two masterpieces. It's absolutely clear that for this album the band had really spent a lot of time carefully working out the song structures and thinking about setting Hammill's lyrical imagery to some real music instead of sonic drones. So 'The Emperor In His War-Room' makes heavy use of the flutes; the entire first part is set to a steady, clever flute rhythm, and wisely alternates from super-slow and gentle to martial rhythms to anthemic heights. Unfortunately, Hammill does go overboard with the lyrics, but I hardly pay attention to these, preferring to concentrate on the cool melodies. Then it all dies down, and the drums kick in the second, faster part, where Fripp finally comes in and gives us some much needed guitarwork. Wow.
'Lost' comes next - again, Peter is the main star, this time mainly pulling out the song based on the strength of his singing. The melody is far too convoluted and twisted, with time signatures flashing like cards in a dealer's hand and never giving you much time to enjoy them all; but whenever that gorgeous voice comes in and chants 'I know I'll never dance like I used to', there's some lump coming up my throat that almost makes me cry. Or when he intones in that super-duper pleading intonation: '...somehow I don't think you see my love at all...' This is not just rock theater; this is something far above. I still haven't found the term for it, but for now, I'll just say that Hammill's vocal performance on 'Lost' gotta rank as one of the most magnificent uses of human voice (at least, from a technical sense) on a rock record. And, quite unlike the previous track, it's just a... hell, it's just a love song. It's only a love song, get it? It's not pretentious. It's just a little suite that Peter probably cooked up to be sung as a serenade under someone's window. Why don't you try singing it to your girlfriend? (Hmm. On the other hand, I can imagine her reaction when you say 'oh, it's just a Van Der Graaf Generator song').
And how do we finish this minor masterpiece? Why, with 'Pioneers Over C'. Which is everything 'After The Flood' wanted to be, but failed. On here, Hammill tackles the traditional art-rock thematics of space travel - but it's not the lyrics this time, it's the atmosphere and the musical stuffing that makes the track so thoroughly unforgettable. Especially that cute little bass/sax riff in the middle of each verse to which Hammill tries singing in unison. And all the sections are just so dang cleverly constructed - I tip my hat to the masters. Fast, slow, moody and relaxed, energetic and fast-paced, and never getting boring.
I'm still a bit puzzled as to how the hell could this group come up with such a consistently great record, especially considering that it's sandwiched by two considerably more weak efforts. Where did these killer riffs (actually, 'Killer' riffs, heh heh) come from? How come they didn't do any more shattering ballads of similar quality? Where did that grandstanding operatic voice disappear afterwards? How come? Whatever; the band was definitely on a roll and it shows; the record's currently one of my Top 10 Prog albums of all time, and I heavily recommend it to all progressive lovers out there. And kudos to producer John Anthony who didn't bury Hammill's voice too deep this time around. © George Starostin, http://starling.rinet.ru/music/vander.htm#One
In a overview of the music from the last thirty-odd years of this century, Van Der Graaf Generator should simply not be overlooked. VDGG is one of those bands fans do not speak constantly about, unlike, when the biggies are listed, Yes, Pink Floyd, and Genesis. However, the references to the ingredients that comprise VDGG can be found in a lot of others' work.
For the DPRP ProgHistory, I picked VDGG's 1970 album H To He Who Am The Only One. I could have picked almost any other album from between 1969 and 1975, but we needed still a title for 1970. I don't mind, I like talking about all of their albums.
Let's take a look at some of those ingredients. First of all, there's the complex side of VDGG. The music was mostly written by the genius of Peter Hammill, who as a unique way of composing without losing touch of what is real, feeling, emotion. The complexity is found in the music of, for example, Yes as well. But where the latter fill every gap of silence to impress, VDGG know the emotion lies between the notes.
Not to be missed is Peter Hammill's voice. He sings like he plays - from the heart. The strong poetical lyrics are not seldomly written on melody lines other lyricists would find it very hard to sing any words on. And it still sounds as it can be done no other way. Whether he is screaming or singing on the top of his voice, it fits the music, and even if you're not listening to the lyrics, it's all part of the great emotional expressions of a wonderful band.
Very important for the sound is what distinguish VDGG from a lot of other prog bands: the saxophone. It's used for a foundation on which the rest of the composition is built together with the organ, but also for solo melodies, and, as in the first song Killer, a freaky highlight. This song contains a hypnotising melody of keyboards (organ) and saxophone that make you float with the music, being soaked into it. It portrays the haunting atmosphere this band is able to create with their music.
VDGG can do differently, as is shown in the second track, House With No Door. A slower piece with blues influences, but the easiness of the piano does not hide the sensitive agression that marks the voice, that can show even in the quietest moments. The Emperor In His War Room musically is somewhere between the first two tracks, alternating quiet, almost laid back verses (with flute), with menacing verses that are heavy, but not fast. It is the fear and agression that speaks.
Pioneers Over C, besides a guest appearane of Fripp on guitar, also contains those hypnotizing sax and keyboard lines. The song is over twelve minutes, so that phrase does not describe the whole thing. As with almost any VDGG composition, verses can be long, but the musical bits are never repetitive in a the way of a song and chrorus structure.
This album was released too early for prog cliches, but it still is as unique as it was then! There's so many parts of VDGG's music that have set the benchmarks for the bands to come. Every, and I mean every record collection should at least contain two VDGG albums. If only never to forget what progressive music with a great voice sounds like without the pressure of forced complexity. © Jerry van Kooten , © 1999 - 2007 : Dutch Progressive Rock Page, http://www.dprp.net/proghistory/index.php?i=1970_01
BIO (Wikipedia)
Van der Graaf Generator are an English progressive rock band. They were the first act signed to Charisma Records. The band achieved a considerable amount of success in Italy during the 1970s. In 2005 they embarked on a reunion, which continues to the present day.
The signature VdGG sound in the 1970s was a combination of Peter Hammill's distinctive and dynamic voice and David Jackson's electronically-treated saxophones, generally playing over thick chordal keyboard parts (such as Hammond organ and/or clavinet). Van der Graaf Generator albums tended to be darker in atmosphere than many of their prog-rock peers (a trait they shared with King Crimson, whose guitarist Robert Fripp guested on two of their albums), and guitar solos were the exception rather than the rule.
Hammill is the primary songwriter for the band, and the line between music written for his solo career and for the band is often blurred.
The group was named after a piece of electric equipment designed to produce static electricity, the Van de Graaff generator. The name was suggested by early member, Chris Judge Smith. The misspelling is accidental.
The band first formed in 1967 while its members were studying at Manchester University. The three-piece was comprised of Peter Hammill (guitar and vocals), Nick Pearne (organ) and Chris Judge Smith (drums and wind instruments). On the basis of a demo, this blues- and jazz-influenced first incarnation were offered a recording contract with Mercury Records, which only the 19-year old Hammill signed.
In 1968, Pearne was replaced by Hugh Banton. The band were able to secure Tony Stratton-Smith as a full-time manager. Through him, the band acquired a bass guitar player, Keith Ian Ellis. Drummer Guy Evans joined not too long afterwards. This line-up recorded a series of demos for Mercury, before releasing a single ("The People You Were Going To" b/w "Firebrand") on Polydor Records. The single was withdrawn under pressure from Mercury, since it violated Hammill's contract as a solo artist.
Although the band performed on BBC Radio 1's Top Gear radio show in November, and was touring successfully, it broke up in early 1969. Pressures leading to this included the theft of the band's gear and transport in London, combined with Mercury's refusal to let Hammill out of his solo contract and the band's unwillingness to sign under the "harsh" terms to which Hammill had agreed.
In July 1969, Hammill went to record his first solo album at Trident Studios. Banton, Evans, and Ellis joined him as session musicians. Through a deal worked out by their manager, Hammill's intended solo album, The Aerosol Grey Machine, was released by Mercury under the band's name in return for releasing Hammill from his solo contract. The album was initially only released in the United States.
Tony Stratton-Smith formed Charisma Records and signed the band as his first act. Before recording their second album, The Least We Can Do Is Wave To Each Other, Ellis left (eventually joining Juicy Lucy and a very brief incarnation of Iron Butterfly) and was replaced by Nic Potter, and David Jackson (saxophone and flute) was added to the line-up.
A new sound was established, leaving behind the psychedelic influence of The Aerosol Grey Machine in favour of darker textures influenced by jazz and classical music. The Least We Can Do... was well received, and was swiftly followed by H to He, Who Am the Only One. Potter left mid-way through that recording, and the band decided to carry on without a bass guitarist, with Banton substituting with the organ's bass pedals. Robert Fripp of King Crimson contributed guitar on the song, "The Emperor in His War-Room".
The Hammill/Banton/Jackson/Evans quartet that resulted from H to He is now considered the 'classic' line-up, and went on to record Pawn Hearts, which is considered by many to be their finest work. It contains just three tracks, "Lemmings", "Man-Erg" and the 23 minute concept piece "A Plague of Lighthouse Keepers" – very much in keeping with the times. Fripp again provided a cameo appearance on guitar. The album proved highly successful in Italy, topping the chart there for 12 weeks. They toured Italy for a while, but the shows were plagued by different extremist organisations from Red Brigade to neo-fascists. The band toured extensively from 1970 to 1972, but a lack of support from the record company and possibly also financial difficulties caused the band to implode and Hammill left to pursue a solo career.
The three remaining members recorded an instrumental album with Nic Potter, Ced Curtis, and Piero Messina, under the name "The Long Hello". Their self-titled album (The Long Hello) was released in 1973.
Hammill's split with the group was amicable, and Banton, Jackson and Evans, among others, all contributed to his solo work at various times. By 1975 the band were ready to work with each other again, and three new albums were recorded in just 12 months. The sessions were produced by the band themselves (all previous VdGG albums had been produced by John Anthony at Trident Studios), and displayed a somewhat tauter, more streamlined sound. Godbluff in particular saw Hammill making significant use of the Hohner clavinet keyboard. Still Life followed within the same year.
Following World Record, first Banton and then Jackson departed. Nic Potter returned, and in a typically eccentric move Banton was replaced by a violinist, Grahame Smith (formerly of Charisma folk-rock band String Driven Thing. This line-up produced the album The Quiet Zone/The Pleasure Dome. The band also shortened its name to Van der Graaf. Charles Dickie then joined the band on cello for live work, documented on the live album Vital. By the time Vital was released, in the summer of 1978, the band had already split.
One album of 'new' material was released after the split. Time Vaults is a collection of out-takes and rehearsal recordings from the 1972-1975 hiatus. The quality of the recordings varies from demo-standard to very poor.
Banton, Jackson and Evans all made occasional appearances on Hammill's solo albums following the 1978 split, and the classic line-up also played occasionally together. In 1991, they played several songs at a fortieth birthday party for David Jackson's wife. In 1996, the quartet appeared on stage during a concert by Hammill and Evans at the Union Chapel in London to perform "Lemmings". In 2003, Banton, Jackson, and Evans joined with Hammill to perform the song "Still Life" at the Queen Elizabeth Hall in London. Both of these latter appearances were unannounced to the audience in advance.
Following the Queen Elizabeth Hall performance, discussions between the band members led to writing and rehearsal of new material in summer 2004. A double CD, Present, containing this material was released in April 2005. A reunion concert took place at the Royal Festival Hall, London, on 6 May 2005, followed by several European dates in the summer and autumn of 2005. The concert in Leverkusen, Germany on 5 November 2005 was filmed for a TV show ("Rockpalast") and was broadcast on January 15, 2006.
Peter Hammill stated in a December 2005 newsletter that there were no plans for further recordings or performances by the 'classic' VdGG line-up. In September 2006, Hammill announced that the band would be continuing as a trio, for live and studio work, without Jackson.
A live album, Real Time, was released on March 5, 2007 on Hammill's label, Fie! Records. It contains the entirety of the band's 2005 concert at the Royal Festival Hall.
TIMELINE
1967: Peter Hammill, Nick Pearne, Chris Judge Smith 1968: Peter Hammill, Guy Evans, Hugh Banton, Keith Ian Ellis 1970: Peter Hammill, Guy Evans, Hugh Banton, David Jackson, Nic Potter 1970: Peter Hammill, Guy Evans, Hugh Banton, David Jackson 1975: Peter Hammill, Guy Evans, Hugh Banton, David Jackson 1977: Peter Hammill, Guy Evans, Nic Potter, Graham Smith 1978: Peter Hammill, Guy Evans, Nic Potter, Graham Smith, Charles Dickie, David Jackson 2005: Peter Hammill, Guy Evans, Hugh Banton, David Jackson 2006: Peter Hammill, Guy Evans, Hugh Banton