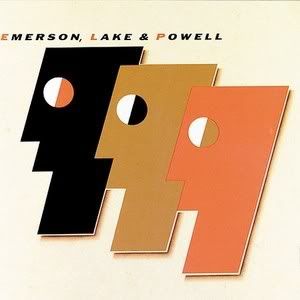 Emerson, Lake & Powell - Emerson, Lake & Powell - 1986 - Polydor
Emerson, Lake & Powell is the only studio album recorded by the ELP off shoot band of the same name. It was recorded in 1985 and released in 1986 on Polydor Records. However, two further albums comprising rehearsals and live material were subsequently issued in 2003. This album has received some very poor reviews, yet Greg Lake, himself said it was a really great LP and the one of which he's the proudest. Maybe the diehard ELP fans shied away from it as it was a change from the normal 70's ELP prog rock sound, and had more of the 80's synth sound. Who knows? Cozy Powell's drumming is excellent on this album, and was arguably as good as Carl Palmer. A very underrated album, and well worth a listen.
TRACKS
"The Score" – 9:08
"Learning to Fly" – 4:02
"The Miracle" – 6:50
"Touch and Go" – 3:38
"Love Blind" – 3:11
"Step Aside" – 3:45
"Lay Down Your Guns" – 4:22 (Emerson, Lake, Steve Gould)
"Mars, the Bringer of War" – 7:54 (Gustav Holst, arr. Emerson, Lake, Cozy Powell)
"The Loco-Motion" – 4:40 (Gerry Goffin, Carole King) - CD bonus track
"Vacant Possession" – 4:42 - CD bonus track
Tracks written by Keith Emerson and Greg Lake except as noted.
PERSONNEL
Keith Emerson - Keyboards
Greg Lake - Vocals, Bass and Guitars
Cozy Powell - Drums