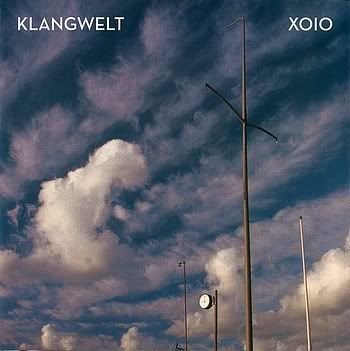 Klangwelt - XOIO - 2006 - Spheric Music
Obviously influenced by Tangerine Dream, & Klaus Schulze, nevertheless this is an excellent work in the electronica genre. Check out his brilliant 2003 CD, The Age Of Numbers, and his first release, "Weltweit"
TRACKS
1 Okzident (10:38)
2 XOIO (11:56)
3 Fun-Fair (6:01)
4 Bed Of Clouds (9:36)
5 River (For Alina) (5:33)
6 Spirits (8:52)
7 La Bella (6:45)
8 No Response (8:12)
9 Fade Away (8:45)
All tracks composed by Gerald Arend
CREDITS
Real Name: Gerald Arend. Gerald is a German keyboard player and audio-designer who is mainly working for the multimedia- and computer-games-industry. Released a few albums under the project-name Klangwelt, influenced by Jean-Michel Jarre, Tangerine Dream, Michael Rother, Vangelis, Kitaro and Klaus Schulze. Producer - Gerald Arend. Mastered By - Gerald Arend , Udo Wiesner
REVIEW
Delicate notes swim in a sea of darker electronics, pulsating with icy disposition amid the shadowy textures. The result is one of optimistic light glimmering in a nocturnal void, a melodic promise emerging from a realm of conventional mundanity. The electronics exhibit a bouncy vigor that is pleasant and engaging. Some of the sounds possess a buzzing edge to their resonance, bestowing a subliminal vibration to the harmonics.
Complex keyboards provide undulating auxiliary melodics that stream through the compositions, adding engaging depth. An air of a futuristic carnival is accomplished, replete with robotic exhibits and twinkling amusement rides that dip in and out of interdimensional realms.
Some of the pieces adopt a more pensive disposition, conveying introspection through smooth atmospherics and sedate riffs designed to pacify the audience, providing a rest stop before the tuneage resumes its customary ebullient delivery.
A rhythmic presence flows in tandem with the harmonic elements generating a soft undercurrent of lively tempos surrounded by fanciful chords and fluid textures. The percussives are synthetic, but display no mechanical mien, hopping along with a congenial manner as they inject discriminating pep to the tuneage.
After this rollercoaster voyage of peppy highs and contemplative valleys, the CD concludes with a moody piece that blends harpsichord with growling diodes. © 2006 Matt Howarth. All rights reserved. http://soniccuriosity.com/sc279.htm
BIO
Klangwelt ("sound-world" or "world of sound") is the musical project of Gerald Arend, a German audio-designer from Norderstedt (near Hamburg) who's working for the multimedia- and computer-games-industry. Gerald bought his first synthesizer back in 1982 and started to self-educate keyboard-playing. Together with a friend, he started several musical projects in the area of the German "Neue Deutsche Welle"-movement and independent-pop/rock. They produced a number of homerecorded tapes in the 80's and finally a CD in 1993. He also was a keyboarder in a rock-band for some two years back in the middle 80's, playing pop/rock with German lyrics. During the years, Gerald collected more and more equipment to set up and complete his own small recording-studio. In 1995 he finally started to create the electronic "soundworlds" he had always dreamt of - project Klangwelt was born. Klangwelt's music combines rich, atmospheric soundpads, pulsating rhythms and catching melodies to both relaxing and stimulating instrumental tracks, professionally produced in wide-sounding 3-D-stereo. The first CD "Weltweit" was released in early 2002 and became a big success. It got great reviews from EM-magazines and WWW-sites from all over the world, tracks from the album were played in numerous radio-shows like the US-program "Echoes". The end of 2003 saw the release of the second album "The Age Of Numbers", an electronic journey into the fascinating world of numbers and mathematics. The second CD soon received lots of positive reviews and became a big success as well. In late summer 2006, the latest album "XOIO" is released. Gerald and his albums received some of Germany's most important awards for electronic music. © www.klangwelt.info/welcome-e.html