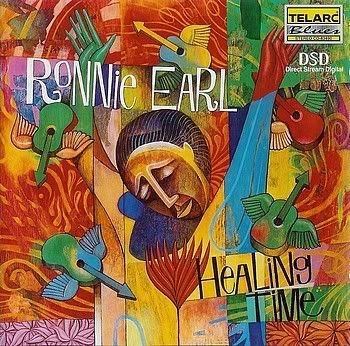 Ronnie Earl - Healing Time - 2000 - Telarc
Ronnie Earl presents a brilliant mix of intense organ-guitar jazz-combo sounds.This all-instrumental album does not go overboard with long over the top screeching guitar solos, all too common with young blues guitarists nowadays. This is blues presented in an intelligent, contemptlative style. Give this album a few listens. You will be impressed. Buy his albums, Language of the Soul, and The Colour of Love. they are majestic recordings from the great New York bluesman.
TRACKS
Churchin`
Catfish Blues
Ide Moments
Thembi
Blues For Shawn
Glimpses Of Serenity
Lunch At R & M`s
Song For A Brother
Bella Donna
Blues On A Sunday
Amazing Grace
Recorded at Blue Jay Studios, Carlisle, Massachusetts between July 23 & August 2, 1999.
BAND
Ronnie Earl (guitar)
Jimmy McGriff (Hammoond B-3 organ)
Anthony Geraci (keyboards)
Michael "Mudcat" Ward (bass)
Don Williams (drums)
REVIEWS
If you're in a blues-induced funk because you haven't heard any great blues/jazz lately, Ronnie Earl has the remedy with this CD. Earl, who played for eight years with Roomful of Blues, and then with his own band, The Broadcasters, adds to his string of fine solo albums with Healing Time, for which he joins forces with Hammond B-3 organ wizard Jimmy McGriff, Anthony Geraci on keyboards, Michael "Mudcat" Ward on bass, and Mark Greenberg and Don Williams trading off on drums and percussion.
"Churchin'" hits a nice blues groove right out of the gate. It's a McGriff original, and Jimmy solos like the tune is indeed his own. Earl, a guitarist of many sounds, is nice and laid-back on this one. He shows his down and dirty side with his introductory solo on "Catfish Blues," blending the best of Chicago and delta style. "Idle Moments" slips into the jazz vein with a slow, majestic, and thoughtful blues, great for late night contemplation.
The band taps an Afro-Cuban vein in Pharoah Sanders' "Thembi." There's some nice piano work by Geraci, and Earl makes his guitar sound almost like a fiddle on this one. "Blues for Shawn" follows. It's slow, deep, sensitive and meaningful, with some underlying B-3 work that provides a haunting presence. Even more contemplative is "Glimpses of Serenity," a fairly blues-free jazz number, slow and dreamy.
We're back to straight-out Chicago blues with "Lunch at R&M's," which boasts a flaming guitar/B-3 duet. "Song for a Brother" offers up a slow rock/fusion tempo with a lovely melodic line, followed by a free-form ballad with "Bella Donna." The nearly ten-minute "Blues on a Sunday" gives us a slow, intense blowing session, with hot solos being traded back and forth and a fine, moody coda that seems to lead into the final track, "Amazing Grace," a graceful reading that ends the album on a note of moving finality. Earl and McGriff work like one mind on this one.
Healing Time is a superb blues/jazz album, one that I can't imagine fans of either genre not digging. Earl's virtuosity is evident in every note, and McGriff's driving, rolling organ work puts the icing on the cake. Highly recommended. © Roomful of Blues.
Not unlike such disparate artists as John Coltrane, John Lennon, or Al Green, Ronnie Earl preaches music`s underlying power to cure an ailing soul, and mend a broken heart. On HEALING TIME Earl sets out to encourage us to, as he says, "feel the music, not just be awed by the technique," and the 11 songs included here lead listeners in this direction. "Churchin`," is an electrifying blues shuffle, while the tunes that follow take us on a musical journey through slow 12/8 blues ("Blues for Shawn") to a cheerful quasi-Latin feel ("Thembi"). Earl`s lyrical, always bluesy, improvisations are strongly featured throughout. Organ legend Jimmy McGriff is also heard in superb form on many of the selections including "Blues on a Sunday" and "Catfish Blues." The album closes with a stately version of the traditional song, "Amazing Grace." On this African-American spiritual, Ronnie Earl leaves us with a sense of hope and optimism. HEALING TIME is an emotionally charged album that delivers a unique and potent balm for the soul.
BIO
Ronnie Earl was born Ronald Horvath in Queens, NY, on March 10, 1953. He didn't start playing guitar until after he entered college at Boston University in the early '70s and became fascinated with the local blues scene. Developing his craft quickly, he landed a job in the house band of the Speakeasy Club in Cambridge, MA, and changed his last name to the bluesier-sounding Earl in tribute to Earl Hooker, one of his favorite influences. Prior to the name switch, he'd made some recordings for the small Baron label under his original moniker beginning in 1977, first backing Guitar Johnny & the Rhythm Rockers, then as a founding member of Sugar Ray & the Bluetones with harmonica player/singer Sugar Ray Norcia. In 1979, Earl was invited to replace Duke Robillard in the prominent Rhode Island band Roomful of Blues, whose swinging jump blues revivalist sound demanded a jazz sensibility as well as ample blues feeling. Earl spent the next eight years with Roomful of Blues and watched their national profile grow steadily larger.
Meanwhile, Earl also made a few recordings on his own for Black Top Records, forming the first versions of the Broadcasters in the early '80s. He released his first solo album, Smokin', in 1983 and followed it with They Call Me Mr. Earl in 1984 (both of those albums were later compiled on the CD Deep Blues). Still, they were a sidelight to his main gig with Roomful of Blues, that is until he left the band in 1987 to make a go of it as a solo artist and bandleader in his own right. A new version of the Broadcasters debuted in 1988 on Soul Searchin', which featured vocalist Darrell Nulisch, harmonica player Jerry Portnoy (ex-Muddy Waters), bassist Steve Gomes, and drummer Per Hanson. Peace of Mind followed in 1990, as did I Like It When It Rains, a live album on Antone's that actually dated from 1986. 1991's Surrounded by Love reunited Earl with Sugar Ray Norcia and also proved the last in his long string of Black Top releases.
By the early '90s, Earl had addressed and overcome his problems with alcohol and cocaine and began to rethink his approach. He formed a new version of the Broadcasters, featuring organist Bruce Katz, bassist Rod Carey, and longtime drummer Per Hanson, and boldly elected to go without a vocalist. Earl debuted his new instrumental direction -- which was more informed by jazz than ever before -- on 1993's Still River (released by AudioQuest) and embarked on a tour of Europe. He signed with the Bullseye Blues label and issued a string of acclaimed albums, including 1994's Language of the Soul, 1995's Blues Guitar Virtuoso Live in Europe (a live album from his 1993 tour originally titled Blues and Forgiveness), and 1996's Grateful Heart: Blues and Ballads (which featured David "Fathead" Newman). The latter two were particular critical favorites, with Live in Europe winning Pulse magazine's year-end poll as Best Blues Album and Grateful Heart doing likewise in DownBeat.
Thanks to all the positive attention, Earl signed a major-label deal with Verve. His label debut, The Colour of Love, was issued in 1997 and sold more than 65,000 copies, making it one of the biggest hits of Earl's career; that year, he also won a W.C. Handy Award as Best Blues Instrumentalist. However, feeling that he was under too much pressure to move more units, Earl soured on the deal and around the same time suffered a bout with manic depression. He wound up not only leaving Verve, but taking a break from bandleading and live performance; he disbanded the Broadcasters and signed with the smaller Telarc label as a solo act. His Telarc debut, 2000's Healing Time, teamed him with legendary soul-jazz organist Jimmy McGriff. The follow-up, 2001's Ronnie Earl and Friends, was a loose, jam session type of affair featuring a number of special guests, including the Fabulous Thunderbirds' Kim Wilson, Irma Thomas, Luther "Guitar Jr" Johnson, and the Band's Levon Helm. In 2003, Earl returned with an album of mainly instrumental material I Feel Like Goin' On on the Canadian based label Stony Plain. A second album from Stony Plain, Now My Soul, appeared in 2004, while a third, The Duke Meets the Earl, which paired Earl with fellow ex-Roomful of Blues guitarist Duke Robillard, was released in 2005. © 2007, Steve Huey, All Music Guide