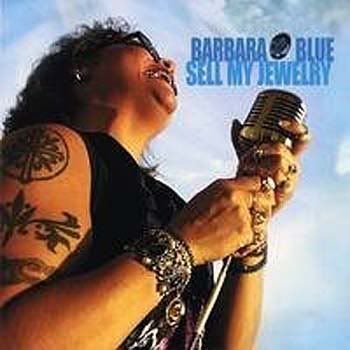 Barbara Blue
-
Sell My Jewelry
-
2001
-
Barbara Blue
Sell My Jewelry effortlessly moves between gritty urban blues and smoky Memphis soul. A great vocalist, Blue has been compared with singers Etta James and Janis Joplin (I would lean more toward Etta). Blue handles everything here with ease, be it E.G. Kight's "Trouble With a Capital 'T'," the double entendre-laden "Tool Box Blues," the slow groove "From the Delta to the Golden Gates" (a tribute to John Lee Hooker), the funky "Cheatin' Blues," and even a song from the Janis Joplin catalog ("Turtle Blues"). The highlights for me though were the soulful "Don't Lead Me On," which would to be a hit single in a perfect world, and Lucinda's Williams' "Drunken Angel." Tony Braunagel, drummer for Taj Mahal's Phantom Blues Band, produced this CD. He is just one of several current and former Phantom Blues Band members playing on the CD, including Mike Finnigan on keyboards, guitarist Johnny Lee Schnell, bassist Larry Fulcher, and the Texicali Horns (Joe Sublett and Darrell Leonard), so, needless to say, Blue has some great support. In short, this is a strong, well-produced CD from a young lady that you'll be seeing and hearing a lot more of. © Graham Clarke, http://bluenight.com/BluesBytes/wn0302.html All contents © 2002, Blue Night Productions. All rights reserved.
Not a groundbreaking blues album from the Memphis-based singer , but there are some good originals and covers, and Barbara Blue is backed by Taj Mahal's great backup band, The Phantom Blues Band. The musicianship is first class, as are Barbara Blue's powerful joplin-like vocals. For a better idea of this lady's talent, buy her great "Out of the Blue" album. Check out the great "Shoutin' in Key Live" album by Taj Mahal & The Phantom Blues Band @
TAJM/PBB/SIKL
TRACKS / COMPOSERS

1 Trouble with a Capital T - EG Kight/ Richard Fleming
2 Back by Popular Demand - Jodie Seigel/Tony Braunagel
3 Tool Box Blues - unknown
4 Don't Lead Me On - unknown
5 Road Blues - Barbara Blue
6 Can't Get Your Lovin' off My Mind - Jim Weatherly, Getchall, Doug
7 Sell My Jewelry - Blue/Braunagek
8 From the Delta to the Golden Gates - John Lee Hooker
9 Cheatin' Blues - unknown
10 Drunken Angel - Lucinda Williams
11 Brought Together by the Blues - Honey & Rod Piazza
12 Trutle Blues - Janis Joplin
MUSICIANS

Lead Vocals: Barbara Blue
Bass: Larry Fulcher
Keyboards: Mike Finnigan
Guitars: Johnny Lee Schell
Drums and Percussion: Tony Braunagel
Texicali Horns: Joe Sublett, tenor sax and Darrell Leonard, trumpet
Background vocals: Teresa James, and Tamara Champlin on tracks 1,2, and 7 Johnny Lee Schell on tracks 3, and 10
Special guest appearance by John "JUKE" Logan on Harmonica.
REVIEWS
Barbara served her apprenticeship with some pretty heavy hitters. These artists included Jeff Healey, Marcia Ball, Maceo Parker, Pinetop Perkins, James Cotton, Tab Benoit and Taj Mahal to mention a few. She accomplished this by moving around a lot. Her hometown is Pittsburgh and from there, she went to Chicago, then New Orleans and then L.A. She is now based out of Memphis. Barbara upon arriving in Memphis went about forming her own band; this has given her the advantage of playing some of the legendary clubs along Beale Street. This kind of exposure can do nothing but hone your skills. Besides some compilation releases and such, Barbara and her band released an earlier album Out of the Blue. However, the main source of income for her has been as a working musician belting it out, night after night in the clubs. On this CD though, she calls in some markers, traveling to L.A. and enlisting some stellar sidemen. You have Mike Finnigan on keys, Larry Fulcher Bass, Johnny Lee Schell on guitar and Tony Braunagel drums and percussions. These guys make up the core band. Then as a guest, she was able to procure the services of John 'Juke' Logan on harmonica. Tony Braunagel besides pounding the skins performs production tasks, sitting behind the control panel twisting the knobs. Also along for the ride are the well regarded and traveled, Texicali Horns, made up by Joe Sublett, sax and Darrell Leonard, trumpet. This is an impressive array of musicians to work for a singer that is essentially unknown. You can tell by their playing that they aren't half-stepping. Barbara also seems to put forth her best effort. On the slower numbers like, 'Trouble With A Capitol T', 'Don't Lead Me On' and 'Drunken Angel', she sounds every bit like the great Tracy Nelson. On the shouters, ('Road Blues', 'Sell My Jewelry', 'Cheatin' Blues' and of course the Janis Joplin penned, 'Turtle Blues') she adopts the phrasing of one of her obvious idols, Janis Joplin. She actually does a creditable job with this style, one of the hardest of all female influences in Rock/Blues for singers to incorporate successfully. © Brian Augustine, www.sierrabluessociety.org/SBS.htm
Worth your time, if only for the great backing by Taj Mahal's backup band, The Phantom Blues Band. Blue sets the pace for this album with the opening cut, EG Kight's and Richard Fleming's "Trouble With A Capital 'Ti" Blue sings a bit like Kight, but is more on the dirty side of Blues Street. ,.Joe Sublett of the Texicali Horns offers a tasty solo and the background vocals fill in great. From the outset this album is well produced and the band is tight. This is followed up by a little bit jazzier take on the Jodie Seigel/Tony Bra unagel (who also produced the album and played drums) song, "Back By Popular Demand". A couple of songs later Blue gets down and dirty on the slow Blues "Don't Lead Me On." The Texicali Horns do a good job of building the chorus up and letting Blues' voice pick it up in the wake. On the fifth track Blue is back to wailing on her own song, "Road Blues," but this time with the accompaniment of John "Juke" Logan on harp who really squeezes out the treble end. This is the kind of roaring song that Blue can really get a hold on in a Janis Joplin sort of way. In fact Joplin is one of the most obvious references one falls back on when listening to Blue, and Memphis Minnie, but in a different sort of way. Another good song is the Blue/Braunagekwritten title cut, "Sell My Jewelry," which swings with some fine honky-tonk piano from Mike Finnigan. There is also a fine slow slidin' Blues tribute to John Lee Hooker, "From The Delta To The Golden Gate." There is some funky Blues on "Cheatin' Blues;" a nice cover of Honey and Rod Piazza's "Brought Together By The Blues;" and, a cool slow acoustic Blues version, complete with some more of Juke Logan on harp, of Janis Joplin's "Turtle Blues." The latter, along with the opener and fine version of Lucinda Williams' "Drunken Angel" alone make this album worth a listen. Throw in a great band and a couple of good guests to accompany the power of Barbara Blue's big, wonderfully deep voice and you have a fine album. This reviewer looks forward to hearing more from this fine artist. Until then there's always Beale Street. © Michael Flynn (Michael Flynn is a contributing writer at Blues Wax.)
With the backing of Taj Mahal's Phantom Blues Band, Barbara Blue presented a gutsy set of soulful contemporary blues on Sell My Jewelry. There's nothing groundbreaking about Blue, the songs, or the arrangements, but she has a powerful throaty voice, often used on songs playing up to a tough-mama persona. The band gives her able support that draws soul music influences into the blues context, using organ and horns as well as the staple guitar and rhythm section. Blue wrote a bit of the material, but most of it's devoted to songs by other writers, including Janis Joplin ("Turtle Blues"), Lucinda Williams ("Drunken Angel"), and Rod Piazza (co-writer of "Brought Together By the Blues"), though the other composers won't be familiar names to many listeners. While she often sings about not taking guff from guys, in truth she sounds as good-natured as she does angry, though that doesn't detract from the merit of the music. She also breaks up the gruffer stuff with a couple of serious emotional near-ballads in "Don't Lead Me On" and Williams' "Drunken Angel," as well as a gutbucket self-penned John Lee Hooker tribute, "From the Delta to the Golden Gates." All twelve of the tracks from Sell My Jewelry are contained on the British compilation By Popular Demand!, which adds a half dozen tracks from other Blue albums. © Richie Unterberger, All Music Guide
BIO
Born and raised in Pittsburgh Pa, Barbara has had the blues since the day she was born. She has been performing on Beale Street 5 night a week for 11 yrs. June 7, 2008 unless otherwise specified. (Always check her schedule page before planning a trip to Memphis!) Barbara has also performed along side various top notch artists such as: Taj Mahal & The Phantom Blues Band (Tony Braunagel, Mike Finnigan, Johnny Lee Schell, Larry Fulcher & the Texicalli Horns, Darrell Leonard and Joe Sublett), Jeff Healey, Marcia Ball, Delbert McClinton, Maceo Parker, Al Jackson, Pinetop Perkins, James Cotton, Steady Rollin' Bob Margolin, Tab Benoit, Fiona Boyes, Corey Harris, Sean Costello, The Nighthawks and Big Mike Griffin to name a few, from Pittsburgh to Detroit to Chicago, Boston, New Orleans, LA, KC, Hawaii, Memphis, Australia, Canada, England, Norway, Aruba & The Legendary Rhythm & Blues Cruise. Since forming her own band in 1989, Barbara has been progressing right up blues alley. With the release of her Debut CD "OUT OF THE BLUE", Barbara has reached a wider audience of blues lovers world wide. Now residing in Memphis Tennessee and performing nightly on historical Beale Street for the past ten years, Barbara's understanding and cultivation of the Blues is deeper and richer than ever. Barbara's discography now boasts 3 additional recordings with Taj Mahal's world re noun Phantom Blues Band: SELL MY JEWELERY 2002, MEMPHIS 3rd & BEALE 2004 and LOVE MONEY CAN'T BUY 2006, all of which have made the first round of the Grammy Nomination process in 3 categories. A 2007 import has been released by SHOUT Records LTD, London UK titled: BY POPULAR DEMAND. It is a tasty compilation the first of it's kind with Barbara's recordings and a 12page color booklet. OUTSTANDING!!! 2008 has lead to the much anticipated release of Barbara Blue & Nat Kerr's first LIVE release.... Recorded at Silky O'Sullivans on Beale Street, Memphis Tennessee .... 3 nights with Memphis' world renowned female engineer Dawn Hopkins. There was so much good groove, vibe & funk goin' on there will be 3 Vol's released!! Keep your ear to the floor!! Barbara has also accomplished studio recordings for Sony Records Nickelodeon project "Peanut Butter and Jam" (Many thanks to our producer the late great Tom Pompesello) and the theme song for "Lucille's Car Care Clinic" a national cable TV show. It is a GREAT honor to have been nominated for the first time by the Blues Foundation for a 2007 Blues Music Award in the category of: Contemporary Female Blues Artist of the Year….. A deep heart felt thanks to all who took the time to listen and nominate and to family, friends and fans that took the time to join the Blues Foundation and VOTE!!! Hopefully there will be more to come!! The corner of Third and Beale is home for singer Barbara Blue. A Pittsburgh native who passed through Silky O'Sullivan's on Beale Street seven years ago and was offered a full-time job, Blue has turned the popular watering hole and gathering spot into her personal pulpit five nights a week, presiding over an ever-changing congregation of tourists, conventioneers, and locals. On a typical Saturday afternoon last fall, Blue took the microphone before a sleepy crowd of about 20 souls who seemed more interested in the Florida-Arkansas college football game on television than what was happening on stage. With longtime accomplice Nat Kerr backing her on piano and providing her own percussion via tambourine and stomping feet, Blue proceeded to win over the crowd with a human jukebox act she calls "blues singer gone awry." By the end of her set, the bar was full and patrons were lined up to buy CDs and talk to the artist. Estimating that she knows approximately 3,000 songs, Blue says, "Usually, if we've heard it we can play it, and we'll try most anything once." Onstage she mixes personal faves — Bonnie Raitt, Janis Joplin, Etta James, Lucinda Williams — with audience requests, and engages in a game she calls "musical prostitution": $5 in the tip jar will immediately bring an end to any song, and $10 more will start it back up again. Asked if there's anything she won't sing, Blue says, "For $300, I'll do about anything — Lynyrd Skynyrd, Jimmy Buffett, David Allen Coe, Britney Spears. Just so they don't yell 'Freebird,' " she adds, referring to the Lynyrd Skynyrd ditty that's so overdone it's become a standard joke. Blue is clearly a woman who loves to sing and is also adept at working a crowd. "I know what I'm doing up there," Blue says. "I know how to pull the energy out of [people], and I love that. I can tell pretty quick who I want to talk to and who I don't." While audience interaction is important to Blue's success, she has to know when to leave people alone — and how to curb those who become overly attentive. "I like to let everybody be who they are up to a point," she says, "but if they start to cross the line, I'll back off them." As someone who spent plenty of time on the road before finding her way to Memphis, Blue appreciates what she's got at Silky's. "The food is good, the people are nice, and Beale is safe. It doesn't take a lot of Memphis to support Beale," she says, estimating that 80 percent of her audience consists of out-of-towners, while Sundays are the best night for locals. "The best thing about this corner is the diversity," says Blue. "I can sleep in the same bed every night and it's still like being on the road — I get to perform for a different audience every night." Plus, she adds, "people still come [to Beale Street] for music, and they take it seriously." Under Blue's command, Silky's becomes a musical oasis for travelers seeking a warm, friendly, festive evening — a situation she pays tribute to on her latest record, 3rd & Beale, recorded in Los Angeles last fall with members of Taj Mahal's Phantom Blues Band. One song in particular, a Blue original, pretty much sums up the dynamic at work at Blue's sets: "The Road Comes to Me." © Chris Herrington, © 2007 Barbara Blue. All Rights Reserved.