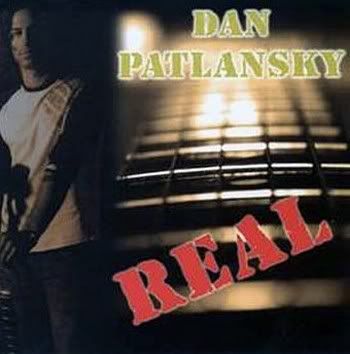 Dan Patlansky
-
Real
-
2007
-
Bowline

"Real" and Patlansky received a brilliant review in the May / June 2008 edition (Issue 43) of top Blues Magazine, Blues Matters!, which circulates throughout the UK, Europe, Canada and Australia. Out of approximately 150 CD Reviews of Albums by UK, European, Canadian, Australian and American artists, accredited critic, Merv Osborne had this, amongst other things, to say about "Real" and Patlansky: "I don't think I'm going to hear a better album all year. ..... It's gonna have to be a truly superb CD to better this one"
This is a great blues album by a South African artist who is unfamiliar to
A.O.O.F.C.
It's got that deep-south sound that really distinguishes blues from other styles. The guy is obviously influenced by bluesmen like Albert King BB King, and Albert Collins. His playing and vocals are top notch, and the album is HR by
A.O.O.F.C.
If you have any info on this guy's albums, and the musicians and composers on this recording, please post a comment. This artist deserves more recognition, and
A.O.O.F.C
would urge you to do some research on this great artist.
TRACKS
1. REAL
2. THE DOCTOR
3. DEAD SHRIMP BLUES
4. SOUTHERN MOON
5. ONLY AN OCEAN
6. FROZEN DIRT
7. BAD WEATHER BLUES
8. YOUR MAMA DON'T DANCE
9. TRY MY LOVIN' ARMS
10. BLUES FOR NEW ORLEANS
11. GOT A BAD, BAD FEELING
N.B: Tracklisting may vary on some CD issues
Dan is accompanied in South Africa by Andy Turrel or Theron Peterson (USA) on drums, and Errol "Smelly" Fellows (ex Pleasure Machine P/E) on bass. His sidemen in the US are David Batiste Sr (keyboards), who has worked with Gladys Knight and the Pips and The Meters, Stanley Perkins Jr (bass) and Jamal or Alvin Batiste (drums).
REVIEWS

Sometimes I listen to some of the 'more experienced' fans of blues and rock, blissfully regaling their favorite herbally enhanced concert stories, I get the feeling that I was born too late. Too late to see Hendrix burn, Stevie Ray Vaughan's six stringed insanity, or Townsend smash his axe in a moment of pure soul wrenching rock and roll. I recently had the opportunity of seeing Mr. Patlansky in action. He's good. So good in fact, that trying to describe his playing with words is like attempting the Paris to Dakar in a wheelbarrow. He's got it all: speed, technique, groove, tone, but most of all, soul. Did I mention he sings, too? He's got it all: speed, technique, groove, tone, but most of all, soul. This album captures that live energy to some degree, but certainly not all of it. Once you get past the 90's cover art you'll be treated to the sounds of Dan and his crew of blues mongers laying down the basics and progressively stepping it up as you move further along. It culminates with my personal favorite track, a live performance of "Blues for New Orleans" at the radio station WWOZ. Pure magic. On the rest of the album, there are these extremely rare moments where the band (save Dan) sounds a little too sterile, too clean, but not here. If you happen to hear of a Patlansky show going down in your neighborhood, get your butt over there, and while you're there get the album. Shake his hand if you get he chance. I have feeling he won't be this accessable for very long. © Loedi Van Renen , © 2008 24.com. All rights reserved.
I don't thinkI'm going to hear a better album all year. I've played this release almost constantly since it arrived and it possosses all of the elements I love in a good Blues-rock sound. Patlansky's smoky voice has a real edge to it and his playing is superb. The Clarity of notes, when he plays fast, is breath taking, and he is very comfortable, whether in a slow blues or tearing it up. Born in South Africa in the early-80's, Patlansky started playing guitar at the age of 14 to his fathers Led Zeppelin and Pink Floyd albums- my, has he ever developed a style and tone of his own! Throughout it all, is a degree of soul, and you know he can feel the Blues as he plays. Nine of the eleven songs are originals, the covers being Robert Johnson's 'Dead Shrimp Blues' and Kenny Loggins & Jim Messina's 'Your mama dont dance', prehaps the lightest moment on the album. 'Only an Ocean', 'Southern Moon', and 'Frozen Dirt' are all beautiful slow Blues with either interesting hooks or sweet melodies. It's on the closing track, 'Blues for New Orleans', that his talent truely comes to the fore. Recorded live during a radio station visit. The DJ, who plays a mean piano, asks Dan if he could play a little and the ensuing jam is wonderful. It's gonna have it be a truely superb CD to better this one. © Merv Osborne , www.danpatlansky.com/index.php?option=com_mamblog&Itemid=26
BIO
[
© www.danpatlansky.com/index.php?option=com_content&task=view&id=32&Itemid=31]

What Dan Patlansky can do with a six-string Fender Stratocaster at the age of 26, most critically acclaimed guitarists will never quite achieve in a lifetime. In only ten years on the music scene, Dan Patlansky is one of the busiest and most respected blues artists to ever come out of South Africa. Constant touring as a teenager, won Dan the hearts of even the most hardened blues critics. In the winter of 2001, "Standing at the Station" was released, being a completely independent album, many were surprised at its amazing success. After receiving word that "Readers Choice" had voted him "Best Blues Guitarist in Southern Africa", it was time for a second release. "True Blues" was produced and released by EMI on the famed "Blue Note label" in 2004. Dan is one of the only South Africans to ever achieve "Blue Note" status. In February 2005 and again in July 2006, Selwyn Miller, New Orleans based manager of David Gates and Bread, Randy Crawford, and Petula Clark amongst others, brought Dan to New Orleans to showcase this amazing talent. In his time living in the city of the Blues, Patlansky performed at legendry venues (Maple Leaf, Rock & Bowl and Checkpoint Charlie) with many Blues giants such as Henry Gray (Howlin' Wolf's Pianist), Snooks Eaglin, The Batiste Family, Rockin Dopsie Jr and many more. Whilst abroad, Dan performed live on both television and WWOZ radio. What this South African boy achieved in a few months, and the following he built up, many thought would have taken years. Touring was cut short due to Hurricane Katrina and he was deprived of the opportunity to play with legendary and world renowned slide guitarist, Sonny Landreth, which performance was scheduled to take place a week after Dan and Selwyn were forced to evacuate New Orleans. Patlansky moved back to his home country leaving a lot of equipment behind. Dan is still in contact with Grammy award winning producer, David Z, with whom he spent two days writing and arranging on his first trip to New Orleans. Fender recognised Dan's fiery playing and offered him an endorsement deal to promote Fender Guitars and amps. Dan is one of only six Fender endorsed guitarists in South Africa. Dan has played, and more often than not headlined every major venue and music festival in the South Africa eg Oppikoppi, Aardklop (with Arno Carstens' guitarist Albert Frost), The Durban International Blues Festival (where he performed with veteran New York blues guitarist, Phillip Walker and Pat Savage), The North Sea Jazz Festival (CT), Southern Cross, the Walking the Blues Concert, White Mountain Festival, Up the Creek Festival, Cape Town Blues Summit, Splashy Fen, The Catalina Theatre (Durban) and the Sand du Plessis Theatre in Bloemfontein, BMW Pavilion, Green Dolphin, Die Boer (CT), Blues Room and Tanz Café (Jhb) and many more. Dan continues to extensively tour small towns to big cities. Europe, UK and Australia are on the cards for 2008/2009. In 2004 Dan was invited to perform at the Standard Bank Joy of Jazz Concert, headlined by Earl Klugh and Lee Ritenoir, but had to decline due to prior tour commitments. At the One World Music Festival (Durban) in 2005 he performed with the renowned New Orleans Batiste family band and shared the stage with the likes of Bob Marley's son Julian Marley, and past American Idols winner Ruben Studdard. The concert was attended by the President of Parliament of the State of Louisiana. He was so blown away by Patlansky's performance that he promised him the freedom of New Orleans when next he was there. Unfortunately Hurricane Katrina deprived Dan of this honour. In 2005 Dan performed in Dubai at the annual Coca Cola Company celebration, along with UB40 and Shaggy. In 2006 Dan Patlansky performed with his New Orleans band at the Cape Town International Jazz Fest sharing top billing with Jose Feliciano, Miriam Makeba, Lou Vega and Freddie Coleman. Dan collaborated with top R&B artist RJ Benjamin on one of the tracks of RJ's recently released and highly acclaimed album "Swimming in the soul of music", one critic stating that the collaboration took the album to another level. Dan was one of the headline acts with Hugh Masakela and Freshlyground at the newly established international Bushfire Concert in Swaziland in 2007. Similarly he performed at the first Johannesburg Guitar Festival with the likes of Greg Georgiades, Jethro Butow, the headline acts being Dan, followed by Mauritz Lotz. Earlier this year Dan played at the Old Mutual Jazz and Blues Roots concert at Emmerentia Botanical Gardens, with international artist Michelle Shocked and Dan, as the two headline and concluding acts. Dan has recently returned from Mozambique where he headlined the annual STRAB (Subterranean Rhythm and Blues) Festival. His performance was voted best by far in voting polls. Shortly thereafter, he headlined the Tribute to Jimi Hendrix show at Café Barcelona in Pretoria, which included performances by, amongst others, Jan Blohm, Albert Frost and Mel Botes. Dan has also been approached by Danny K to collaborate with him on a song to be recorded by top South African performers in the fight against crime. Dan over the years, has shared the stage many times with legendry blues artists and guitarists such as Larry Amos, Julian Laxton, Steve Fataar (ex Beach Boys / Flames), Cedric Sampson, Valiant Swart, The Late big voice Jack (who performed with Mango Groove and the Dave Mathews Band) and Alistair Coakley. Dan recently performed at The Catalina Theatre in Durban with Vicki Sampson. Dan has been played and/or play listed by many South African DJs and stations such as 5FM, East Coast radio, SAFM Radio 2000, O FM, Bush Radio, countless student stations and Radio To-day (Benjy Mudie, Rafe Levine, Phil Wright, Chris Prior, David Blood, Leon Economedes). This young blues guitarist has now released his third album "Real" which showcases his song-writing abilities using an earthy live blues sound with his own take on it. "Real" has attracted great reviews and articles in most acclaimed magazines. His album "Real" is played in Australia on 101 FM and in America on WWOZ FM New Orleans on which Dan played live and on which he has been play listed since 2005. "Dan Patlansky is one of the most renowned and fiery blues artists in the southern hemisphere and one of the greatest I've ever seen."- David Batiste Sr." (New Orleans) "Dan has some of the fastest fingers I've ever seen" – Phillip Walker (New York) "Dan is a great guitarist and ranks with the best" – Selwyn Miller (New Orleans) "I love Dan's guitar playing!" – Dozi (South Africa)
MORE ABOUT ALBUM /ARTIST

A blues man for New Orleans. The slight chill I suddenly felt was unexpected. You don't ever buy a blues CD expecting to get eerie chills as part of the deal. You expect the blue note in all its languid glory, stop bars, toe-curling call-and-answer hooks and, of course, the resulting feeling of being older and wiser and closer to the melancholy you. When it's a Dan Patlansky CD, all the more so. You'd also be right, when popping the new one, called Real, into the player, to expect your cigarettes to be more smokey and your taste buds to crave a sour mash. It's proper red-light music, made for when the only light in the house is the little red light on your hi-fi. In my mind Dan Patlansky has always been a prophet unknown, making waves overseas while you'd be very fortunate to hear any of his work on what passes for radio in South Africa. Real is playlisted, to great acclaim, on 101FM in Australia and WWOZ, New Orleans's jazz and heritage radio station. South Africa's blues culture is also a funny one. Blues is not universally respected, or even liked in here. Many musos avoid it like the plague, the impression being that its too clichéd, maybe. Thus, in a country where blues is a not common principle and heritage as it is in the States, it was always going to be hard for the young blues artist. Not that Dan is invisible – among the local blues fans he is definitely a legend. Something else I've often heard is that a blues guitarist "can't be that young". I know where that comes from, seeing that the blues is often perceived as the exclusive realm of the old and wizened, the gritty old-timer. You only have to spend a few nights in Chicago or New Orleans to realise this perception is utterly absurd. It's not all John Lee Hooker. On such a night you might offer your patronage to six or more blues venues, all down the same road. You'll find all the glorious stereotypes. You have the fat bassists, and the equally large-physiqued female vocalists that will tear your emotions to pieces with voices bigger than Lake Michigan. You'll find lead male vocalists with Soul Glow'd hair talking to the audience all through their musical tale. In a tiny bar called B.L.U.E.S in Chicago, one of them, a Sammy Davis Jr lookalike in a very purple suit, was slowing down the groove a bit, and the big drummer had his eyes closed while slowly and lightly keeping the hi-hat going. The audience waited; Sammy had us enthralled with tales of loves gone wrong. "Now this boy here," said Sammy, pointing at me, "He a playa!" "Yeah!" shouted the drummer and some people in the audience. "And …" continued Sammy just before the bass and guitar kicked in hard again, "and ain't nobody here don't wanna be a playa!" The place erupted. It could have been anyone, he just picked the guy sitting closest, but he had me enthralled and the entire bar population kept backslapping me for the rest of the night. I got free drinks from the bartender and patrons alike and even the odd interesting proposition from, as Sammy calls them, "the lovely ladies in the house". They believed. We all did, because at its core blues speaks with the voice of truth, no matter what it says. It pulls you in, accepts, understands, commiserates, no matter who you are. It doesn't ever judge, it actively fights it, arms open to all, regardless of race, creed, age or history. There's no denying this was a typical scene, real blues. Now take a guess at the age of the guitarist. He was 20 if he was a day. Doing his licks perfectly, you could feel the warmth as the band gleamed with a quiet pride at their boy. It seems to be understood that it's special to get the young ones in. The old hands feel respected when someone young and less dogged by life decides to dedicate themselves to this beautiful thing, especially since there is much more money and fame to be found in hip-hop, rap and rock. No one there cares how old you are; if you have it in you, then that's good enough. Now, although some local blues snobs and blues ignorami refuse to be impressed by a young blues artist, it was plainly obvious to some real blues hearts that Jo'burg's wild streets coughed up something very, very special in Dan Patlansky. One of those was Selwyn Miller, manager for, among others, Petula Clarke, Randy Crawford and Bread. He whisked Dan off to New Orleans and I think it must have been like going to heaven for Dan. He hooked up with New Orleans's famous Batiste brothers and Stanley Perkins Jr. New Orleans embraced Dan like one of their own and he got to play with some of the greats. There seem to be even bigger things waiting for him when he gets back there, word being that one David Z, the producer who has in the past contributed to albums by the likes of Neneh Cherry, Billy Idol, and Prince, is interested in our Dan. Back in Chicago's streets, every night in the hundreds of blues, rock and jazz bars – in fact any of a great number of great musical cities in the US – countless young guitarists scratch and shred and cry away at their strings. Most of them are incredibly good. But not good enough to get noticed by the talent scouts, bands and managers. Dan Patlansky was. Not just by anyone, and not just by Selwyn Miller and David Z, but by the epitome of all things axeworthy: Fender … So here we have a virtuoso of such prodigious talent that he "… is one of the most renowned and fiery blues artists in the Southern Hemisphere and one of the greatest I've ever seen", according to David Batiste Sr, leader of the community-minded Batiste Brothers Band. Dan is endorsed by Fender with equipment that you would want to sell your and other people's organs for, hailed on radio in the heart of blues world as one of the best new talents. And here I am listening to him playing in Steak & Ale in Centurion. And I feel blessed. It might seem far away, but S & A is probably the closest thing we have to New Orleans. I am paying close attention, as Dan is going all pianissimo. The danger of being branded a virtuoso is that you'll quickly be labelled as a technical player (quite often by other, lesser guitarists who would love for there to be fewer "technical" players around that sound so damn good).In the dingy blue gloom on stage, Dan's face is contorted as if by pain as he coaxes the softest melancholy mutes from his multibillion-dollar 254 BC Fender. For once, the S & A crowd is quiet. In almost every seat the patrons are actually leaning forward to hear what the Fender is saying. This transcends technical – you can see it in the faces, it touches nerves, rekindles memories, scratches at all sorts of longings. Of course, just to prove we are not actually in New Orleans, some fuelled-up dingetjie at the table next to mine very loudly proclaims to her equally sauced friendy, in the middle of this achingly beautiful, world-class blues performance, that she is, in fact, not the jealous type. From her tone (minor hysteria) she's evidently jealous to the point of giving Glen Close a run for a boiled rabbit. On the way home, with Dan's Real (so called because the songs are all full-band, mostly single-take recordings, with little post-production or mixing, if any) in the changer, I get a feeling that maybe he does belong over the water, that he might be wasted on us. His current tour was a sold-out affair and Dan's local stature is growing immensely, yes, but still … The CD is a class affair, rarely ever sounding "produced". Dan's voice is all gravelly and bluesy (catch him on stage when he's recovering from a cold,s it sounds even better). Sometimes I wouldn't mind the guitar being a bit heavier and deeper, but that's personal taste and a bit of a rock leaning. My thought chain is broken by the final song on the album, "Blues for New Orleans". It's a live radio recording during the drive show on radio WWOZ in New Orleans, one afternoon in 2005. What's coming is a perfect, unrehearsed slow minor blues, with the Batiste Brothers and Stanley Perkins all getting a chance to answer and call some bars. The DJ starts by hailing our Dan, "Jo'burg's own!", and it's a nice feeling. But then I realise something as the DJ talks to his listeners. He tells them, like we hear every day, to take it easy out there; getting angry in traffic doesn't get you there any quicker; and to let the music take you. Because it's a rainy day in New Orleans in 2005 … Chill … An afternoon just like that, a short time later, or maybe even that day, was the last normal afternoon New Orleans would see for a very, very long time. The rain that was rhythmically being swept from thousands of stationary windscreens as the music played the afternoon away wouldn't stop this time. Not before it had ripped the soul from New Orleans. When Hurricane Katrina hit Louisiana on 29 August, it was the third most powerful hurricane ever to make landfall in the US. Overwhelming the federal flood protection infrastructure and levee system, Katrina and the ensuing floods cost 1 836 lives. At $80 billion it is America's costliest natural disaster and the deadliest since 1928. In the land of the blues, where history sings about fighting against despair, against loss, poverty, pain, the man, I think even the subsequent disastrous federal assistance attempts, weren't completely unexpected. As we are thankful to New Orleans for recognising our boy and embracing him, I hope they can feel that "Blues for New Orleans" is his way of saying thank you and of feeling with them, and of sharing a bit of their tragedy with some folk a very long way away. © Kobus Prinsloo , 2008-06-04, © 2006 LitNet, www.litnet.co.za/cgi-bin/giga.cgi?cmd=cause_dir_news_item&news_id=46543&cause_id=1270