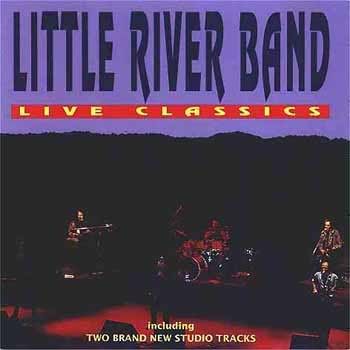 Little River Band
-
Live Classics
(Greatest Hits Live)
-
1993
-
Blue Martin
The self-titled album when released Stateside was a critical success, producing "It's A Long Way There", which became a big hit. They are also remembered by many for their classic pop rock hit, "Reminiscing." However, despite having sold over twenty million albums worldwide, and still on the road after thirty years, albeit with numerous personnel changes, and a different name, the Australian band are still regarded by some music critics as too slick, too commercial, and imitators of the "U.S. west coast harmony and guitar sound." If you are into Iron Maiden, Led Zeppelin, Deep Purple or similar bands, you will probably give this album a miss. However, this album should be heard and properly evaluated.
A.O.O.F.C
would recommend that you give the album a listen. Glen Shorrock is a great vocalist, and on many of the tracks here, the band proves that they can really rock. In reality, they are a great live band. Try and find the band's original ""After Hours" album, (Not the U.S version), which demonstrates just how talented rhe band could be without the over-commercialized or "slick" production.
TRACKS / COMPOSERS
1.Happy Anniversary (Birtles,Briggs)
2.It's A Long Way There (Goble)
3.I Dream Alone (Shorrock,Pellicci)
4.Skyboat (Housden)
5.Man On Your Mind (Shorrock,Tolhurst)
6.Lonesome Loser (Briggs)
7.Take It Easy On Me (Goble)
8.Reminiscing (Goble)
9.Baby Come Back (Beckett,Crowley)
10.Walk Together (Froggatt,Thomas)
11.The Night Owls (Goble)
12.Help Is On It's Way (Shorrock)
13.Cool Change (Shorrock)
14.Lady (Goble)
15.Summertime Blues (Cochran,Capehart)
16.Walk Together (Studio)
17.My Own Way Home (Studio)
MUSICIANS ON TRACKS

Peter Beckett - vocals, guitar
Richard Bryant - keyboards
Stephen Housden - lead guitar
Wayne Nelson - bass/ vocals
Derek Pellicci - drums
Glen Shorrock - lead vocals
BIO (Wikipedia)

Little River Band is an Australian rock band formed in Melbourne in 1975 and named after a road sign for the Victorian township of Little River, on the way to Geelong. They were the first Australian rock group to enjoy sustained commercial success in the United States. During their career the band have sold more than 25 million records and scored 13 American Top 40 hits. The band's original members were lead singer Glenn Shorrock, guitarists/vocalists Graeham Goble and Beeb Birtles, lead guitarist Ric Formosa, bassist Roger McLachlan and drummer Derek Pellicci. The group evolved from the harmony laden country rock group Mississippi in 1975. Prior to that, Birtles had been the bassist in 1960s pop band Zoot (which also included singer-guitarist Rick Springfield), and Shorrock had been the lead singer of leading Australian 60s pop band The Twilights and early 1970s country rock band Axiom. They found immediate success in Australia, but individual members had greater ambitions. Like many other Australasian groups of the period, both Axiom and Mississippi had tried to break into the UK record market without success. After Axiom disbanded after moving to the U.K., Shorrock sang for a short period with the more progressive rock outfit Esperanto before meeting and joining forces with Birtles, Goble & Pellicci in 1974. They agreed to meet back in their homeland by early 1975. Remembering the indifferent reaction they had received in the UK, they decided their new band would focus on establishing themselves in the United States. A key factor in their eventual success was a fellow Aussie they'd also met while in England who became their manager, Glenn Wheatley. Wheatley had been the bassist in the highly-regarded Australian rock band The Masters Apprentices. Wheatley's first-hand experiences of the rip-offs in the 1960s music scene, combined with his subsequent experience working in music management in Britain and the United States in the early 1970s, enabled him to help Little River Band become the first Australian group to enjoy consistent commercial and chart success in the United States. Fuelled by a very successful Australian hit single "Curiosity Killed the Cat", the band began making promotional visits to the U.S. in 1976. This resulted in a U.S. hit single, "It's a Long Way There" (edited down from an album track over 8 minutes long) , which broke into the Top 30 and galvanised the commitment of the band members. More concert performances in the US followed, and in 1977 "Help Is on Its Way" (an Australian number one single) and "Happy Anniversary" both narrowly missed the US Top 10. From 1978 until 1981, Little River Band achieved six consecutive US Top 10 singles with "Reminiscing" (#3, their biggest hit), "Lady" (#10), "Lonesome Loser" (#6), "Cool Change" (#10), "The Night Owls" (#6) and "Take It Easy on Me" (#10). During their career the band has sold more than 25 million records and has scored 13 American Top 40 hits. Just before they began touring abroad in the fall of 1976, bassist Roger McLachlan, apparently not enthusiastic about touring outside of Australia, left the group and was replaced by George McArdle, while lead guitarist Ric Formosa, who quit the band in order to pursue other musical interests, was replaced by David Briggs. However, Formosa remained in touch with his former bandmates and conducted and wrote string parts for several Little River Band songs after he officially left the band. From 1976 through 1985, the group maintained a constant touring schedule which kept them in the U.S. for long periods of time and may have contributed to much of the constant shuffling of personnel. For example: The band's schedule was so busy that when drummer Derek Pellicci was severely injured in a gas grill fire in May 1978, the band brought in a sub drummer(Geoff Cox) rather than cancel shows. Drummer Cox remained with the group through the summer of 1978 and even played alongside Pellicci after he came back until he was healed enough to continue on his own. A keyboardist, Mal Logan , was added in time for another U.S. tour in late 1978. Bassist McArdle left, after finishing a U.S. tour in the spring of 1979, to take up Bible study (He eventually pursued a totally different path as a minister). Barry Sullivan took over on bass until American Wayne Nelson joined in 1980(He is currently the group's lead singer). In 1981 he provided lead vocals for their top ten US hit "Night Owls" the debut single from their Time Exposure album and shared duties with Shorrock on the next single "Take it Easy on Me". Guitarist Stephen Housden joined the band in August 1981 replacing David Briggs(who left after musical disagreements) right as Time Exposure was being released. Housden currently owns the rights to the name Little River Band. He co-wrote the band's last hit in Australia "Love is a Bridge" in 1988. In 1982 Shorrock was forced out of the band as they were keen to try different musical directions. Keyboardist Logan was dropped as well. Shorrock went on to pursue a solo career but failed to make an impression in the U.S. He did, however, have a substantial hit in Australia with a cover version of Bobby Darin's "Dream Lover". "Man on Your Mind" (the third single released from Time Exposure, featuring Shorrock on lead vocal) reached #14 in the U.S. The pressures of success and constant touring took their toll on LRB and other members gradually left. John Farnham replaced Shorrock in 1982 and the first single with Farnham, "The Other Guy" (one of of two new offerings on their Greatest Hits album) reached #11 in the U.S., while the next single "We Two", from their album The Net, released in 1983, reached the peak of #22 in the U.S. That same year, "You're Driving Me Out of My Mind" became their last single to reach the U.S. Top 40. Subsequent singles were only minor charters. In Australia the band continued to be popular for a little while longer, and songs such as "Down On The Border" and "Playing To Win" were major hits. At this point the band sought to move towards a more "80s style sound", so they added keyboardist David Hirschfelder in September 1983. Birtles left at the conclusion of the band's U.S. tour in October 1983 because he did not like the harder, more progressive musical path the band was taking and he was not a fan of Farnham's onstage performance. Pellicci too was not entirely comfortable with the new direction and left in February 1984. Steve Prestwich (formerly of Cold Chisel ) was brought in as new drummer while Birtles was not replaced. Little River Band performed four songs for the 1985 Oz for Africa concert (part of the global Live Aid program) - "Don't Blame Me", "Full Circle", "Night Owls" and "Playing to Win". It was broadcast in Australia (on both Seven Network and Nine Network) and on MTV in the US. "Don't Blame Me" and "Night Owls" were also broadcast by American Broadcasting Company during their Live Aid telecast ("Night Owls" was only partially transmitted). Farnham left upon completion of the group's short Australian tour(which featured drummer Malcolm Wakeford in Prestwich's place) for their 1986 album No Reins. He continued to be managed by Glenn Wheatley and his solo career took off almost immediately with the release of the phenomenally successful Whispering Jack. After Farnham's depature, LRB were pretty much in limbo until the following year when Shorrock and Pellicci returned. With Shorrock and Pellicci back in the fold, the group released two LPs on MCA, Monsoon in 1988 (from which the single "Love Is a Bridge" was a moderate Adult Contemporary radio hit in the U.S.) and 1990's Get Lucky. (MCA released a compilation of tracks from those two LPs on their Curb Records imprint in 1991 as Worldwide Love). Goble ceased touring with the group in 1989 and left altogether by 1992. Peter Beckett (formerly of Player) joined in 1989 to take Goble's place and the group went through a series of keyboard players: James Roche (a.k.a. Jamie Paddle) (1988-1990), Tony Sciuto (1990-1992, 1993-1997), Richard Bryant (ex-Doobie Brothers) (1992-1993), Adrian Scott (ex-Air Supply) (1998-1999) and Glenn Reither (1999-2004), before Chris Marion arrived at the end of 2004. Shorrock left again in 1996 and was offered the option to buy out the remaining members(He took a payment instead). Wayne Nelson also left in 1996. Hal Tupea then came in as bassist as new frontman Steve Wade was also recruited. This lineup lasted until late 1997. At that point everyone, except Wade, was let go and Derek Pellicci left again in early 1998, leaving Housden as sole owner of the band's trademark. Housden brought in new players: Kevin Murphy(vocals, drums, percussion), Paul Gildea (vocals, guitars) and Adrian Scott (vocals, keyboards) as well as Roger McLachlan, the group's original bass player, who made a surprise return after 22 years. But McLachlan's second tenure was short lived. Both he and Scott departed after a year, not used to the band's heavy touring schedule abroad. Wayne Nelson then returned and Glenn Reither was the new keyboardist, but the revolving door of personnel continued as Wade and Gildea were next to leave in early 2000. Greg Hind (vocals, guitars) then jumped aboard as Nelson took over most the lead singing from this point on. The lineup of Housden, Nelson, Hind, Murphy & Reither was stable for almost five years and appeared on three releases: Where We Started From(2000), One Night in Mississippi(2002) and Test of Time(2004). At the end of 2004, Glenn Reither and Kevin Murphy said goodbye to the band after over six years of service. Chris Marion was next to step up to the keyboard chair while Kip Raines took over drumming duties temporarily until Billy Thomas joined by early 2005. Housden decided to take a break from touring in 2006, though he retained ownership of the band's name. Rich Herring was called upon to take over lead guitar duties on tour. Mel Watts replaced Thomas on drums in 2007. Little River Band are considered to be among Australia's most significant bands. The "classic lineup" of the band (Birtles, Shorrock, Goble, Pellicci, Briggs and McArdle) were inducted into the ARIA Hall of Fame at the 18th Annual ARIA Music Awards of 2004. They performed "Help Is On Its Way" at the induction ceremony in Australia on October 17th, 2004. Three founding members, Birtles, Shorrock and Goble, continue to perform reunion concerts but due to the fact they lost the rights to the name Little River Band, they appear under the name Birtles Shorrock Goble: The Original Voices of Little River Band. "Reminiscing", written by Goble, was recognised by BMI as one of the most frequently played songs in the history of American radio, with more than four million plays to its credit. "Lady" has also accumulated more than three million plays, and Goble is the first and only Australian songwriter ever to win a Four "Million Air" award from BMI. According to Albert Goldman's biography, John Lennon named "Reminiscing" as one of his favorite songs. Little River Band continues to work in the US and performs around 100 shows every year.
BIO
[ © Ed Nimmervoll, All Music Guide ]

When Little River Band formed in 1975, Australia immediately took notice. The key band members were already well-known to Australians. Lead singer Glenn Shorrock had made his name in mid-'60s group the Twilights, a Beatles-sounding pop group who scored a national number one record with their version of the Velvelettes' "Needle in a Haystack." When that group broke up in 1969 Shorrock became lead singer of Axiom, whose "A Little Ray of Sunshine" is still an Australian classic rock staple. LRB's Beeb Birtles had been the bass player for a popular Twilights-era pop group called Zoot (Rick Springfield was a latter member). When that group broke up, in search of musical credibility, Birtles auditioned as the bass player, but was instantly elevated to a front-line position alongside Graham Goble. Even LRB's manager was well-known. Glenn Wheatley had been the bassist with another of Australia's bands, and possibly its most legendary, the Masters Apprentices. Given all that background, when Shorrock and Birtles revealed they were forming a group with Goble, managed by Wheatley, it was major event in Australian music. They had all had a shot at international stardom via England, without success. Little River Band was formed to conquer the world from Australia via America. With that in mind they almost immediately went into the studio, even before the rest of the band had been consolidated. They were retaining Mississippi drummer Derek Pellici and were on the lookout for a guitarist and a bass player. A very early version of the group recorded the Everly Brothers' "When Will I Be Loved" as a single, a recording that was shelved when Linda Ronstadt also happened to choose that song as a single. The blueprint for Little River Band was country-rock exponents like the Eagles. Their self-titled first album was released in November 1975. The following May they released a second album, After Hours, and in September of that year set off on their first trip overseas to support Queen at Hyde Park and the Average White Band in the U.S. to promote the release of the first album. Its eight-and-a-half minute epic "It's a Long Way There" had been edited down for release as a single and was starting to make quite an impact. Graham Goble had written the song about the long trip taking his laundry back to his mother in Adelaide from Melbourne. To an America in shock after the Nixon presidency the song took on a whole other dimension. LRB had made a big breakthrough. Their American record company decided that the second album After Hours was too dark, and put the band straight into the studio to record the next album, resolving to use some of the After Hours tracks and the best of what was being recorded for the band's third Australian album. In both forms the result was called Diamantina Cocktail, produced by John Boylan (Linda Ronstadt). To date LRB's success in Australia had been modestly in keeping with the band's place in Australian music history; respected but not totally embraced. The single from the new album, Glenn Shorrock's "Help Is on Its Way," changed that. Another important hit in America, in Australia it went all the way to number one. The album sold gold in America, the first time an Australian act had achieved such a feat. It was followed by Sleeper Catcher, again produced by Boylan, the first album recorded in Australia to sell over a million copies in the U.S. This time LRB's greater success was in America, with the single "Reminiscing" becoming a number three hit. This was the song John Lennon confessed he made love to during his "long weekend" separation from Yoko Ono. For the next four years LRB kept straddling the two continents, renowned for their impeccable live performances. Internally, relationships were not as happy. From the first album on, frontliners Shorrock, Birtles, and Goble recorded separately. On the road they traveled separately. Only on stage were they "together." Regular changes in the back line only contributed to the tensions. During one break between American tours, Graham Goble started writing and producing an album for Australian pop legend John Farnham. He then agitated the band to replace Glenn Shorrock with Farnham. Australia pricked up its ears, but America was in shock. This still-successful band was replacing the singer of all their big hits with an unknown! Farnham walked straight into the recording studio to record The Net. More lineup changes followed, including the departure of Beeb Birtles. In all, John Farnham recorded three albums with LRB over four years. The experiment never worked. Whatever Farnham's talents, America longed for Glenn Shorrock. At the end of 1985, while LRB was seriously contemplating its future, Farnham took the initiative of leaving to start work on another solo album, Whispering Jack, an album which completely rehabilitated Farnham as the biggest-selling artist in Australia. LRB regrouped in 1988 with new management and a new record label. Glenn Shorrock and Derek Pellicci rejoined Goble, with "new boys" Wayne Nelson and John Housden to record the Monsoon album and its single "Love Is a Bridge." In 1990, Goble left Little River Band as a touring member, and the band as we'd known it finally called it a day in 1991. And yet the story continues. For a while drummer Derek Pellicci mounted Little River Band tours with a lineup including Glenn Shorrock. When Glenn didn't want to meet one particular schedule due to other commitments, he was sacked, resulting in unpleasant legal action. Then Pellicci also gave it away, and today there's an LRB lineup living and working in America, still featuring those latecomers Wayne Nelson and Steve Housden.