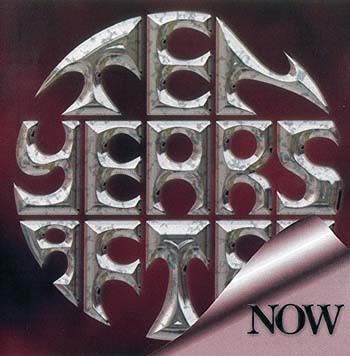 Ten Years After
-
Now
-
2004
-
Fast Western
Ten Years After first studio album of all new material, with each member contributing immensely. Joe Gooch who joined the band in 2003, provides some brilliant guitar work and great vocals. Joe fits in with TYA, as if he was always part of the band, and alongside the founding member Leo Lyons, Chick Churchill and Ric Lee, they form a crack team of professional musicians that give a new lease of life to TYA. Even withour the great Alvin Lee, this album is a great example of powerful blues rock, and is a perfect example of Grade A contemporary rock quartet playing. Check out Alvin Lee's class album, "Alvin Lee In Tennessee" @
ALEE/LIT
TRACKS / COMPOSERS

WHEN IT ALL FALLS DOWN - Lyons/Gooch/Churchill/Lee
A HUNDRED MILES HIGH - Lyons/Gooch/Lee/Churchill
TIME TO KILL - Koller/Lyons
I'LL MAKE IT EASY FOR YOU - Lyons/Gooch/Lee/Churchill
THE VOICE INSIDE YOUR HEAD - Lyons/Gooch/Lee/Churchill
KING OF THE BLUES - Lyons/Crooks
LONG TIME RUNNING - Pullin/Gooch/Lyons
REASONS WHY - Gooch/Lyons/Pullin
CHANGES - Gooch/Lyons/Lee/Churchill
N.B:
Released in U.S.A in 2005 on Fuel 2000 Records with rwo extra live bonus tracks, "I Love to Change the World" and "Going Home."

BAND

Chick Churchill (Keyboards)
Ric Lee (Drums)
Leo Lyons (Bass)
Joe Gooch (Guitar), (Vocals)
REVIEWS

The rising stock of retro-rock radio stations have been the impetus for more than a few classic rock bands to come together again, albeit sans one or two original members. Blues based rockers Ten Years After is among a large contingent of roving bands attempting to recapture the spirit of their glory days of the 1960's and '70's. Original members Leo Lyons (bass), Chick Churchill (keyboards, organ) and Ric Lee (drums) with axe murderer Joe Gooch standing in for the legendary Alvin Lee are on the road pitching their long awaited album Now. It would be easy to dismiss Now because Alvin Lee is no longer working with the band. But the reformed group easily holds their own within the narrow genre they've chosen. Churchill, Lyons, and R. Lee are as proficient as they ever were during the illustrative heights of the band, and Gooch impresses with some extraordinary lines played at breathtaking speed. Songs like "Time To Kill", "King Of The Blues" and "Long Time Running" are among the best technically played songs of any Ten Years After has produced- past or present. So the band still has their chops, which is just terrific. Trouble is there's this great big hole that runs right through the middle of the entire album. It just doesn't seem to have any soul. This may not be a big problem if you're able to get by on Gooch's stinging guitar solos and Churchill's supportive, lush keyboards. But for me, achieving technical virtuosity on an album is only half the battle. The most important element of music is how it communicates the feeling of the musicians playing it and finding common ground with the emotions these artists are expressing. Such expression is what made blues-rock the tremendous influence it was. And because of that lack of feeling, the music on Now strikes me as cold and extremely sterile. Maybe the problem is you need more of a live environment to loose your dark sides upon a willing audience. That's understandable. It's difficult sometimes to truly let go in a dry, dead studio setting. Knowing this, I'm giving you high marks for at least attempting to create an album that exhausts me after one or two listens. However, I can't help feeling a little abandoned by the music on Now. Its failure to pull me in shows that more time is needed to nurture the new fruit of this old band so it may ripen. So, it's not you, Gooch, Churchill, Lyons and R. Lee; it's me. Now that I've reached middle age, my expectations of music are a little higher for classic rockers than they would be for some of the current groups whose members cut their teeth on albums like Sssh..., and A Space In Time. Considering you guys, along with contemporaries like Led Zeppelin, Rolling Stones, The Who, Rod Argent and myriad others brought the form to life, it's more than appropriate that you now dig down deep into your roots and heave all of that youthful angst on me once again. © Larry Sakin, January 15, 2006, http://blogcritics.org/music/
Ten Years After without Alvin Lee is utter blasphemy in some longtime fans' eyes, but that's exactly what occurred on the 2004 release by this veteran blues-rock outfit, Now. Out went Lee, and in came replacement singer/guitarist Joe Gooch, who joins longtime members Chick Churchill (keys), Leo Lyons (bass), and Ric Lee (drums). Interestingly, although Lee does not appear on the album, he earns co-songwriting credits on the majority of the album (five of the nine tracks). Any fans having reservations about how well Gooch fits in will quickly have their worries erased -- the group's newest member possesses a fine voice (check the laid-back closing track, "Changes"), and can throw down boogie riffs with the best of them ("When It All Falls Down," "Time To Kill," etc.). It may even appear as though the presence of Gooch has breathed new life into the band, as Now is their most focused and strongest studio album in quite some time. As evidenced by Now, the classic Ten Years After sound and approach remains the same, although now it's a bit more refined and mature than the wilder, early records. [Note -- as of late 2005, Now is available only as an import in the U.S..] © Greg Prato, All Music Guide
SHORT BIO
[ © William Ruhlmann, All Music Guide ]

Ten Years After is a British blues-rock quartet consisting of Alvin Lee (born December 19, 1944), guitar and vocals; Chick Churchill (born January 2, 1949), keyboards; Leo Lyons (born November 30, 1944) bass; and Ric Lee (born October 20, 1945), drums. The group was formed in 1967 and signed to Decca in England. Their first album was not a success, but their second, the live Undead (1968) containing "I'm Going Home," a six-minute blues workout by the fleet-fingered Alvin, hit the charts on both sides of the Atlantic. Stonedhenge (1969) hit the U.K. Top Ten in early 1969. Ten Years After's U.S. breakthrough came as a result of their appearance at Woodstock, at which they played a nine-minute version of "I'm Going Home." Their next album, Ssssh, reached the U.S. Top 20, and Cricklewood Green, containing the hit single "Love Like a Man," reached number four. Watt completed the group's Decca contract, after which they signed with Columbia and moved in a more mainstream pop direction, typified by the gold-selling 1971 album A Space in Time and its Top 40 single "I'd Love to Change the World." Subsequent efforts in that direction were less successful, however, and Ten Years After split up after the release of Positive Vibrations in 1974. They reunited in 1988 for concerts in Europe and recorded their first new album in 15 years, About Time, in 1989 before disbanding once again. In 2001, Ric Lee was preparing the back catalog for rerelease when he discoverd the Live at the Fillmore East 1970 tapes. He approached Alvin about getting back together to promote the lost album, but Alvin Lee declined. The rest of the band was up for it, though, and together with guitarist Joe Gooch, Ten Years After started touring again. In addition to touring the world, this new incarnation recorded their first new material in about a decade and a half and released Now in 2004 and added the live double CD set Roadworks in 2005.