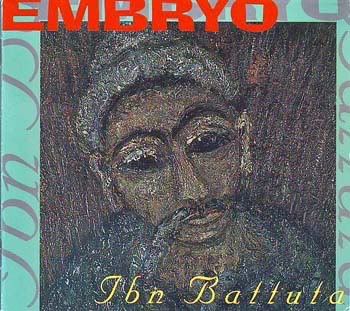 Embryo
-
Ibn Battuta
-
1994
-
Schneeball

One of the most important and original bands of the German jazz scene Embryo consisted of members, and founders of bands like Magma, and Amon Duul. This is quality world music with a wonderful mix of oriental melodies, jazz influences, fusion and contemporary sounds. "Ibn Battuta" has a great spacey ethnic feel, similar to their earlier albums, but still remain innovative even after more than 25 years of recording. They are one of the very few Krautrock bands to have remained true to their musical idealism. Check out their brilliant "Opal" album. Why not check out the great "Tago Mago" album by Can?
TRACKS / COMPOSERS
1. Code 7 (Ch.Henderson, Ch.Burchard, R. Bunka) 5.47
2. Ibn Battuta (Ch.Burchard) 7.58
3. Komet 41 (Ch.Burchard) 11.22
4. 1/4 Tone Jazz, part 1 (Tatios Effendi, Ch.Burchard) 5.54
5. Man Bekhod wa to Bekhod (J.Mohamand, Ch.Burchard) 3.53
6. Prelude (Ch.Karrer) 1.38 - Rast (Ch.Burchard) 4.32
7. Beat From Bagdad (Ch.Burchard) 7.00
8. Simai Ka (Ch.Burchard) 7.46
9. 1/4 Tone Jazz, part 2 (Ch.Burchard) '1.48
10. Kletta (D.Serfas, Ch.Burchard) 4.46
11. El Qalb Yeshak Kulli Camil (R.Sonbati, Ch.Karrer, Ch.Henderson, Ch.Burchard, D.Serfas) 3.55
12. Andalusian Beat (trad., Ch.Burchard) 3.57
13. Zeinab (I.Gauala, F.Salama, Ch.Burchard, Ch.Karrer, R.Schaeffer) 4.04
N.B:
A CD release of this album on the Editions Nova label contained a track called "Rast "
MUSICIANS
Christian Burchard: dr., perc., vb., dr., voc., marimba, 1/4 tone marimba, cymbal, --- Roman Bunka: gitarre, oud --- Chuck Henderson: ss, voc, perc., handchlapping, --- Dieter Serfas: gangan, drums, --- Chris Lachotta: bass, --- Christoph Karrer: percussion, oud, --- Norbert Stamberger: bs., --- Albrecht Huber: 1/4 tone trumpet, --- Marty Cook: tb., --- Janal Mohmad: voc, harmonium, --- Sime Mohmand: voc., Yusuf Eshaq: tabla, --- Edgar Hofmann: as., --- Roland Schaeffer: nagaswaram, --- Fathi Salama: synth., --- Khamis Henkesh: darabouka, --- Rama Kishna: b., --- Ibrahim Gaulala: salamaia, Adeeb Refala: oud, --- Alman Shafik: v.,
BIO
Embryo, formed by ex-Amon Duul II member Christian Burchard, consisted of Edgar Hofmann (sax, violin), Ralph Fisher (bass, organ), John Kelly (guitar). Their first album, Opal (Ohr, 1970), showed Embryo to be influenced by the mystic free-jazz of John Coltrane and the 'Canterbury sound' (People From Out the Space). The group's characterist ic jazz-rock took shape in Embryo's Rache (UA, 1971), followed by Father Son and Holy Ghosts (UA, 1972). From the same period came Steig Aus (Brain, 1972), which contained the epic Radio Marrakesch/Orient Express, with Mal Wa ldron on piano and another erstwhile Amon Duul member Jimmy Jackson on mellot ron, and Rocksession (Brain, 1973), which contained four even more experimental jams from the same sessions – for example Entranc es, Warm Canto and Dirge – recordings which came to be consi dered by the band as too experimental and thus too far from the Embryo ethic. With the addition of jazz saxophonist Charlie Maria no, the band (which at this point consisted of Burchard, Roman Bunka on guitar and sax, and Dieter Miekautsch on piano) recorded We Keep On (BASF, 197 3), with further standout epics in No Place To Go (at 12 minutes) and Ticket to India (15 minutes). The following two albums Surfin! (Buk, 1975) and Bad Heads and Bad Cats (April, 1976), had lost much of the early creative spirit, despite Dance of Some Broken Glasses (on the first) and <>Human Contact (on the second). The leader left Mariano to his fate, spent a time in India, and returned refreshed and with a new style first presented in Apo-calypso (April, 1977). With further trips to Asia, the group put together a series of world music albums, of which Emb= ryo's Reise (1979) is probably the best; others included Cello CelloLife (1980) and another double album, La Blama Sparozzi (1982). When they at last came home, Embr yo recorded their first studio album in seven years, Zack Gluck (1 984), but then set off again on their travels, this time to Africa, an ex perience which gave them the material for Yoruba Dun Dun Orchestra (1985) and Africa (1985 ). Since abandoning the scene, Burchard has continued to record further albums of jazz-influenced and ethnic music: Turn Peace (19 89), Ibn Battuta (1994), Ni Hau (1996), Istanbul-Casablanca (1999). Anthology 1970-1979 (Schneeball, 1980) and the live double Invisible Documents (Disconforme, 1998) have to some extent shown a rekindling of their early fire. [ © 1999 Piero Scaruffi, Translated by Paul O'Brien, www.scaruffi.com/vol3/embryo.html ]
BIO (Wikipedia)

Embryo are considered one of the most important German Krautrock bands of the 1970s. The musical collective from Munich has been active since 1969, although its story started in the mid fifties in Hof where Christian Burchard and Dieter Serfas met for the first time at the age of 10. In 1969 the band was founded by multi instrumentalist Christian Burchard (drums, vibraphone, santur, keyboard) and Edgar Hoffmann (saxophone, flutes). To date more than 400 musicians have played with the collective, some, such as Charlie Mariano, Trilok Gurtu, Marty Cook, Jurji Parfenov, Alan Praskin, X.Nie, Nick McCarthy, and Mal Waldron, have played on multiple occasions. Longtime members are Dieter Serfas(drums), Roman Bunka (guitar, oud), Uve Müllrich (bass), Michael Wehmeyer (keyboard), Chris Karrer (guitar, violin, sax), Lothar Stahl (marimba, drums), and Jens Polheide (bass, flute). In 1979 the band started a nine month tour to India by bus, which was documented by the movie "Vagabundenkaravane". Embryo developed from jazzy Krautrock to a world music band, which is able to merge different styles and trends. Many of their albums originated during collective journeys on 4 continents. The band played many festivals around the globe: in India (Mumbai Jazz 1979), England (Reading 1973), Nigeria (Port Harcourt Jazz 1987), Japan(Wakayama 1991) to name a few. In July 2008 Embryo is awarded the German World Music Award RUTH 2008 at TFF.Rudolstadt Festival.
BIO
[ © Geoff Orens, allmusicguide.com ]

One of the most original and innovative Krautrock bands, Embryo fused traditional ethnic music with their own jazzy space rock style. Over their 30-year existence, during which Christian Burchard has been the only consistent member, the group has traveled the world, playing with hundreds of different musicians and releasing over 20 records. Originally a jazzy space rock group, Embryo was formed in 1969 in Munich, Germany, by former R&B and jazz organist Christian Burchard (vibraphone, hammer dulcimer, percussion, marimba), Edgar Hofmann (saxophone), Luther Meid (bass), Jimmy Jackson (organ), Dieter Serfas (drums, percussion), Wolfgang Paap (drums), Ingo Schmidt (saxophone), and John Kelly (guitar). However, the lineup was already different by the time of the sessions for their debut album. The resulting record, Opal (1970), is considered the band's masterpiece of their early, more psychedelic sound. By the time of Embryo's Rache (1971), the group was already adding ethnic touches to their music. In 1972, the same year they played at the Olympic Games in Munich, Embryo was invited by the Goethe Institute to tour Northern Africa and Portugal. In Morocco, the band was fascinated by the different tonal scales used by Moroccan musicians, profoundly shaping the group's music to come. In 1973, the band was joined by saxophonist Charlie Mariano and guitarist Roman Bunka, who were both influential in moving Embryo towards their genre-blending mixture of space rock with ethnic sounds. We Keep On, released in 1973, was the most successful album in the group's career. However, after Surfin' (1974) and Bad Heads and Bad Cats (1975), Burchard decided the band was moving in too commercial a direction and led them on an eight-month excursion to India, where they met local musicians. Shoba Gurtu, an Indian singer the band met during their travels, would later record an album with them, 1979's Apo Calypso. Embryo also set up their own record label, Schneeball, with the rock band Checkpoint Charlie during this time. The band then took off on a two-year journey through the Middle East, India, Pakistan, and Afghanistan, during which the band's bus broke down in Tehran in the middle of a civil war in 1981. The double album Embryo Reise (1981) captured this musical expedition as did the documentary film Vagabunden-Karawane. After touring Asia, the Middle East, and Egypt during the early '80s, Embryo released their first studio album in seven years, Zack Gluck, in 1984. The band then toured Africa and became involved with Nigeria's Yoruba Dun Dun Ensemble. However, after internal conflicts, Embryo split up. Burchard then continued under the name of Embryo with new musicians while a new group, Embryos Dissidenten, was formed. The band released 2001 Live: Vol. 1.