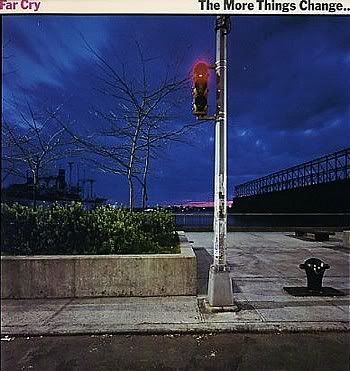 Far Cry
-
The More Things Change
-
1980
-
Columbia

In July 1973, Phil Galdston, a 23 year old New York songwriter met Peter Thom, a Montrealer, who had already released his solo album "Peter Thom" in 1972 on UA. The two talented musicians started songwriting together, and distributed demo tapes to various labels. One of their songs, "Why Don't We Live Together" recorded by Barry Manillow in 1975 was successful enough to get them an album deal. The album, "American Gypsies" by Galdston & Thom was produced by John Simon, and released in 1977. It received many good press reviews, but sold poorly.They eventually succeeded in getting Elliot Scheiner, the legendary record producer and engineer to produce " The More Things Change." Scheiner, famous for his work with Steely Dan , Bruce Hornsby, Sting, and Van Morrison assembled the "creme da la creme" of studio musicians, including Donald Fagen, Elliott Randall, and Bernard Purdie to produce this jewel of eighties pop rock. If you are into Steely Dan or good melodic jazz rock/pop fusion, you will love this album which is HR by
A.O.O.F.C.
Any info on the "American Gypsies" by Galdston & Thom would be most welcome.
TRACKS
The Hits Just Keep On Comin'
Eldorado Escape
The One And Lonely
Because It's There
It's Not As Simple As That
Fight, Fight, Fight
Ocean Eyes
Suddenly Strings
Tell Jack
Some Things Will Never Change
All songs composed by Phil Galdstone, & Peter Thom
BAND
Phil Galdston (Piano), (Piano (Electric)), (Vocals (Background)), & Peter Thom (Vocals (Background))
ASSISTED BY
-
Donald Fagen (Vocals (Background))
Elliott Randall (Guitar (Electric))
Bernard "Pretty" Purdie (Drums)
Steve Khan (Guitar (Electric))
Rob Mounsey (Synthesizer), (Piano), (Vocals (Background)),(Clavinet)
Mark Doyle (Guitar), (Guitar (Electric))
Jeff Mironov (Guitar (Electric))
Chris Parker (Drums)
Ed Greene (Drums)
Liberty DeVitto (Drums)
Ralph MacDonald (Percussion)
Marvin Stamm (Trumpet),(Flugelhorn)
Randy Brecker (Trumpet), (Flugelhorn)
Timmy Cappello (Saxophone)
Ronnie Cuber (Saxophone)
David Tofani (Saxophone)
Barry Rogers (Trombone)
Neil Jason (Bass)
Will Lee (Bass)
Tony Levin (Bass)
Doug Stegmeyer (Bass)
Patti Austin (Vocals (Background))
John Barranco (Vocals (Background))
Zachary Sanders (Vocals (Background))
Frank Floyd (Vocals (Background))
Produced by Elliot Scheiner
ABOUT THE ALBUM
[ © Mark Doyle , www.markdoyle.com/themorethingschange.html ]

This record must've taken a long time to come out, because I distinctly remember that I was still in bad personal shape during the recording. Elliott Scheiner was the producer, and the two guys that made up Far Cry were Phil Galdston and Peter Thom. Phil has gone on to become a hit songwriter, although I've lost track of Peter. The connection with them came because they were managed by a guy from Robert Stigwood named Jeff Tornberg, who was also managing David Werner at the time. New York was a small world in those days. We recorded at AR Studios, and Phil Ramone was executive producer and would pop in from time to time. The session musicians who played with me were all great. I got to play with Bernard Purdy, one of the great drummers of all time, who had the most amazing shuffle I had ever heard. He had a little Premier kit with an 18" bass drum. Too much! But this was my first introduction to the Steely Dan school of recording. Everything was written out, even the guitar parts. I had been up for 3 days before the session and walked in completely disheveled. Galdston said "You look suitably dazed", which was my natural state in those days. I was in no mood to read, but had to. I also gave Elliott Scheiner a hard time about his clean guitar sounds because I had been recording with Clearmountain for so long and was used to some dirty sounds with a lot of room ambience on them. Of course now I cringe when I think that Elliott Scheiner's only memory of me is of the surly rock character that I was. Called in later to overdub my solos, it was more of the Steely Dan approach. You had heard that they would have four different guitar players in for a solo, punching in each note, even using combinations of different players for the same solo. Well, it was like that. I couldn't get more than two bars into it before I would be stopped, hummed some phrase, punched in, hummed some other phrase, etc. Micro-managed into the ground, they're not really solos that I think represent me or for that matter did them much good either. But that's show biz, I guess.