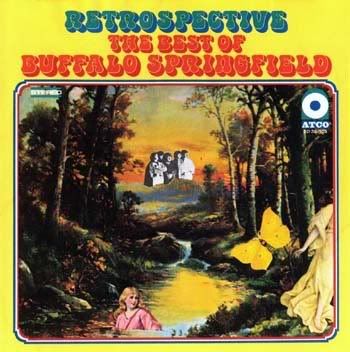 Buffalo Springfield - Retrospective - The Best Of Buffalo Springfield - 1969 - ATCO Records

Buffalo Springfield may only have lasted two or three years as a band, but were a hugely important and influential group in the history of rock music. "Retrospective" is a great album, and is a good collection of most of the better songs from the band. Individually, the bands' members recorded some of the greatest rock recordings of all time. Here are a few albums worth checking out. Unfortunately, some of these recordings are hard to come by, but well worth researching - Poco's "Pickin' Up The Pieces" album, with some great songs penned by Richie Furay., the 1970 Dewey Martin album,"Dewey Martin's Medicine Ball," Stephen Stills' brilliant "Manassas" album, and there is no need to mention the great Neil Young "Harvest" album, and of course, C.S.N & Y's "Deja Vu." Bruce Palmer's 1971 album, "The Cycle Is Complete" and Jim Messina's great jazzy "Oasis" album, are lesser known recordings, but should be heard by everybody.

TRACKS / COMPOSERS/ RECORDING DETAILS

SIDE 1

"For What It's Worth" (Stills) – 3:00
Recorded December 5, 1966, Columbia Studios, Los Angeles, California. Lead vocal: Stephen Stills. Bass: Bruce Palmer. Producers: Charles Green and Brian Stone.
"Mr. Soul" (Young) – 2:35
Recorded April 4, 1967. Lead vocal: Neil Young. Bass: Bruce Palmer.
"Sit Down I Think I Love You" (Stills) – 2:30
Recorded August 1966, Gold Star Studios, Los Angeles, California. Lead vocal: Stephen Stills. Bass: Bruce Palmer. Producers: Charles Green and Brian Stone.
"Kind Woman" (Furay) – 4:10
Recorded February-March 6, 1968, Atlantic Studios, New York City & Sunset Sound, Los Angeles, California. Lead vocal: Richie Furay. Bass: Jim Messina. Producer: Jim Messina.
"Bluebird" (Stills) – 4:28
Recorded April 8, 1967, Sunset Sound, Los Angeles, California. Lead vocal: Stephen Stills. Bass: Bobby West
"On the Way Home" (Young) – 2:25
Recorded November 15-December 13, 1967, Sunset Sound, Los Angeles, California. Lead vocal: Richie Furay. Bass: Bruce Palmer.

SIDE 2

"Nowadays Clancy Can't Even Sing" (Young) – 3:26
Recorded July 18, 1966, Gold Star Studios, Los Angeles, California. Lead vocal: Richie Furay. Bass: Bruce Palmer. Producers: Charles Green and Brian Stone.
"Broken Arrow" (Young) – 6:13
Recorded August 25 & September 5-18, 1967, Columbia Recording Studios & Sunset Sound, Los Angeles, California. Lead vocal: Neil Young. Bass: Bruce Palmer.
"Rock and Roll Woman" (Stills) – 2:44
Recorded June 22, August 8 & October 8, 1967, Sunset Sound, Los Angeles, California. Lead vocal: Stephen Stills. Rhythm guitar: Jim Fielder. Bass: Bruce Palmer.
"I Am a Child" (Young) – 2:15
Recorded February 5, 1968, Sunset Sound, Los Angeles, California. Lead vocal: Neil Young. Bass: Gary Marker. Producer: Jim Messina.
"Go and Say Goodbye" (Stills) – 2:19
Recorded July 18, 1966, Gold Star Studios, Los Angeles, California. Lead vocal: Stephen Stills. Bass: Bruce Palmer. Producers: Charles Green and Brian Stone.
"Expecting to Fly" (Young)– 3:39
Recorded May 6, 1967, Sunset Sound, Los Angeles, California. Lead vocal: Neil Young. Arrangement: Jack Nitzsche. Note: Neil Young is the only member of the group who appears on this recording.

BAND

Jim Messina (Bass), (Vocals)
Stephen Stills (Guitar), (Keyboards), (Vocals)
Neil Young (Guitar), (Harmonica), (Vocals)
Dewey Martin (Drums)
Bruce Palmer (Bass)
Richie Furay (Guitar), (Vocals)

OTHER MUSICIANS

Jack Nitzsche: Electric Piano on "Expecting To Fly"
Don Randi: Grand Piano on "Broken Arrow" and "Expecting To Fly"
Bobby West: Bass on "Bluebird"
Charlie Chin: Banjo on "Bluebird"

REVIEWS

Only a handful of bands have made a greater impact with fewer recordings than the short-lived Buffalo Springfield. Their history is told in the titles of their three albums: 1967's eponymous debut was followed by the peak-performance Again later that year, which was followed by 1968's Last Time Around. While their entire recorded career encompasses a mere two years, the Stephen Stills-Neil Young-Richie Furay-led quintet produced a number of '60s rock classics. Stills chipped in "For What It's Worth" and "Bluebird"; Furay's "Kind Woman" is one of the touchstones of country-rock; and Young fired off the likes of the raucous "Mr. Soul," the gentle "I Am a Child," the ambitious "Broken Arrow," and the breathtakingly pretty "Expecting to Fly." They're all on this 12-song overview, a suitable option for anyone who isn't up to stocking up on the entire catalog. © Steven Stolder, © 2008 Amazon.com, Inc. and its affiliates. All rights reserved

Retrospective: The Best of Buffalo Springfield may not be definitive, but it's a good, basic overview of the group's career, containing most of the group's biggest hits and signature songs. Yes, several worthy album cuts are missing, but as a sampler, this works quite well, offering a nice introduction to the group. © Stephen Thomas Erlewine, All Music Guide

BIO (Wikipedia)

Buffalo Springfield was a short-lived but influential folk rock group that served as a springboard for the careers of Neil Young, Stephen Stills, Richie Furay and Jim Messina and is most famous for the song "For What It's Worth". After its formation in April 1966, a series of disruptions, including internal bickering, as well as the pressure of working in the music industry, resulted in constant changes in the group's lineup — and ultimately culminated in the group's disbanding after roughly 25 months. Buffalo Springfield released a total of three albums but also left a legacy that includes many demo recordings, studio outtakes, and live recordings. Although Buffalo Springfield was formed in early 1966, the group's genesis might very well be attributed to a chance meeting nearly a year earlier when Neil Young and Stephen Stills first crossed paths at a folk club in Thunder Bay, Ontario. Young was there with The Squires, a group he had been leading since February 1963, and Stephen Stills was on tour with The Company, a spin off from the Au Go Go Singers. Although the two would not see each other again for almost a year, the encounter left both with a strong desire to work together. Some time later, when The Company broke up at the end of that tour, Stills made the move to the West Coast where he worked as a studio musician and auditioned unsuccessfully for, among other things, The Monkees. Told by record producer Barry Friedman that there would be work available if he could assemble a band, Stills invited fellow Au Go Go Singers alumnus Richie Furay and former Squires bassman Ken Koblun to come join him in California. Both agreed although Koblun chose to leave before very long and rejoined 3's a Crowd. In early 1966 in Toronto, Young met Bruce Palmer, who was then playing bass for a group called the Mynah Birds. In need of a lead guitarist, Palmer invited Young to join the group and the offer was accepted. The Mynah Birds were set to record an album for Motown Records when Rick James, their singer, was arrested for draft evasion. With their record deal cancelled, Young and Palmer decided to head for Los Angeles where they hoped to hook up with Stills. Roughly a week later, discouraged at having been unable to locate Stills and ready to depart for San Francisco, they were stuck in traffic on Sunset Boulevard in Los Angeles when Stills, Furay, and Friedman sitting in their white van recognized Young's black 1953 Pontiac hearse, which just happened to be passing by in the opposite direction. After an illegal u-turn by Furay, some shouting, hand-waving, and much excitement, the four musicians realized that they were united in their determination to put together a band. Less than a week later, drummer Dewey Martin, who had played with country artists such as Patsy Cline and The Dillards, was added to the roster after contacting the group at the suggestion of the Byrds' manager, Jim Dickson. Taking their name from the side of a steamroller—made by the Buffalo-Springfield Roller Company—that was parked on the street outside Friedman's house (where Stills and Furay were staying), the new group debuted on April 11, 1966, at The Troubadour in Hollywood. A few days later, they began a short tour of California as the opening act on a bill featuring the Dillards and the Byrds. No sooner had the Byrds tour ended than Chris Hillman persuaded the owners of the famous Whisky a Go Go to give the band an audition. Subsequently, the Buffalo Springfield essentially became the house band at the Whisky for a seven-week period from May 2 to June 18, 1966. This legendary series of concerts solidified the band's reputation for exhilarating live performances as well as attracting immediate interest from a number of record labels. It also brought an invitation from Friedman to Dickie Davis, who had been lighting manager for the Byrds, to become involved in the group's management. In turn, Davis sought advice from Sonny & Cher's management team, Charlie Green and Brian Stone. They eventually struck a deal with Ahmet Ertegün of Atlantic Records and arranged for the band to start recording at Gold Star Studios in Hollywood. Young, Stills, and Furay would all record demos for the album, but Greene and Stone, who had installed themselves as the album's producers, deemed Young's voice "too weird" and assigned lead vocals on the majority of Young's songs to Furay. Their first single, "Nowadays Clancy Can't Even Sing," was released in July but made little impact outside of Los Angeles, where it reached the Top 25. The group was dissatisfied with and reworked some of their early recording efforts for the rest of the album. In fact, Young and Stills have long maintained that their own mono mix was superior to the stereo mix engineered by Greene and Stone. The album—eponymously titled Buffalo Springfield—was originally released by Atlantic's subsidiary Atco in mono and in stereo in October 1966; a revamped version (see below) issued both in mono and stereo with a different track order came in March 1967. In November 1966, Stills composed his landmark song, "For What It's Worth" after witnessing questionable police actions against crowds of young people who had gathered on the Sunset Strip to protest the closing of a nightclub called "Pandora's Box". The song was recorded in December, and by March 1967, the Buffalo Springfield had a Top Ten Hit. Atco took advantage of this momentum by replacing the song "Baby Don't Scold Me" with "For What It's Worth" and re-releasing the album. In January 1967, the group took an advance from the record company and flew to New York to perform at Ondine's. It was at this time that Palmer was first arrested for possession of marijuana and summarily deported back to Canada. The band now moved back and forth between recording sessions and live appearances on both coasts. They used a number of different bassists, including Koblun—who was unable to cope with the pressure and soon quit—and Jim Fielder of the Mothers of Invention. In one instance - their live performance on Hollywood Palace - they had their non-bass-playing road manager hold a bass with his back to the camera, while miming to a prerecorded backing track. Under these conditions, work on the new album, tentatively titled Stampede, was markedly tense. Ever distrustful of Greene and Stone, Young and Stills also bickered among themselves, and each insisted on producing the recording sessions for his own compositions. Furay, who had not contributed anything to the first album save for his guitar and voice, also stepped forward and equaled Young's number of contributions for the group's second album. Although Palmer returned to the group at the beginning of June, Young had already left and thereby managed to miss the celebrated Monterey Pop Festival at which the band performed with former Daily Flash and future Rhinoceros member Doug Hastings on guitar and also with a guest appearance by David Crosby. Young eventually returned in August, and after bidding adieu to Greene and Stone (Ertegün convinced the duo to release the band from production and management agreements), the band divided its time between concert gigs and putting the finishing touches on its second album, ultimately titled Buffalo Springfield Again, produced by Ertegün himself. Although more of a hodgepodge of individual work than an integrated group effort, many critics and fans alike consider Buffalo Springfield Again, released in November 1967, to be the group's finest record, and it includes tracks such as "Mr. Soul", "Rock & Roll Woman", "Bluebird", "Sad Memory", and "Broken Arrow." Trivia; The single of "Mr. Soul" (B side of the edited "Bluebird") has a completely different guitar lead than the stereo LP version. It has yet to be issued on CD. The group was featured playing "For What It's Worth" in an episode of the television series "Mannix" called "Warning: Live Blueberries", which aired on October 28, 1967. However, for many Buffalo Springfield fans, it is the Stephen Stills composition "Bluebird" that was then and remains now the band's peak Singer Judy Collins, was the subject of a later Stills song, "Suite: Judy Blue Eyes". Unlike the studio version -- which winds down after the instrumental break with a plaintive rendition of the third verse, accompanied by a banjo -- in live performances, the opening verses of "Bluebird" serve as little more than a springboard for an extended jam session, during which Stills, Young and Furay intertwined guitars for minutes on end. One such "live jam" version was officially released on the 1973 compilation Buffalo Springfield (Collection), although it had previously been available on a bootleg issue of what was supposedly a Stampede recording session and had become a staple of FM radio in the late 60s and early 70s. With strong reviews appearing all over the country, not only of Buffalo Springfield Again but of the band's performance as part of the Beach Boys Fifth Annual Thanksgiving Tour, things were looking up. However, in January 1968, Palmer's second deportation for possession once again threw a wrench into the works. This time, guitarist and studio engineer Jim Messina was hired as a permanent replacement on bass. With Palmer gone for good, Young also began to appear less and less frequently, often leaving Stills to handle all of the lead guitar parts at concerts. Recording sessions were booked, and all the songs that were to appear on their final album were recorded by the end of March usually with Messina producing, but the group was clearly on the verge of disbanding. In April 1968, after yet another drug bust involving Young, Furay, Messina, and Eric Clapton, the group decided to break up. Their final concert appearance was at the Long Beach Arena on May 5, 1968. After playing many of their best-known tunes, an extended version of "Bluebird" became the group's swansong. Buffalo Springfield disbanded a little more than two years after it had begun. After the group's break-up, Furay and Messina compiled various tracks recorded between mid-1967 and early 1968 into a third and final studio album titled Last Time Around. Only a few of the songs featured more than two or three members of the group at a time, and it is often described as the group's weakest effort. Even the cover photo of the group was a montage, with Young's image added to a group profile of the other four members. Stills and Furay appeared on more tracks than any of the others, essentially dominating the album, but it did not light up the charts. Although the Buffalo Springfield was never a major commercial success, "For What It's Worth" was a legitimate hit, and the group's reputation would only grow stronger with the later successes of its members. Stills went on to form a band with David Crosby of The Byrds and Graham Nash of The Hollies in 1968. Young launched a solo career, but in 1969 also reunited with Stills in Crosby, Stills & Nash, which saw the beginning of his sporadic relationship with that trio. Furay and Messina both became founding members of Poco before going on to other endeavors. Eventually, Furay became one third of the Souther, Hillman, and Furay band, and Messina was one half of the Loggins & Messina duo. Palmer was CSNY's first choice to play bass, but due to various personal problems was replaced by Motown prodigy Greg Reeves. After recording a jam-oriented solo album in 1970 that was a commercial failure, Palmer faded into obscurity although he did briefly play with Toronto blues band, Luke & The Apostles in early 1970. In the early 1980s, he appeared on Young's Trans album and then played with Martin in the "Buffalo Springfield Revisited" tribute band in the mid-1980s. Martin mischievously formed a new version of Buffalo Springfield in September 1968. Dubbed "New Buffalo Springfield", the line up comprised guitarists Dave Price (Davy Jones' stand-in in The Monkees) and Gary Rowles (son of jazz pianist Jimmy Rowles); bass player Bob Apperson; drummer Don Poncher; and horn player Jim Price, who later became a top session musician for The Rolling Stones and Joe Cocker among others. The new band toured extensively and appeared at the highly publicised "Holiday Rock Festival" in San Francisco on December 25-26, 1968, among other live dates, but soon fell foul of Stephen Stills and Neil Young who took legal action to prevent Martin from using the band's name. In February 1969, Martin and Dave Price formed a second version of New Buffalo Springfield with guitarist Bob "BJ" Jones and bass player Randy Fuller, brother of the late Bobby Fuller. The band did some tentative recordings with producer Tom Dowd overseeing but they were scrapped. The second line up was expanded with another guitarist Joey Newman in June 1969 but two months later, Martin was fired and the remaining members carried on as Blue Mountain Eagle. Martin then formed a new group called Medicine Ball, which released a lone album in 1970 for Uni Records. Martin also released two solo singles, one for Uni and one for RCA, which didn't appear on the album. During the 1970s, he retired from the music industry to become a car mechanic. In 1997, the group was inducted into the Rock and Roll Hall of Fame although Young did not appear for the induction. In 2001, an eponymous, career-spanning box set was assembled by Young and released. It features many alternate takes, demos, and alternate mixes over the first three of its four discs with the fourth disc containing the group's first two albums. The third album, never a favorite of Young's, was relegated to highlights on the third disc. On his 2000 album Silver & Gold, Young sang of his desire to reform the group and to "see those guys again and give it a shot" ("Buffalo Springfield Again"). Unfortunately, with the October 2004 passing of Palmer, a full reunion is no longer a possibility.