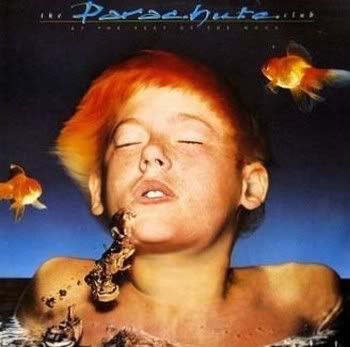 The Parachute Club
-
At The Feet Of The Moon
-
1984
-
RCA
"At the Feet of the Moon" won the Juno for Group of the Year along with U-Knows for Album of the Year, Group of the Year and Female Vocalist of the Year (for the lead singer, Lorraine Segato). The band split in 1989 after enjoying huge success in the 80's, with many top-10 singles in Canada, as well as critical recognition as one of the most talented and outspoken groups. In 2005, critic Greg Quill wrote in the Toronto Star that "No musical collective bespoke this city during a specific period as powerfully as Parachute Club did in the 1980s. Their infectious, inclusive, soca-soaked dance music carried important messages about the social changes Toronto was experiencing at the time, about sexual and personal politics, about the need for hope and courage in an age of confusing, impersonal rhetoric from local policymakers and world leaders." A very unusual band who were able to compose lyrics with social and political messages, and add an eclectic mix of many different music genres to these lyrics, including strong ethnic dance beats. This is a very good and relevant album. Check out their 'Small Victories' album.
TRACKS
1 At the Feet of the Moon
2 Sexual Intelligence
3 Innuendo
4 Equal Equally
5 Middle Child
6 Act of an Innocent
7 Freedom Song
8 Walls and Laws
MUSICIANS

Lorraine Segato - vocals, guitar
Lauri Conger - keyboards, vocals
Billy Bryans - drums,
Margo Davidson - saxophone, vocals
Julie Masi - percussion, vocals
Keir Brownstone - bass
Dave Gray - guitar
ABOUT "THE PARACHUTE CLUB."
Parachute Club. Toronto pop music collective, active 1982-8. Formed by the singer Lorraine Segato and the percussionist Billy Bryans, it emerged from the Queen Street West neighbourhood of clubs and art galleries that flourished during the 1980s. The band varied in size and personnel: longtime members included Dave Gray (guitar) and Margo Davidson (saxophone, percussion), Lauri Conger (keyboards), Juli Masi (vocals, percussion), and Keir Brownstone (bass). A dozen musicians performed in what proved to be the Club's final concerts, 20 and 21 Jul 1988 at Ontario Place. The Club's first and biggest hit, the stirring 'Rise Up' (1983, from the LP The Parachute Club, Current WAVE-2), was typical of its music: socio-political lyrics riding exuberant, Third-World rhythms. The singles 'At the Feet of the Moon' (1984, from an LP of the same title, RCA KKL1-0553) and 'Love is Fire' (1986, from the LP Small Victories, RCA KKL1-0573) were also popular. Canadian sales of At the Feet of the Moon exceeded 100,000. The group performed throughout Canada, appeared in the USA in1985 and toured West Germany in 1987. It won Juno Awards in 1984 for single of the year ('Rise up') and as most promising group, in 1985 as group of the year, and in 1986 for best video ('Love is Fire,' directed by Ron Berti). Segato (b Hamilton, Ont, 17 Jun 1956) undertook a solo career in 1989, forming the band Big Jump (with Dave Gray and others) and recording the album Phoenix (WEA CD-71202). Bryans (b Toronto 15 Sep 1949), who had previously produced recordings by Lillian Allen, Downchild and Dutch Mason, returned to production (eg The Phantoms, Eyuphuro) and has also accompanied Allen, Buffy Sainte-Marie and others. © The Canadian Encyclopedia, © 2008 Historica Foundation of Canada. All rights reserved
BIO

The earliest roots of The Parachute Club stem from when Lorraine Segato and Laurie Conger formed an all-girl band called Mama Quilla 2. They spent the latter part of the Seventies becoming fixtures of the Toronto club scene, where they gained local notoriety for their weaving political messages into their music. They released one 12" EP, produced by Daniel Lanois which didn't exactly set the world afire. Segato was introduced to drummer Billy Bryans in 1979. Their love for different rhythms and musical influences were a natural meld, which culminated in the formation of V, a group which also consisted of Steve Webster on bass and in part was based around Mojah, the black rastafarian leader of Truth and Rights, Toronto's premier reggae outfit of the day. After Mojah left, the band changed it's name to The Parachute Club in '83 and had percussionist/saxaphonist Margo Davidson join the band. Soon Julie Masi moved from Winnipeg and joined up, followed shortly thereafter by guitarist Dave Gray. They gained the attention of Current Records and began recording their self-titled debut later that same year. Produced by Lanois, the album was an instant hit with both critics and the fans. Backed by the smash single "Rise Up", which won a Juno for Single Of The Year, their penchant for writing politically-conscious tunes would become legendary. "Alienation" and "Boys Club", a song about women's rights, soon followed suit. The eagerly-anticipated follow-up, AT THE FEET OF THE MOON hit the stores in '84. Produced by Michael Beinhorn and with new bassist Keir Brownstone, the band picked up where they'd left off the album before. The first single was the eclectic title track, and was then followed by 2 more top 40 hits, "Act Of An Innocent" and "Sexual Intelligence". Other noteable tracks included "Innuendo" and "Walls and Laws". The group's political and sociological messages scored them their second gold record, and they were rewarded that same year with their second Juno, this time for Group Of The Year. 1986 saw the release of SMALL VICTORIES. The album saw the band's collaberation with John Oates, who served as album co-producer. The first single, "Love Is Fire", also co-featured Oates on vocals. The duet gave the album international credibility and it marked the band's third straight gold record here at home. The beginning of the end for the band started following the end of their Canadian tour that year, when Masi left to pursue outside interests. Conger followed suit in mid '87 when she too left the group. Though the band continued for another 2 years with various musicians filling in as necessary, the rigors of having a 7-piece band touring - plus their collective musical goals having been met, the band called it quits in late '89. WILD ZONE - THE ESSENTIAL PARACHUTE CLUB was released in '92. The expected greatest hits package, it spanned the run of hits the band had over the course of their 3 albums, as well as a remix of "Rise Up". The members each ventured off to do their own thing. Segato began a successful solo career, while Conger has begun work in First Nations music after training in massage therapy in New Mexico. Bryans meanwhile still does extensive work promoting musical genres from abroad here in North America. Regrettably - it's easy to overlook the importance The Parachute Club has made to Canadian music. Renowned for their social conscience, they found a knack to make you think while making your feet want to dance. © www.canadianbands.com