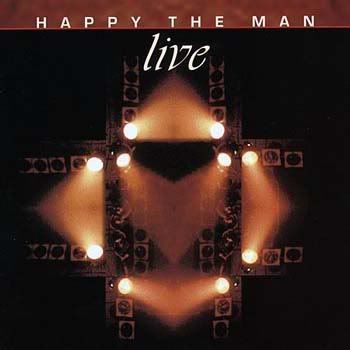 Happy The Man
-
Live
-
1997
-
Cuneiform Records
Great performances from the all too short lived Happy The Man (formed in Harrisonburg, Virginia in 1973), from recently discovered 1978 live tapes. The tracks were recorded by the final band line-up,with drummer Coco Roussel. There are terrific live versions of tracks from their two Arista albums, some of which differ from the original studio releases. This is a great progressive sympho jazz rock album from one of the best and most underrated prog rock seventies bands. Sound quality is average, but will not spoil your enjoyment. Check out their brilliant 1977 self titled "Happy the Man" album, a fantastic mix of progressive rock and jazz fusion, which was produced by Ken Scott, who engineered The Beatles' White Album. It is also worth listening to Camel's great "I Can See Your House From Here " album, which features Kit Watkins. And if you can find it, buy Kit Watkins' brilliant "Azure" album.
TRACKS / COMPOSERS
1 Service With A Smile (Riddle/Hawks)
2 Starborne (Watkins)
3 Open Book (Wyatt)
4 Hidden Moods (Watkins)
5 Morning Sun (Watkins)
6 I Forgot To Push It (Watkins)
7 Ibby It Is (Wyatt)
8 Nossuri (The Moon, I Sing) (Watkins)
9 I Carve The Chariot on the Carousel* (Wyatt)
10 Steaming Pipes* (Whitaker)
11 Knee Bitten Nymphs In Limbo* (Whitaker)
12 Mr. Mirror's Reflections on Dreams* (Watkins)
Recorded at The Cellar Door, July 1, 1978 and [Tracks 9, 10, & 11] at Louie's Rock City, October 8, 1978
BAND

Kit Watkins: Keyboards, Flute
Frank Nakahara-Wyatt: Keyboards, Sax
Stanley Whitaker: Guitars, Vocals
Rick Kennell: Bass
Coco Roussel: drums, percussion
REVIEWS

Although this live set would have been much more meaningful had it been released closer to when it was recorded in 1978, it stands today as evidence that this DC area quintet was as tight on-stage as their studio recordings might lead one to believe: the performance here is gripping, spirited and cohesive, drawing on material from their two Arista albums. Happy the Man's music could be described as a keyboard oriented synthesis of rock styles with a jazz sensibility leaning in the Canterbury direction, mostly instrumental (all instrumental on this set), with a penchant for the complex, highly melodic, occasionally quirky and musically humorous. With two keyboardists (Kit Watkins and Frank Wyatt, doubling on flute and Saxes respectively), they were capable of a rich sound full of dramatics and emotion, tension and release. In short, light-years ahead of their time. The material here is taken from two performances: Most were recorded at the Cellar Door, Washington DC, with the balance taken from a show at Louie's Rock City in Falls Church, Virginia - although exact dates are not given. The recording quality is quite good, I think most would be surprised, especially given the wide dynamic range and overall low noise. Opening with "Service With A Smile", here the track gets added punch from guitarist Stanley Whitaker, they move on to "Starborne" and ten more tunes, some with an almost identical arrangement to their studio counterparts ("Morning Sun", "Hidden Moods") and some that are significantly different ("Knee Bitten Nymphs..." is given a whole new feel by drummer Coco Roussel, "I Carve The Chariot On The Carousel" is the full piece which was brutally edited in order to fit on the first album). Two outstanding tunes that missed the Retrospective CD are here in glorified live versions: "Ibby It Is" and the ten-minute "Mr.Mirror's Reflection On Dreams". But by far, the standout here is the brilliant "Open Book", where all of the band's strongest instincts come together to assert their unique vision. Rarely can I say that a live album is as good an introduction to a band's music as their original studio recordings, but here it can be said without any uncertainty; For the longtime fan, this one's a must-have. © Peter Thelen, (Originally published in Exposé #3, p.9, Edited for Gnosis 3/22/01)
http://gnosis2000.net/reviews/happytheman.htm

One can only salute the effort Cuneiform Records has put over the years in finding and releasing lost material by Happy the Man, one of the most interesting American progressive rock bands active in the '70s. Live has been put together from two tapes, a show at The Cellar Door (Washington D.C.) on July 1, 1978 and another at Louie's Rock City (Falls Church, VA) on October 8 of the same year. In the middle of 1978, Happy the Man were at their creative peak, having released their two albums for Arista Records. These two live performances capture them as they shone on-stage in front of a small but very enthusiastic audience. Live includes inspired versions of Happy the Man's best tunes such as the short but energy-packed "Service with a Smile," the complex "Ibby It Is" and classics like "Steaming Pipes" and "Mr. Mirror's Reflection on Dreams." The set list also includes a few surprises, like "Open Book," a reworking from a part of the then-unreleased suite "Death's Crown" (Cuneiform would release a rehearsal recording of this suite on Death's Crown in 1999). Sound quality is very average (the CD lacks power in the lower register), but this being the only live recording of Happy the Man legitimately available, one should not pass over it. © François Couture, All Music Guide

SHORT BIO

Often compared to Yes for their melodicism and Gentle Giant for the complexity of their compositions, Happy the Man add their own high-caliber musicianship, a sense of symphonic drama, odd time signatures, spacy sound, and occasional whimsy to their brand of art-rock. Although their largely instrumental oeuvre is rather inconsistent, Happy the Man still carry a devoted following on the prog-rock collectors' circuit. The group was formed in 1974 and features keyboardist Kit Watkins, keyboardist/woodwind player Frank Wyatt, guitarist and occasional vocalist Stan Whitaker, and bassist Rick Kennell, plus a rotating succession of drummers. Original vocalist Cliff Fortney left the band before it signed to Arista. Their self-titled 1977 debut was recorded with drummer Mike Beck and introduced each member's compositional style: Watkins possessed the symphonic grandeur, Wyatt gravitated towards songs with lyrics, and Whitaker allowed his sense of humor to come through on pieces such as "Stumpy Meets the Firecracker in Stencil Forest" and "Knee Bitten Nymphs in Limbo." The follow-up, Crafty Hands, featured drummer Ron Riddle and was released a year later. By the time Third: Better Late was released in 1979 with drummer Coco Roussel, Happy the Man had broken up. Kit Watkins joined Camel for two albums before fading into obscurity; some Happy the Man albums remain in print on independent labels, as well as the Retrospective collection and Beginnings, a series of early two-track studio recordings with Fortney. © Steve Huey, All Music Guide

BAND INFO (Wikipedia)

Happy The Man are an American progressive rock band primarily from the 1970s specializing in virtuoso instrumental tracks within complex time signatures. The group formed in 1972 in Harrisonburg, VA, and recorded two albums, after which keyboardist Kit Watkins decided to leave the band to join Camel. The group put together their unreleased material and released a "final" album in 1983. The band continued to be a cult favorite in progressive rock circles even after they broke up. In 2000, the group reformed for NEARfest joined by David Rosenthal on keyboards, and they released a new album in 2004: The Muse Awakens. Whitaker and Wyatt have released another album, Pedal Giant Animals since, and have formed a new band, Oblivion Sun.