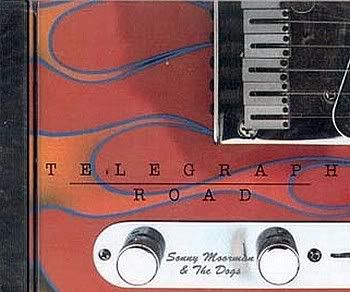 Sonny Moorman
&
The Dogs
-
Telegraph Road
-
1996
-
706 Records
A great Cincinnat basedi Blues/Rock trio. Sonny and the band are nine-time winners of CAMMY awards (Cincinnati Area Music awards sponsored by the Cincinnati Enquirer). Sonny Moorman won the 2006 Cincinnati Blues Challenge in the single/duo category. The Sonny Moorman Group was nominated by CityBeat Magazine for the 2005 Cincinnati Entertainment Awards in the Blues category. This is a great power blues album, and if you like The Allman Brothers Band., Stevie Ray Vaughan, or Peter Green, you will really enjoy this album. Buy Sonny Moorman and the Dogs' great "Live" album for more Grade A blues rock.
TRACKS
"Up to My Neck in the Blues"
"Old Slow Blues"
"Rockin' the Night Away"
"Sonny's Blues"
"Who's Been Talking"
"Too Much"
"Metal Cowboy Blues"
"Telegraph Road"
"Cincinnati Shuffle"
"When Something Is Wrong with My Baby"
"Fast Cars, Pretty Women, and Low Down Rhythm & Blues"
"All Comin' Down"
"Bad Woman Blues"
BAND

Sonny Moorman (guitar & vocals)
Marc Hoffman (bass)
Dave Fair (drums & vocals)
Jimmy McNealy - (lead and backup vocals)
This CD was recorded at the Legendary Sun Studio in Memphis and was recently lauded as the "best local release" Cinccinnati has ever produced by Eastside Vibe Magazine!
REVIEWS

"Power Blues is an apt description for a trio that treads the territory laid out by ZZ Top, Stevie Ray Vaughan, and the Allman Brothers. Watch out for these guys." -- BLUES ACCESS Magazine
An excellent CD of pure biker-bar-blues is Telegraph Road by Sonny Moorman and the Dogs." -- Easyriders
This is it...a "nothing but the Blues" masterpiece from Cincinnati, Ohio's King of the Six-String -- Sonny Moorman. Sonny opens this record with the smoldering slow Blues gem "Drowning on Dry Land" from By Request, in a tour-de-force performance that evokes the legendary Roy Buchanan, then opens the throttle wide with passionate, inspired renditions of "Crossroads" and "Born Under a Bad Sign," also taken from By Request -- delivered in Sonny's full "Clapton is God" guitar tone. Later in this fine CD he will summon up an incredible version of Freddie King's "Have You Ever Loved a Woman?" from By Request 2 with the same soulful Claptonesque vibe. In another homage to the English Blues revival, Sonny renders a Jeff Beck-sired version of B.B. King's "Rock Me Baby"-- 100% guaranteed to rock your plimsoles! Crossing the Atlantic, Sonny cooks up some tasty Texas Blues with "Blue Jean Blues" and "A Fool for Your Stockings" -- done to a turn just as Billy Gibbons would have it (he's a fan of Sonny's, too). Sonny then turns his guns on the Blues chestnuts "CC Rider," " Dust My Broom," and "You Shook Me." giving the first another Tele-Master treatment straight from the Book of Buchanan, while the latter two form Sonny's lap-steel concerto honoring the slide work of Duane Allman and Jimmy Page. © Jazzloft, LLC
BIO
Power blues" is how Ohio-based bluesman Sonny Moorman describes the music he creates with his trio, the Dogs. Moorman and his band have extended the 1960's blues and blues-rock revival into the new millennium, borrowing from their prime influences, black and white: Eric Clapton, early Fleetwood Mac, Rory Gallagher, Roy Buchanan, Jimi Hendrix and B.B. King. Moorman, raised by parents who ran nightclubs in the Cincinnati area, was exposed to guitar maestro Lonnie Mack, up close and personal, at an impressionable age. Moorman didn't begin playing out professionally until he was into his junior year in college at Michigan State University. After getting out of college, he spent 15 years playing in bands in the Detroit and Los Angeles areas before coming back home to Hamilton, Ohio, near Cincinnati. Highlights of his time in Los Angeles included tenures with the Tomcats, which included members of Sly and the Family Stone, as well as with Warren Zevon's touring band. After a show at Memphis' Crossroads festival in 1994, the group signed with Sun Records' 706 label. Moorman and the Dogs have two releases on 706 Records, Sun Studios' house label in Memphis. [The '706' refers to the studio's address on Union Avenue in Memphis.] Moorman and the Dogs' releases include "Live," and "Telegraph Road." "Telegraph Road" was recorded at Sun Studios, in the same room where Elvis Presley, Carl Perkins, Howlin' Wolf, Big Walter "Shakey" Horton and Jerry Lee Lewis made their first recordings. Moorman and the Dogs continue to perform regionally around southern Ohio, Kentucky, Memphis and parts of the south. © Richard Skelly, All Music Guide
BIO (Wikipedia)

Sonny Moorman is an American power blues guitarist from Cincinnati, Ohio. His style is sometimes compared to that of the legendary Allman Brothers, Gov't Mule, and occasional Dead guitarist Warren Haynes. He also owns a music lesson studio in Cincinnati, called Rock School. Sonny currently does solo acoustic performances and he also makes several appearances a week with his trio, the Sonny Moorman Group. They are: Sonny Moorman, Guitar and Vocals, Nick Giese, Bass Guitar, and Dave Fair, Drums and Percussion.