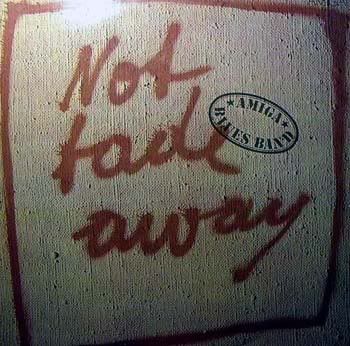 Amiga Blues Band
-
Not Fade Away
-
1983
-
Amiga
This album is a little piece of music history, because the "Amiga Blues Band" never really existed! The members of this "band" were members of other GDR blues and rock bands. The group was founded as a cover band and made this one great successful album. At the time of this release, the Amiga Blues Band were regarded as one of the best "blues bands" in the GDR. See bottom of page for info on blues music behind the "Iron Curtain." This is a 320 vinyl rip, but absolutely well worth listening to!
TRACKS / COMPOSERS

A1.Walkin By Myself - Jimmy Rogers
A2.Ramblin' On My Mind - Robert Johnson
A3.Crossroad Blues - Robert Johnson
A4.Help Me - Sonny Boy Williamson
B1.I Believe I'll Dust My Broom - Robert Johnson
Saxophone [Alto] - Helmut Forsthoff
Trumpet - Claus-Dieter Knispel , Dagobert Darsow
B2.Maggie's Farm - Bob Dylan
Percussion - Norbert Jäger
B3.Little Red Rooster - Willie Dixon
B4.Hoochie Coochie Man - Morganfield, aka Muddy Waters
B5.Not Fade Away - Hardin/Petty
BAND
Bass - Georgi Gogow
Drums - Herbert Junck
Guitar - Michael Lincke , Peter Gläser
Harmonica - Frank Gahler
Organ - Gerhard Laartz
Piano - Wolfram Bodag
ABOUT AMIGA RECORDS
[ Extract from article by Otto, www.harpl.com/2002104477.html ]
AMIGA was the name of the record label in the GDR that released a lot of Blues records (for instance: Howlin' Wolf, Sonny Boy Williamson, SonnyTerry and Brownie McGee, Muddy Waters, B.B. King, John Mayall, Lonnie Johnson...). there were also many Blues-musicians in the GDR, who made records and could sell them without beeing illegal like Stefan Diestelmann Blues Band or the AMIGA-Blues Band. Another source for records were the other eastern countries like Poland, CSSR, Hungary where you could buy licensed records. And in the Intershops in the GDR you had the chance to buy even the original records from the western, capitalistic world, but this was much expensive. Why should Blues have been illegal in the GDR? Like Jazz (Louis Armstrong toured in the GDR already in the fifties) the Blues has been considered as the original music and the voice of the oppressed black people in America, before it was captured by the capitalistic music industry. What more could the ideologists want? Most people in the GDR had the chance to receive TV- and radio-stations from west-germany, therefore they knew the music very well, be it Blues, Jazz, Rock, Punk or what else. The iron curtain wasn't so strong as some people may think.