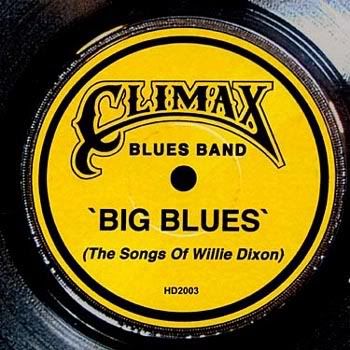 Climax Blues Band
-
"Big Blues (The Songs Of Willie Dixon)"
-
2003
-
Houndog
The Climax Chicago Blues Band based in Stafford, England was formed in late 1968. The original members were guitarists Derek Holt and Peter Haycock, keyboardist Arthur Wood, bassist Richard Jones and drummer George Newsome. The late Colin Cooper on vocals and saxophone made up the sextet. In 1970, the band shortened its name to the Climax Blues Band. The band has released eighteen albums and has had Top 40 hits in 1976 in the UK with "Couldn't Get It Right"; and in 1981 in the United States with "I Love You". [From Wikipedia].
Like the great Canned Heat, this veteran blues rock outfit are still going strong after more than thirty years. This great album features 12 classic blues tracks written by Willie Dixon, including "Little Red Rooster," "Spoonful," "The Seventh Son" and "Big Boss Man."They are given the band's distinctive treatment, with the late Colin Cooper's trademark vocals and plenty of sax, guitar and harmonica. Like so many great bands, they are mainly remembered for one or two tracks. Their great "Couldn't Get It Right" was a big hit for the band, but dig into their catalogue and you will find many great blues and rock compositions. Buy their great "Stamp" and "Gold Plated" albums to hear the band at their peak.
TRACKS

1. Little Red Rooster
2. Spoonful
3. The Seventh Son
4. Third Degree
5. Im Ready
6. Wang Dang Doodle
7. My Babe
8. Im Your Hoochie Coochie Man
9. You Cant Judge A Book By Looking At The Cover
10. Big Boss Man
11. I Love The Life I Live
12. Thats My Baby
All songs composed by by Willie Dixon
BAND
Colin Cooper − Vocals, harp, saxes and Dobro
Lester Hunt − Guitar
George Glover − Keyboards
Neil Simpson − Bass guitar
Roy Adams − Drums
BIO
Led by Colin Cooper, the former frontman of the R&B unit the Hipster Image, the Stafford, England-based Climax Chicago Blues Band was one of the leading lights of the late-1960s blues boom. A sextet also comprised of guitarists Derek Holt and Peter Haycock, keyboardist Arthur Wood, bassist Richard Jones and drummer George Newsome, the group debuted in 1969 with a self-titled effort recalling the work of John Mayall. Prior to the release of 1969's Plays On, Jones left the group, prompting Holt to move to bass. In 1970 the Climax Chicago Blues Band moved to the Harvest label, at the same time shifting towards a more rock-oriented sound on the LP A Lot of Bottle. Around the release of 1971's Tightly Knit, Newsome was replaced by drummer John Holt; upon Wood's exit in the wake of 1972's Rich Man, the unit decided to continue on as a quartet, also dropping the "Chicago" portion of their name to avoid confusion with the American band of the same name. In 1974 the Climax Blues Band issued FM Live, a document of a New York radio concert. 1975's Stamp was their commercial breakthrough, and 1976's Gold Plated fared even better, spurred on by the success of the hit "Couldn't Get It Right." However, the rise of punk effectively stopped the group in their tracks, although they continued recording prolifically well into the 1980s; after 1988's Drastic Steps, the Climax Blues Band was silent for a number of years, but resurfaced in 1994 with Blues From the Attic. © Jason Ankeny, All Music Guide