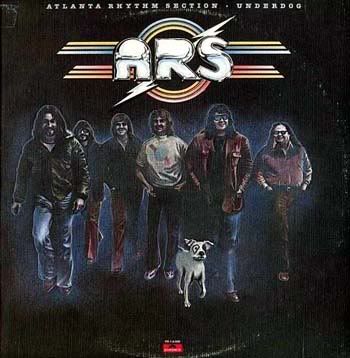 Atlanta Rhythm Section
-
Underdog
-
1979
-
Polydor
UK
A highly recommended album from one of the hardest touring bands of the entire Southern rock genre. This album has been underrated by many critics, possibly because it does not have the same rockin' formula as some of their earlier releases. The following review is one where the album is given due credit - [ "This is another excellent album that continued ARS' popular success and documents the band continuing to make quality music-even though the critical and popular tide that had swelled through the late 1970s had reached its peak. The album features eight original songs, one of them incorporating a well known Ashford & Simpson song. The tone of this collection is softer, as only a couple of songs truly rock out, but the songwriting and musicianship continues at the superior levels the group had established previously. While two songs would break out as singles, overall it's another superior set of tunes. The material and performances are consistently strong thoughout the album, and along with a mix of tempos create a beautiful work from beginning to end. Do It or Die provides a pop musical mission statement to open and leads into the rock of Born Ready and the blues of I Hate the Blues/Let's Go Get Stoned. While Time is Left is a musical masterpiece, and It's Only Music and Spooky gradually slow the pace and carry the set home to a personal close". © 2002-2003 - Rolling Storm Communications Corporation - All Rights Reserved ] Check out their "Dog Days" album @
ARS/DOGDAYS
and their "Live At The Savoy, NY" album @
ARS/SAVOY/NYC
TRACK INFO / COMPOSERS
[ © Copyright 2002-2003 - Rolling Storm Communications Corporation - All Rights Reserved ]

1. Do It Or Die (Buie/Cobb/Hammond)-3:27 The opener is a lovely tune with a melancholy sound that is a fitting follow up to the singles from the previous album. The vocals project both strength and resignation, and provide a great centerpiece, with the instrumentalists providing a beautiful background but never stepping forward.
2. Born Ready (Buie/Daughtry/Nix)-3:54 Guitars provide the lead in as the tempo picks up. This song features some trademark breaks in tempo, but overall the intensity builds to a polished but driving closing-top quality Southern rock with a pop finish.
3. I Hate The Blues (Buie/Daughtry/Nix) / Let's Go Get Stoned (Ashford/Simpson)-7:12 This combination of songs, an approach unique in the ARS catalog, starts with a steady rolling, uptempo blues with a strong vocal and sharp, driving musical backing. Instead of shifting tempos within a song as they have done so often and well, this time there is one total tempo shift to a slower paced cover that swells into soaring vocals and musical support, and builds to a classic blues finish.
4. Indigo Passion (Buie/Cobb)-3:56 The band presents another beautiful ballad, with vocals sharing the twists and turns of life and love and a musical performances that provide a colorful background tableau.
5. While Time Is Left (Buie/Daughtry/Bailey/Nix)-5:20 A beautiful mid-tempo song that combines many of the elements that have made ARS' music unique. From the beginning, the production sets a tone and the words create a picture. The tempos shift and the instruments break out through the course of this classic, timeless song..
6. It's Only Music (Buie/Cobb)-5:33 The driving rhythm pushes the restrained sound at the beginning of the song to build throughout this examination of the band's success. A trademark break leads into guitar soloing and an uptempo verse that breaks briefly for the wishful utterance "disco go" before closing with a rousing guitar workout.
7. Spooky (Buie/Cobb/Shapiro/Middlebrooks)-4:57 A re-recording of this song that had been a hit for the Classics IV, one of the groups that was the genesis for ARS. This version is largely true to the original with a slow but steady tempo. Upgraded production techniques give this version a brighter sound, and the powerful vocals lead into some extended guitar and keyboard soloing that make this remake a classic in its own right.
8. My Song (Buie/Hammond)-3:15 The album closes with an acoustic ballad that's a rumination on how much the musician has to give of themself as a performer on a stage. The acoustic guitar and vocal perfectly capture the desire to "let this be a song for me." After all ARS had given musically up to this point, it was a request that deserved to be honored.
BAND

Bass - Paul Goddard
Drums - Robert Nix
Guitar [Lead] - Barry Bailey
Guitar [Rhythm], Backing Vocals - J. R. Cobb
Keyboards - Dean Daughtry
Lead Vocals, Backing Vocals - Ronnie Hammond
BIO
Often described as a more radio-friendly version of Lynyrd Skynyrd or the Allman Brothers, the Atlanta Rhythm Section was one of many Southern rock bands to hit the upper reaches of the charts during the late '70s. Hailing from the small town of Doraville, Georgia, the beginning of the Atlanta Rhythm Section can be traced back to 1970. It was then that a local recording studio was opened, Studio One, and the remnants of two groups (the Candymen and the Classics Four), became the studio's house band. One of the facility's head figures, Buddy Buie, soon began assembling the session band -- singer Rodney Justo, guitarist Barry Bailey, bassist Paul Goddard, keyboardist Dean Daughtry, and drummer Robert Nix. After playing on several artists' recordings, it was decided to take the band a step further and make the group of players a real band, leading to the formation of the Atlanta Rhythm Section. Buie soon became an invisible fifth member of the fledgling band; he served as their manager and producer, in addition to providing a major hand in the songwriting department. Finding time between sessions to record their own original material (which was initially, entirely instrumental), an early demo wound up landing the band a record deal. The group's first few albums failed to generate much chart action (1972's Atlanta Rhythm Section, 1973's Back Up Against the Wall, 1974's Third Annual Pipe Dream, 1975's Dog Days, and 1976's Red Tape), but it was during this time that Justo was replaced with newcomer Ronnie Hammond, which would eventually pay dividends for the group. Although they had gained quite a bit of radio airplay down south, their record company began to put pressure on the quintet to deliver a single that would break them nationally. The demand worked -- the Atlanta Rhythm Section scored a Top Ten single, "So Into You," on their next release, 1976's A Rock and Roll Alternative, which was the group's first album to reach gold certification. But this wouldn't be the group's commercial peak, as they scored the highest charting album of their career in 1978, the Top Ten Champagne Jam, which spawned two hit singles -- "I'm Not Gonna Let It Bother Me Tonight" and "Imaginary Lover." To keep up their high profile, the Atlanta Rhythm Section soon became one of the hardest touring bands of the entire Southern rock genre (including a performance at the White House for then-president Jimmy Carter). But the group's commercial success would be fleeting -- it appeared as soon as mainstream rock fans embraced the Atlanta Rhythm Section, they just as quickly forgot about them. Each subsequent album -- 1979's Underdog and live set Are You Ready, 1980s The Boys from Doraville, and 1981's Quinella -- sold less than the previous one, resulting in the band's split shortly thereafter. In the wake of their split, the Atlanta Rhythm Section has reunited sporadically for tours (although only a few original members would be present), and issued their first all-new studio album in more than a decade in 1999, Eufala. Additionally, some of country-rock's biggest names have gone on to record Atlanta Rhythm Section covers -- Travis Tritt, Wynonna Judd, and Charlie Daniels, among others. © Greg Prato, All Music Guide
BIO (Wikipedia)

Atlanta Rhythm Section, sometimes abbreviated ARS, is an American southern rock band. The band unofficially formed in 1970 as former members of the Candymen and the Classics IV became the session band for the newly opened Studio One in Doraville, Georgia, near Atlanta. After playing on other artists' recordings, they decided to become a true band in their own right. The members of the original band were Rodney Justo (singer), Barry Bailey (guitarist), Paul Goddard (bassist), Dean Daughtry (keyboardist) and Robert Nix(drummer) J.R. Cobb joined the band in early 1972. Justo left the band after the first album and was replaced by Ronnie Hammond. Buddy Buie, the band's manager and producer, is listed first on almost all of their songwriting credits of the band's songs. Noted Christian Music artist and southern rocker Mylon LeFevre appeared on the "Jesus Hearted People", from the band's album Third Annual Pipe Dream. Before they became founding members of Atlanta Rhythm Section, members of Mylons backup band included Barry Bailey, Paul Goddard and Dean Daughtry. While ARS didn't reach the commercial success of Lynyrd Skynyrd or The Allman Brothers, the group had a strong following in the South and charted a number of major & minor hits such as "Doraville", "I'm Not Gonna Let It Bother Me Tonight", "Champagne Jam", "So Into You", "Imaginary Lover", "Angel", "Do It Or Die", "Neon Nites", and a remake of a Classics IV hit, "Spooky", plus a number of fan favorites such as "Boogie Smoogie", "Jukin'" and "Georgia Rhythm". The band also influenced a number of rock and country artists, notably Travis Tritt, who recorded a cover of the ARS songs, "Back Up Against the Wall" and "Homesick". The group Shudder to Think covered "So Into You". The bandstill tours with some of its original members, playing mostly festivals and other nostalgia-themed concerts.