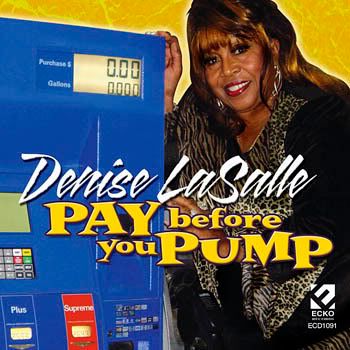 Denise LaSalle
-
Pay Before You Pump
-
2007
-
Ecko
A powerful soul blues album from The Queen of Southern Soul Blues, Denise LaSalle. Denise is a great vocalist and songwriter and wrote seven of the songs on this album. You may not be aware of her music, but she has been recording since the early seventies, and was composing songs well before that. Her music is no-holds-barred, earthy Southern soul blues. She is greatly influenced by Aretha Franklin, and LaVern Baker. This is one of Denise's best albums. The cover of "Pay Before You Pump"shows her filling up her car with gas, but if you are familiar with her music, you are probably aware that the lyrics have very little to do with the cost of fuel! Check out her extensive discography, and consider buying her great "Right Place, Right Time" and "Smokin' in Bed" albums. For more music in this vein, check out the brilliant compilation album, "See See Rider/Blues Ballads" by LaVern Baker.
TRACKS

1. Pay Before You Pump
2. It's Goin' Down
3. I Need a Working Man
4. Mississippi Woman
5. Hold on Tight
6. Hell Sent Me You
7. Walking on Beale Street and Crying
8. I'm Hangin' On
9. You Don't Live Here No More
10. I Tried
11. It's Goin' Down (Radio Version - Clean)
12. Mississippi Woman - (Delta Blues mix)
MUSICIANS

Denise LaSalle - Lead Vocals
Harrison Calloway, Jim Spake - Horns
Willie Hall - Drums
Lester Snell, James "Ham" Jackson, Gary Wolfe - Keyboards
Michael Toles, John Ward - Guitars
Al Wilder - Bass, Background Vocals
Brenda Williams, Morris Williams - Background Vocals
REVIEWS

It comes as no surprise the Denise LaSalle CD opens with a cheeky, double-entendre filled track ("Pay Before You Pump") being for the past decade she's had success with similar songs like "Lick It Before You Stick It", "Snap, Crackle & Pop", "Smokin' In Bed" to name a few. So "Pump", the title track to her new Ecko release "Pay Before You Pump", is yet another shuffle bump with a memorable refrain that'll garner instant adds at Southern Soul radio. The first single, however, is a re-working of Floyd Hamberlin's "Mississippi Boy" (re-titled "Mississippi Woman"), which has already been a regional hit for Will T and Charles Wilson. It'll no doubt hit again but better is the alternate "Delta Blues Mix" version of the song which adds honking harp and guitar that'll appeal to more mainstream Blues markets. It's the definitive version of the cut. The rhythmically similar "It's Goin' Down" was written by LaSalle. Here the "Queen" promises to put the smack down on a rival hen. Overall, LaSalle wrote seven of the ten cuts, most notably the Memphis Soul ballad "Hold On Tight" and the up-from-the-bottom slow Blues "Walking On Beale Street On Crying". LaSalle is one of those rare Blues singers that seems to appeal equally to female and male fans. The ladies cheer when she talk smack, putting men in their place but the menfolk simply eat it up too because she's got the chops. Both will "pump" this one to the top of the charts. © 2007 by Blues Critic Media , © www.bluescritic.com
In listening to this album, I am reminded that sometimes I think we take all of this far too seriously. Most of the time we really just want to listen to some music that is intended to do little else besides make us smile when we hear it. That is exactly what Denise LaSalle's "Pay Before You Pump" is intended to do. There isn't anything complicated going on with this album. All it is are some hellified funky azz southern fried grooves (this is what an R&B band is supposed to sound like and I want them to play at my funeral!!!), with songs full of wisdom/common sense all sung by one of the greatest voices in all of Black music. Take the song "Mississippi Woman" (which will certainly be added to the playlist of Nu Soul @ RadioIO.com) for example, when I first got this album and started to play it, each time I would get stuck on "Mississippi Woman". It's SOOO DAMN FUNKY that it needs to be hidden away from the white kids in the U.K. or else it might just win 5 Grammy Awards. However as good as it is, "Mississippi Woman" hardly tells the tale of this album. Don't sleep on "Hold On Tight" (a monster slow jam), the first cut "Pay Before You Pump" is one of those really well written "double entndre" songs that nobody seems to write anymore, "I Need a Working Man" is yet another phi slama jammin FUNK joint that's filled with the kind of advice that ONLY an "experienced Black woman" can provide. There's more here, that's for sure. Do you like Black music and you are looking for the REAL THANG? Then do yourself a fava and DON'T SLEEP ON DENISE LASALLE, because I have a feeling that if you were to "sleep on Denise LaSalle" (that you might just get yo' be-hind whupped!!!) © www.soul-patrol.com/soul/south.htm
BIO
Unlike so many other blues vocalists who just reinterpret material given to them by songwriters, Denise LaSalle is a seriously talented songwriter. Although her soul blues style has strong urban contemporary overtones at times, it's best to think of LaSalle as a modern-day Bessie Smith, because that's really what she is. She writes funny songs full of sassy attitude and it's an attitude she carries with her on-stage. Off-stage, LaSalle accommodates all autograph seekers and gladly obliges journalists and radio disc jockeys. The Jackson, TN-based LaSalle was raised in Belzoni, MS, (also home to Joe Willie "PineTop" Perkins some years earlier) but she got started singing in local churches around Leflore County. She was born July 16, 1939, as Denise Craig. Growing up, she listened to the Grand Ole Opry radio broadcasts and then in Belzoni, lived across the street from a juke joint. LaSalle's early influences, from the jukeboxes around Belzoni and over the radio, included Ruth Brown, Dinah Washington, and LaVern Baker. LaSalle moved north to Chicago when she was in her early twenties and would attend shows at the Regal Theatre, always returning home to write songs. She got to know blues musicians and began giving her songs to them, until one day a Chess Records executive stopped by at Mixer's Lounge, where LaSalle was working as a bar maid. He listened to one of her songs and took it down to Chess Records, and the company later signed her as a vocalist, but never recorded her. Two years later, LaSalle recorded and produced her own record with the help of Billy "The Kid" Emerson, the Chess executive who'd originally shown an interest in her. After the record made some waves on local radio, Chess stepped in and purchased the master and took it to Europe. Meanwhile, LaSalle continued writing songs and sitting in with blues musicians around the Chicago clubs. LaSalle's first big hit came about in 1971 when her "Trapped By a Thing Called Love" broke on the radio in Chicago and then Detroit. That record was for the Westbound label and then she signed with ABC Records in 1975, cutting three albums in three years until the label was sold to MCA. After MCA dropped her because of the label's "difficulty in promoting black acts" at that time, she continued performing as much as she could in Chicago and Memphis. In 1980, a Malaco executive called to ask her to write a song for Z.Z. Hill. A positive relationship with the company was quickly developed, which resulted in LaSalle recording 11 discs for the label, including Lady in the Street, (1983), Right Place, Right Time, (1984), Love Talkin', (1985), Hittin' Where It Hurts, (1989), Still Trapped, (1990), Still Bad, (1994), and Smokin' in Bed (1997). While her Malaco sides are probably her most important recordings, other than the original of her early-'70s hit "Trapped," she still releases excellent gospel crossover material, including This Real Woman (2000) and There's No Separation (2001) on Ordena Records © Richard Skelly & Al Campbell, All Music Guide
SHORT BIO (Wikipedia)
Denise LaSalle (born Denise Allen, 16 July 1939, Leflore County, Mississippi) is an American Urban, R&B/Soul singer, songwriter, and record producer. Raised in Belzoni, Mississippi, she sang in local churches before moving to Chicago in the early 1960s. She sat in with R&B musicians and wrote songs, influenced by country music as well as the blues, before winning a recording contract with Chess Records in 1967. Her first single, "A Love Reputation" was a modest regional hit. After establishing an independent production company, Crajon, with her then husband Bill Jones, her first major success came in 1971 when her song, "Trapped By A Thing Called Love", released on Westbound Records, made # 1 on the national R&B chart and #13 on the Billboard Hot 100 chart. Follow-ups "Now Run And Tell That" and "Man Sized Job" also made the R&B Top Ten, and she continued to have hits on Westbound and then on ABC Records through the mid 1970s. She also carried on as a record producer and live performer. In 1980 she signed as a singer and songwriter with Malaco Records, for whom she released a string of critically acclaimed albums through the 1980s and 1990s, starting with Lady in the Street (1986) and Right Place, Right Time (1984). Both albums became major successes among soul blues, R&B and soul fans and on Urban radio stations. She continues to work as a live performer, particularly at festivals, and more recently has issued more gospel tinged material. Lasalle now resides in Jackson, Tennessee with her husband, James E. Wolfe, where they participate in the community.
MORE ABOUT THE ARTIST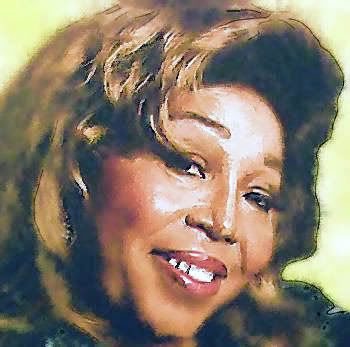 Denise LaSalle (born Denise Craig in 1939) was raised in Belzoni, Mississippi. Well-versed in gospel music as a child, she also picked up secular musical influences from early R&B, Grand Ole Opry, and local juke joint music. In her twenties she moved north to Chicago and pursued a songwriting career. A Chess Records executive, Billy "The Kid" Emerson, met LaSalle while she was working as a bar maid, and this gradually led her into recording and performing.LaSalle's first hit record was 1971's "Trapped By A Thing Called Love" (Westbound Records), which crossed over to the pop charts and went gold. The follow-up, "Now Run Tell That," was a million-seller on the R&B charts. LaSalle moved to ABC Records and recorded three solid albums in the late seventies before ABC was bought out by MCA, and MCA dropped her in the eighties as, nationwide, R&B declined in popularity. Malaco Records of Jackson, Ms. was just beginning to fill the vacuum, however, with artists such as Z.Z. Hill and Johnnie Taylor, and a LaSalle songwriting assignment for Hill led to a recording career that no one could have anticipated. More than a dozen albums--perhaps the greatest output of any rhythm and blues artist over the same roughly fifteen-year period--marched down the runway of Southern Soul from this oft-overlooked creative dynamo, beginning early on (1985) with LaSalle's signature zydeco track and concert favorite, "Don't Mess With My Tutu." In recent years the graying LaSalle's recording activity has continued unabated, sustaining her title as Southern Soul's tell-it-like-it-is Everywoman. She has moved to Ecko Records for her latest LP's, reinvigorating her career and re-establishing her credentials as one of Southern Soul's top female draws in the process. © 2005-2008 SouthernSoulRnB.com