Marcia Ball
-
Blue House
-
1994
-
Rounder

This was Marcia's first release in five years. Her raucous, down-home piano playing and singing blend the sounds of the Texas roadhouse and Louisiana juke joint into something sweet and soulful. Originals plus Joe Ely's classic "I Keep My Fingernails Long (So They Click When I Play the Piano"), a song that could have been written with Marcia in mind. This is a great soul blues album in the traditional Louisiana swamp boogie style. Pick up her great "Gatorhythms" and "Soulful Dress" albums. For more music in the same vein, listen to Dr.Johns "Creole Moon" album, and Professor Longhair's "New Orleans Piano" album.
TRACKS / COMPOSERS
Red Beans - McKinley Morganfield
The Facts of Life - Marcia Ball
Down the Road - Marcia Ball
Blue House - Marcia Ball
Big Shot - Marcia Ball
St. Gabriel - Marcia Ball
That's What I Get - Jerry Lynn Williams
Fingernails - Joe Ely
Why Do I? - Marcia Ball
If This Is Love - Duke Robillard
Sparlle Paradise - Marcia Ball
One of a Kind - Marcia Ball
MUSICIANS
ON ALL TRACKS
-
Marcia Ball - piano, vocals, hammond b3 #10, 8, accordion #6
Don Bennett - bass
Rodney Craig - drums
Steve Williams - guitar
Paul Klemperer - saxophone
Mark Kazanoff - horn arrangements, tenor sax solo #5, first sax solo #4
The Kamikazi Horns - #1, 2, 3, 4, 5, 10
Mark Kazanoff - tenor sax
Red Rails - baritone sax
Keith Winking - trumpet
Randy Zimmerman - trombone
Rich Brotherton - acoustic guitar #9, mandolin #7
David Webb - hammond b3 #9, 7
Rodney Craig/Don Bennett - background vocals #5
Rodney Craig/Jill Napoletan/Marcia Ball - background vocals #7, 3
"Mambo" John Treanor - drums #11, congas #1, washboard #5
REVIEWS

The debt that Marcia ball owes to the rich New Orleans piano tradition pays substantial dividends on Blue House, her first album since 1989. Though based in Austin, Texas, Ball was raised on the Louisiana border, where the native keyboard styles seem to have become second nature to her. If nothing else, the album-opening anthem "Red Beans" and Ball's own "Sparkle Paradise" establish her as a most accomplished Professor Longhair acolyte; she plays with the sort of rollicking spirit that can't be taught but must be felt. What's most impressive about Blue House, however, is how much Ball has grown as a songwriter and singer. From her grounding in good-time blues, Ball has developed a signature style so transparently sincere that it seems like a window to her soul. There's a conversational warmth in her singing that more than compensates for her lack of range, and her phrasing never succumbs to blues-mama clichés. Her songs ring with the truth of experience rather than rustle the dust of bluesy revivalism, as in the balladry of "Why Do I" and "One of a Kind," which holds its own with the recent best of Bonnie Raitt. The album's centerpiece, "St. Gabriel," gives the emotional depth of "St. James Infirmary" a contemporary feminist twist in its taut lyric of domestic violence and self-preservation. Throughout Blue House, Ball receives superb support from her road-tested band, with guitarist Steve Williams and saxophonist Mark Kazanoff bringing a particular charge to the music. On the uptempo fare, Ball and band offer a playful nod toward "Sea Cruise" on "Down the Road" and power their way through Joe Ely's "Fingernails" with all the propulsion this piano pounder demands. Such fare should rock the clubs where Ball remains a hard-touring favorite, but the most moving music on Blue House is more intimate, more reflective, more indicative of the openhearted grace of her mature artistry. (RS 701) © DON MCLEESE, Posted: Feb 9, 1995, © 2008 Rolling Stone
Though purists may quibble about her interpretations of classic material, just about everyone acknowledges that Marcia Ball is one fine songwriter. Blue House contains eight gems of swamp boogie fusion delivered in Ball's supple, slinky voice. Listen to "The Facts of Life," a slow, sensual, worldly piece of Louisiana soul with an irresistible melody. It takes some living to write this kind of song, and considerable skill to give it this memorable delivery. Consider "St. Gabriel," a song that sounds so much like a lost blues classic that you'll check the credits to see what Delta legend penned it. Surprise! It's Marcia Ball. Her covers on Blue House are unusually well chosen -- "Fingernails" fits her so well that it's hard to believe it's a Joe Ely tune, and her piano work on "Red Beans" does the song proud. And if her slightly subdued performance on "If This Is Love" isn't quite up to the energy level that the song deserves, it's one cut out of 12, and the other 11 are stellar. Blue House is a marvelous album with plenty of personality and character, and highly recommended. © Richard Foss, All Music Guide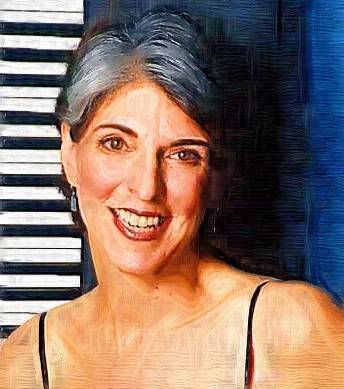 BIO (Wikipedia)
Marcia Ball (born March 20, 1949, Orange, Texas, is an American blues singer and pianist, who grew up in Vinton, Louisiana. Born into a musical family, Ball began playing piano at age 5, and showed an early interest in New Orleans style piano playing, as exemplified by Fats Domino, Professor Longhair, and James Booker. Ball entered Louisiana State University in the late 1960s as an English major. In college, she played in a psychedelic rock and roll band, called Gum. In 1970, at age 21, she started a progressive country band called Freda and the Firedogs in Austin, Texas, and began her solo career in 1974. Ball is known for her piano style, which shows elements of zydeco, swamp blues, Louisiana blues and boogie woogie. Her best-known recordings were released on Rounder Records in the 1980s and early 1990s. She was inducted into the Austin Music Hall of Fame in 1990. Her album, Sing It!, released in January 1998 was nominated for both a Grammy Award and a Blues Music Award as "Best Contemporary Blues Album." Ball also received the 1998 Blues Music Award for "Contemporary Female Vocalist of the Year" and "Best Blues Instrumentalist-Keyboards." Ball, who has established herself as an important player in the club scenes in both New Orleans, Louisiana and Austin, continues to work at festivals and clubs throughout the United States, Canada, and Europe.
All MUSIC GUIDE BIO
[ © Richard Skelly & Al Campbell, allmusic.com ]

Pianist and singer/songwriter Marcia Ball is a living example of how East Texas blues meets southwest Louisiana swamp rock. Ball was born March 20, 1949, in Orange, TX, but grew up across the border in Vinton, LA. That town is squarely in the heart of "the Texas triangle," an area that includes portions of both states and that has produced some of the country's greatest blues talents: Janis Joplin, Johnny and Edgar Winter, Queen Ida Guillory, Lonnie Brooks, Zachary Richard, Clifton Chenier, and Kenny Neal, to name a few. Ball's earliest awareness of blues came over the radio, where she heard people like Irma Thomas, Professor Longhair, and Etta James, all of whom she now credits as influences. She began playing piano at age five, learning from her grandmother and aunt and also taking formal lessons from a teacher. Ball entered Louisiana State University in the late '60s as an English major. In college, she played in the psychedelic rock & roll band Gum. In 1970, Ball and her first husband were headed West in their car to San Francisco, but the car needed repairs in Austin, where they had stopped off to visit one of their former bandmates. After hearing, seeing, and tasting some of the music, sights, and food in Austin, the two decided to stay there. Ball has been based in Austin ever since. Her piano style, which mixes equal parts boogie woogie with zydeco and Louisiana swamp rock, is best-exemplified on her series of excellent recordings for the Rounder label. They include Soulful Dress (1983), Hot Tamale Baby (1985), Gatorhythms (1989), and Blue House (1994). Also worthy of checking out is her collaboration with Angela Strehli and Lou Ann Barton on Antone's Dreams Come True (1990). Ball, like her peer Strehli, is an educated business woman fully aware of all the realities of the record business. Ball never records until she feels she's got a batch of top-notch, quality songs. Most of the songs on her albums are her own creations, so songwriting is a big part of her job description. Although Ball is a splendid piano player and a more than adequate vocalist, "the songwriting process is the most fulfilling part of the whole deal for me," she said in a 1994 interview, "so I always keep my ears and eyes open for things I might hear or see....I like my songs to go back to blues in some fashion." As much a student of the music as she is a player, some of Ball's albums include covers of material by O.V. Wright, Dr. John, Joe Ely, Clifton Chenier, and Shirley & Lee. In the late '90s, Ball released her final discs to be released under the Rounder banner, Let Me Play With Your Poodle (1997) and Sing It! (1998). The latter featured Ball with Irma Thomas and Tracy Nelson utilizing both solo and combined energy that generated much exposure for all three women as it was nominated for both a Grammy and a W.C. Handy Blues Award as Best Contemporary Blues Album. Ironically, while both of Ball's final Rounder releases were critically acclaimed, she signed with Alligator Records in 2000 and released her first album for the label, Presumed Innocent, in 2001. Ball, who's established herself as an important player in the club scenes in both New Orleans and Austin, continues to work at festivals and clubs throughout the U.S., Canada, and Europe. She followed up her debut recording for Alligator with the similarly fine So Many Rivers in 2003 and a live album, Down the Road, in 2005. Peace, Love & BBQ appeared in 2008.