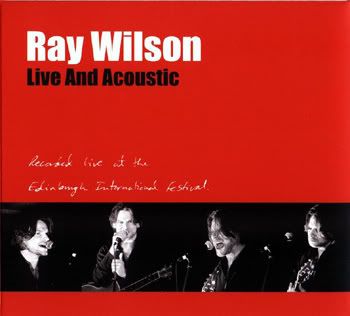 Ray Wilson
-
Live And Acoustic
-
2002
-
InsideOut
This is the first live CD release from Ray Wilson. It was originally released as Unplugged in 2001 through his website, but was reissued in 2002 as Live and Acoustic by InsideOut Music. It was recorded during the Edinburgh Fringe Festival in 2001 for which Ray sold out 13 shows. Leaving aside the tracks "Swing Your Bag" and "The Airport Song," most of the tracks on this album are sung and played very well. It should be said that Ray, on the introduction to "The Airport Song" actually humourously states that he doesn't claim it to be a good song! There is a self-deprecatory touch here, and obviously the weaker songs are not meant to be taken too seriously! It's hard to fault the Genesis stuff, and there are good versions of Dylan's "Forever Young," the Eagles classic "Desperado" and a version of Springsteens "Born to run." A good live acoustic album from the ex-Genesis frontman. This recording should not be compared to any Genesis albums. Buy Ray's great "Change" album which is probably a better example of the guy's talent.
TRACKS / COMPOSERS
1.In The Air Tonight - Phil Collins 2.Inside - Peter Lawlor
3.Rest In Peace - Peter Lawlor
4.Shipwrecked - Mike Rutherford , Tony Banks
5.Not About Us - Mike Rutherford , Ray Wilson , Tony Banks
6.Another Day - Wilson
7.Sarah - Wilson
8.Gypsy - Wilson
9.Swing Your Bag - Wilson
10.Always In My Heart - Wilson
11.Lovers Leap (Taken From "Supper's Ready") - Mike Rutherford , Peter Gabriel , Phil Collins , Steve Hackett , Tony Banks
12.The Carpet Crawlers - Mike Rutherford , Peter Gabriel , Phil Collins , Steve Hackett , Tony Banks
13.Biko - Peter Gabriel
14.Mama - Mike Rutherford , Phil Collins , Tony Banks
15.Forever Young - Bob Dylan
16.Desperado - Don Henley , Glenn Frey
17.Born To Run - Bruce Springsteen
18.The Airport Song - Wilson
CREDITS

Guitar, Vocals - Steve Wilson
Vocals, Acoustic Guitar - Ray Wilson
Vocals, Keyboards - Amanda Lyon
Recorded in August 2001 at the Edinburgh Fringe Festival.
REVIEWS

The last voice of Genesis (he joined in 1996) is captured live on this disc with a minimal amount of accompaniment at the 2001 Edinburgh International Festival. About half the songs are Wilson originals, with the rest divvied up between creatively exhausted covers ("Desperado") and a smattering of Genesis material. Songs from the Collins and Gabriel eras are included (plus Gabriel's "Biko") and with Wilson singing them, it is easy to see why he made the cut to be the band's singer. Live and Acoustic should please current Genesis fans (versions of "Shipwrecked" and "Not About Us," from Calling All Stations, are included here) and at least appease those that have a nostalgic place in their hearts for the old songs. Most of Wilson's own material is strongly represented with this folk/rock approach and above all hints that classic rock isn't just something heard on retrospective radio stations. Tracks like "Sarah" implies that perhaps after Genesis, Wilson will continue to indulge in stadium rock under his own steam. (Inside Out) © Brent Hagerman, exclaim.ca
Despite the near impossible task of following up a charismatic, ultra-successful front man like Phil Collins, Ray Wilson never attempted to sound like his predecessors in Genesis. Much to his credit, his voice stood on its own, and while his deep, refined yet raspy vocal quality may have been compared by some to that of Peter Gabriel, Ray was clearly a talented singer in his own right. Perhaps more than on any other album, Unplugged exemplifies this. Wilson's vocals take center stage on this stripped down, intimately simplistic recording from Edinburgh International Festival in 2001. Backed only by his own guitar, his brother Steve on backing vocals and guitar and Amanda Lyon on backing vocals and, occasionally, keyboards, Wilson provides both a passionate homage to past influences and a thoughtful nod to his own history not only in Genesis, but his own work with Cut, Stiltskin and Guaranteed Pure. Ray and company pull off a full repertoire of fantastic acoustic versions of some great material. Even songs that you wouldn't think would lend themselves to an acoustic environment, like Genesis' "Mama," come off surprisingly well. Among the cover tunes, I thought that Ray's version of Phil Collins' "In The Air Tonight" and The Eagles' "Desperado" were among the highlights. More than anywhere else, Ray showcases his ability to balance soulful vocals with a powerful rock presence that can make even the most skeptical listener a fan. Unlike many live albums, Ray's comments, flubs, and banter are left seemingly intact, which is a refreshing change from the over-produced, overdubbed stuff that most artists release that barely sounds like a live recording. There are a few scattered moments that didn't work very well in my opinion, but the overall performance is outstanding, and I enjoyed the disc from beginning to end. WOG RATING: *** © 2000-2008 David Negrin. All Rights Reserved. World of Genesis.com
BIO (Wikipedia)
Ray Wilson (born 8 September 1968 in Dumfries) is a Scottish musician, best known as vocalist in the grunge band Stiltskin and in Genesis for their 1997/1998 album and tour. He is the cousin of Ian Wilson, better known as Ian Catskilkin, of UK Indie band Art Brut. Ray started off in a band called Guaranteed Pure in the early 1990s. They released an album called Swing Your Bag, the title track of which was included on a compilation album on the label of Fish entitled 'The Funny Farm Project : Outpatients '93'. He then joined Stiltskin; they released one album and had a number one hit in the UK with the single "Inside". In 1997, Wilson joined Genesis following the departure of former vocalist and drummer Phil Collins. Interestingly, Genesis was formed in 1967 but Ray Wilson was born a year later in 1968. Other musicians who have joined bands that were formed before they were born include Jonathan Noyce of Jethro Tull and Jerome Froese of Tangerine Dream. The arrival of Ray Wilson marked the decline in Genesis record sales, which had been phenomenal during the era of Phil Collins. The band went on hiatus after one album, Calling All Stations, and a tour with Wilson. Wilson went on to record a solo project called "Cut_", which he has described as sounding bad. The album Millionairhead was released under this name. It was re-released in 2007 (remastered) including three additional songs. In 2003 he released a solo album under his own name titled Change. The next year he released another studio album entitled The Next Best Thing, which included a cover of "Inside". In 2006 he released another Stiltskin album called She and in 2007 a Stiltskin live CD featuring below others 8 out of 12 songs from She. This live CD was recorded October 25, 2006, at Harmonie, Bonn, Germany. DJ and trance producer Armin van Buuren has produced remixes of the songs "Another Day" (retitled "Yet Another Day") and "Gypsy" from Millionairhead. Both remixes have been released on van Buuren's own albums, and "Yet Another Day" was also released as a single.
MORE ABOUT RAY WILSON
Gifted with a warm, gravelly voice, Scottish singer Ray Wilson has had a career of high and lows thus far. A Levi's TV ad dragged him out of rock limbo and propelled his group Stiltskin into the UK charts. A few months later, his hiring as Phil Collins' replacement in Genesis shoved him into the spotlight, but only for a brief period of time. The group's quick abandon in the face of adversity (i.e. unsatisfactory sales of the album Calling All Stations) brought Wilson down and left him unfairly carrying the weight of the failure. He is slowly building back a solo career. Wilson was born in Dumfries, Scotland, September 9, 1968. His first high school rock bands included his brother Steve. In 1988 he met bar pianist Paul Holmes at a bar where his girlfriend sang. They started a songwriting partnership and two years later they formed Guaranteed Pure, which also included Steve Wilson and future Cut bassist John Haimes. The group released a couple of tapes and one CD, Swing Your Bag which they recorded at Fish's studio. The title track appeared on the Fish curated compilation Outpatients '93, but the group failed to attract much interest. Holmes returned to the piano bar circuit and Guaranteed Pure disintegrated. Ray Wilson was not left without a band for long. In January 1994 he was asked by to join Stiltskin. The group immediately entered the studio to record The Mind's Eye (1995). In the meantime, the song "Inside" got featured on television in an advertisement for Levi's jeans. The exposure shot the single to No. 1, but the group fell apart over internal dissensions. That's when Wilson heard that Genesis were looking for a new singer. He passed the audition and sang and contributed lyrics to the 1997 album Calling All Stations. His voice being somewhat reminiscent of Peter Gabriel, fans of the band were hoping for a return to the group's earlier sound, but the singer never had a chance to leave his imprint. After album and ticket sales failed to meet expectations in America, part of Genesis' 1998 world tour was cancelled, the group put on the ice, and Wilson unofficially sacked. He immediately formed Cut with drummer Nir Z. (Collins' drumming replacement), John Haimes and brother Steve, releasing Millionairehead on the German market in 1999. In 2001 he made an acoustic solo tour of Europe which yielded the self-released album Unplugged, retitled Live and Acoustic when picked up by Inside Out Music in mid-2002. © François Couture, All Music Guide