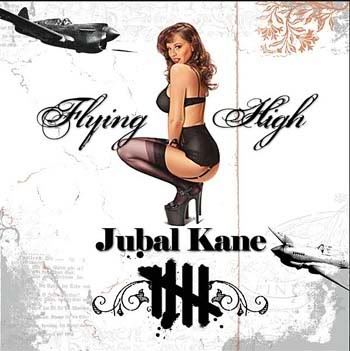 Jubal Kane
-
Flying High
-
2007
-
Jubal Kane
A good straight boogie blues rockin' album that contains elements of the "bar rock" sound, reminiscent of many late sixties British blues "pub rock" bands, although Jubal Kane's music carries more "weight" in their sound. This album is like a mixture of Savoy Brown, especially their "Jack The Toad" album, and the driving boogie blues rock of Canned Heat. There are also shades of The Fabulous Thunderbirds, and SRV. Good solid playing, very good vocals, and well written songs make this a great album for your collection. Check out the band's "Live Blues" album.
TRACKS / COMPOSERS
1.Blame It On Kane - S.Monti
2.Come Home With Me - F.Persson/F.Monti
3.Take Me To The River - S.Monti
4.Pit Bull - F.Persson
5.Cross Your Heart (Feat. Peter Haycock) - R.Miller
6.Heavy Load - S.Monti/F.Persson/B.W Carrigan
7.Before The Fall - F.Persson/F.Monti
8.Polk Salad Annie - T. Joe White
9.Taildragger - W.Dixon
10.High Heel Sneakers - R.Higgenbotham
11.Ladies Man - S.Monti/F.Persson
12.She's Dangerous - W.Dixon
13.Nashville - B.W Carrigan
14.Jam [Not listed on CD cover]
BAND
Fredrik Persson - Harp & Vocals
Scott Monti - Guitar & Vocals
B.W Carrigan - Guitar & Vocals
Mke Little - Drums
Michael Lannigan - Bass
REVIEWS
"The Allman Brothers at their bluesy best, and you've got an idea of the down-and-dirty grit of a Jubal Kane show. It's all swagger and bombast, the blues as interpreted by Bo Diddley and John Lee Hooker at their meanest." Steve Wildsmith The Daily Times, Maryville, TN.
"You really don't wanna miss this blues band, from the hot harp playing to the gritty guitars. They are the shit." The Empty Glass, WV.
"a throwback to the days when Peter Haycock, old Fleetwood Mac, and Muddy Waters were first recording their bare and intimately raw blues." earbuzz.com about Jubal Kane's Debut Album Live Blues.
Jubal Kane's CD, "Flying High", is a harmonica-laden straight-ahead blues rock with a southern tinge both vocally and instrumentally. Vocally we're reminded a bit of the laid back drawl of Petty, but the showcase here is the harmonica. Guitar work is solid and honest as lead lines trade with the harp. The tune, "Blame it on Kane", sings, 'if she comes home a mess, can't find her dress, blame it on Kane' above the swing blues beat. Nice. The band has a Crowes vibe in "Come Home With Me" and, again, the harp shines. A texas-blues spark is lit in "Cross Your Heart", and a production motif becomes apparent in the vocals. They are live - it doesn't sound like there was an overdub in many of the tracks which leads us to believe that many of the cuts were probably entirely live in the studio, keeping the vocal track. The vibe, whether true or not, communicates an authentic and organic feel which pushes the blues deeper into the soul - especially in "Cross Your Heart". Legendary guitarist from Climax Blues Band, Peter Haycock, lends his soul to the tune and the slow blues reminds us of FM and 'So Many Roads'. The entry into the harmonica solo is full of tension as a single high note is hung for nearly the first 4 bars and the 16 bar turnaround slow blues piece. There's a SRV feel vocally. Jubal Kane speeds things up with "High Heel Sneakers", with a particularly moving harp break - meaty and edgy. "Pit Bull" is one of our favorite tracks. The ZZish blues rock tune includes a slightly distorted vocal that emotes, 'i'm a pit bull baby, run in the streets like a junk yard dog, call you on the phone, try to get a bone, i'm a pit bull baby, don't mean maybe'. The tone continues with "She's Dangerous", another solid and 36/24/36 bag of blues tricks. The record is a journey into several rock blues idioms and is a complete altitude soaring meal. © earBuzz Review, © 2007/2008 earBuzz.com, LLC All Rights Reserved
SHORT BIO
Jubal Kane released their first album, Live Blues, October 2005 and was nominated for "Best Emerging Blues Artist 2005" by the King Biscuit Blues Festival, Helena, AR. "The Allman Brothers at their bluesy best, and you've got an idea of the down-and-dirty grit of a Jubal Kane show. It's all swagger and bombast, the blues as interpreted by Bo Diddley and John Lee Hooker at their meanest." Steve Wildsmith The Daily Times, Maryville, TN. "You really don't wanna miss this blues band, from the hot harp playing to the gritty guitars. They are the shit." The Empty Glass, WV. Harmonica Player and singer Ace Andersson has played the blues from the Mississippi Delta through Memphis, TN to North Carolina, where he now resides. Lead Guitarist and singer Otis Thomas, native of Illinois. Came to Charlotte through a couple of years of playing in Texas. Rhythm Guitarist/Bass player and singer B.W. Carrigan, has played the blues for the past 40 years. Drummer Kurt Skirt is the engine that runs this Rock n Roll locomotive. Jubal Kane has come together in a band that is unique while holding true to the blues. Individually and collectively, they have opened for, or shared the stage with such blues legends as Buddy Guy, Derek Trucks, The Night Hawks, Lonnie Brooks, Room Full of Blues, The Fabulous Thunderbirds, Debbie Davies and The Michael Hill Blues Mob. They are just as comfortable playing small venues or large festivals. © http://jubal-kane.com/info.htm