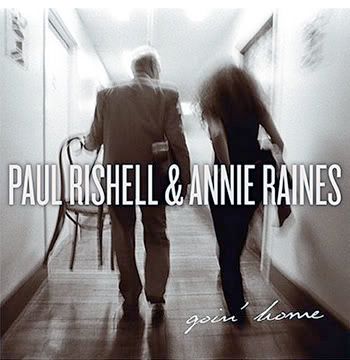 Paul Rishell
&
Annie Raines
-
Goin' Home
-
2004
-
Tone Cool/Artemis
A brilliant album that covers the blues gamut, from early ragtime to modern funk blues. Paul Rishell is an amazing blues vocalist, and his guitar playing is superb. When he combines his singing and picking on tracks like Lemon Jefferson's "Black Horse Blues," the results are electrifying. Annie Raines' musicianship is incredible. There are not many better harmonica players around. Buy Paul Rishell's great "Blues on a Holiday" album, and the duo's great award winning "Moving To The Country" album. It is important that Paul Rishell and Annie Raines' music is more widely heard, as they are at the forefront of "keeping the blue alive" in the 21st century. "Goin' Home" is HR by
A.O.O.F.C.
TRACKS / COMPOSERS
Hunkie Tunkie Blues - (Charlie Jordan, with additional music by Rishell/Raines)
You've Got It Made - (Rishell/Raines)
I Had A Good Mother and Father - (Washington Phillips)
I'm Goin' Home - (Charley Patton)
It Ain't Right - (Rishell/Raines)
Candy - (David/Kramer/Whitney)
Memphis Town - (Carr/Blackwell)
Black Horse Blues - (Lemon Jefferson)
Black Eye Blues - (Ma Rainey)
Ragtime Millionaire - (William Moore
Custard Pie - (Fulton Allen)
Some of These Days (I'll be Gone) -live! - (Charley Patton, arrangement by Paul Rishell)
Lookin' Good -live! - (Samuel Maghett, with additional music by Rishell/Raines)
MUSICIANS

Paul Rishell: Vocals, all guitars, percussion
Annie Raines: Vocals, harmonica, chromatic harmonica, piano, mandolin, Hawaiian Mandolin Harp, Hammond B3 organ, percussion
Marty Richards: drums, percussion
Damian Purro: bass, percussion on "It Ain't Right"
Reed Butler: bass on "I'm Goin' Home"
Jesse Williams: bass on "Black Eye Blues" and "Hunkie Tunkie Blues"
Scott Shetler: Baritone Sax on "It Ain't Right"
Gordon Beadle: Tenor Saxophone on "It Ain't Right"
Scott Aruda: Trumpet on "It Ain't Right"
Vanessa Rishell: vocals on "I'm Goin' Home"
Cam Geraci: vocals on "I'm Goin' Home"
Horn arrangements by Scott Shetler, Annie Raines and Paul Rishell
REVIEWS

Paul and Annie have crafted another superb effort with Goin' Home. Their last recording won a W.C. Handy award, this one is certainly a contender. Covering songs from the pre-war delta sounds of Charlie Patton to West Side Chicago's Magic Sam, they cover vast blues territory without losing coherence or their own identity. Patton is covered twice with "I'm Goin' Home" and a remake of "Some of These Days (I'll Be Gone)." This was the first song Paul & Annie recorded together on 1993's "Swear To Tell The Truth." We know this because Paul, as on previous albums, gives commentary on each song in the jacket. This is a welcome feature that gives insight to the material and artist. He explains the uniqueness of playing and singing dissimilar parts typical of Blind Lemon Jefferson. Even a non-player should recognize the difficulty of this while listening here to Jefferson's "Black Horse Blues." Paul's voice suites these songs perfectly. Backgroud vocals are excellent throughout. A modern funkified electric blues, with horns is delivered on the original "It Ain't Right." The other original "You've Got it Made," a slide and mandolin duet sounds like it was written in the 30's. Annie continues to diversify by multi-tasking on harp, mandolin, piano, B-3 and zither. She also contributes a strong vocal on Ma Rainey's "Black Eyed Blues," backed by guitar, mandolin and string bass. You might think that she's laying back on the harp playing overall until the disc closer, Magic Sam's "Lookin' Good." This is recorded live, featuring masterful dynamics and an extended harp breakdown. A great tune to end the evening! This disc will be one of the top releases of the year. © Bob Sekinger, www.mojoworkin.com
In Goin' Home, their latest CD, the Boston-based pair demonstrates conclusively that they are at home with the blues in all its many aspects and forms. Piedmont styling, jug band rhythms, ragtime melodies, Texas blues, gospel, Chicago (South and West sides), funk—Goin' Home reveals these categories for the arbitrary things that they are and serves notice that everything rhythmic is in play and possible. Between them Raines and Rishell cover so much instrumental territory—on this CD alone they cover the entire spectrum of electric and acoustic blues guitar styles, about five generations' worth of diatonic and chromatic harmonica techniques, mandolin, piano, organ, and zither—that they constitute a blues orchestra on four legs. Listen to the delicate interplay between Paul's guitar and Annie's zither on their surpassingly beautiful version of Washington Phillips' "I Had a Good Mother and Father." Rishell's killer evocation of Blind Boy Fuller's impossible ragtime riffs on "Custard Pie" is matched by Raines' mastery of the classic old-time harmonica style, which is also in evidence in her harp work on "Ragtime Millionaire." In their stunning live version of Magic Sam's "Lookin' Good," Paul and Annie become a band unto themselves as Rishell tosses out incendiary amplified guitar and Raines turns her solo into a mini harp history lesson with quotations from Sonny Terry, Little Walter, and James Cotton. This is destined to take its place next to John Mayall's "Room to Move" and Cotton's "the Creeper" as one of the all-time great harmonica jams. Versatility and a sense of humor are this duo's hallmarks. When they do invite a band to share in the fun, they create highly original ensemble pieces like the backwards-cakewalk of "Hunkie Tunkie Blues" and funky, danceable rhythms in their original song, "It Ain't Right." They also co-wrote, "You've Got it Made," a blithe 1930's-style swing tune that contains the immortal line, "Relatives from out of town / think you're out and don't come 'round." Paul Rishell continues to solidify his standing as one of the outstanding blues vocalists. No creature still breathing could fail to be transported by his singing on "Some of These Days." When he marries his six-string skills with his profoundly expressive vocals, the consistent result are gems like this disc's "Black Horse Blues". If you want to separate the juveniles from the adults among blues singers who play the guitar, there's no bigger challenge—or trap—than the polyrhythmic counterpoint between voice and guitar in Blind Lemon Jefferson's music, and Paul's version haunts you because of its complete naturalness. What you have in Goin' Home is the kind of powerful and fulfilling testimony that musicians who have dedicated not just a season but an entire life to their passion can deliver. © Kim Field, © 2006, 2007 Paul Rishell and Annie Raines, www.paulandannie.com/content/goinghome.php
These two are so good that any release from them serves to remind us humans that while, true, life tends to suck, it does, on the other hand, have its moments. Goin' Home -- OK, so you might think the title is only blandly generic, but you would be wrong -- is Paul Rishell and Annie Raines in stratospheric form, which means that some of the most satisfying blues around these days are wafting down on your head and into your being, courtesy of a partnership the theologically inclined may suspect to have been conceived in heaven -- or, short of that, in some profoundly desirable terrestrial state accessible only by proximity to their voices and instruments. I like everything they've recorded so far (this is their third as a duo), but this one somehow, however improbably, manages to surpass the previous two. What strikes one about their approach is that while it's all based in blues (about which they know as much as any two humans' brains can contain without exploding), Rishell and Raines remind us that "blues" is not a single thing but multiple things: a variety of sounds and approaches, starting with a bewildering assortment of elemental Southern African-American folk wails, laments, jokes, accusations and threats, moving into big-city but country-based jug bands to the downhome uptown post-war roars of the Muddy Waters/Howlin' Wolf post-war generation to the bluesy jumps and jitters to the rock 'n' rolled and rhythm 'n' blued and smoothly souled. Remarkably, these are all blues languages in whose accents Rishell and Raines sing, play and perform, albeit in varying degrees of allusion and echo. Always in harmony, virtual and literal, that seems so perfect as to feel almost, for want of a better word, preordained, the two speak fluently in those tongues. Even so, the music they borrow, reinvent and coax out of American memory comes, first and last, from and to a single place. No matter where their muse takes them, ultimately Rishell and Raines -- he with acoustic and electric guitars, she with (mostly) harmonica, sometimes backed by a precision-tooled, steady-rockin' band -- are about pushing the country blues of decades ago into the present century without betraying either the artists' or the music's integrity in the slightest. They are who they are -- white, middle-class New Englanders -- and the music is both eternally what it was and exactly what they have made of it. There is no audible distinction. The fit amounts at once to perfection in art and miracle of nature. Wherever they roam, they are always goin' home. © Rambles, written by, and © Jerome Clark, published 2 July 2005, © www.rambles.net/rishell_goin04.html
Paul Rishell and Annie Raines seems to have a bad case of the blues on Goin' Home, which is good news for the listener. While the album kicks off with two originals, most of the material is drawn from classic blues players like Charley Patton, Ma Rainey, and Blind Lemon Jefferson. Rishell handles most of the vocals and guitar work, and the arrangements vary from stripped-down acoustic to full-band electric. Raines, on the other hand, specializes in the blues harp and helps out -- from time to time -- on background vocals. As a team, Rishell and Raines are what one might expect if Roy Book Binder and Rory Block teamed up. The most exciting work on Goin' Home is acoustic. There are fine versions of Jefferson's "Black Horse Blues" and Rainey's "Black Eye Blues." The latter song is the rare piece sung by Raines, and it's shameful she's not given more leads on the album. There's also a fun version of the randy Fulton Allen song, "Custard Pie," though the performance here reveals the album's Achilles' heel. Rishell's a good singer, but his vocals lack the raw authenticity of a singer like Sonny Terry. While Goin' Home may be too eclectic for its own good, it's likely that many blues fans will find Rishell and Raines' varied approach refreshing. © Ronnie D. Lankford, Jr., All Music Guide
BIO (Wikipedia)


Paul Rishell and Annie Raines are a country blues-inspired musical duo. They met in 1993 during the recording of Paul Rishell's album Swear to Tell the Truth, and have released three albums as a duo, I Want You To Know, Moving To The Country, and Goin' Home. Moving to the Country won the W.C. Handy Award for "Acoustic Blues Album of the Year" in 2000. They have also recorded and performed as members of John Sebastian's J-Band, and appeared on the soundtrack to A Prairie Home Companion.
SHIORT BIO (PAUL RISHELL)
Boston-area blues guitarist and singer Paul Rishell specializes in the country blues, but in recent years, he's been proving his mettle on occasional gigs with an electric band as well. Rishell has been riding the wave of renewed interest in acoustic music in general, and he's taken his style of acoustic country blues to festivals and clubs around the U.S., often accompanied by his harmonica playing partner, Little Annie Raines. Before he ever entered the recording studio, Rishell spent many years studying his craft, and he's shared stages with good people: Son House, Johnny Shines, Howlin' Wolf, Sonny Terry and Brownie McGhee, Buddy Guy and Junior Wells, John Lee Hooker and Bonnie Raitt. Rishell has a number of albums out on the Tone-Cool label, Blues on Holiday (1990), Swear to Tell the Truth (1993), I Want You to Know (1996) and Moving to the Country (1999). © Richard Skelly, All Music Guide
SHORT BIO (ANNIE RAINES)

Annie Raines, born near Boston, Massachusetts, July 3, 1969, took up harmonica at age 17. As a freshman, she left Antioch College to pursue a musical career. Fascinated by the sounds of Muddy Waters, Little Walter Jacobs, Big Walter and Sonny Boy Williamson, she spent countless hours listening to and absorbing the music of the Chicago blues masters. She began to busk locally and played gigs at local Boston clubs, and later traveled to Chicago where she met and played with Pinetop Perkins, Louis Meyers, and James Cotton. While working regularly on the regional blues circuit, Annie taught harmonica and began developing her own style within the blues tradition. Fast becoming one of the most sought-after harmonica players in New England, she had earned a reputation for playing with energy, soulfulness and taste, but she was ready to take her musical education to a deeper level. The, she met and began working with country blues master Paul Rishell, who lent musical support to her considerable harmonica, piano, singing and songwriting skills. This gave her the perfect opportunity to study country blues innovators such as Noah Lewis and Sonny Terry, and, more recently, to take up the mandolin. [ from Wikipedia ]