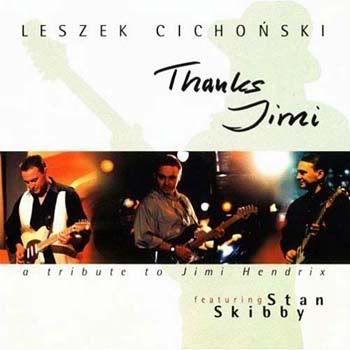 Leszek Cichonski
-
Thanks Jimi:
A Tribute to Jimi Hendrix
-
2003
-
Tomi

Jimi Hendrix was once quoted as saying, "When I die, I want people to just play my music, go wild and freak out, and do anything they wanna do." Well this is exactly what the great Polish guitarist, Leszek Cichonski has done with this very good tribute album to Jimi. With the help of the talented Chicago guitarist, Stan Skibby, Leszek has produced one of the best tribute albums you will ever hear. Buy Leszek Cichonski's superb "Blues-Rock Guitar Workshop Live" album for a different perspective of his playing.
TRACKS / COMPOSERS

Foxy Lady (Jimi Hendrix) 3:48
Purple Haze (Jimi Hendrix) 3:51
Voodoo Chile (Jimi Hendrix) 3:54
Cocaine (J.J. Cale) 4:12
Thanks Jimi (Leszek Cichoński) 6:11
Fire (Jimi Hendrix) 3:38
Like A Rolling Stone (Bob Dylan) 5:33
Hey Joe (Billy Roberts) 5:09
Crazy Horse (Leszek Cichoński / Stan Winfield) 4:13
Little Wing (Jimi Hendrix) 8:01
Who Knows (Jimi Hendrix) 7:19
BAND

Skład: Leszek Cichoński - guitar
Stan Skibby - vocal/guitar
ANIKA - vocal
Włodek Krakus - bass
Andrzej Ryszka - drums
REVIEWS

EXCELLENT SECOND IMPORT DISC FROM OUTSTANDING EUROPEAN BLUES/ROCK GUITARIST LESZEK CICHONSKI FEATURING 11 TRAX (55 MINUTES) OF AWESOME HENDRIX-INSPIRED HEAVY GUITAR RIFFAGE. "Thanks Jimi", the second import disc from outstanding blues/rock guitarist LESZEK CICHONSKI features 11 trax (55 minutes) of awesome Hendrix-inspired heavy guitar riffage from one of Poland's best blues/rock guitarists. His arrangements of the classic Hendrix jams are unique, fresh and interesting. With "Thanks Jimi", Leszek Cichonski has successfully crossed all musical barriers and has produced an excellent, top-shelf heavy guitar "Hendrix tribute" disc that stands up with the best of them. "Thanks Jimi" features a combination of studio and live trax that work well together in creating a true authentic Hendrix vibe. The disc also features several killer Hendrix-inspired original trax including the bad-ass hard rocking "Crazy Horse" and the outstanding title track ("Thanks Jimi", an awesome instrumental heavy guitar showcase that is full of depth and emotion - a very deep personal "musical tribute" to JIMI HENDRIX). The LESZEK CICHONSKI: "thanks jimi" disc is HIGHLY recommended to people who dig the music of JIMI HENDRIX and other classic Hendrix-inspired axemasters like ROBIN TROWER, FRANK MARINO, ERIC GALES, RANDY HANSEN, CLAS YNGSTROM & SKY HIGH, THE HAMSTERS, LANCE LOPEZ, PLANKTON, GREG KOCH, ERIC JOHNSON, MICHAEL LANDAU and other outstanding killer Hendrixy axeslingers from around the globe (third stone from the sun). LESZEK CICHONSKI is an awesome player in his own right who treats Jimi's music with the respect of a deeply rooted blues muscian and, on "Thanks Jimi", does THE MAN proud. LONG LIVE THE MUSICAL SPIRIT OF JIMI HENDRIX. © 1996-2008, Amazon.com, Inc. or its affiliates
You've probably heard some Jimi Hendrix Tribute projects before, some good and some bad, big in production but small in overall output. It's like usual business major companies do: get some of their well known artists and let them do a Jimi song each, wrap it up and sell as much copies as possible. They know Jimi's fans will go for anything that's something to do with the legendary guitarist. When such project is released by a small company run by dedicated fans and performed by some relatively unknown but great players, then you get a material well worth a listen. And when you realize that this stuff has been produced in Poland of all places and played by some of their best musicians, you take notice and listen. And what fine effort it is! Leszek Cichonski, one of the best European blues rock guitarists is the man behind this project and he does Jimi's music justice with inspired performance which really smokes! Ably backed with top Polish musicians featuring outstanding vocals of Anika, Leszek Cichonski introduces his US fellow guitarist Stan Skibby from Chicago who handles vocals, beside putting some hot playing throughout te CD. He is like Leszek, a fabulous player who treats Jimi's songs with respect of deeply rooted blues musician. CD features well known Hendrix material and a cover of J.J.Cale's Cocaine which Leszek and Stan turn into another Jimi's burning standard! Title track, Thanks Jimi is a Leszek's emotional, personal tribute to the man and his music and it shows his feeling and gratitude to the legend. Some live tracks present what this great bunch of players are capable of! Treat yourself to some excellent stuff and try to get a copy! © Blesok 1998-2008, all rights reserved, www.blesok.com
".... With "Thanks Jimi" Leszek Cichonski has successfully crossed all musical barriers and has produced an excellent, top-shelf heavy guitar "Hendrix tribute" disc that stands up with the best of them".
(grooveyardrecords.com)
"A fresh arrangement for Voodoo Chile is important news. Leszek Cichonski and Stan Skibby show a sound grasp of Hendrix tone and make credible effort to re-create his vibe..."
(Blues Revue Magazine)
A Hendrix tribute from Poland? Yes, and very impressive it is too. Guitarist Leszek, vocalist and guitarist Stan (who features on all numbers except the title track), bassist Wlodek Krakus and drummer Andrzej Ryszka are obviously and thankfully confident and assured enough not to do things note for note, and this set is totally successful for that very reason; although Chicagoan Stan looks and sounds like Jimi, this is certainly not a 'Hendrix karaoke' session!'Foxy Lady' has a powerful, sassy vocal contribution from Anika, who also crops up to good effect on 'Voodoo Chile' (which is actually the 'Slight Return'), 'Thanks Jimi' is a slow, moody instrumental evoking Jimi's more mellow side, and the final six titles draw loud applause from a deservedly appreciative audience. It's good to hear 'Who Knows' ('Band Of Gypsys' being my favourite Hendrix album), but really, Hendrix lovers just cannot go wrong with this set - in fact, it would be good to hear more in this vein from these guys! © Norman Darwen, © 1998-2005 BluesArtStudio, AUSTRIA
BIO & INFO

He started early. As a twelve years-old he ....wielded a battered acoustic palying ;House of the rising sun. He spent long years at home, playing with the likes of BB King, Hendrix. In 1982 He graduated from Institiute of Protecting Atmosphere at The Wroclaw Technical University, not even thinking of music as his final destination. Now he is considered as the best Polish blues-rock guitar player. Leszek Cichonski was born on 25th Nov., 1957 in Wroclaw. He was the first in Poland to prepare an instructional course with audio tape for guitar players Blues-Rock Guitar Workshop. He is also the publisher of this material and other education products. His instructional projects and workshops together with MIDI-MAX - his publishing house - were awarded with the Bronze Medal at the International Music Fair INTERMEDIA '94 in Wroclaw. Since 1991 he's been a band-leader of his own group GUITAR WORKSHOP employing top Polish musicians as well as a promotor for Poland. In 1996 he had recorded "Leszek Cichonski & friends - LIVE" with some of the best polish guitarists: Grzegorz Skawinski, Jerzy Styczynski, Dariusz Kozakiewicz and Carlos Johnson from Chicago. Leszek Cichonski is a laureate of the Maria Jurkowska Award granted every year by the Polish Radio Programme 3 musical jurnalist for his propagation of the blues and musical education among young people.According to "Gitara i Bass" and "Twoj Blues" magazine, he is the best polish blues-rock guitarist of 2001, 2002 and 2003 year. Over a period of last five years, he has organized and played more than 150 concerts in Poland and Czech Republic with Chicago based blues players. Chicago's greats, Carlos Johnson, Sammy Fender, Pistol Pete came to Poland at different times and played with the band, Guitar Workshop. He put together Tribute to Jimi Hendrix Tour last year. Cichonski's last CD, Thanks Jimi" is his tribute to Jimi Hendrix. It features Chicago's own Stan Skibby and Anika - a very talented woman from Wroclaw.Thanks Jimi -The new Cichonski's album is the tribute to Jimi Hendrix containing such classics as Hey Joe, Purple Haze,Foxy Lady. However it's not only cover tunes that make the album. Leszek has written Thanks Jimi instrumental piece full of exciting riffs and solos as well as Crazy Horse for which the lyrics have been written by Stan Skibby. New release by Leszek Cichonski should satisfy the worshippers of blues and more. Here is a letter writen by Leszek to Jimi Hendrix - TRANSLATION FROM THE CD THANKS JIMI - "Hey Jimi ! It's a good thing to have an older brother...I was about 11 when my brother brought home a 45 and I listened to Hey Joe and Purple Haze for the first time. The next one was All along the watchtower, which literally knocked me off my feet. Each new album in our home (vinyl back then, of course...) called for a celebration. But each recording by you was a revelation. I instantly knew right then, it was something exceptional, a perfect connection between sound and emotions. It was MAGIC! I played a number of concerts with Wlodek Lola Krakus and Andrzej Ryszka celebrating your life and music in the eighties. I still remember that incredible experience. Although you have been gone now for 30 years, once again I wanted to feel your vibes through my music and capture that feeling on this recording - as a dedication to you. I played a series of dates with Lola and Andrzej again in Sept 2000. Stan Skibby from Chicago joined us. You are close to him as well. We called it A tribute to Jimi Hendrix;. People in Poland remember you very well -the crowd joined the band singing Who knows" word by word in Blue Note in Poznan ...The performance in Free Blues Club in Szczecin was recorded at the beginning of the tour, unrehearsed so to speak. It was a spontaneous jam - I certainly felt your presence that evening... Between the gigs we recorded your immortal hits Foxy Lady, Purple Haze and Voodoo Child in just three days - I hope you don't mind me getting carried away with my own arrangements... I have also prepared something especially for you - my version of JJ Cale's Cocaine. Skibby and I drifted away in our solos, and I am convinced we traveled close to ...you. ...got a natural high on Cale's Cocaine. I wonder if you like Anika in Foxy Lady and Voodoo Child? She was originally reluctant to sing Voodoo Child saying she did not feel that number, did not feel like singing it. It took me a long time to convince her to sing it...these women... Thank you for being with us all that time...Thanks Jimi... Leszek Cichonski, @ 2008. The Shywriter, www.theshywriter.com/Blues/Electric_Blues/LESZEK_CICHONSKI_FEAT_STAN_SKIBBY_Thanks_Jimi_a_tribute_to_Jimi_Hendrix.html