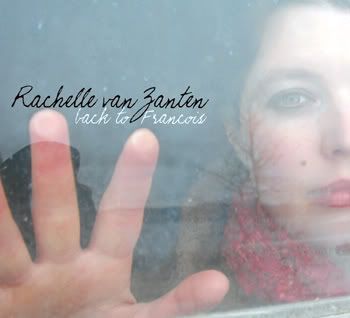 Rachelle van Zanten
-
Back to Francois
-
2006
-
RVZ
Rachelle Van Zanten - "A total package. Fabulous musician on keyboards and guitar, particularly on acoustic and electric slide, a great voice and a strong songwriter with excellent pop and rock sensibilities." Ottawa Citizen.
"Punishing slide guitar that would make Jimmy Page blush"- See Magazine (2005)
Rachelle juxtaposes her gutsy guitar playing with personal and introspective lyrics, a trait she attributes to her varied musical influences, which include artists like John Prine, and Joni Mitchell. She has been quoted as saying, "After listening to Led Zeppelin, I really got a sense of groove," she explains. "Then, after listening to John Prine, Gillian Welch, and Joni Mitchell, I came to appreciate lyrical storytelling, and how it can convey emotion, as well as getting what you believe in across to your audience." This is a very good folk soul blues album full of funky blues riffs and great slide guitar. Already a big name in her native Canada, especially on the live circuit, Rachelle has a dedicated following in Scandinavia and Germany, and tried to crack the UK market with this album. If you can find it, listen to Rachelle's former band, the Painting Daisies album, "Flambescence." Keep an eye out for future releases by this talented lady, and think about buying them. Artists like Rachelle van Zanten need all the promotion they can get.
TRACKS

1 The Cracks
2 Take Me Right Back (Radio)
3 A Hole in the Way
4 Yah Yahs
5 I Will Be Numb
6 Suicide Ride
7 Got to Let Go
8 Rusty Boy
9 January
10 Down to California
11 Dirty Water
12 Half Pint
13 Bannister Man
14 Take Me Right Back
BAND

Rachelle van Zanten - Keyboards/Acoustic & Electric Slide Guitar/Vocals
Joby Baker - Drums
Rick May - Bass
REVIEWS
After 10 years and four albums with the acclaimed female quartet Painting Daisies, Back to Francois is the overdue solo debut from slidewonder Rachelle Van Zanten. Painting Daisies had won a one-hour prime time television/radio special in a national competition called The Great Canadian Music Dream. Sometime after that the group broke up, and Van Zanten took her shot, with excellent press and relentless touring in North America and Europe. When we first heard about her and checked out her myspace page, we were knocked out by her tone and command of the slide guitar on the song "Take Me Right Back." We've heard a couple of very good female slide guitarists, but not quite like RVZ. She's got a gut wrenching tone and a riff wisdom that comes only from countless hours. Grew up playing and singing Bluegrass and Old Time Country in B.C., and played in rock bands for many years. Now she's somewhere between, as a gifted singer songwriter with chops for days. The CD reveals a rich songwriting and vocal palette that her distinguished drummer and producer Joby Baker brings to a fine light. She's been known to tour solo as well as with Baker and one or two others, trio and quartet. The tour photos on her website gave us a warm and generous kind of feeling, and we plan to interview the artist in an upcoming issue. The record is far from tunes built around guitar stylings. The opener "The Crack" is a beautiful ballad by RVZ, Baker, and Harald te Grotenhuis, who we believe to be (or have been) a headbanger axeman in a highly regarded Dutch thrash metal band Wicked Mystic. Since the artist thanks him for "taking her to a new place in music," we're keen to find out more about him, and about their chemistry. If you like a strong woman artist, you can't miss this record. She's got a huge range artistically; as soft as Nanci Griffith on one song, and like the gutteral evil twin of the young Bonnie Raitt on the next. We have given up being amazed by the depth of talent in our Canadian neighbors, and Rachelle Van Zanten is the most current mindblowing example. Check it out. © Frank Goodman, www.puremusic.com
Don't let "The Cracks" fool you with its easy comparisons to Suzanne Vega, Catie Curtis, and Shawn Colvin. A fine acoustic, country-laden tune (more on that later), "The Cracks" lulls you in as the first track of Rachelle van Zanten's Back to Francois. She comes on easy, and all hell breaks loose on her slide guitar for track 2, "Take Me Right Back." I've seen the Bonnie Raitt comparisons, but that's the easy blueswoman namecheck. Listen as van Zanten gives out bursts of guitar between stanzas, and you see that she's in the company of Eddie Turner, Kelly Joe Phelps, Jonny Lang, Paul Reddick, and Susan Tedeschi. Van Zanten studied under slide guitar master Lester Quitzau (who guests on "Take Me Right Back" and "Suicide Ride"), but there are also brief acoustic guitar storms where I hear the phenomenal sounds of Preston Reed. Van Zanten plays Canadamericana, laying down tracks of easy Country flavor, but she can also dig a well to find those deep, down blues. "Got to Let Go" brings up that bucket of blues with a little twang in slide guitar while Joby Baker kicks out the funk on the drums and bass. Van Zanten's guitar actually seems to grab a little of that riff from Stevie Wonder's "Superstition." The album doesn't let you sit anywhere too long. "Rusty Boy" could be something from the Maritime Provinces and the Rankins (or the British Isles and Kate Rusby), but don't stay with that pastoral air, because you've got to get yer "Yah Yahs" out—a stomp-driven, toy piano party for the guitar. "Bannister Man" has the tribal rhythmic feel of The Primitives' "Shadow," but van Zanten breaks up the trance with her mesmerizing acoustic slide which when combined with John Cartwright's percussive guitar comes on like something from Keller Williams. And now for that opening track of singer/songwriter folk bliss: "The Cracks." The song itself may not have grabbed me, despite its beauty; van Zanten truly shines elsewhere here. However, on closer inspection, the lyrics of "The Cracks" overpower me. Van Zanten told me that this song is about the end of a relationship with man she dearly loved, a bittersweet kind of leaving I'm guessing. However, for me there seems to be some echoes here of an adoption story. My ears were especially pricked by the line, "I loved you like a child of my own," and that colored my original interpretation of the chorus: "Come here softly, the world is still sleeping. . .Close your eyes and soon she'll be taking home." I imagine those words being spoken by a birthmom as she spends the last hours holding her baby in the hospital before the adoptive mother comes. She has the "peace to say" that the baby is her child, but that there's also very good reasons for making the decision to place the child into the arms of adoptive parents. It's not what van Zanten is singing about, but it is the emotion that comes through this tender opening song from a woman can also blister and bruise her guitar. Thanks to Rachelle van Zanten for the review CD. © 2008 Benjamin C. Squires, www.musicspectrum.org
Rachelle van Zanten is an up and coming Canadian icon- "as both a songwriter and a slide guitar player van Zanten is turning the heads of music industry folk the world over" (Nextfest 2005). Van Zanten's charismatic stage presence is infectious and charming, leaving her audience feeling inspired. Raised in the foothills of northern British Columbia, van Zanten grew up playing bluegrass and old time country with her family. She spent the majority of her preteens singing to Patsy Cline, Dolly Parton, Hank Williams Sr., and Johnny Cash recordings. By age 13 she was well schooled in piano, drums and trumpet but wanting to be modish with the 90's rock movement, took up guitar. In 2005 the band Painting Daisies, which Van Zanten had been a member of for 10 years, performed their final show in September leaving van Zanten with opportunity to craft a solo recording and tour her new material. "Back to Francois" was recorded that same year with Island Music Awards, Producer of the Year, Joby Baker. 'Back to Francois' is a "fresh and rootsy debut album. It is contemporary, bright & optimistic whilst retaining its origins in the core values of North American music." (Mick Glossop, UK Producer). As a solo performer, van Zanten and her slide guitar are gracing the international stages alongside such greats as Sylvia Tyson, Colin Linden, Sonny Rhodes, and Alison Brown. © 2008 Marilyn Records
"After 11 years in the trenches, Canadian slide guitarist Rachelle van Zanten is done with bands. She just released her first solo album, Back to Francois, which is packed with funky blues riffs and stellar slide performances. The surprise is that van Zanten juxtaposes her gutsy guitar playing with very personal and introspective lyrics- a stylistic trait she attributes to her diverse influences." (Guitar Player Magazine-Oct. 2006)
"Rachelle van Zanten has come a long way from her bluegrass upbringing in the foothills of northern British Columbia. For over a decade, this Canadian slide guitarist and songwriter has been working out her soulful blues riffs and turning heads. When the award-winning Painting Daisies dissolved in late 2005, van Zanten seized the opportunity to launch her solo career, recording her "fresh and rootsy" solo debut Back to Francois with producer Joby Baker. Baker has since assumed the role of drummer, accompanying van Zanten on an exhaustive tour that has thrust this up-and-coming artist into the international limelight." (FFward Mag- Nov. 2006)
"Simply put, this woman is the total package. A fabulous musician on keyboards and guitar, particularily on acoustic and electric slide guitar, a great voice and a strong songwriter with excellent pop and rock sensibilities." (Ottawa Citizen- Oct. 2006)
Rachelle van Zanten's music personal [© KERRA McEWEN -- Calgary Sun http://jam.canoe.ca ]
Rachelle van Zanten may groove like Led Zeppelin and ZZ Top, but she's not your typical rock star. "I'm into healthy living, running on trails, hanging out with my dog and going fishing in my canoe. "I don't do well in big cities so I often play a lot of these little rock halls in the smaller communities," says the slide-guitarist, who plays the Epcor Centre's Engineered Air Theatre tonight, celebrating the release of her first solo album, Back to Francois. A native of Francois Lake, B.C., van Zanten says the record is an honest collection of self-written songs reflecting certain points -- both sweet and savage -- in her life. "I grew up singing to Emmylou Harris, Kathy Mattea and Linda Ronstadt, so I've got that little twang in me as well. You can definitely hear those early influences coming out in my music, so I guess I was just trying to be true to myself when I wrote this record," she says, adding she jammed with her musical parents when she was little. Going from jamming with her folks to being a full-time musician hasn't been easy. "In 2005 I said, 'That's it, I'm quitting all my jobs and I'm just going to play music.' "I kind of locked myself away for couple months, played and played and played and tried not to listen to any other slide players so I could develop my own tone and voice on the slide." As she progresses, her goals do too. "I've learned the power of manifestation. Like you can just say, 'I'm going to be playing the main stage at Calgary Folk Fest within two years.' And it happened this year. I want to go do a duet with Anne Murray one day. I think that's achievable in I'd say a year and a half."
MORE ABOUT RACHELLE van ZANTEN
Best known for her efforts with the rock quartet Painting Daisies, Rachelle van Zanten has come a long way from her bluegrass upbringing in the foothills of northern British Columbia. For over a decade, this Canadian slide guitarist and songwriter has been working out her soulful blues riffs and turning heads in the folk music industry. When the award-winning Painting Daisies dissolved in late 2005, van Zanten seized the opportunity to launch her solo career, recording her "fresh and rootsy" solo debut Back to Francois with producer Joby Baker. Baker has since assumed the role of bass player, accompanying van Zanten on an exhaustive tour that has thrust this up-and-coming artist into the international limelight. Van Zanten has been on the road since May, touring throughout Europe and Canada. She's been working her new material live in the cold countries of Scandinavia. In December she'll be in England to work with Van Morrison's producer. "I'll be recording in the studio with what I call my "British Trio," who are the musicians I've been playing with all through England, Holland, Germany and France," she says. They have turned out to be the perfect fit for my musical style and even though I have a great Canadian lineup as well, it gets very expensive to bring them overseas with me. I'm enjoying the luxury of having bands east of the Atlantic and West of the Atlantic, as I like to say." Freed from the creative and financial restraints that bound her during her tenure with Painting Daisies, van Zanten is thankful that she is now finally able to support herself with a full-time musical career. Mixing up her self-taught slide guitar skills with bass-playing techniques such as plexing, hammer-ons and double hammer-ons and wearing her slide on her middle finger, Bonnie Raitt style, van Zanten produces an appealing resonance that merges elements of rock, country, folk and blues into one enchanting, Led Zeppelin-inspired sound. "Right now the whole Americana vibe is really big in Europe and the audiences I've encountered thus far have been very excited about it, the shows have been packed with hungry music lovers," van Zanten says. "It's so refreshing to perform for that kind of crowd after having slogged it out for years in North America. I guess it's that typical equation where a Canadian artist has to make it elsewhere first to be appreciated at home. Just look at Feist. She made it big in France, and now she's selling watches or men's cologne or whatever to us over here. Personally, I've got my eye on a GAP underwear contract," van Zanten laughs. As a musician's musician, van Zanten confesses that she has her eyes on an even more valuable prize, endorsements that revolve around the instrument she loves so much. Yes, she's more than willing to be picked up by a guitar or amp company, because as she puts it "they give you gear, and they fix it for you too!""It's nice when people pay attention to my techniques and tones and the type of gear I prefer rather than focusing on the fact that I'm a female guitarist," says van Zanten. "People place too much emphasis on image when it comes to women in music. That's the kind of message I try to convey to the girls who attend the annual Rocker Girl Camp I'm involved in. I like to stress the need for young females to encourage each other. I tell them that there's no reason why they can't play a wicked solo on that guitar they've got. It's five days of sisterly love and going for it." Shying away from comparisons to myriad women artists such as Lucinda Williams, Joni Mitchell, Shawn Colvin, Ellen McIlwaine, Suzanne Vega, Catie Curtis and Gillian Welch, van Zanten traces her roots to slide guitar master Lester Quitzau who inspired her and instructed her on how to develop her burgeoning talents as a solo performer. "Lester Quitzau had an enormous impact on me. I saw him perform at a music festival in northern British Columbia, and from the moment he played his first note I knew that "this is what I want to do." I followed him for two years studying his slide guitar technique and he was very gracious about sharing tips and teaching me to play open D and G. "Writing and playing slide just came naturally to me having grown up as a musician. Growing up in northern B.C. I lived on Lake Francois and was always surrounded by blue sky and water. My lyrics run like a river. For example on the song "Half Pint," I just let the words flow like liquid into an acoustic soundscape. The album also refers to the Prairies a lot on tracks such as "January" and "Rusty Boy," you can just hear the desolation and isolation of an Albertan winter. I get interesting reactions in Europe when I start out with a lyric about it being '45 below on the prairies.' They're looking at me like, 'That's not humanly possible.'" CHRISTINE LEONARD, © 2006 FFWD. All rights reserved