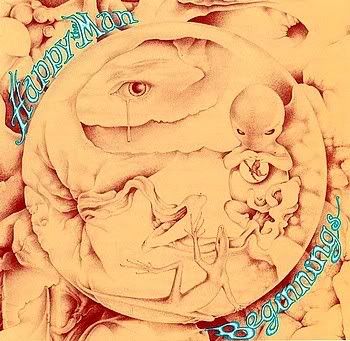 Happy The Man
-
Beginnings
-
1990
-
Cuneiform Records
Happy The Man are considered by many to be the best US symphonic/progressive band of all time. There is no doubt that they are one of the top American prog rock bands of the late 1970s. Their music is often reminiscent of Yes, Gentle Giant and Genesis, and this is not necessarily a weakness in HTM's compositional skills, musicianship, and originality. They preserve an individualistic style with wonderful songwriting, unusual chord structures, and shifting meters.This recording is a collection of music from Happy The Man's first two years - 1974 and 1975, and features previously unreleased material. Tracks 1, 6, and 7 were recorded live at the band's "warehouse" in Harrisonburg, July 1975 with 2 mikes onto 2-track tape. Additional processing and transfer to DAT by Kit Watkins, 1990. Tracks 2 & 3 were recorded at Menninite Broadcasting, Harrisonburg, April 1974 onto 4-track tape, engineered by Abe Ritenhouse. Re-mixed by Kit Watkins onto DAT, 1989. Tracks 4 & 5 were recorded live at the first band-house, Rockbridge Circle, Harrisonburg, Virginia, February 1974 with 2 mikes onto 2-track tape. Additional processing and transfer to DAT by Kit Watkins, 1990. Some of the tracks may be regarded as studio "outtakes", so sound quality varies. Nevertheless, a great album from a truly innovative band. Buy the bands first s/t album. Their album "Crafty Hands" is also full of highly original, progressive rock compositions.
TRACKS/ COMPOSERS

1 Leave That Kitten Alone, Armone - Frank Wyatt (9:16)
2 Passion's Passing - Frank Wyatt (8:40)
3 Don't Look To The Running Sun - Cliff Fortney (9:52)
4 Gretchen's Garden - Frank Wyatt (11:04)
5 Partly The State - Cliff Fortney (9:20)
6 Broken Waves - Kit Watkins (5:49)
7 Portrait Of A Waterfall - Stanley Whitaker (6:45)
MUSICIANS
Bass - Rick Kennell
Drums, Percussion - Mike Beck
Guitar, Vocals - Stanley Whitaker
Keyboards, Saxophone [Alto], Flute, Vocals - Frank Wyatt
Keyboards, Vocals - Kit Watkins
Lead Vocals, Flute, Keyboards [Rhodes] - Cliff Fortney (tracks: 2,3,4,5)
REVIEWS
First off, it must be said that these tracks are basically demos, with sound quality to match. Considering what they used to record this material though, this is still a very listen able affair which gives a glimpse to the start of what would become America's greatest progressive band. The core of the band that would go on to produce the classic Happy the Man and Crafty Hands albums is intact here and it shows. The songs are well crafted and played well, but lack the same punch they would later, which is to be expected considering these are the first recordings the band made. There is a much lager reliance on vocals here, which are handled well by Cliff Fortney. The music is much sparser and laid back, with a lot of atmospheric keyboard work. There are a lot of nice extra percussive elements, such as chimes, used to compliment the quieter pieces. The band does let loose in places, the last few minuets of "Gretchen's Garden" is one of the more successful cases. "Partly the State" is the strongest song overall, with nice shifts in dynamics, interesting vocal work and percussion. Taken for what it is, this is a nice collection of songs that shows the roots of a sound that would be perfected on later releases. This is an interesting addition for fans of the band's other albums, but if you don't have them, there's no need for this one, yet. © Mike Prete [February 2001] http://gnosis2000.net
In 1990, the label Cuneiform released Beginnings, filling a huge gap in Happy the Man's discography. The jewel of American progressive rock recorded its first album in 1977, but its members had been hard at work for over three years. This CD contains home recordings from February 1974 to July 1975, for a total of seven songs not available anywhere else. Sound quality is surprisingly good (and much better than on Death's Crown, another archival recording, released by Cuneiform in 1999). The lineup featured here is the same one that would record Happy the Man a year and a half later (Stanley Whitaker, Kit Watkins, Frank Wyatt, Rick Kennell, Mike Beck), with the addition of singer/flutist Cliff Fortney who would leave the behind shortly after these recordings took place. "Gretchen's Garden" reaches the same level of emotion as the "Death's Crown" suite, while "Partly the State" is fueled by the same complex quirkiness found in classic tracks like "Stumpy Meets the Firecracker in Stencil Forest" or "Knee Bitten Nymphs in Limbo." "Passion's Passing" is a typical Wyatt ballad, delicate and a little bit naïve. Whitaker's "Portrait of a Waterfall" is more banal, but it features Wyatt's alto saxophone as the lead instrument -- a rarity. In general, the band's writing and sound are pretty similar to their two LPs released by Arista: All the basic elements are there, the music will only be enriched and a little better focused by the time of the Happy the Man sessions. Fans of the band will discover very worthy material on Beginnings. © François Couture, All Music Guide
Because of their planned NEARfest 2000 appearance/reunion, I thought I'd give this disk another listen. I bought it about two to three years ago, and I'm glad I have given it another chance. Although this is another one that entered my collection but didn't grab me right way; I can't think why. Of course, there isn't anything I can say about Happy The Man that hasn't been already said other than what I think about the music. Other than snippets in others' reviews or mentions in books about progressive rock, I knew very little about Happy The Man going into this. There is an excellent biography on the official Happy The Man site, which also accompanies the Musea versions of both their self-titled debut and their second album Crafty Hands. Vocalist Cliff Fortney appears on four of the album's seven tracks, making Happy The Man essentially an instrumental band, which they became for their two contemporaneous releases. There are fleeting vocals on the Frank Wyatt penned track, "Leave That Kitten Alone, Armone," named for Ed Kinestrick's 3-legged dog. Kinestrick worked in Madison College's theater department - where Stanley Whitaker went to study - and with whom Wyatt tried to produce the "Death's Crown" project Happy The Man initiated; the music was released in 1999. Beginnings is a collection of tracks from the band's early days, circa 1974 and 1975. Some of the tracks were recorded live by the band, the others recorded at Mennonite Broadcasting, but all in Harrisonburg, Virginia. There are moments during certain tracks where I couldn't help but think of Genesis. Cliff Fortney has a much different voice than Peter Gabriel - a smoother, silkier voice, so isn't so much that they sound like Genesis, but rather that same sense of the odd. Of course, I find the first track's title "Leave That Kitten Alone, Armone" echoes Pink Floyd's "Careful With That Axe, Eugene." I've not listened to the latter enough to see if there is any musical kinship, but given Floyd's psychedelic beginnings and HTM's jazz beginnings (no pun intended), I rather think that the similarity is purely of a grammatical nature. Happy The Man's musical style here is light jazz. Not lightweight, but rather open, airy… arrangements take time to evolve. On the first of the disc's seven tracks, "Leave That Kitten Alone, Armone" the entire lyrical content is that refrain repeated throughout, making this an otherwise all instrumental affair. The lightness and energy in the arrangement underscores the "happy" in their moniker. "Leave…" shows the lyrical flair Stanley Whitaker has on guitar… actually, all the musicians here - Mike Beck (drums), Kit Watkins (keys), Frank Wyatt (piano, sax), and Rick Kennell (bass) - are excellent musicians. Just listening to the interplay between them and the dynamics... great. Not everything here is bright and happy as "Don't Look To The Running Sun" begins with quiet, understated notes - keys, light percussion… This track is very much like early Genesis compositionally, and even with its bouncy chorus, there is something dark lurking. Though it never occurred to me until just now, I hear echoes of Happy The Man in Galahad, perhaps only because Stuart Nicholson has a voice similar to Fortney's…but there's a phrase in "Parade" (In A Moment Of Complete Madness) that comes to mind here. Hmm…odd that that track is about "old" rock stars reuniting on stage "on more time"…which echoes a line in this song which is "Can we turn the page/One more time…" And didn't Genesis have a song "Musical Box" where the refrain is "play me my song, here it comes again…"* Okay, the kinship is tenuous, but I do find that there are some sonic similarities between Galahad and Happy The Man. The Genesis' influence is felt quite strongly in "Gretchen's Garden." There are even some guitar notes that could have been borrowed from "Supper's Ready." It says in the biography mentioned above that the influences heard here are "more derivative than the band's subsequent output [but] point to key elements of its future style…" Having heard VDGG recently, parts of this track make me think of that band as well, as Fortney sounds a bit like Hammill. Nevertheless, by the time we get to "Portrait Of A Waterfall" the sound is far jazzier than before, the Genesis-isms behind them. Although the production is rough on a couple of tracks, given that were recorded live, the overall sound is good. And chalk me up as another Happy The Man fan. © Stephanie Sollow, June 2000, © 2000 Progressive World
ABOUT HAPPY THE MAN

Often compared to Yes for their melodicism and Gentle Giant for the complexity of their compositions, Happy the Man add their own high-caliber musicianship, a sense of symphonic drama, odd time signatures, spacy sound, and occasional whimsy to their brand of art-rock. Although their largely instrumental oeuvre is rather inconsistent, Happy the Man still carry a devoted following on the prog-rock collectors' circuit. The group was formed in 1974 and features keyboardist Kit Watkins, keyboardist/woodwind player Frank Wyatt, guitarist and occasional vocalist Stan Whitaker, and bassist Rick Kennell, plus a rotating succession of drummers. Original vocalist Cliff Fortney left the band before it signed to Arista. Their self-titled 1977 debut was recorded with drummer Mike Beck and introduced each member's compositional style: Watkins possessed the symphonic grandeur, Wyatt gravitated towards songs with lyrics, and Whitaker allowed his sense of humor to come through on pieces such as "Stumpy Meets the Firecracker in Stencil Forest" and "Knee Bitten Nymphs in Limbo." The follow-up, Crafty Hands, featured drummer Ron Riddle and was released a year later. By the time Third: Better Late was released in 1979 with drummer Coco Roussel, Happy the Man had broken up. Kit Watkins joined Camel for two albums before fading into obscurity; some Happy the Man albums remain in print on independent labels, as well as the Retrospective collection and Beginnings, a series of early two-track studio recordings with Fortney. © Steve Huey, All Music Guide
BIO (Wikipedia)
Happy The Man are an American progressive rock band primarily from the 1970s specializing in virtuoso instrumental tracks within complex time signatures. The group formed in 1972 in Harrisonburg, VA, and recorded two albums, after which keyboardist Kit Watkins decided to leave the band to join Camel. The group put together their unreleased material and released a "final" album in 1983. The band continued to be a cult favorite in progressive rock circles even after they broke up. In 2000, the group reformed for NEARfest joined by David Rosenthal on keyboards, and they released a new album in 2004: The Muse Awakens. Whitaker and Wyatt have released another album, Pedal Giant Animals since, and have formed a new band, Oblivion Sun.