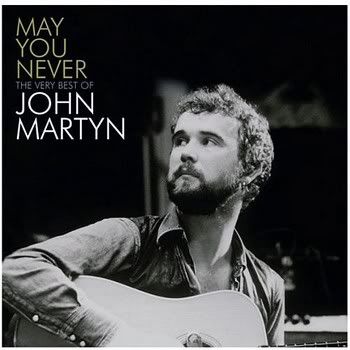 John Martyn
-
May You Never
-
The Very Best Of
-
2009
-
Island

As posthumous "Best Ofs" go, this is as tidy as one could wish, despite the odd regrettable omission. It favours the Irascible One's songwriting over his musicianliness and, being Island, concentrates on his Seventies peak. And so we suffer again the tenderness of "Head and Heart" and "Sweet Little Mystery" and flow with "Solid Air". If you have ever experienced the midnight blues and not had a Martyn album to hand, then here's where you start. Buy this and Inside Out and you are well equipped. © Nick Coleman, © independent.co.uk
The late John Martyn's music could never be firmly placed in any defined music genre. You might say he was a brilliant folk artist, as he wrote many great acoustic guitar ballads, and also sang many traditional folk and blues songs in a highly individualistic way. He was a marvellous improvisational player who also was influenced by soul, jazz, fusion, reggae, and even trip-hop. In the 80s, many of his songs could have been categorised as mainstream pop, but still in a class of their own. This "Best Of" compilation encompasses many of John Martyn's various influences. As is always the case, there will be arguments about included and omitted tracks, but in general it covers a great range of John's music, especially his seventies work. He did, after all, record a huge amount of material in his lifetime, including 22 studio albums. John was a highly inventive musical genius, and one of the world's greatest live performers, who put his heart and soul into everything he did on stage. For a more comprehensive collection of John's work, check out "Ain't No Saint". Listen to his "London Conversation" album, which has some great blues based tumes, and his "The Tumbler" album which is very much jazz influenced. His "In Session At The BBC" album is well worth buying. It features some of John Martyn's most masterful, and diverse performances.
TRACKS
01. May You Never
02. Solid Air
03. Bless The Weather
04. Sweet Little Mystery
05. Head And Heart
06. Don't Want To Know
07. John The Baptist by John Martyn / Beverley Martyn
08. Over The Hill
09. Spencer The Rover - Traditional (Arranged by J. Martyn)
10. Fairy Tale Lullaby
11. Couldn't Love You More
12. Over The Rainbow - H. Arlen, C. Harburg
13. Sunshine's Better (Talvin Singh remix)
14. Small Hours
15. Singin' In The Rain - Freed and Brown
All songs composed by John Martyn, except where stated
REVIEWS

Martyn died seven weeks ago, and here's a tastelessly timed receptacle for your grief. In the 1970s, Island allowed the blurred Scottish visionary to mainline his 1960s singer-songwriter sensibilities, seen at their dippiest here on Fairy Tale Lullaby, into the stratosphere via the judicious use of electric guitar, echoplex and a phalanx of folk and jazz's finest players. May You Never remains perfect. Solid Air essays a slurred transcendence. Small Hours is a sublime extended improvisation. Island also oversaw Martyn's 1980s decline into Phil Collins collaborations and jazz-funk tastefulness, mercifully underrepresented here. Squint through the laminated sheen of Sweet Little Mystery and Couldn't Love You More, however, and the wounded-bear vocal still stuns. © Stewart Lee, © 2009 Times Newspapers Ltd
For once, the epithet "Best Of..." almost rings true. Allowing for the absence of tracks as significant as "Glistening Glyndebourne", "I'd Rather Be the Devil" and "Johnny Too Bad" – and anything from Inside Out or The Tumbler – this is about as wide-ranging an account of John Martyn's oeuvre as could be compiled from his Island output. His folksier roots are covered by one track, the rather cloying "Fairy Tale Lullaby", with his later adaptation of the traditional "Spencer the Rover" indicating the direction he would take folk music in the 1970s. The compilation draws most from Bless the Weather (three tracks) and Solid Air (four), the period in which he crystallised the languorous folk-jazz sound that became his style, his vocal inflections growing progressively more slurred as his music became more oozingly amorphous, reaching its most oceanic state on the nine-minute "Small Hours" from One World, the sole experimental indulgence here. But the absence of his more innovative pieces in favour of crowd-pleasers like "Head and Heart" and "May You Never" does tend to over-simplify his achievements. Martyn never had a bona fide hit album in his lifetime, but with a fair wind, this might be the first. © Andy Gill, © independent.co.uk
ABOUT JOHN MARTYN
Singer/songwriter/guitarist John Martyn was born Iain David McGeachy on September 11, 1948, in New Malden, Surrey, and raised in Glasgow by his grandmother. He began his innovative and expansive career at the age of 17 with a style influenced by American blues artists such as Robert Johnson and Skip James, the traditional music of his homeland, and the eclectic folk of Davey Graham (Graham remained an influence and idol of Martyn's throughout his career). With the aid of his mentor, traditional singer Hamish Imlach, Martyn began to make a name for himself and eventually moved to London, where he became a fixture at Cousins, the center for the local folk scene that spawned the likes of Bert Jansch, Ralph McTell, and Al Stewart. Soon after, he caught the attention of Island Records founder Chris Blackwell, who made him the first white solo act to join the roster of his reggae-based label. The subsequent album, London Conversation (February 1968), only hinted at what was to come in Martyn's career. Although it contained touches of blues along with Martyn's rhythmic playing and distinctive voice, it was for the most part a fairly straightforward British folk record. With his follow-up later that same year, the Al Stewart-produced The Tumbler, Martyn began to slowly test other waters, employing backup musicians such as jazz reedman Harold McNair, to flesh out his sound. His voice also started to take on a jazzier quality as he began to experiment musically. While on the road, Martyn continued to experiment with his sound, adding various effects to his electrified acoustic. One such effect, the Echoplex, allowed him to play off of the tape loops of his own guitar, enveloping himself in his own playing while continuing to play leads over the swelling sound. This would become an integral part of his recordings and stage performances in the coming years. He also met Beverley Kutner, a singer from Coventry who later became his wife and musical partner. The duo released two records in 1970, Stormbringer and The Road to Ruin, the former recorded in Woodstock, N.Y. with American musicians including members of the Band. For one track on their second album, John and Bev hired Pentangle double bassist Danny Thompson, who remained a constant in John's career throughout the better part of the '70s, on-stage and in the studio. John planned his third solo album when Beverley retired to take care of the couple's children, although there was supposedly pressure from Island for him to record on his own. The next couple of years saw Martyn continuing to expand on his unique blend of folk music, drawing on folk, blues, rock, and jazz as well as music from the Middle East, South America, and Jamaica. His voice continued to transform with each album while his playing became more aggressive, yet without losing its gentler side. Bless the Weather (1971) and Solid Air (1973) which helped form the foundation of Martyn's fan base, featured some of his most mature and enduring songs: "Solid Air," written for close friend Nick Drake, "May You Never" (recorded by Eric Clapton), and "Head and Heart" (recorded by America). By the time of 1973's Inside Out, Martyn's use of the Echoplex had taken on a life of its own while his vocals became more of an instrument: deeper and bluesier, with words slithering into one another, barely decipherable. During this period, Martyn's well-publicized bouts with alcoholism came to the forefront and began to affect his career somewhat. He became an erratic and at times self-destructive performer. He might perform an evening of electronic guitar experiments for a crowd of folkies or a set of traditional, acoustic ballads when playing to a rock audience. His shows would also range from the odd night of falling over drunk to sheer brilliance, as captured on the independently released Live at Leeds (1975). Following Sunday's Child (1974), the live record, and a 1977 best-of collection, Martyn, for the most part, abandoned his acoustic guitar on record for a sort of rock, world, and jazz fusion. Although his style was moving away from its folk roots, his songs retained the passion and structure of his best early work. Grace and Danger (1980), his first release since 1977's One World, painfully and honestly depicted the crumbling of John and Beverley's marriage in some of his most powerful material in years. It also seemed to garner interest in Martyn's sagging career. With this new momentum and the help of friend Phil Collins, Martyn signed to WEA, where he recorded two records, Glorious Fool (1981) and Well Kept Secret (1982). Glorious Fool, a superb effort, produced by Collins and featuring Eric Clapton on guitar and Collins on drums, piano, and vocals, looked to be his best shot at mainstream success, but failed to extend his cult status. Martyn released his second independent live record, the magnificent Philentropy, before returning to Island Records for two studio releases, a live album and a 12" single which featured a version of Bob Dylan's "Tight Connection to My Heart." He was dropped by the label in 1988. Continuing to battle his alcoholism, Martyn resumed his career in 1990 with The Apprentice and 1992's Cooltide. He also released an album of his classic songs re-recorded with an all-star cast featuring Phil Collins, David Gilmour of Pink Floyd, and Levon Helm of the Band, as well as various compilations and live recordings. After a four-year layoff, Martyn issued And, an album with strong jazz, trip-hop, and funk overtones, followed in 1998 by The Church with One Bell, a collection of diverse covers. In 1999 he also released a live double album which documented a classic concert at London's Shaw Theatre in 1990 entitled Dirty, Down & Live. Martyn recorded a surprise studio comeback effort called Glasgow Walker at the turn of the century that was very well received, and had his entire Island catalog remastered and reissued — two of his albums, One World, and Grace and Danger, were given the Universal "deluxe" treatment with bonus discs. In 2003, a cyst burst in Martyn's leg due to septicemia brought on by diabetes. The end result was an amputation, but he continued to tour the world with the same tireless energy and restlessness, performing with his band from a wheelchair. Martyn, shrugged it all off, typified by this infamous quote: " "I've been mugged in New York and luckily I fought my way out of it. I've been shot a couple of times as well but I just lay down and pretended to be dead." In 2007 two DVDs appeared, a Live at the BBC set recorded in the 1970s, and Voiceprint's The Man Upstairs documentary. 2008 saw Martyn's name surface once more with some real regularity due to a flurry of activity by the man and his touring schedule, but also because of new releases. His One World label issued a pair of catalogued live dates, the best of these being Simmer Dim , and, in December, Universal/Island released a four-disc retrospective box entitled Ain't No Saint. In January, 2009 Martyn was awarded the OBE (Order of the British Empire) — an irony since he was the most rebellious of Scotsmen. Martyn's health, however, was in real decline as a result of a lifetime of substance abuse issues; in the early morning hours of January 29, 2009, he passed away at the age of 60 after a third bout with pneumonia. With his characteristic backslap acoustic guitar playing, his effects-driven experimental journeys, or his catalog of excellent songs, as well as his jazz-inflected singing style, John Martyn will remain an important and influential figure in both British folk and rock. © Brett Hartenbach & Thom Jurek, allmusic.com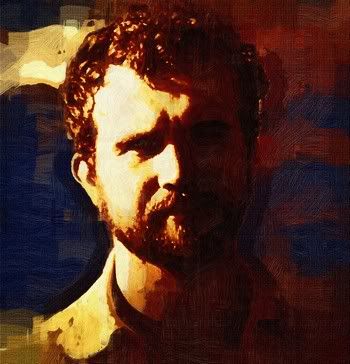 BIO (Wikipedia)
John Martyn OBE, born Iain David McGeachy (11 September 1948 – 29 January 2009), was a British singer-songwriter and guitarist. Over a forty-year career he released twenty studio albums and worked with artists such as Eric Clapton, David Gilmour, and Phil Collins. He has been described as "an electrifying guitarist and singer whose music blurred the boundaries between folk, jazz, rock and blues". Martyn was born in New Malden, Surrey, England. Martyn's parents, both opera singers, divorced when he was five and he spent his childhood alternating between England and Scotland. Much of this was spent in the care of his grandmother. His strongest ties were in Glasgow, and he attended Shawlands Academy there. Mentored by Hamish Imlach, Martyn began his professional musical career when he was seventeen, playing a blend of blues and folk that resulted in a unique style that made him a key figure in the London folk scene during the mid-1960s. He signed to Chris Blackwell's Island Records in 1967 and released his first album, London Conversation, the following year. This first album was soon followed by The Tumbler, which was moving towards jazz. By 1970 Martyn had developed a wholly original and idiosyncratic sound: acoustic guitar run through a fuzzbox, phase-shifter, and Echoplex. This sound was first apparent on Stormbringer! in 1970, which featured Martyn's then wife, Beverley Kutner, as his collaborator. She was also jointly credited on The Road to Ruin, their next album in 1970. However, Island Records felt that it would be more successful to market Martyn as a solo act and this was how subsequent albums were produced, although Beverley Martyn continued to make appearances as a background singer. In 1973, Martyn released one of the defining British albums of the 1970s, Solid Air, the title song a tribute to the singer-songwriter Nick Drake, a close friend and label-mate, who in 1974 died suddenly from an overdose of antidepressants. On this album, as with the one that preceded it, Bless the Weather, Martyn collaborated with jazz bass player, Danny Thompson, with whom he proceeded to have a fruitful musical partnership which continued until his death. He also developed a new, slurred vocal style, the timbre of which resembled a tenor saxophone. Following the commercial success of Solid Air, Martyn quickly recorded and released the experimental Inside Out, a more difficult album with emphasis placed on feel and improvisation rather than song structure. In 1974, he followed this with Sunday's Child. In September of the next year he released a live album, Live at Leeds—Martyn had been unable to convince Island to release the record, and resorted to selling individually signed copies by mail from his home. Live at Leeds features Danny Thompson and drummer John Stevens, and is notable not only for the performances given, but the recording quality and incredibly quiet audience for a live recording. After releasing Live at Leeds, Martyn took a sabbatical, including a visit to Jamaica, spending time with famous reggae producer Lee "Scratch" Perry. In 1977, he released One World, which led some commentators to describe Martyn as the "Father of Trip-Hop" It included tracks such as "Small Hours" and "Big Muff", a collaboration with Lee "Scratch" Perry. One World is notable for having been recorded outside, the album's lush soundscapes are partly the result of microphones picking up ambient sounds, such as water from a nearby lake. Martyn's marriage to Beverley finally broke down at the end of the 1970s and, according to his official website, "John hit the self destruct button" (although other biographers, including The Times obituary writer, attribute the break-up of his marriage to his already being addicted to drink and drugs). Out of this period, described by Martyn as "a very dark period in my life",came the album Grace and Danger. Released in October 1980, the album had been held up for a year by Island boss Chris Blackwell. He was a close friend of John and Beverley, and found the album too openly disturbing to release. Only after intense and sustained pressure from Martyn did Blackwell agree to release the album. Commenting on that period, Martyn said, "I was in a dreadful emotional state over that record. I was hardly in control of my own actions. The reason they finally released it was because I freaked: Please get it out! I don't give a damn about how sad it makes you feel—it's what I'm about: the direct communication of emotion. Grace and Danger was very cathartic, and it really hurt." In the late 1980s Martyn would cite Grace and Danger as his favourite album, and said that it was "probably the most specific piece of autobiography I've written. Some people keep diaries, I make records." The album has since become one of his highest-regarded, prompting a deluxe double-disc issue in 2007, containing the original album remastered. Phil Collins played drums and sang backing vocals on Grace and Danger and subsequently played drums on and produced Martyn's next album, Glorious Fool, in 1981. Martyn left Island records in 1981, and recorded Glorious Fool and Well Kept Secret for WEA, the label clearly aiming to bring him mainstream success, and achieving his first Top 30 album.Glorious Fool was a sharp departure from Martyn's 70s sound and at the time was regarded as something of a sell-out by his die-hard fans, but time has revealed it to be a much stronger album than it seemed at the time, with some fine songwriting and vocals. Well Kept Secret (1982) was less successful. Martyn released a live album, Philentropy, in 1983. Returning to Island records, Martyn recorded Sapphire (1984), Piece by Piece (1986) and the live Foundations (1987) before being dropped by Island in 1988. Martyn released The Apprentice in 1990 and Cooltide in 1991 for Permanent Records, and then rerecorded many of his "classic" songs for No Little Boy (1993). The similar 1992 release Couldn't Love You More was unauthorised by and disowned by Martyn. Material from these recordings and his two Permanent albums has been endlessly recycled on many releases. Permanent Records also released a live 2 CD set called "Live" in 1994. And (1996) came out on Go!Discs and saw Martyn draw heavily on hip-hop textures while blending a sound still distinctively Martyn, a direction which saw more complete expression on 2000's Glasgow Walker ; The Church with One Bell (1998) is a covers album taking in material from Portishead to Ben Harper. In 2001 Martyn appeared on the track Deliver Me by Faithless keyboard player and DJ Sister Bliss. In July 2006 the documentary Johnny Too Bad was screened by the The programme documented the period surrounding the operation to amputate Martyn's right leg below the knee (the result of a burst cyst) and the writing and recording of On the Cobbles (2004), an album described by Peter Marsh on the BBC Music website as "the strongest, most consistent set he's come up with in years." Much of Cobbles was a revisiting of his acoustic-based sound. He continued to write and collaborate with various artists up until his death, dividing his time between Glasgow and Kilkenny in Ireland. He recorded a ballad entitled "Really Gone" with Irish group Ultan John which was released in November 2006. On 4 February 2008, Martyn received the lifetime achievement award at the BBC Radio 2 Folk awards. The award was presented by Phil Collins. The BBC website says of Martyn, "his heartfelt performances have either suggested or fully demonstrated an idiosyncratic genius." Eric Clapton was quoted as saying that Martyn was, "so far ahead of everything, it's almost inconceivable." Martyn performed "Over the Hill" and "May You Never" at the ceremony, with John Paul Jones accompanying on mandolin. To mark Martyn's 60th birthday Island released a career-spanning 4CD boxed set, Ain't No Saint on 1 September 2008. The acclaimed set includes many live recordings and unreleased studio material, researched and compiled by his close friend John Hillarby who also runs the official Martyn website. Martyn was appointed OBE in the 2009 New Year Honours. Martyn's death was announced on his website on 29 January 2009, John Hillarby wrote, "With heavy heart and an unbearable sense of loss we must announce that John died this morning." Martyn died in hospital in Ireland as a result of double pneumonia. English rock band Keane sang a Martyn song. On 31 January 2009, Liverpool-based folk-singer/guitarist John Smith, who had previously supported Martyn on tour, performed "Spencer The Rover", from Martyn's Sunday's Child album, at The Bluecoat in Liverpool, announcing the song simply "For John". Paying tribute to Martyn, BBC Radio 2's folk presenter Mike Harding said: "John Martyn was a true original, one of the giants of the folk scene. He could write and sing classics like 'May You Never' and 'Fairy Tale Lullaby' like nobody else, and he could sing traditional songs like Spencer The Rover in a way that made them seem new minted." Harding introduced an hour-long tribute to Martyn in his Radio 2 programme on 25 February 2009.