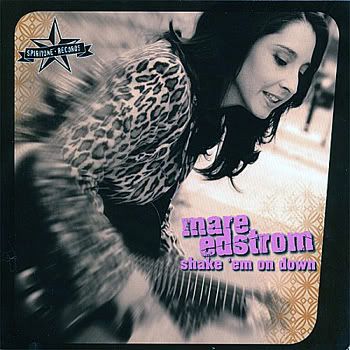 Mare Edstrom
-
Shake 'em on Down
-
2006
-
Spiritone
Mare Edstrom's musical background covers a broad range of experience. She was classically trained in piano, voice, and French horn from her early years through college at UW-Whitewater, where she majored in music, math and physics education. She also played in various rock and blues bands on keyboards, vocals and guitar from age 14 to the present. She graduated summa cum laude in 1990 with a Bachelor of Science in Education degree (DPI certified grades 7-12). With her regular performing partner, guitarist/producer Kenn Fox, she owns and operates Spiritone Records, one of the largest independent record labels in Wisconsin.
"Shake 'em on Down" has received much critical acclaim for Wisconsinite, Mare Edstrom's unique personal blues style. Her music is refined, but maintains a gutsy and authentic feel. On this album she displays her dynamic vocal skills with a tribute to the blues legends who have been so important to the development of her blues style. Interestingly, she includes a cover of Lennon/McCartney's "Oh Darlin' ". Mare presents an exciting new interpretation on the blues while still keeping a vintage flavour of authentic roadhouse blues. Her styles include gospel, jump, and the Piedmont style blues of Blind Willie McTell. She also sings songs by Memphis Minnie, Bukka White, Leroy Carr, and Blind Boy Fuller. Some of her covers include some very obscure, and nearly forgotten songs from artists like Scrapper Blackwell, Barbecue Bob Hicks, and Bumble Bee Slim. Incredible traditional blues, and country blues traditional songs that you will rarely hear from modern blues artists. A great traditional roots style folk blues album that is very impressive. Listen to Mare's "Inside the Blues " album, and buy her "Keys to the Castle" album. Promote this lady who is following in the footsteps of blues revivalists and traditionalists, Rory Block, and Maria Muldaur.
TRACKS / COMPOSERS
1 Broke Down Engine (Blind Willie McTell)
2 Shake 'em on Down (Bukka White)
3 Rocks in My Bed (Leroy Carr)
4 Oh Darlin' (Lennon/McCartney)
5 Trouble Blues (Scrapper Blackwell)
6 When the Levee Breaks (Memphis Minnie)
7 You Don't Know My Mind (Barbecue Bob Hicks)
8 Pitch a Boggie Woogie (Bumble Bee Slim)
9 Piccolo Rag (Blind Boy Fuller)
10 Bring it Back Home (Barbecue Bob Hicks)
11 Sugar (Kenn Fox)
12 Walkin' Blues (Robert Johnson)
13 Sittin' on Top of the World (Mississippi Sheiks)
MUSICIANS
Mare Edstrom - Lead Vocals, Piano, Organ
Kenn Fox - Acoustic & Electric Guitar, National Slide Guitar, Lap Steel
Dave Finley - Electric Bass
Jeff Moylan - Drums, Backing Vocals
Steve Broad - Drums
Steve Cohen - Harmonica
Tim Angsten - Backing Vocals
Tom "Big Nick" Nickel - Zydeco Accordion on Tracks 6, & 9
Tom "Big T" Angsten - Upright Bass on Track 11
John Peik - Banjo on Tracks 9, & 13
Nathan Kamsler - Tenor Saxophone on Track 8
REVIEWS
If all you did was look at the track listing for Wisconsin blues singer Mare Edstrom's SHAKE EM ON DOWN you'd find nothing too surprising. The album contains a pleasing mix of covers that includes Blind Willie McTell, Memphis Minnie, Blind Boy Fuller and Robert Johnson standards. However, as Edstrom launches herself into McTell's Broke Down Engine, the realization hits, with the force of a sledgehammer, that this is far from a typical album. The first thing you notice is that Edstrom was not born with a typical blues voice. In fact Broke Down Engine for one is transformed into a wailing lament, instead of a gritty and earthy blues classic. And while the 'strangeness' of Edstrom's voice provides the initial hook, it's not all there is to SHAKE EM ON DOWN. Blues equilibrium is restored by the burning spirit and force of will she brings to bear on the likes of Rocks In My Bed. Eventually that spirit consumes everything else and Edstrom carries the music along on a tidal wave of sheer talent. It does help that she's backed by musicians of the calibre of Steve Cohen on harmonica and Kenn Fox on guitar. The contrast between their blistering approach and Edstrom's more suble interpretations causes a friction that sparks the album into life. Mare Edstrom has had the great good sense to use her vocal talent to draw some unusual choices into her web. The Beatles' Oh Darlin', is given a whole new interest and perspective and there's not many singers that can do that to a Beatles' song. Whether the purists and traditionalists will warm to what is a clash between a tight red hot 'classic' blues band and a singer whose talents are singular, remains to be seen but, on SHAKE EM ON DOWN, Mare Edstrom has thrown open the shutters and allowed a shaft of sunlight to hit a genre that can sometimes be bound by its own heritage. She has poured her heart and soul into SHAKE EM ON DOWN and in the process produced a quite magnificent album. **** (4 stars) - A far from typical blues album, but still rather good. © Maverick Magazine, pp. 86-87, 24 Bray Gardens, Loose, Maidstone, Kent, UK ME15 9TR
After a lifelong career in music that included a stint as an opera singer, concert pianist, and a member of rock bands, Waterford's Mare Edstrom finally found her calling in interpretive blues and the singer/songwriter vein. Edstrom teamed up with guitar virtuoso Kenn Fox in 2002 and that partnership has helped spawn a performing duo and a series of recorded works on Fox's Spiritone Records. Edstrom's first release in 2003 paid homage to singer/songwriters such as Townes Van Zandt, Greg Brown and Janis Ian. Her first real success came with Inside the Blues in 2004, a collection of blues interpretations that received critical acclaim and fairly widespread radio play. Her newest album, Shake 'em on Down, is already duplicating that feat. The combination of Edstrom's unique vocal approach to the blues and Fox's production work and guitar mastery make for an enticing listening experience. In addition to Fox, Edstrom has a crack band assembled here including Dave Finley on bass, Jeff Moylen and Steve Broad on drums and Steve Cohen (Greg Koch, Jim Liban and others) on harmonica. Brothers Tim (vocalist) and Tom (upright bass) Angsten (Hello Hello and formerly Green Flash Society) also appear as does Nob Hill Boys' banjoist Jon Peik. Only a few moments of the opening track, Blind Willie McTell's "Broke Down Engine," are required to understand that Edstrom looks at the blues from another angle. The beat gets taken down to half-speed and Fox's spooky open-tuned slide guitar makes this a haunting and riveting track. The title track, penned by Bukka White, is a barrelhouse blues-rocker, easily the source of at least two Led Zeppelin tunes. So it's fitting that Edstrom includes a version of Memphis Minnie's "When the Levee Breaks." Also fittingly, it's given a zydeco twist and a boogie beat. Lennon and McCartney's "Oh, Darlin" is delivered with a soulful fifties-style croon. Fox gets a chance to blaze on electric guitar on "Trouble Blues" and his swinging composition "Sugar" is the album's only diversion from blues classics. The finale is another totally unique take, this time on "Sittin' on Top of the World," featuring Peik's banjo and Fox's excellent fingerstyle guitar. The whole album's common thread is, of course, Edstrom's voice. She doesn't bring the power of the growl as much as she pays sincere homage and adds a touch of honey, which is the refreshing approach that makes these recordings stand out. Edstrom's next project is already underway, another homage to singer songwriters such as Tom Waits, Kevin Welch, Toni Price, and Jesse Colin Young. The album is also said to include some more Fox compositions. Edstrom has a knack for reinterpreting great works in both these genres and the albums are not only a lot of fun but can actually become somewhat of a history lesson. Hearing Shake 'em on Down makes me wonder what she and Fox could be capable of in producing an album of strictly original compositions. Perhaps we won't have to wait long for an answer to that question. © Rick Tvedt, Editor, Rick's Cafe magazine, July 2006, Vol. 4 No. 7, pp. 25-27, Article entitled "Women are Doing it Right"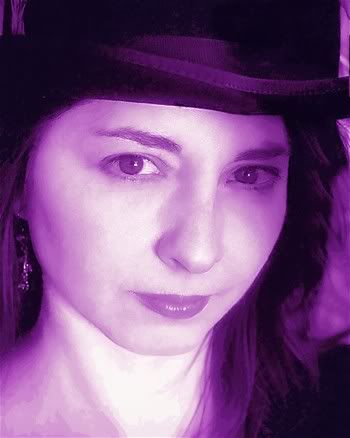 BIO
Mare Edstrom's road to the blues has been long and interesting. While she is primarily classically trained, her formative years were spent playing piano and singing in local rock bands. Her first album, Learning How to Believe, was a combination of finely-crafted original songs and carefully selected cover songs by legends of the singer-songwriter school. She brought a truly new perspective to songs by the likes of Townes van Zandt, Eric Taylor, Greg Brown, and Janis Ian. This amazing work was quickly followed by a second release titled Inside the Blues. This release, a blues tribute, showcases works by Blind Willie McTell, T-Bone Walker, Muddy Waters, and Blind Willie Johnson, as well as works by her admitted heroes Memphis Minnie and Little Esther. This highly acclaimed work has found its way onto major radio station playlists throughout Europe and the US. Inside the Blues has had extensive favorable reviews, including key reviews by Blues Revue magazine in the US and Crossroads magazine in France. Mare's wide vocal range, energy, and vintage brand of roadhouse authenticity have been duly noted by critics again and again. This exciting new take on the blues is still receiving international attention and has established Mare as a major player in the blues style, often compared to the great ladies of the blues, past and present. In March 2006, Mare's much anticipated second blues effort, titled Shake 'em on Down, was released. This release features some new band members as well as an interesting and exciting mix of early blues rarities. Songs by the likes of Scrapper Blackwell, Bukka White, and Bumble Bee Slim are dusted off and shined up for a new outing. This exciting new blues recording has once again been reviewed favorably worldwide, in Blues Revue (USA), Italian II Blues Magazine (Italy), Maverick Magazine (UK), and Rootstime (Denmark), as well as many others. This CD continues to receive praise, attention, and much airplay throughout the world blues scene. Much to the surprise of her blues fans, Mare released a 10-song singer-songwriter collection in October 2006 titled Keys to the Castle. This recording featured exciting interpretations of songs by Richard Thompson, Tom Waits, John Hiatt, and others, as well as several original songs that have long been favorites in her live show. The CD showcased a top-notch band, as well as guest appearances by fellow Wisconsinites Willy Porter and Tracy Jane Comer. It was named among the Best Albums of 2006 by B-side Records, State Street, Madison. In 2007, Mare started the year making a guest appearance on her producer/guitarist Kenn Fox's recent solo album, Road to Tivoli, playing both guitar and Irish flute. Then in August, Mare charted new territory with her latest blues release, Sugar Sweet, introducing elements of R&B, rockabilly, and soul to the mix. The album features spacious arrangements in a truly vintage format, borrowing production vibe from the warm 1950s sound. As with previous releases, Edstrom has dug deep and uncovered obscure gems from the past by such forgotten masters as Betty Everett, Ma Rainey, Julia Lee, Little Willie John, and Arthur Alexander. The album also gives the listener a taste of Edstrom's signature stripped-down country blues that she currently features in her live duo with producer/guitarist Kenn Fox. This recording is packed full of steaming hot electric, acoustic, and slide guitar, sweet tenor saxophone, nasty blues harmonica, and thick, tasteful backing vocals. The album closes with a masterful rendition of Bukka White's gospel epic, "Fixin' to Die." As with Mare's first two blues albums, the world continues to take note. Sugar Sweet has already received a number of favorable reviews and consistent airplay both in Europe and in the US (click here for playlist info) and was named among the Best Albums of 2007 by B-side Records, State Street, Madison. Besides her full-time career as a singer, recording artist, and the owner of Spiritone Records, Mare has a thriving teaching studio at Hartland Music/The Waukesha County Conservatory of Music, where she teaches piano, voice, and guitar four days a week. © www.spiritonerecords.com