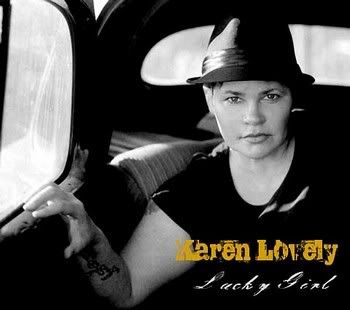 Karen Lovely
-
Lucky Girl
-
2008
-
Pretty Pear Records
"her voice cracks my heart in half..." - Chris Conrad, Mail Tribune
Karen Lovely's luck took a good turn when musician and friend Michael Vannice put her in touch with three-time Grammy-winning producer and songwriter Dennis Walker. Walker remixed the album at Dawwghouse Studio in L.A, with engineer Alan Mirikitani, a Grammy-nominated musician and songwriter. Walker has worked with Robert Cray, B.B. King, Claudette King, Bettye LaVette, Percy Mayfield and Curtis Salgado, to name just some. Walker, has stated that "he had been fortunate to work with Karen Lovely, and thinks she is the most talented singer he has been associated with since his early days working with the great Robert Cray." It has been mentioned in some musical publications that Walker is working with Karen to develop her song writing, and will be writing songs and producing her next CD. It will be interesting to see if this ever materialises. "Lucky Girl" is also the first commercial release for Pretty Pear Records, a Southern Oregon indie label headed by producer Lori Haynes.
This is a wonderful album from a lady who has a remarkable vocal range. She sings the blues with soul, passion, fun, and a lot of volume. Her voice can be velvet or sandpaper, and she has a deep understanding of the blues. She really rocks on this album, and her back up band is tremendous. There are some great slinky, jazzy horns. The great Jim Pugh plays some brilliant organ and piano, but all the musicians are Grade A, experienced artists. All the songs here are top notch, with some classy covers. Watch out for future releases by this great lady of the blues
TRACKS
1. Tell Me Baby
2. You Don't Move Me No More
3. Unlucky Girl
4. Boom Boom
5. Too Little, Too Late
6. I'm A Little Mixed Up
7. Blues Is My Business
8. It's Too Late
9. Rock Me
10. Boogie Some
11. Lucky Girl (Hoochie Coochie Woman)
MUSICIANS
Karen Lovely - vocals
Richard Bredice, Joe Diehl, Brent Norton - guitar
Alan Mirikitani - bass, guitar, sax
Jeff Addicott - acoustic and electric bass
Alan Deremo, Richard Cousins - bass
David Scoggin, Jim Pugh - piano, organ
Frank Cotinola, Lee Spath - drums
Tom Stamper - drums, percussion
Michael Vannice - baritone, tenor, alto sax
Antoine Salley - keytar
Andy Just - harp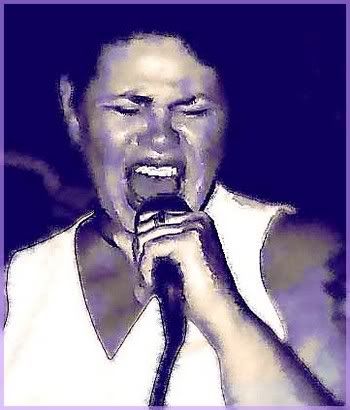 ABOUT
KAREN LOVELY
/
"LUCKY GIRL"
LUCKY GIRL INTRODUCES BLUES SINGER KAREN LOVELY TO THE WORLD: - It has happened to all of us. Maybe we were driving the car, stirring a cocktail in our favorite booth or cranking some tunes while we washed the car. Wherever we were, we still remember it; the first time we heard Janis sing, skipped a heartbeat when Aretha let loose, heard Stevie Ray wail or K.D. croon. Enter Ms. Karen Lovely, the latest in the jaw-dropping, stop-what-you're doing-and-listen newcomer.The stunning debut recording, Lucky Girl, by Oregon blues vocalist Karen Lovely is about to take the music loving world by storm. Playing through Lucky Girl is like listening to a history of blues, rhythm & blues and soul all wrapped into one knockout musical package. She covers the spectrum of excellence, from the opening bars of B.B. King's Tell Me Baby to the "gotta smile" handling of John Lee Hooker's Boom Boom into the soulful rendering of the Dennis Walker/ Alan Mirikitani collaboration, Too Little, Too Late. Along with these luminaries, Ms. Lovely also pays tribute to other icons of the genre including Big Mama Thornton, Willie Dixon and Betty James.Lucky Girl was recorded on the newly created record label, Pretty Pear Records. Under the watchful eyes and keen ears of multi Grammy and Handy Award winning producer Dennis Walker (Robert Cray/B.B. King) and Grammy nominee/songwriter Alan Mirikitani (B.B. Chungking and the Buddaheads/Gentleman's Blues Club), this recording is not your average cover collection. Backup support includes bassist Richard Cousins (R. Cray/V. Morrison/B.B. King, J.L. Hooker), Andy Just (Ford Brothers) on harp, drummer Lee Spath (R. Cray/M. Muldaur) and Robert Cray's keyboard player, Jim Pugh. No matter how great the band, Lucky Girl could not have reached this pinnacle of excellence without the talents of its singer, Karen Lovely. The jagged edges of her velvet voice elicit tears, the dynamics of her rocking R&B make you want to shout and the delivery of the poignantly humorous lyrics of blues favorites take this recording over the top. Karen Lovely has arrived and, yes, it is lovely indeed."I honestly think Karen Lovely is the most talented singer I have been associated with since my early days with Robert Cray."- Dennis Walker, Grammy winning producer (Robert Cray/B.B. King/Bettye LaVette) "...her voice cracks my heart in half..."- Chris Conrad, Mail Tribune. Karen Lovely sings the blues with an emotional intensity and vocal dexterity that will knock you off your feet. She began singing in the church choir at age 10 but didn't start her professional career until years later, when her strong vocals captivated a London nightclub owner who heard her singing at a friend's wedding and hired her on the spot. After a 15 year hiatus from the music business, Karen hit the Southern Oregon music scene in September 2007. She has been wowing audiences ever since. © http://prettypearrecords.com/karenlovely.html
MORE ABOUT
KAREN LOVELY
Not knowing KAREN LOVELY personally, it would be tough to figure out why she named her debut CD "LUCKY GIRL". The reasons could be countless. However, I do know this - to be gifted with a voice like hers and the skills with which to use it - she surely is one lucky girl. Accompanying KAREN on "LUCKY GIRL" are several different ensembles of musicians. They are: LEE SPATH on Drums; RICHARD COUSINS on Bass; JIM PUGH on Piano & Organ; ALAN MIRIKITANI on Guitar, Sax & Bass; ANTOINE SALLEY on Keytar; ANDY JUST on Harp; TOM STAMPER on Drums & Percussion; JEFF ADICOTT on Acoustic & Electric Bass; DAVE SCOGGIN on Piano & Organ; MICHAEL VANNICE on Baritone, Alto & Tenor Saxophones; JOE DIEHL on Guitar; BRENT NORTON on Guitar, RICHARD BREDICE on Guitar; FRANK COTINOLA on Drums; ALAN DEREMO on Bass. Along the lines of what Renee Zellweger said to Tom Cruise in the "JERRY MAGUIRE" movie, KAREN LOVELY "had me" with "Early one morning.........", the opening words on the opening track. It took exactly that little of "TELL ME BABY" for me know this lady could sing the blues. Some powerful rhythm and great guitar leads by TOM, ALAN & BRENT also highlight this one.....which is just the first of many great tracks. "YOU DON'T MOVE ME" will move you.....right on to the dance floor . And once you start, be careful not to trip on the changes. Just when you think your Cha-Cha's in full swing, MICHAEL'S horns will get you swinging in a whole different direction. If you're going to do a cover of this man's work, you'd better have the chords to go along with the courage. On "BOOM BOOM", KAREN easily has what it takes. As a matter of fact, this version would probably put a smile on John Lee Hooker's face. From a soft, sexy, whisper to a powerful crescendo, Karen's vocal range on this one is absolutely masterful. On "BLUES IS MY BUSINESS", as you hear KAREN sing the lyrics "Blues is my business and business is good" it's a no brainer knowing that with a voice like this, business is going to stay good. ALAN and DAVE, nail it on guitar and piano & organ. It seemed a shame that the groove the band was in on this one didn't go thirteen minutes instead of three. KAREN is at her best on "ROCK ME". Let me tell you, the next time you're with whomever it is you want to get rocked by - put this track on, program it for replay - and I promise you.....you will get rocked all night long. The sultry vocals and saxophones on this one will have the slow dancers in their glory. Other tracks on "LUCKY GIRL" are: "UNLUCKY GIRL", "TOO LITTLE TOO LATE", "I'M A LITTLE MIXED UP", "IT'S TOO LATE", "BOOGIE SOME" and "LUCKY GIRL" (HOOCHIE COOCHIE WOMAN). According to KAREN LOVELY'S bio, prior to recording this CD, she took a fifteen year hiatus from the music business. It's this listeners hopes that there'll be no more of that. This woman belongs in music - particularly in the blues. Thankfully, I've been told a new project - with many originals - is currently in the works. To learn more about the woman who will soon be a force to be reckoned with in the world of the blues, stop by www.karenlovely.com. While you're there, send her my regards and your money.....for a copy of "LUCKY GIRL", of course. © Peter "Blewzzman" Lauro Blues Editor @ www.Mary4Music.com