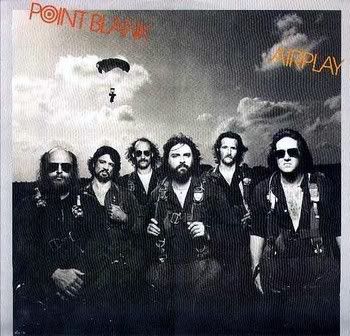 "POINT BLANK IS THE GREAT UNSUNG SOUTHERN ROCK BAND,AND THEY MIGHT HAVE BEEN DENIED THE SPOTLIGHT FOR TWO REASONS –ONE, THEY WERE FROM A LITTLE LEFT OF THE DIAL, FROM TEXAS, AND TWO, THEY ROCKED TOO HARD AND ORNERY FOR RADIO TASTES. WHILE THE OTHER BANDS – ALMOST TO A SHAMEFUL MAN – TONED DOWN THE RHETORIC AND THE RAUNCH TO CHASE THE DOLLAR, POINT BLANK CONTINUED TO MAKE HAND-CRAFTED ROOTS ROCK WITH INTEGRITY AND HEART FOR MILES." © MARTIN POPOFF, AUTHOR – SOUTHERN ROCK REVIEW
Good "no frills" Southern Rock boogie with a blues flavour. There are no classic cuts here, but the album is full of well played "down to earth" Texas rockers. "Penthouse Pauper" has a terrific guitar solo, and "Mean To Your Queenie" is a good hard rockin' Southern tune. There are shades of "Little Feat", "The Outlaws", "ZZ Top", and "Lynyrd Skynyrd" all through the album, and although the band in the late seventies were playing a more balladic AOR/commercial style of rock, "Airplay" is still an enjoyable album, and definitely worth a listen. Check out the band's debut s/t album, and their "Second Season" album. These were less commercially driven albums , and had a grittier, less polished southern rock and boogie flavour.
TRACKS / COMPOSERS
1. Mean to Your Queenie - Hardin
2. Two Time Loser - Burns, Davis, Gruen, ODaniel, Randolph
3. Shine On - Hardin
4. Penthouse Pauper - Burns, Davis, Gruen, O'Daniel, Randolph
5. Danger Zone - Hardin
6. Louisiana Leg - Burns, Davis, Gruen, O'Daniel, Randolph
7. Takin' It Easy - Burns, Davis, Gruen, O'Daniel, Randolph
8. Thunder and Lightning - Burns, Davis, Gruen, O'Daniel, Randolph
9. Changed My Mind - Burns, Davis, Gruen, O'Daniel, Randolph
BAND
Rusty Burns - Guitar (Acoustic), Guitar, Vocals, Harmony Vocals, Slide Guitar
Kim Davis - Guitar (Acoustic), Guitar, Harp, Vocals, Harmony Vocals
Bill Randolph - Bass, Vocals
Buzzy Gruen - Percussion, Drums, Vocals, Vocals (bckgr), Harmony Vocals
Peter Gruen - Drums
Steve Hardin - Harmonica, Percussion, Harp, Keyboards, Vocals, Harmony Vocals
John O'Daniel - Vocals
REVIEW
Point Blank's second album, the aptly-titled Second Season, disappeared without a trace, which meant that they needed one thing from their third — airplay — so they could get some success underneath their belt. Maybe that's why they titled the album Airplay. Even if their motivations weren't so clearly crass and commercial, there's little question that the focus on Airplay results in a quantum leap over their meandering debut. Here, it's pretty much polished hard rock boogie, best heard on the opening track "Mean to Your Queenie." The rest of the album is undeniably slick — something that comes as a shock after the roughshod and scattershot debut — but that slickness gives the production coherence and helps focus the band. Even so, Airplay is hardly a lost album-rock gem, but for anyone that likes to dig deep into late-'70s album-oriented hard rock, this is pretty entertaining since it has a good surface lined with keyboards and hot distorted guitars and they touch on enough different sounds, not just boogie, but power ballads ("Shine On" is particularly good) and Southern-tinged mid-tempo rockers. A step in the right direction, then, and easily one of the best records this forgotten Texas rock band cut. © Stephen Thomas Erlewine, allmusic.com
BIO (Wikipedia)

Point Blank is an American rock and roll band hailing from Texas. The band formed in 1974 and recorded six albums between 1976 and 1982. Garnering occasional airplay on AOR radio stations, the band is best known for their 1981 hit single "Nicole". The band was discovered and managed by Bill Ham's Lone Wolf Productions (ZZ Top, Hank Williams Jr.). Point Blank's sound was rooted in southern rock and boogie, but drifted to hard rock and mainstream AOR by the early 1980s. In 1982 Point Blank released their fourth album, "American Exce$$" which included the song Nicole. With strong air-play on AOR radio stations the track reached #20 on Billboard Magazine's Rock Tracks chart. Subsequently, Nicole was also released as a 45 RPM single and peaked inside the Top 40 at #39 on Billboard's Hot 100. While other songs received airplay and charted, this was the only time Point Blank placed a record inside the top 40, and thus the band are remembered by some as a one-hit wonder.