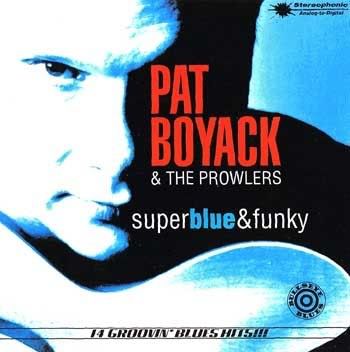 Pat Boyack
&
The Prowlers
-
Super
Blue
&
Funky
-
1997
-
Bullseye Blues
JazzTimes (12/97, p.144) - "...Boyack plays with plenty of conviction and an obvious love of the brothers Vaughan....a strong third album from this versatile up-and-comer."
If you're the kind of person that sits on your hands and resists the groove, funk and soul of the blues, then don't buy this record. Unless of course you want to be cured of this ailment -- then buy it and let Pat Boyack & the Prowlers be your musical medicine. © Gary Chiachi, Producer: Nothin' But the Blues, KLON, Long Beach, CA
A terrific rockin' blues/R&B album. This is no-nonsense, straight-shootin' stuff from a bluesboy raised up in the "whistle-stop-coal-mining-town" of Helper, Utah. Pat Boyack is strongly influenced by SRV, Jimmie Vaughan, and The Fabulous Thunderbirds, and his credits include a stint with the Rocket 88's. Ex - Fab T-Bird Fran Christina guests on drums on this album. This is Texas-blues style rock at it's best. Buy the band's great "On the Prowl" album.
TRACKS / COMPOSERS

1 For You My Love - Gayten
2 I'll Be the Joker - Boyack, Thomas
3 Longwallin' - Boyack
4 Why Must I Suffer - Boyack, Kazanoff
5 Mexican Vodka - Marr, Nath, Redd
6 Louisiana Love Shack - Boyack
7 Can't You See - Boyack
8 Sweet Redemption - Boyack
9 Think (Before You Do) - Boyack
10 Ol' Blondie Swings Again - Boyack, Kazanoff
11 The Way You Do - Nolan
12 Righteous Love - Boyack
13 Poppa Stoppa - Crayton, Taub
14 Look at Me, Look At You - Boyack
MUSICIANS
Pat Boyack (Guitar)
W.C. Clark (Guitar), (Vocals)
Spencer Thomas (Vocals)
Kevin Smith (Bass (Acoustic)
Gil T.,Ted Sweeney (Bass (Electric)
Riley Osbourne (Organ), (Piano)
Fran Christina (Drums)
B.E. Smith (Percussion), (Drums)
Les Izmore (Sax (Baritone)
Mark "Kaz" Kazanoff (Harmonica), (Sax (Baritone)), (Sax (Tenor), (Horn Arrangements)
Randy Zimmerman (Trombone)
Gary Slechta (Trumpet)
REVIEWS
Super Blue and Funky is the Prowlers' third CD for Bullseye Blues, and the first with new vocalist Spencer Thomas. This disc shows a group which has matured considerably, and is ready to move on to the next echelon of blues bands. The CD starts off very strong, with a rockin' version of "For You My Love." Thomas is a smoother singer than his predecessor with the Prowlers, Jimmy Morello, and his voice is well-suited for this jump blues style. Boyack provides just enough variety here with a few frantic rockabilly-style guitar licks. Thomas gets to shine on the second cut "I'll Be The Joker" and later on the ballad "Sweet Redemption." He's got a rich, soulful voice somewhat reminiscent of fellow Texas crooner Darrell Nulisch. You should now add Pat Boyack to your list of hot young blues guitar slingers, as he's earned a spot there. Just listen to his rip roarin' work on the instrumental "Longwallin'" and the big fat Gibson sound he turns out on "Think (Before You Do)." An added bonus to Super Blue and Funky is the guest appearance by the godfather of Austin blues, W.C. Clark, on two cuts. This pair of slow blues, the very intense "Righteous Love" and "Why Must I Suffer," are the highlights of the album. Finally, Boyack pays tribute to one of his main musical mentors Pee Wee Crayton on the swingin' instrumental "Poppa Stoppa." I saw the Prowlers in concert right around the same time that this CD came out. Trust me --- they're one hot band! © Bill Mitchell, © 1997, Blue Night Productions. All rights reserved.
Pat Boyack shows up with a new and different sound from his previous efforts on this, his third album for the Bullseye Blues label. When the nucleus of the Prowlers fell apart after the release of their second album, On the Prowl, it left Boyack without a band. But producer Mark Kazanoff encouraged him to keep honing his craft, and the result is a disc that shows much growth, both in the writing and the playing. Boyack penned ten of the 14 songs on this, and catchy numbers like "I'll Be the Joker" and the two ballads, "Sweet Redemption" and "Why Must I Suffer?" show a real maturation of his tunesmithing skills. Departing vocalist Jimmy Morello is ably replaced by new singer Spencer Thomas, who brings a mellower and more relaxed feel to the band on tracks like "Think (Before You Do)," Jimmy Nolan's "The Way You Do" and "Can't You See." W.C. Clark also contributes guest vocals on "Righteous Love" and "Why Must I Suffer?," while Boyack literally blazes on guitar showcases like "Poppa Stoppa," "Mexican Vodka" and his own "Longwallin'." With great tunes, solid playing and crisp production all in place, this is Boyack's most realized effort to date. © Cub Koda, All Music Guide
ABOUT PAT BOYACK & THE PROWLERS
/
"SUPER BLUE & FUNKY"
Last month, Texas blues guitar slinger Pat Boyack spent his 30th birthday the same place where he spends most of his time–on the road. "I was in Tallahassee [Fla.]. It was just another night," Boyack said. "I was sitting in a hotel room somewhere."Such is the glamorous life of an up-and-coming musician with a CD to promote–traveling is part of the job.During a rare visit to his Dallas home, Boyack took some time out last week to talk on the phone."I'm home for a week," Boyack said. "I'd say about 250 days a year I'm on the road."And for the next couple of weeks, it's L.A.'s turn. Pat Boyack and the Prowlers play Friday night at B. B. King's on Universal CityWalk and July 19 at Cozy's in Sherman Oaks.Boyack is riding into town to show off his guitar licks and promote his new album, "Super Blue & Funky." The CD, released Tuesday, is his third album for Bullseye Records, a Rounder subsidiary."Personally, I think it's the best one I've done yet," Boyack said. "But, of course, every new record's going to be the best one."Raised in the small town of Helper, Utah, Boyack might have headed for work in the coal mines, like his dad and his brothers before him. Instead, he went to Utah State University, where he majored in music. He had been playing rock guitar since he was 15. At Utah State he discovered the blues.In 1991, he moved to Dallas and dived headfirst into that city's flourishing blues scene. In 1993, he teamed up with singer Jimmy Morello, and Pat Boyack and the Prowlers was formed.By 1994, Boyack and his bandmates were recording their debut album, "Breakin' In," in Memphis, Tenn. They followed up with "On the Prowl" in 1996.Shortly after the release of the second album, the original band broke up. Morello split to pursue a solo career. The situation briefly left Boyack without a band. But not for long.He hooked up with a new producer, Mark "Kaz" Kazanoff. And Boyack left the green pastures of Memphis, where he recorded the first two albums, for the greener pastures of Austin, Texas.Boyack wrote 10 of the 14 tracks on "Super Blue & Funky." He's the lead guitarist, but he doesn't sing. So blues singer W.C. Clarke, known for his early work with Stevie Ray Vaughn, guests on two tracks–"Righteous Love" and "Why Must I Suffer?" And the new Prowler lead singer, Spenser Thomas, handles the rest."I've known Spenser for about five years," Boyack said. "I've always liked Spenser's singing. He's a great guy, he's a class act, he's professional."Rather than using the same set of Prowlers on every song, Boyack allowed himself the luxury of using some of the best musicians available in Austin's deep talent pool."Since I was in Austin, I was able to get a lot of great musicians," Boyack said. "I was able to pick and choose according to the style of the song."And "Super Blue & Funky" shows off a variety of musical styles. Boyack seems to be trying each on for size, one by one, looking for one that fits completely right. Possibly reflecting his working-class background, Boyack's music retains a blue-collar, workmanlike quality. Some cuts have horns, some don't, but each has Boyack's guitar front and center."I want to develop my own sound," he said. "I don't want to be a copy."So those birthdays in hotel rooms will probably continue for awhile. Still, Boyack's current goals are relatively modest."I'd like this record to outsell the last one, to play for more people and to try to play better and write better," he said. "Sure, I want to become rich, but I want to do it playing my music." © James Fowler, July 10, 1997 in print edition F-48, © 2008 Los Angeles Times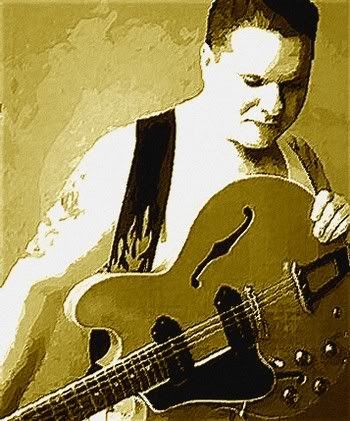 SHORT BIO
Like so many guitarists of his generation, Pat Boyack traced his initial fascination with the blues back to his early admiration of Stevie Ray Vaughan. Born June 26, 1967 in Helper, Utah, Boyack's tastes as a teen originally ran more along the lines of Van Halen and Kiss, but soon he became so immersed in the contemporary Texas blues sound that he eventually relocated to Dallas to pursue a musical career of his own. In 1993, he relocated to the Phoenix area, where he formed the bar band Rocket 88s with vocalist/harpist Jimmy Morello; after the group dissolved, Boyack returned to Dallas, where he eventually formed the blues-rock unit the Prowlers with bassist John Garza and drummer Doug Swancy. After issuing their debut effort Armed and Dangerous in 1993, the Prowlers welcomed Morello into their ranks, and Breakin' In followed in late 1994. After 1996's On the Prowl, the band fell apart, and Boyack assembled a new supporting cast for his 1997 solo debut, Super Blue and Funky. © Jason Ankeny, All Music Guide