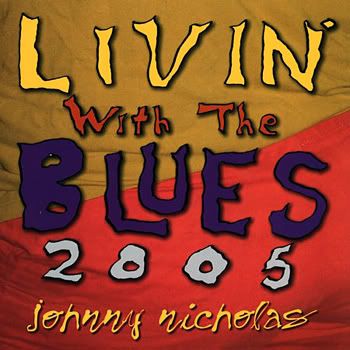 Johnny Nicholas
-
Livin'
With The
Blues
-
2005
-
Topcat

Livin' With The Blues showcases Johnny Nicholas' instrumental virtuosity, songwriting acumen (featuring 7 original tunes) and his heartfelt love of the musical and cultural diverstiy of Texas. © cdbaby.com
Livin' With The Blues showcases Johnny Nicholas' instrumental virtuosity, songwriting acumen (featuring 7 original tunes) and his heartfelt love of the musical and cultural diverstiy of Texas. This outstanding CD pays loving, deeply respectful homage to those seminal blues masters and friends who were his greatest influences and is a testament to the fact that Johnny is back in force. Livin' With The Blues, Johnny's 3rd CD release on TopCat Records (his first two widely acclaimed releases - Rockin' My Blues To Sleep and Thrill On The Hill), features a Who's-Who of top Texas music stars - Marcia Ball, Greg Piccolo, Ray Benson, Cindy Cashdollar, Stephen Bruton, Mark "Kaz" Kazinof, Red Young, Joel Guzman, Barry "Frosty" Smith, Ernie Durawa, Riley Osbourne, Terry Hale, Al Gomez, John Mills, Jack Barber and special guest Kinky Friedman. In 1980, after twenty years of the blues scenes of Providence, Detroit-Ann Arbor, Chicago, the Bay Area, the Cajun country of Louisiana and Texas, performing with Duke Robillard, Steve Nordella, Big Walter Horton, Asleep At The Wheel and Johnny Shine (Nicholas played on and produced the late Johnny Shine's last album with Snooky Pryor). Johnny Nicholas is without a doubt "The Real Deal" and every fan of Johnny will be thrilled to add this exceptional CD to their collection. Livin' With The Blues is sure to receive stellar reviews and will certainly be one of the top CD releases of 2005. © cdbaby.com, & © 1991-2006 TopCatRecords.com All right reserved
If you like "rootsy regional music", then you'll appreciate this album from the great Bluesman, Johnny Nicholas. Johnny described one of his albums as "regular, downhome music that has a good beat. It's music for working people, but anybody can appreciate it". The same can be said for "Livin' With The Blues". It's basic blues, well played, and very enjoyable. It's also played for the pure love of the blues, and lacks any commercial frills. A great album with seven Johnny Nicholas originals, and covers of great blues standards, including Roosevelt Sykes' "You Can't Be Lucky All the Time" and Sonny Terry & Brownie McGhee's "Livin' with the Blues". Buy Johnny's great "Rockin' My Blues To Sleep" album. You'll enjoy it!
TRACKS / COMPOSERS
1 Froggy Bottom Nicholas 4:22
2 Hill Top Nicholas 2:55
3 You Can't Be Lucky All the Time Sykes 5:10
4 I'll Be Around Burnet 4:18
5 Dirty People Nicholas 5:31
6 Teardrops on My Windowpane Nicholas 4:59
7 Livin' with the Blues McGhee, McGhee 4:00
8 Need Your Love So Bad Mertis 5:01
9 Honeydrippin' Baby Nicholas 3:49
10 Texas Drifter McLain 4:32
11 I'm from Texas Nicholas 5:27
12 Down in the Alley Nicholas 5:19
MAIN MUSICIANS
Johnny Nicholas - vocals, guitar
Ray Benson - guitar
Cindy Cashdollar - lap steel guitar
Greg Piccolo - tenor saxophone
Marcia Ball - vocals
BIO (Wikipedia)

Johnny Nicholas (b. 1948) is a blues musician. He was most noted for as being a member of the Grammy Award winning group Austin, Texas based Western swing band Asleep at the Wheel. Nicholas grew up in Rhode Island, where he formed his first band, The Vikings. The band performed cover songs of popular rhythm and blues hits of the time, along with songs by the Rolling Stones. In the mid-1960s, he formed the Black Cat Blues Band with Duke Robillard, Fran Christina and Steve Nardella. Around 1970, he formed the Boogie Brothers with Nardella. After attending the Ann Arbor Blues Festival in 1970, the band eventually moved on to San Francisco, California in 1972 pre-request of Commander Cody and His Lost Planet Airmen. By 1974, Nicholas had moved to Chicago, Illinois and began playing with Big Walter Horton. During his time in Chicago, he would record music with Walter, Boogie Woogie Red and Robert Lockwood, Jr. In 1974, he created his own single, Too Many Bad Habits for Blind Pig Records. Moving back to Providence, Rhode Island, he formed his own band, Johnny Nicholas and the Rhythm Rockers, which included Kaz Kazanoff on saxophone, Terry Bingham on drums, Sarah Brown on bass guitar and Ronnie Earle on electric guitar. Nicholas began his stint with Asleep at the Wheel in 1978, when the band asked him to perform with them. During his off time, he would travel to various cities for solo shows, but would often visit Louisiana to play with Link Davis and Cajun accordion player Nathan Abshire. By 1980, however, Nicholas decided to take time off from music in order to raise a family. He was also noted as being fed up with the scene, stating "the whole thing got so reversed it became a parody of blues." Between 1981 and 1990, Nicholas and his new wife Brenda owned and managed a roadside restaurant (formally a gas station) called the Hill Top Café near Fredericksburg, Texas. After fathering three boys, Nicholas returned to recording blues music with Johnny Shines and Snooky Pryor on the album Back to the Country in 1991. Since then, he has released one studio album and three live albums on Topcat Records while also returning to regular live shows.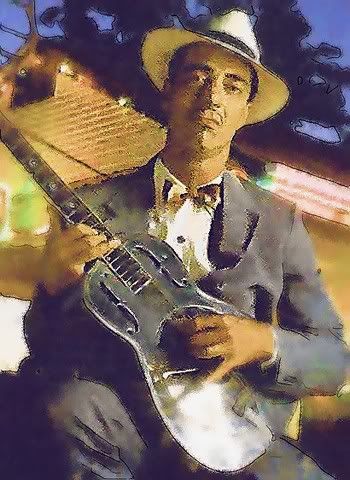 MORE ABOUT
JOHNNY NICHOLAS
Although considered a Texas blues man, Johnny Nicholas actually honed his chops on around and about the Midwest, on the blues scenes of Providence, Detroit, and Chicago in the '60s. He was frontman for Ann Arbor's Boogie Brothers in the early '70s when this genre of music was as popular as could be in this music-loving college town. Then came the move to Texas, a state known for many styles of traditional music as well as blues. He dug right in, playing Cajun music with Link Davis and Western swing with the Grammy award winning Austin band Asleep at the Wheel. He also recorded with blues master Big Walter Horton in Chicago in 1977. In the next decade, he stepped down from the music business in order to raise a family. The couple opened a restaurant which did quite well, and Nicholas stayed away from the blues until the early '90s. He started out again slowly, bending the strings a little around home and on the festival circuit. Nicholas formed a group with some of his favorite musicians from San Antonio and Austin. In 1994, he cut the recording Thrill on the Hill for the Antone's label, followed by Rockin' My Blues to Sleep: Texas/Louisiana Blues and Dance Hall Favorites on Hilltop. © Eugene Chadbourne, allmusic.com