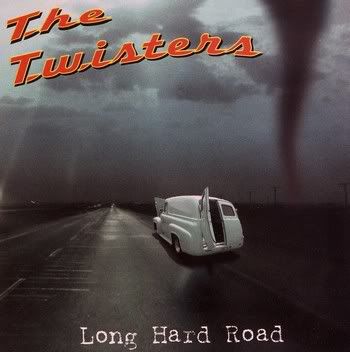 The Twisters
-
Long Hard Road
-
2002
-
Full Swing
The Twisters, from Vancouver,B.C, are a hugely popular band on the modern day blues scene. Harp man Dave "Hurricane" Hoerl is a San Francisco native and Bay Area blues veteran.He learned from Mike Bloomfield and Sonny Rhodes. The band play a great blend of traditional blues, including Mississippi Delta, Chicago shuffles,Texas grinders, West Coast jump, and Louisiana rhythms. The vocals are terrific, as are the harp & guitar lines, and a driving funky rhythm section lays down a great groove. "Long Hard Road" won the 2003 Canadian Independent Music Awards for Best Blues Album. The album was also a 2003 Juno Award Nominee for Best Blues Album. Buy the band's great "Live at Harvest Fest" album.
TRACKS / COMPOSERS
Next To Me - B.Isaak
Two Headed Woman - L.P Weaver/W.Dixon
It's Raining Baby - S.Smith
Deep Dish - D.Hoerl
Long Hard Road - S.Smith
Beg, Borrow, Or Steal - B.Isaak
Zig Zag - D.Hoerl
The Highway Is Like A Woman - P.Mayfield/J.James
Up And At It - B.Isaak
Goin' To Mexico -S.Smith
Stay Away Baby - B.Isaak
I had A Dream - S.Smith
BAND
David "Hurricane" Hoerl - Vocals, Harmonica
Sandy "Bone" Smith - Vocals, Guitar, Drums
James Taylor R.I.P - Doghouse Bass, Trumpet, Backing Vocals
Brandon "Yukon Slim" Isaak - Vocals, Guitar, Drums
GUEST MUSICIANS
Kenny "Blues Boss" Wayne - Piano, Hammond
Steve Hilliam - Tenor Sax, Baritone Sax
Marc L'Esperance - Tenor Sax, The Hot Potato
REVIEW
Harpman David "Hurricane" Hoerl's name has appeared in this column a few times but his main band is the Twisters. This is their second CD, although only drummer/guitarist Sandy "Bone" Smith remains from that lineup. The sound remains the same though: superior west coast jump blues. James Taylor is the new bassist and Brandon "Yukon Slim" Isaak, the new guitarist/drummer. A horn section appears on some songs and Kenny "Blues Boss" Wayne adds keys. Also unlike the last one, the person contributing the song also sings it and while this is very democratic, all voices are not created equal and on this evidence, Hoerl's vocals are usually better. On Smith's songs, he plays guitar and sings and Isaak moves to drums and on Isaak's they switch back. Still the songs are good and the vocals serviceable. Smith's Junior Kimbrough-ish, doom-laden "It's Raining Baby" is very effective, with a nice tenor solo. "Zig Zag" is a very good harp-led instrumental from Hoerl and he takes the vocal on a fine version Percy Mayfield's "The Highway is Like a Woman" which also gets an excellent guitar solo from Isaak. © John Valenteyn, Toronto Blues Society, © 2002
PRESS QUOTES
"The Twisters are a class act!" - Doug Langille, CJSR FM/Edmonton
"A club owner's delight...lots of swing and jump. (Best goddamn harp in Canada!)" - Ron Simmonds, Blues In The Dark Show, CFRO FM / Vancouver
"...authentic and trim live sound that a swingin' jump blues band should be known for. A band to watch our for, especially if you like the dance floor." - Derek Andrews, The Toronto Blues Society's "Maple Blues Publication"
"The Twisters take the Chicago and swing blues of the fifties, giving them an edge that is completely contemporary. Aside from playing the blues with soul, the quartet also does it with a sense of show!" - James Muretich, The Calgary Herald
"It's a spirited romp...each of the men is so talented that one tune just seems to get better than the one before it." - John Scoles, Blues Scene Quarterly
"One of the finest jumpin' - swing blues bands around today. Strong, original material with good vocals and superb harmonica and guitar. Straight-up harddrivin' backbeat and that classic stand-up bass." - Stormin' Norman, The Sunday Blues, CFOX FM / Vancouver
ABOUT THE TWISTERS
One of the finest jumpin' swing bands around, the music of Vancouver's Twisters has been dubbed "blues-a-billy". The Twisters have been rocking it up with their brand of West-Coast party blues for almost a decade. 2003 Juno Nominees and Canadian Independent Music Award winners for "Best Blues Album of the Year" for their second release "Long Hard Road", The release of their third CD "Live at Harvest Fest" was met with much critical acclaim. The Twisters are one of the hardest hitting acts on the blues scene today. They're a fixture on the Canadian Blues scene and have earned a reputation as one of the best blues bands in the country, receiving numerous accolades and awards over the years. The Twisters- Canada premier jump /Blues band were signed in 2006 to the prestigious Northern Blues label with their new release "After The Storm." The band has just recently battled a big storm of their own, having gone through a devastating automobile accident that took the life of their bass player, James Taylor, and injured the rest of the band in October 2005. They battened their hatches and rallied back with the acquisition of new upright bass player, Keith Picot, and recorded a new CD of orginal tunes. It apparently turned the head of Northern Blues president, Fred Litwin, who promptly signed the former Independent Music Award winners and 2002 Juno Award Nomminees.The new CD stays true to their high spirited jump/blues tradition, but includes many different grooves and feels, bringing this CD to a new level of excellence. Featuring the vocals, harmonies, and song writing of both harmonica player David Hoerl and guitarist Brandon Isaak, backed superbly by the top-notch rhythm section of Matt Pease on drums and Keith Picot on upright bass, the new CD was recorded and engineered in Whitehorse in January 2006 by Brandon and brother Chris Isaak. Featuring special guest on piano and organ "Kenny Blues Boss" Wayne, the 2005 Juno Award winner for Best Blues Album. Paying dues to the blues tradition, The Twisters swing hard with two inspired vocalists, tightly woven harp & guitar lines, and a relentless driving rhythm section forging a groove that refuses to be denied. David has played with the best blues musicians including Albert Collins, Big Mama Thornton, and Sonny Rhodes and is one of the top harmonica players in Vancouver. Brandon has played in numerous festivals, including the Dawson City Music Festival (Frostbite) and the Vancouver International Jazz Festival. Each of the members has brought his musical talents and influences to the table, resulting in a potpourri of "Blues Cuisine" guaranteed to satisfy the most discerning blues palette. From deep in the Mississippi Delta to early Chicago shuffles, from infectious Texas grinders to West Coast jump and funky swamp soaked Louisiana rhythms; The Twisters serve up the goods. Top it all off with strong original compositions and a live show renowned for rockin' the house and there's only one thing left… do yourself a favour and see what the storm's all about when The Twisters blow through your town. Whether it's West-Coast Swing, Jump, Boogie, Chicago shuffles, Texas grinders-any kind of blues you dig-you will always have a great party guaranteed when you invite The Twisters! © www.turnerme.com/twisters.shtml