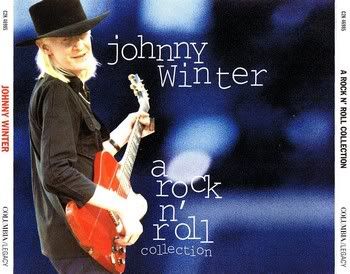 Johnny Winter
-
A Rock n' Roll Collection
-
1994
-
Columbia
The legendary Texan Bluesman, Johnny Winter remains one of the preeminent white bluesmen of his generation. A detailed bio about JJohnny would need a separate web site, of which there are many. Check out http://www.yee.ch/winter/winter_bio.html for info on Johnny's early career. "A Rock n' Roll Collection" covers 22 of the greatest Blues/Rock 'N'Roll standards. Many of the tracks are from live performances dating back to Johnny's earlier career. "Johnny B. Goode", "Baby, Whatcha Want Me To Do", "Come On In My Kitchen", and many more classics are here. Six of the tracks were penned by Johnny, and Rick Derringer's "Rock And Roll, Hoochie Koo" is covered. Musicians on the album include Rick Derringer, Bob Margolin, Muddy Waters, Willie Dixon, Pinetop Perkins, Walter Horton, and of course, Edgar Winter. A breathtaking collection of some of the all time greatest Blues/Rock 'N'Roll songs ever written. Listen to Johnny Winter's classic 1969, "The Progressive Blues Experiment " album, and the brilliant 1970 "Johnny Winter And " album. Later albums like "Third Degree" ," Guitar Slinger " and "Live In NYC '97 " are all great examples of Johnny Winters talent.
TRACKS / COMPOSERS
CD 1
1. Johnny B. Goode - Live - C.Berry
2. Good Morning Little School - Live - D.Level/B.Love
3. I'll Drown In My Tears - H.Glover
4. When You Got A Good Friend - Traditional
5. Be Careful With A Fool - R.King/J.Josea
6. Miss Ann - R.Penniman/E.Johnson
7. Hustled Down In Texas - J.Winter
8. Rock And Roll, Hoochie Koo - R.Derringer
9. Rock Me Baby - W.Broonzy/A.Crudup
10. Rock & Roll - J.Winter
11. Sitting In The Jail House - R.Ross
12. Baby, Whatcha Want Me To Do - Live - J.Reed
CD 2
1. Bony Moronie - Live - L.Williams
2. It's All Over Now - Live - B.Womack/S.Womack
3. T.V. Mama - J.Winter
4. Drinkin' Blues - J.Winter
5. Walking Thru The Park - M.Morganfield
6. I'm Not Sure - J.Winter
7. Guess I'll Go Away - J.Winter
8. Thirty Days - Previously Unreleased - C.Berry
9. Come On In My Kitchen - Previously Unreleased, Alternate Version - R.Johnson
10. Highway 61 Revisited - Live - B.Dylan
MUSICIANS

Vocal, Guitar, Harp, Mandolin: Johnny Winter
Guitar: Rick Derringer, Floyd Radford, Bob Margolin, Muddy Waters
Bass: Tommy Shannon, Randy Jo Hobbs, Jon Paris, Charles Calmese
Acoustic Bass: Willie Dixon
Piano, Organ, Harpsichord, Alto Sax: Edgar Winter
Piano: Pinetop Perkins, Dan Hartman
Drums: John "Uncle" Turner, Bobby Caldwell, Richard Hughes, Bobby "T" Torello, Randy Z, Willie "Big Eyes" Smith, Chuck Ruff
Horn Section: Karl Garin (Tp), A. Wynn Butler (T.S), Stephen Ralph Sefsik (A.S)
Flute: Jeremy Steig
Harp: Walter "Shakey" Horton
Background Vocal: Carrie Hossell, Peggy Bowers, Elsie Senter, Rick Derringer, Edgar Winter
SHORT BIO
Blues guitarist Johnny Winter became a major star in the late '60s and early '70s. Since that time he's confirmed his reputation in the blues by working with Muddy Waters and continuing to play in the style, despite musical fashion. Born in Beaumont, TX, Winter formed his first band at 14 with his brother Edgar in Beaumont, and spent his youth in recording studios cutting regional singles and in bars playing the blues. His discovery on a national level came via an article in Rolling Stone in 1968, which led to a management contract with New York club owner Steve Paul and a record deal with Columbia. His debut album (there are numerous albums of juvenilia), Johnny Winter, reached the charts in 1969. Starting out with a trio, Winter later formed a band with former members of the McCoys, including second guitarist Rick Derringer. It was called Johnny Winter And. He achieved a sales peak in 1971 with the gold-selling Live/Johnny Winter And. He returned in 1973 with Still Alive and Well, his highest-charting album. His albums became more overtly blues-oriented in the late '70s and he also produced several albums for Muddy Waters. In the '80s he switched to the blues label Alligator for three albums, and has since recorded for the labels MCA and Pointblank/Virgin. The early-2000s were quiet as far as new Winter recordings, but there were a number of significant reissues. Alligator issued the best of their years with the artist as Deluxe Edition in 2001, Columbia/Legacy covered his 1969-1971 period with their 2002 release Best of Johnny Winter, and Fuel 2000 came up with Winter's earliest recordings and compiled them on 2003's Winter Essentials 1960-1967. Sony reissued Winter's 1969 self-titled album with five bonus tracks in 2004, the same year the man returned with his first new album in nearly eight years, I'm a Bluesman. The archival reissues continued with Fuel's Introduction to Johnny Winter in 2006, which collected sides Winter recorded in his pre-Columbia years between 1960 and 1967 for the Dart, KCRO, Frolic, Todd, Hall-Way, and Pacemaker imprints. © William Ruhlmann, allmusic.com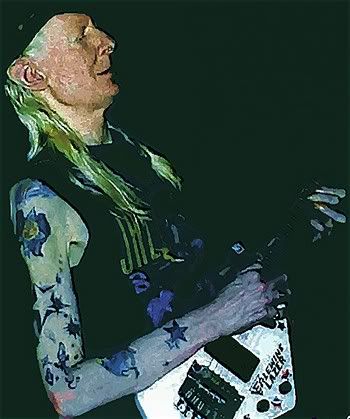 BIO (Wikipedia)

John Dawson "Johnny" Winter II, (b. February 23, 1944), Beaumont, TX, United States is an American blues guitarist, singer and producer. Johnny and Edgar Winter were nurtured at an early age by their parents in their musical pursuits. Johnny Winter is known for his southern blues and rock and roll style, as well as his physical appearance. Both he and his brother were born with albinism. Johnny Winter first began performing at an early age with his younger brother, Edgar Winter. Johnny's very first TV appearance was on a local childrens television show that aired in Houston and Beaumont markets called the Don Mahoney and Jeana Claire show. Don Mahoney was a blind singing cowboy/kiddie show host in the Houston area for many years. Jeana Claire was his sidekick and a former Louisiana Hayride backing vocalist. Their show ran in one form or another on Houston television from the early fifties, on into the late '80's (including reruns on Access Cable). Johnny and Edgar appeared on Mahoney's show when they were about ten years old, playing ukelele and singing. Unfortunately, archival footage of the Winter brothers appearance was destroyed; while Don did save some kinescopes of his shows from the fifties, Johnny and Edgar's duo was not one of them. His recording career began at the age of 15, when their band Johnny and the Jammers released "School Day Blues" on a Houston record label. During this same period, he was able to see performances by classic blues artists such as Muddy Waters, B. B. King and Bobby Bland. In 1968, Winter began playing in a trio with bassist Tommy Shannon and drummer Uncle John Turner. An article in Rolling Stone Magazine, written by Larry Sepulvado helped generate interest in the group. The album Johnny Winter was released near the end of that year. The following year they performed at numerous rock festivals including Woodstock. Contrary to urban legend, however, Johnny did not perform with Jimi Hendrix and Jim Morrison on the infamous Hendrix bootleg recording "Woke up this Morning and Found Myself Dead" from New York City's Scene Club. In his own words, "...I never even met Jim Morrison! There's a whole album of Jimi and Jim and I'm supposedly on the album but I don't think I am `cause I never met Jim Morrison in my life! I'm sure I never, never played with Jim Morrison at all! I don't know how that [rumour] got started." Winter struggled with a heroin addiction in the early part of his career. After eventually recovering from the addiction, in 1973, he returned to the music scene in classic form with Still Alive and Well, a song written by Rick Derringer saluting Winter for overcoming his addiction. In live performances, Winter often tells the story about how, as a child, he dreamed of playing with the blues guitarist Muddy Waters. In 1977, he accomplished this goal and produced the Muddy Waters album Hard Again. In 1978, he experienced continued success with the production of Waters' I'm Ready. He followed this in 1980, by producing Muddy's final effort, the album King Bee. Their partnership produced a number of Grammy Award-winning recordings throughout, and he recorded the album Nothing but the Blues with members from Muddy Waters' band. There are quite a few Johnny Winter albums that are considered "non-official." A majority of these albums were produced by Roy Ames, owner of Home Cooking Records/Clarity Music Publishing. According to an article from the Houston Press , Johnny Winter left town for the express purpose of getting away from him. Ames died on August 14, 2003 of natural causes at age 66. As Ames left no obvious heirs, the ownership rights of the Ames master recordings remains unclear.As Johnny stated in an interview when the subject of Roy Ames came up, "This guy has screwed so many people it makes me mad to even talk about him."In a recent interview,Winter explained his current approach to music: "Most of the stuff I do is fairly old," he says, which befits the lifelong bluesman. But don't expect to hear "Rock 'n' Roll Hoochie Koo", (even though that was one of his signature songs back in the day). On this tour, Winter says firmly, "we're not playing any rock and roll at all." Despite experiencing several health crises in recent years, rendering him incapable of performing without being seated, Winter still tours regularly. Sitting down, the venerated musician concentrates on blues numbers and eschews his rock hits. Fans at an August 23, 2008 show in Bowling Green, Kentucky were therefore surprised when he covered not only blues songs such as Jimi Hendrix's "Red House" and Ray Charles' "Blackjack", but also two popular rock and roll songs: the Rolling Stones' "It's All Over Now", and Bob Dylan's "Highway 61 Revisited". Winter produced two Grammy Award-winning albums by Muddy Waters, Hard Again and I'm Ready. At least three of his own albums were also nominated for Grammy awards. He was one of the many acts to perform at the Woodstock Festival, playing a nine song set that featured his brother Edgar Winter, on two of the songs. He was on the cover of the first Guitar World in 1980. In 1988, he was inducted into the Blues Foundation Hall of Fame. The Smashing Pumpkins paid homage to Winter by recording an instrumental song titled "Tribute to Johnny", in which they try to emulate Winter's unique sound. The song was originally intended for their highly acclaimed 1995 album Mellon Collie and the Infinite Sadness but was rejected and eventually turned as b-side on their Zero single and also was included in their box-set The Aeroplane Flies High.