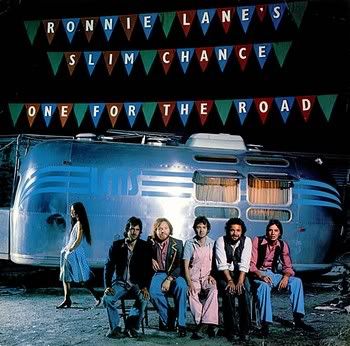 Ronnie
Lane's
Slim
Chance
-
One For The Road
-
1976
-
Island
"One for the Road" is the third solo album by the late Ronnie Lane, one of the founding members of The Small Faces and Faces. It is an often overlooked album. The whole album has a solid roots rock sound. All the tracks are memorable, and the music is at once traditional and original. Ronnie Lane's unique country/ honkin' taste was not a common feature of British rock artists during the mid seventies. The album did not receive much airplay at the time of it's release, and now is a good chance for you to listen to Ronnie Lane's dynamic brand of no frills" British rock, folk, and country music. For music in the same genre, check out albums by McGuinness Flint, and Gallagher & Lyle. Try and listen to the Slim Chance's ''Anymore For Anymore'' album
TRACKS
"Don't Try & Change My Mind" - 3:06
"32nd Street" - 4:34
"Snake" - 3:27
"Burnin' Summer" - 4:06
"One for the Road" - 4:46
"Steppin' and Reelin'" - 6:27
"Harvest Home" - 5:50
"Nobody's Listenin'" - 3:54
"G'morning" - 4:01
All tracks composed by Ronnie Lane; except "Harvest Home" by Ronnie Lane, & Charlie Hart.
N.B
:
This album has been issued with a bonus track, "Well Well Hello".

BAND
Ronnie Lane - guitar, bass, vocals
Steve Simpson - guitar, mandolin, fiddle, keyboards, harmonica, vocals
Charlie Hart - violin, keyboards, harp, whistle
Brian Belshaw - bass, vocals
Colin Davy - drums
ABOUT RONNIE LANE / SLIM CHANCE
As the former bassist for the Small Faces, and later the Faces, Ronnie Lane left both bands when he felt the spirit of the group had died, gaining him the reputation of an uncompromising artist, and allowing him the opportunity to release some fine solo material in the '70s. An underrated singer and songwriter, Lane (along with guitarist Steve Marriott) co-founded the British mod group the Small Faces in the mid-'60s, helping to guide them to the top of British charts with his clever songwriting. After Marriott left, Lane jettisoned the groups mod reputation and, adding former Jeff Beck cohorts Ron Wood and Rod Stewart, Lane reformed the group as the Faces, a loud, boozy rock band that achieved widespread success in the States (something the Small Faces could never do). Although Lane was the unacknowledged leader among the group members, audiences were drawn to singer Rod Stewart, and when Stewart's burgeoning solo career began affecting the quality of the Faces' albums, Lane jumped ship to form his own band in 1973. Billing themselves as Ronnie Lane's Slim Chance, in 1974 the bassist organized an ambitious tour dubbed the Passing Show that included a traveling circus complete with jugglers, clowns and animals. Although the tour was an interesting moment in rock history, it was a financial failure from which Lane would never recover. For income, he continued leasing his mobile recording unit out to bands like Led Zeppelin, who used it to record their double LP Physical Graffiti. With Slim Chance, Lane released several albums with a folk-rock flavor in the mid-'70s that spotlighted his minstrel-esque songs and fragile voice. And in 1976 Lane teamed up with Ron Wood, releasing the movie soundtrack album Mahoney's Last Stand. The following year Lane again collaborated, this time with longtime friend and fellow mod Pete Townshend, on the critically acknowledged classic Rough Mix. Contributing songs such as the acoustic-drenched "Annie" and "April Fool," Lane once again exhibited the depth of feeling in his songwriting that he had displayed so wonderfully with the Small Faces and Faces. Sadly, Lane was diagnosed with the debilatating disease multiple sclerosis in the late '70s, severely curtailing his musical output. He released the solo album See Me in 1980, and in 1983 friends such as Eric Clapton, Pete Townshend and Jimmy Page rallied around him, organizing an ARMS foundation benefit concert and tour, and donating the proceeds to the treatment of MS. In the '80s Lane relocated to Austin, Texas, recording songs and occasionally fronting a local group called the Tremors, playing gigs around the city. In 1990 the bassist toured Japan, his last major tour, and later moved to Colorado where the climate was better suited to the treatment of MS. Always remembered as a kindred spirit and talented musician who was able to write songs that cut to the core of human emotion, in June of 1997, the disease that had curtailed Ronnie Lane's music finally took his life. In 1999, there appeared a compilation featuring a number of rarities and outtakes titled April Fool. © Steve Kurutz, allmusic.com
BIO (Wikipedia)
Ronald Frederick "Ronnie" Lane (1 April 1946 - 4 June 1997) was an English singer, songwriter and bass player (nicknamed "Plonk" while in the Small Faces and later "Three-Piece" in The Faces) best known for his membership in two prominent English rock bands, the Small Faces (1965-69) and Faces (1970-75). Ronnie Lane was born in the East End of London. After quitting school at the age of 16, Lane met Kenney Jones at a local pub and they formed the group they named "The Outcasts". Initially playing lead guitar, it was quickly decided that he should switch to bass guitar. While visiting the J60 Music Bar in Manor Park, London with his father in order to buy a bass guitar, Lane met Steve Marriott who was working there. Lane bought the bass and went back to Marriott's house after work to listen to records, where Marriott introduced Lane to his Motown and Stax collection. Lane and Marriott set out to put together a band, and recruited friends Jones and Jimmy Winston, who switched from guitar to the organ. Marriott was chosen to be the vocalist. Lane left the Faces in late 1972 and formed his own band, Slim Chance, in 1973 to record the hit single "How Come" (UK No. 11) and "The Poacher" (UK No. 36), then the album Anymore For Anymore, showcasing his own blend of British rock music, folk, and country music. After initial success with the singles, he commenced a tour called "The Passing Show", touring the UK as a carnival, complete with tents, barkers, etc. Viv Stanshall, from the Bonzo Dog Doo Dah Band, was a short-lived ringmaster (of sorts). Lane moved to Island Records and issued Ronnie Lane's Slim Chance and One for the Road. In late 1976, he joined a short-lived reformation of the Small Faces, but quit after two rehearsals, to be replaced by Rick Wills (who currently plays alongside the former Small Faces drummer, Kenney Jones, in the Jones Gang). However, since Lane had already signed a contract with Atlantic Records as part of the reformed Small Faces, Atlantic informed him that he owed them an album. Pete Townshend recorded an album with Lane, titled Rough Mix, which was released in 1977. Rough Mix was lauded as contender for best album of the year by many critics, but the label did not promote it, and sales were thereby lacklustre. Rough Mix not only left Lane out of debt to the label, but it cemented his credentials as a solid performer. During the recording of Rough Mix, Lane was diagnosed with multiple sclerosis (his mother had also suffered from the disease). Nonetheless, he toured, wrote, and recorded (with Eric Clapton, among many others) and managed to release yet another album, See Me, which features several songs written by Lane and Clapton. Around this time Lane travelled the highways and byways of England and lived a 'passing show' modern nomadic life in full Gypsy Traveller costume and accommodation. Playing a lot of acoustic music in the open air for his adopted extended family, the sheep , the early morning and the rolling hillsides, in retrospect it could be said that he became the first New Age traveller/performer of the British Isles, at least a decade before the term was commonly used. In 1983, his girlfriend, Boo Oldfield, contacted record producer Glyn Johns in the hopes of getting a concert going to help fund Action for Research into Multiple Sclerosis, a London-based organization. Johns was already arranging Clapton's Command Performance for Prince Charles, so they decided to book the Royal Albert Hall for another couple of nights and hold a benefit concert. The resulting A.R.M.S. Concerts featured Eric Clapton, Jimmy Page, Jeff Beck, Bill Wyman, Charlie Watts, Kenney Jones, Andy Fairweather-Low, and more. With the addition of Joe Cocker and Paul Rodgers, they toured the U.S. It was during this time that Rodgers and Page started the band, The Firm. Lane moved to Texas in 1984, where the climate was more beneficial to his health, and continued playing, writing, and recording. He formed an American version of Slim Chance, which was, as always, a loose-knit conglomeration of available musicians. For much of the time, membership included Alejandro Escovedo. For close to a decade, Lane enjoyed his rock royalty status in the Austin area, and even toured Japan. Still, his health continued to decline, and his last performance was in 1992 at a Ronnie Wood gig. Also in the band that night was Ian McLagan. In 1994, Ronnie and his last wife, Susan, moved to the small town of Trinidad, Colorado. Jimmy Page and Rod Stewart generously continued to donate money for his medical care because there were yet no royalties from Small Faces' work. Through the efforts of Kenney Jones and Ian McLagan, the Small Faces were eventually able to secure ongoing royalty payments. By then, however, Steve Marriott had died in a house fire, and on 4 June 1997, Lane had succumbed to pneumonia. The Ocean Colour Scene song Travellers Tune on their 1997 studio album Marchin' Already was inspired by and written in the memory of Ronnie Lane, who had been a strong influence on the group and its members with Ocean Colour Scene appearing at the tribute concert for Ronnie Lane . In 2000, Paul Weller recorded "He's the Keeper", a song dedicated to Lane's memory. An album of live BBC recordings was about to be released to raise money for his care when Lane died. An album of live and in-studio recordings from Lane's Austin days was later culled, and released as Live in Austin. The place where he was born, Plaistow (in East London) named a street after him, fittingly called "Ronnie Lane", in 2001. In January, 2006, BBC Four debuted an extensive documentary about Lane, "The Passing Show", which had been in the works since 2000. They also aired vintage concerts by the Faces and Slim Chance. In October 2006 the documentary was also shown on BBC Two.