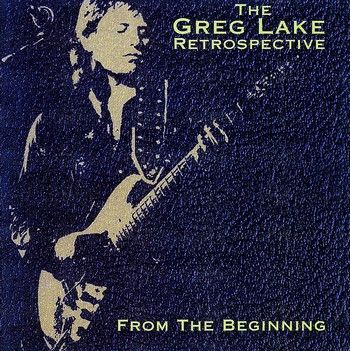 Greg Lake
-
From The Beginning
:
Retrospective
-
1997
-
Castle Communications
Greg Lake was the lead singer of the extraordinary British progressive rock band, King Crimson for the band's first two albums, and was a member of the monumental progressive rock superband, ELP (Emerson, Lake & Palmer). His solo career has been less successful, and he remains an underrated musician, vocalist, songwriter and producer. Emerson, Lake and Palmer disbanded in 1979, but when they re-formed in 1991, Greg, once again found the perfect musical environment for his huge talents. "From The Beginning" covers Greg's work in King Crimson, Emerson, Lake & Palmer, Emerson, Lake & Powell, and his solo work. Track seven (on CD 1) is from Pete Sinfield's album of the same title. There is more to Greg Lake than his beautiful "I Believe In Father Christmas", and this compilation album demonstrates this very well. The album is
HR by A.O.O.F.C.
N.B:
The post here is a 320 Kbps issue and contains two separate rar files containing two separate CD's. Total files' size is 348 Mb.
If you are a Greg Lake/ELP fan, you will most likely have all these tracks in your collection. Check out Greg Lake's "From The Underground - The Official Bootleg" @
GLAKE/TTU/OFFBLEG
and search this blog for related releases
TRACKS / MAIN ARTISTS
1. Court Of The Crimson King: Medley - (a) In The Court Of The Crimson King, (b)The Return Of The Fire Witch, (c)The Dance Of The Puppets (King Crimson)
2. Cat Food (King Crimson)
3. Knife Edge (ELP)
4. Lucky Man (ELP)
5. From The Beginning (ELP)
6. Take A Pebble (Live at Mar Y Sol) (ELP)
7. Still (Pete Sinfield)
8. Still... You Turn Me On (ELP)
9. Jerusalem (ELP)
10. Karn Evil 9: 1st Impression (Pt.2) (ELP)
11. I Believe In Father Christmas (Single Version) (Greg Lake)
12. C'Est La Vie (Greg Lake)
13. Closer To Believing (Greg Lake)
14. Watching Over You (Greg Lake)
15. 21st Century Schizoid Man (Live at The Hammersmith Odeon 1981) (Greg Lake)
16. Nuclear Attack (Greg Lake)
17. Love You Too Much (Greg Lake)
18. It Hurts (Greg Lake)
19. Retribution Drive (Greg Lake)
20. The Lie (Greg Lake)
21. Let Me Love You Once (Greg Lake)
22. Manoeuvres (Greg Lake)
23. I Don't Why I Still Love You (Greg Lake)
24. Touch And Go (Emerson, Lake, & Powell)
25. Lay Down Your Guns (Emerson, Lake, & Powell)
26. Love Under Fire (Greg Lake)
27. Money Talks (Greg Lake)
28. Black Moon (ELP)
29. Paper Blood (ELP)
30. Affairs Of The Heart (ELP)
31. Daddy (ELP)
32. Heart On Ice (ELP)
Tracks 1 - 15 are on CD 1, & Tracks 16 - 32 are on CD 2. Check album sleeve notes for very detailed info. on composers, musicians, etc.
BIO
As a singer and instrumentalist, Greg Lake had his greatest success and influence in the progressive rock outfit Emerson, Lake & Palmer and, before that, as a founding member of the original King Crimson. He has also been reasonably popular as a solo artist working in more of a hard rock idiom. As a boy, growing up in a poverty stricken part of the seaside resort town of Bournemouth, he got his first guitar for his 12th birthday, as a gift from his mother, and began taking lessons from a local teacher named Don Strike, one of whose other students was Robert Fripp, who became close friends with Lake. Around the time he was 12 years old, Lake also wrote a folk-style song that played a major part in his future, entitled "Lucky Man." Lake learned to read music and also to play pieces by Paganini, among other classical composers, but his aspirations lay with emulating the sound of his favorite band of the era, Cliff Richard & the Shadows, and their lead guitarist, Hank B. Marvin. Lake passed through a succession of groups, including a local quartet called Unit Four, in which he played guitar and sang. He and Unit Four guitarist David Genes later formed the Time Checks, and, still later — around 1967 — with another Unit Four member, John Dickinson, was a member of a band called the Shame, who cut a single in 1968. He also sang on a record by a band called the Shy Limbs. In 1968, Lake succeeded Mick Taylor as a member of an outfit called the Gods, whose other members included future Uriah Heep founders Ken Hensley (keyboards, vocals) and Lee Kerslake (drums), and it was there that his songwriting first blossomed. He left the Gods just before they began to record, having been approached by his boyhood friend Robert Fripp to join the outfit that he was putting together out of a failed trio called Giles, Giles & Fripp — Lake joined the quintet (Fripp on lead guitar; Ian McDonald on keyboards, saxes, and flute; Michael Giles on drums; and Peter Sinfield as lyricist) as lead singer and bassist. King Crimson proceeded to carve out a name for themselves unique in the history of rock music as the leading progressive rock band of their era. Their first album, In the Court of the Crimson King, became the standard for serious progressive rock albums. Lake, along with the others, was suddenly a star. That first lineup of the band only lasted a year — by December of 1969, Giles and McDonald were tired of touring and opted out, and Lake refused to continue working with the group, although he stayed around long enough to sing on the second King Crimson album, In the Wake of Poseidon (1970). At the suggestion of Tony Stratton-Smith, Lake was approached by keyboard player Keith Emerson, who was in the process of putting together a new group after three years with his current band, the Nice. The latter group's main fault was its lack of a real lead singer, and Emerson saw in Lake — whose voice had dominated In the Court of the Crimson King — the solution to that problem. The two eventually recruited drummer Carl Palmer and formed progressive rock's first supergroup, Emerson, Lake & Palmer, who were a success from their self-titled first album, released in 1970, which closed with Lake's old song "Lucky Man." The latter became one of the group's few successful singles, one of their rare attempts to compete on AM radio — it also turned Lake into one of the most familiar voices in progressive rock, rivaling such figures as the Moody Blues' Justin Hayward. Lake's production experience as a member of King Crimson (who had produced their own debut album) also served ELP in good stead, and his songwriting became the creative nucleus for the group's first three studio albums. ELP dominated the charts and the field of progressive rock right up until 1977, by which time the entire genre of "art rock" was beginning to lose popularity. The stresses between the trio members caused them to split up after a tour in 1979, and Lake embarked on a solo career. Lake organized a new band with ex-Thin Lizzy guitarist Gary Moore on lead guitar, Rory Gallagher alumnus Ted McKenna on drums, and ex-Joe Cocker/Gerry Rafferty keyboard player Tommy Eyre, and recorded Lake's first solo album, Greg Lake (1981). The sound on that record was very different from ELP, as it was dominated by guitars, rather than keyboards, and featured Lake singing in a harder, more aggressive style. On tour he covered material going back to the King Crimson days, but he also regaled audiences with pumping versions of the new songs. A second album, Manoeuvres, followed in 1983, but by that time the creative and commercial bloom was off the rose, and Lake took his first break from music. He appeared in 1985 as the lead singer of Asia during that group's tour, but he didn't remain with the band. In 1986, he re-teamed with Emerson and drummer Cozy Powell as Emerson, Lake & Powell, and recorded an album for Mercury Records, which was followed by a world tour. After a stint with ex-Asia member Geoff Downes and King Crimson drummer Michael Giles in a group called Ride the Tiger, Lake re-teamed with Emerson and Palmer for a film that was never finished, which led to their first new album in 13 years, Black Moon (1992). During the mid- and late '90s, Lake continued to work with Emerson and Palmer, while pursuing his solo work as well. The latter included a 1994 tour of the United States. He had also done a considerable amount of charitable work on behalf of missing children, and his song "Daddy," written in response to one such case, which ended tragically, achieved national exposure as a theme for a television series devoted to the plight of missing children.
BIO
(WIKI)
Gregory Stuart Lake (born 10 November 1947) is an English bass guitarist, guitarist, vocalist, songwriter and producer, best known as a founding member of King Crimson and Emerson, Lake & Palmer. Born in Poole, Dorset, England, Lake was interested in music at a young age, and wrote what would become one of Emerson, Lake & Palmer's biggest hits, "Lucky Man", when he was still at school. In 1968, Lake was a member of a band called The Gods along with future members of Uriah Heep. Lake left the band in summer 1968 before they released their debut album. Lake went on to form King Crimson with an old school friend, Robert Fripp. As both Fripp and Lake were primarily guitarists, Lake switched to playing bass guitar. For King Crimson's debut album, In the Court of the Crimson King, Lake also contributed as songwriter and singer. The album was originally to be produced by Tony Clarke who was then the producer for the Moody Blues. However, after the first day Clarke walked out as he had difficulty understanding what the band were trying to create. Lake assumed the role of producer. Although the album credits the whole band as producers, it was primarily Lake who produced it. King Crimson went on a North American tour with The Nice, who were on their farewell tour. It was after this tour in April 1970 that Lake left the band to form Emerson, Lake & Palmer along with Keith Emerson from The Nice on keyboards and Carl Palmer from Atomic Rooster on drums and percussion. Despite his official departure from King Crimson, Lake agreed to help with the completion of King Crimson's second album In the Wake of Poseidon. ELP were hugely successful in the 1970s (with album sales totalling over thirty million), and significantly contributed to the evolution of progressive rock. Lake contributed to many of ELP's songs but was particularly noticeable for his guitar-oriented and soulful tunes such as "C'est la vie" (Works Volume I), "Still... You Turn Me On" (Brain Salad Surgery) and "The Sage" ("Pictures at an Exhibition"). Lake became popularly known for his UK Christmas number two single, "I Believe in Father Christmas" in 1975 which was later included on the ELP album Works Volume II. In 1973, Lake founded the Manticore label and signed some very talented musicians such as Italy's PFM and Banco and King Crimson/Emerson, Lake & Palmer lyricist Pete Sinfield. After the break-up of ELP, Lake toured briefly with the group Asia in 1983 as a temporary replacement for John Wetton, as well as releasing two solo albums and conducting a tour in the early 1980s. The albums were Greg Lake (1981) and Manoeuvres (1983), both of which featured ex-Thin Lizzy guitarist Gary Moore and, even though the latter is more sophisticated, saw Lake playing straight rock. In 1986 he, Emerson and Cozy Powell released the album "Emerson, Lake and Powell" -- basically an ELP reunion with Powell replacing Palmer who was then drumming in the band Asia. Emerson, Lake & Palmer subsequently reunited in the early 1990s and played the progressive rock circuit, especially in outdoor summer concerts, and released two new studio albums. In 1998, the members of ELP had a rather acrimonious falling-out and Lake left the band. Keith Emerson's 2004 memoirs "Pictures of an Exhibitionist" give an unflattering portrait of Lake, and not surprisingly Lake has said that he will never reunite with ELP in the future. He has not been especially visible on the music scene since then, though he did tour as a member of Ringo Starr's All-Starr Band in 2001. In late 2003 he played bass on The Who's "Real Good Looking Boy". On 22 October 2005 Lake began touring the UK with a brand new "Greg Lake Band", to positive reviews. The band comprised David Arch on keyboards, Florian Opahle on guitar, Trevor Barry on bass, and Brett Morgan on drums. A double DVD was released by Warner Bros/Classic Pictures early 2006, with Greg Lake in full form, his voice now deeper and louder than before[. The Greg Lake Band was ready for a new tour on September 2006 with rumours of a new album in the pipeline, although this tour was cancelled at the last minute due to "management troubles"Lake performed "Karn Evil 9" with the Trans Siberian Orchestra at the Nassau Coliseum in Uniondale, Long Island, New York on December 20, 2006, at the Continental Airlines Arena in East Rutherford, NJ on December 21, 2006 and at the Quicken Loans Arena, aka the Q in Cleveland Ohio, on December 30, 2007 at the end of both the 3:00pm and 7:30pm shows. Lake played "Lucky Man" with Jethro Tull at their show at the Royal Festival Hall in London on 28 May, 2008.